Cultural Recycling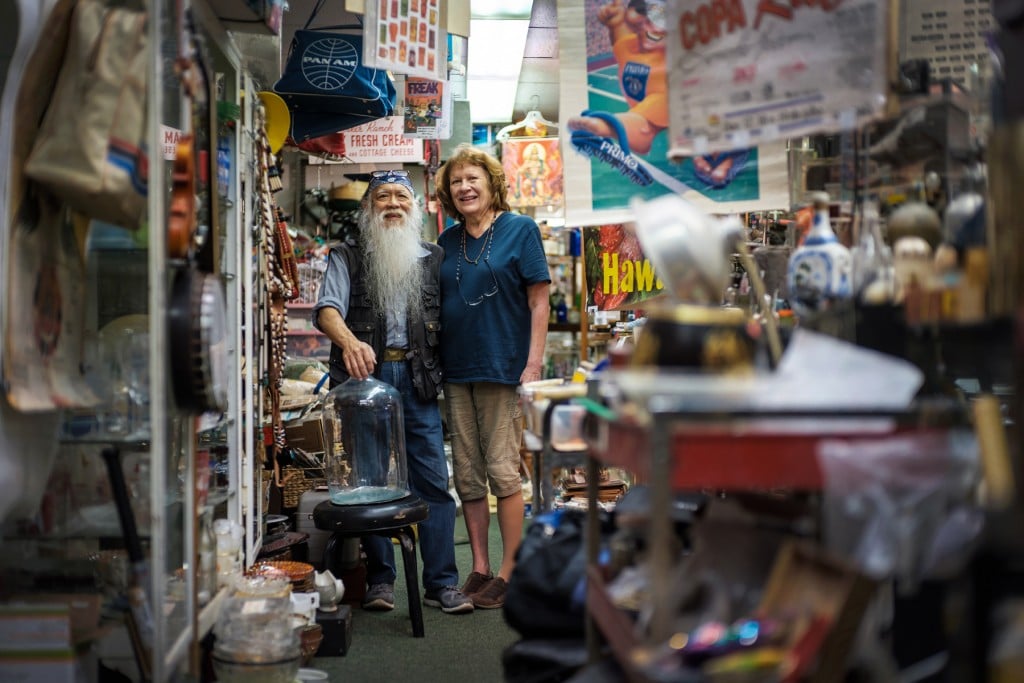 We are continuing to publish stories researched and written before the COVID-19 crisis, such as this one.
---
Antique Alley is a collector's delight and a storehouse of Hawai'i history and pop culture.
Andrew Abraham "Pake" Zane met Julie Lauster in an "anarchist-inspired community" in Denmark in 1970 while on a 10-year global journey. Zane was a "party boy" from Wailuku, Maui; Lauster was a small-town girl from Minnesota traveling around Europe during a college summer.
"Ironically, the first photo taken of us together was at this Danish festival, recycling glass bottles," Zane says.
The two became travel companions, then life and business partners. The UH Mānoa graduate returned to Honolulu in 1976 with Lauster, and the couple began "cultural recycling" – repairing street finds and selling them at the swap meet.
Lauster opened a business as a clothing designer and seamstress using vintage Japanese kimono fabric they found in Japan. She named the company Soiree Inc., which remains their corporate ID. Lauster first sold at craft fairs and fashion shows, and later to large retailers like Liberty House. In 1980 she joined Zane in his collectibles enterprise.
Store Moved a Lot
Antique Alley began as a co-op of stalls at the former Honolulu Flea Market at the site of the Hawai'i Convention Center. "In 1985 we got our first store on the ground level of Kapi'olani Boulevard, where The Republik is now," Lauster says.
Other vendors in the co-op gradually dropped out. When the woman who owned the store's lease retired in 2008, Zane and Lauster took it over. They moved to Queen Street in 2014, a block and a half Diamond Head of Ward Avenue.
"I'm a dumpster diver from way back," Zane admits. "Before we left Amsterdam, I wanted to open a kitsch museum. We ended up shipping 3,300 pounds of European collectibles to Hawai'i."
Now, people cleaning house or having estate sales either donate or sell their items to them.
"The '70s, '80s and '90s were our high points," says Zane. "With the 2000s, a new generation started which was not into sentimentality – their world is changing so quickly. If they do come in; they come in more as a curiosity."
On a brighter note, broader economic downturns don't seem to impact the antiques business. "Nostalgia and sentimentality don't get so affected by world events," he says.
"It's a fascinating business. There are other antiques stores on the island, but not like us. We're so unique – like a treasure hunt."
Glass Bottles:
"Bottles are one of our regular good sellers," says Lauster. Zane adds, "One of the first soda bottles ever used in Hawai'i sells for $10,000."
Vintage Newspapers:
The shop has editions of local newspapers headlining the not-as-famous Japanese submarine attacks on the Neighbor Islands after the attacks on O'ahu on Dec. 7, 1941. "My thing is old newspapers that have stories behind them," Zane says.

Rare Hawaiʻi Currency:
"I have money with 'Hawaii' printed over it from World War II. These bills could only be used in Hawai'i due to martial law."
TV Memorabilia
The shop is filled with classic furniture, toys, books, movie posters and souvenirs. "I used to have a lot of the original 'Hawaii Five-O' TV show's badges," says Zane. "The best show we worked with was 'Lost.' They bought a lot of items from us for props."
Antique Alley also rents period pieces to film, TV and advertising agencies. "Sometimes it's the rentals that keep us alive," Lauster says.
The Kalihi Valley residents also sell jewelry and other items on eBay.
Zane says he has consulted on estate liquidations and participated in many antique shows and clubs. He was an appraiser on PBS' "Antiques Roadshow" in Honolulu in 2007, and in San Antonio; Louisville, Kentucky; and Spokane, Washington, in 2008.
How did he become an expert in collectibles? "You just wing it," he says with a grin. "There are some things I will buy and try to resell, but there's no rhyme or reason.
"A shop like this is not for the obsessive- compulsive person because they might freak out, but more for the curious."
Zane says there were once price guides "for everything." But on the internet, prices vary greatly, and most guidelines have disappeared. "Unless it's something that has intrinsic value such as silver or gold, I tell people everything in the store has a price on it, but none of them are written in stone."
Most of their customers are older tourists, with locals being drawn to their stall at the annual Hawaii Collectors Expo at the Blaisdell Exhibition Hall.
Gerald Yahata is a retired senior program officer for the Hawai'i Commission for National and Community Service at UH. He's been a customer of Antique Alley for more than five years.
"I come here at least once a week," he says. "Antique Alley has so much stuff and they move them around, so you will always have something new to look at.
"I am an eclectic collector so I'm interested in anything that peaks my interest: prison art, Hakata dolls, Hawai'i Visitors Bureau historic markers, vintage Japanese obi, etc.
"Pake and Julie are the friendliest folks and have a wealth of knowledge for almost every piece of stuff. I have come to appreciate Hawai'i's history from the stories that they have shared."
Zane, 78, and Lauster, 69, say they'll keep the "cultural recycling" shop going as long as they can or until the planned route of the rail project displaces them.
Though he hasn't met one yet, Zane says he'd "love to find a young entrepreneur who'd be willing to take over."