This Maui Jewelry Team Offers an Abundant Spirit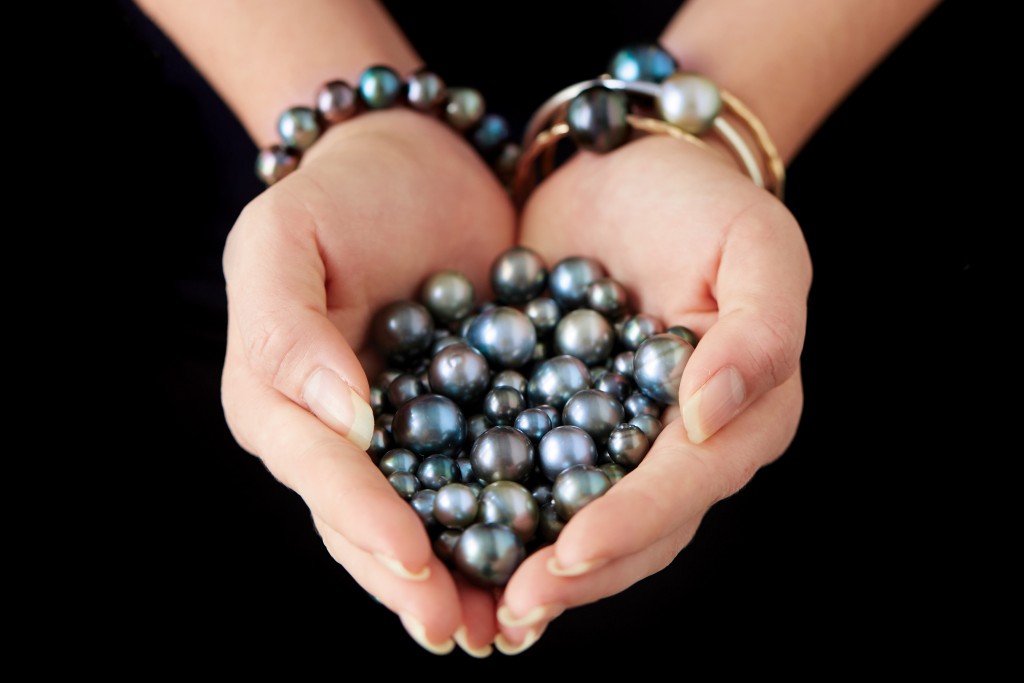 A young couple turns their passion for pearls and Polynesian designs into a jewelry business
"Pearls are cultured. You don't dive for them, they're not found in the wild. People think you go diving for pearls, but it's not like that anymore," explains Tevaihani Dewilde Williams, co-owner of Te Hotu Mana Creations, a family-owned jewelry design business based in Paia on Maui.
"Pearls became a real passion for us, so we met a lot of farmers in Tahiti who became good friends and they taught us a lot about pearl farming from scratch."
Tevaihani was born in Wailuku, Maui, but moved to Tahiti when she was 5 because her father wanted to start an aquarium fishing business there. Her mother is from Tahiti.
Jon Dewilde Williams was born and raised in Tahiti and met Tevaihani while attending different high schools. "We started the business when I was 17 and Jon was 19," says Tevaihani, still a very young 24.
"A girlfriend of a friend of ours gave us the idea to make jewelry after she gave us some shell jewelry she had made. We thought we could do the same. But instead of just shells, we started to use pearls."
The couple says designing and manufacturing Tahitian black pearl jewelry started as a hobby but became a passion. "Backup plan" was not in their vocabulary.
"It wasn't easy at the beginning," says Tevaihani. "Luckily, we lived with my parents in Tahiti. For the first two years, any money Jon made from fishing on the side was put back into the business in terms of getting better equipment or better stock.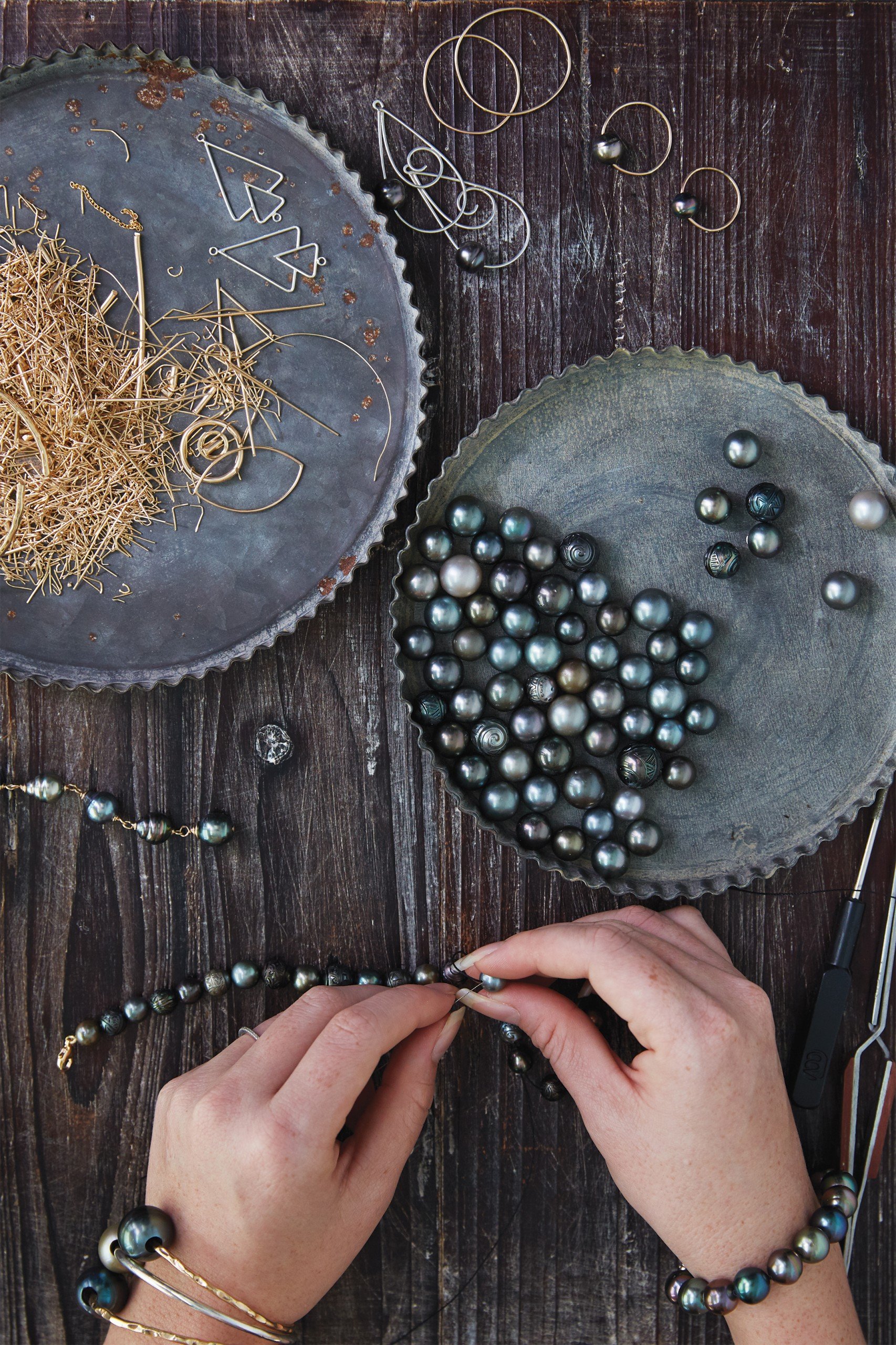 "We were young and weren't big buyers, so many pearl farmers didn't want to deal with us. But gradually, we found people who were willing to help and get us started."
They moved back to Maui in 2013 to marry and grow their jewelry business. Te Hotu Mana means "abundant spirit" in Tahitian.
"There's so much competition, so we didn't know if it would work," Tevaihani reflects. "We started with 'pearl parties' – like Tupperware parties – on Maui. We did a lot of consignments in stores and in galleries.
"Then a friend on Oahu offered us a car and a place to stay for three months. We did all the events and craft fairs there." The couple later added the Merrie Monarch Festival in Hilo to their list of selling locations.
By 2014, the business had taken off and is now in the black. Jon's reputation as a skilled pearl carver has spread and the couple is known for their native Polynesian designs, quality materials and reasonable prices.
They have an email list and website, but ironically, the two Millennials say social media's not their thing. "We had a hard time with it," Jon says. "I went to marketing classes on Maui, but we don't like to show off our life at all."
The couple say they "do everything together," including coming up with new designs and manufacturing the jewelry. But after Jon lost his right thumb about a year ago while carving, he won't let Tevaihani do it. "The equipment we use is not big, but it's powerful," he says.
"We learned the traditional designs from tattoo artists. Every piece has a meaning, such as 'family,' 'courage' or 'balance and harmony.' It's our way of perpetuating and sharing our Polynesian culture."
Jon says he is meticulous and takes about three to four hours to make an average piece. "I want every single one to be perfect." Tevaihani adds, "All our love goes into each piece."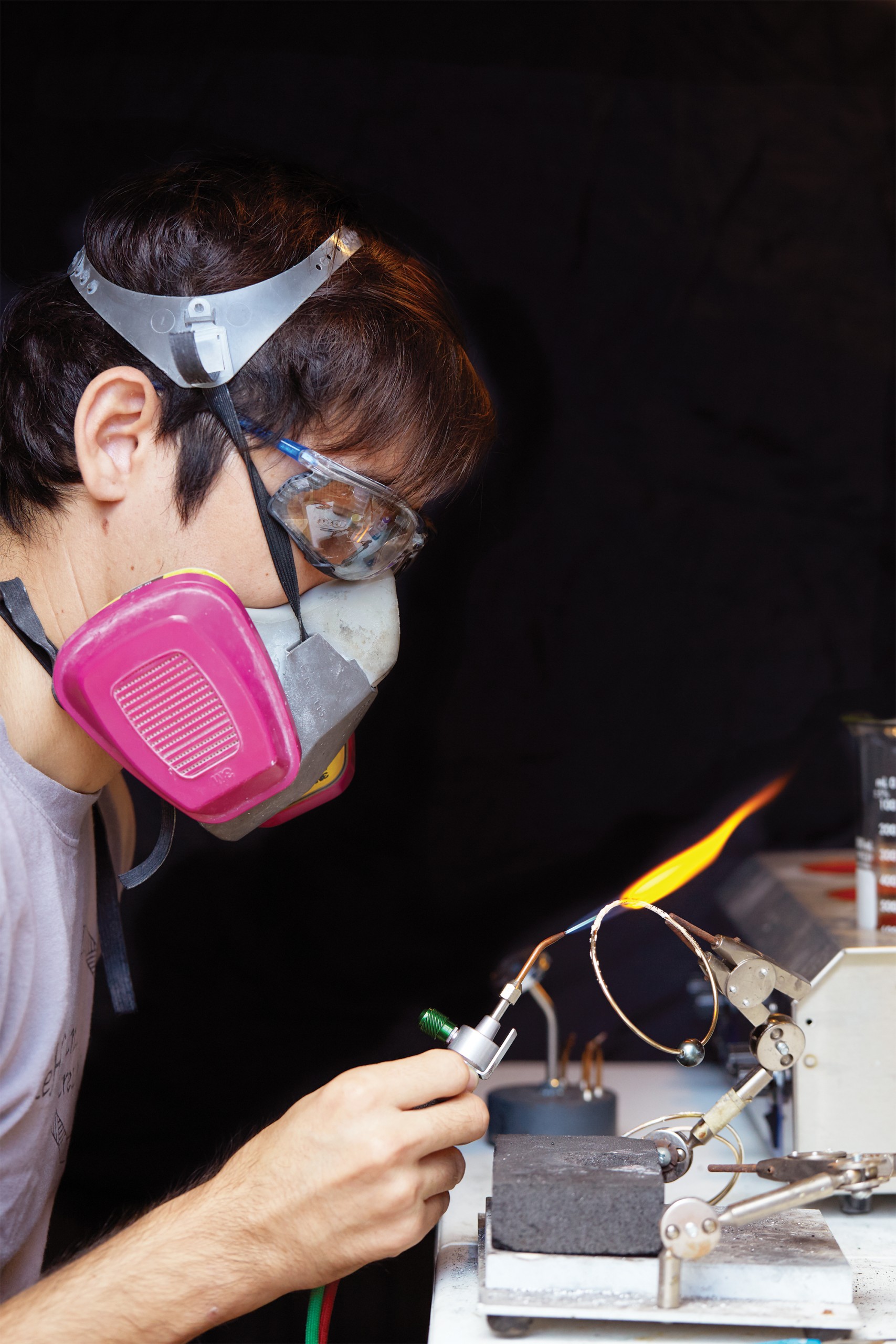 At the start, the couple had a lot learn: about metals, and of course, all about pearls; the tools needed and how to use them; how to solder.
"There are no actual pearl farms in Tahiti," Jon points out. "You have to go to the outer islands of French Polynesia where the environment is very clean, with no pollution. But they just passed a law in Tahiti restricting the amount of pearls you can harvest due to fear of overharvesting.
"One day there may not be any more Tahitian black pearls."
The couple returns to Tahiti twice a year for about a month to buy stock for the next six months.
"
They have a wide variety of designs, but my favorites are Jon's carved pearls. His carvings just get more detailed and intricate over time.
"
— Rose Kawasaki,
Owner, Fun Stuff LLC.
Rose Kawasaki, 73, is the owner of Fun Stuff LLC in Kula, Maui. Several times a year, her store hosts Te Hotu Mana's "trunk shows," which are similar to craft fairs but with a single vendor.
"I first met Tevaihani and Jon in 2011," Kawasaki says. "I have purchased jewelry from them every year, and I wish I could purchase more.
"They have a wide variety of designs, but my favorites are Jon's carved pearls. His carvings just get more detailed and intricate over time."
Fans tell the couple they should open a store, but the new parents of a baby girl like their freedom to travel too much.
"The rent for stores on Maui is too expensive," Tevaihani says. "The stress of running a store is so high, we don't think it's worth it.
"Our freedom is priceless."
Jon Describes Their Creations
Tahitian Black Pearls
"Most of the pearls are not actually black, but a multitude of colors. It takes about two years for an oyster to produce a pearl large enough to harvest. The iridescence of the pearl is determined by the small piece of mantle from a donor oyster that's grafted onto the host oyster."
Keshi Pearls
"These pearls are formed when the host oyster rejects the implanted nucleus or the mantle tissue fractures and forms separate pearl sacs. Since there is no nucleus around which the pearl can form, their shapes can vary widely."
Maoa Shell
"This marine snail known as burgot has a heavy green shell and lives in tropical reef flats around Tahiti. We showcase its natural greenish color in our custom jewelry."
Te Hotu Mana Creations
808-264-4282
tehotumana.com