Actors Make Good Medicine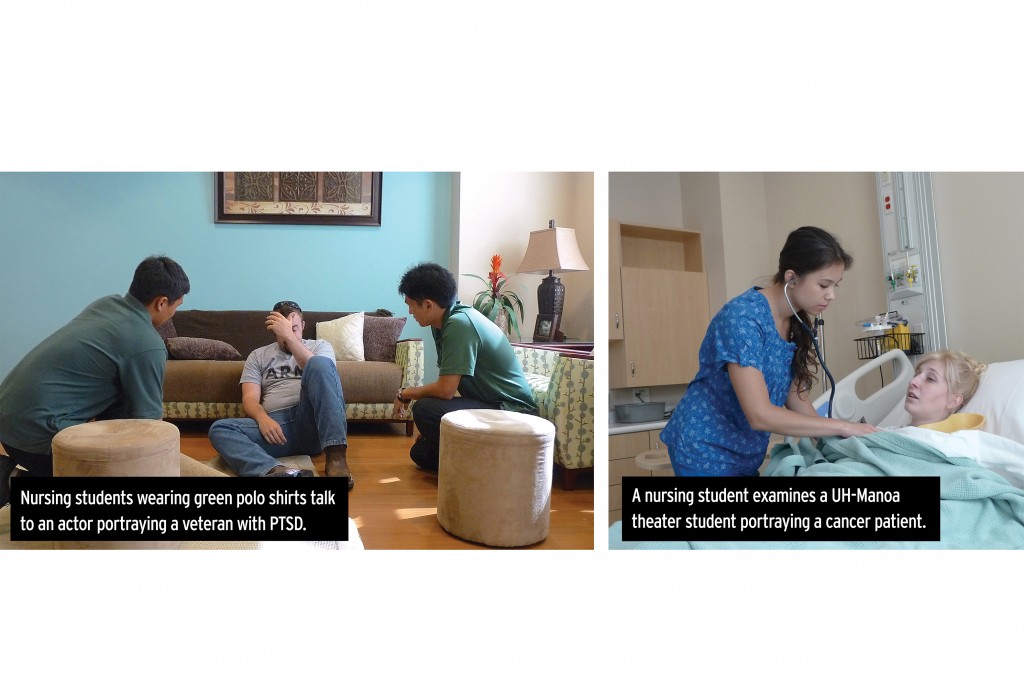 Did you know that some of Hawaii's best acting goes on at UH's schools of medicine and nursing?
At UH-Manoa's School of Nursing and Dental Hygiene, a creative partnership with the Theatre Department has aspiring actors practicing their improvisational skills – playing patients with everything from cancer to depression – while student nurses hone empathy, bedside manner and patient care.
At the John A. Burns School of Medicine, the program relies on "standardized patients," community volunteers trained to feign certain illnesses, while med students gain hands-on clinical and diagnostic skills. In both programs, the consensus is the same: Early clinical experience with real people acting out real medical issues helps prepare doctors and nurses for real-world practice.
"Mannequins don't have physical expressions," says Lorrie Wong, director of the Nursing School's simulation program. "We want our students to know how to react to someone suffering from PTSD or cancer, for example." When the school's limited budget meant it needed to get creative, Wong turned to UH-Manoa's Department of Theatre and Dance. Their collaborative program now puts the theatre and nursing students together in the studio, where nursing students grapple with the physical and emotional issues facing the patient. The sessions are captured on video and, afterward, the nursing students discuss what worked and what could have been done better.
"It's a win-win," Wong says. "The actors feel responsible for the education of the nurses, and the nurses come out of the debriefs high-fiving each other and saying, 'We can do this!' "
"Our big focus is on early clinical exposure for our students," says Dr. Damon Sakai, director of medical student education at the medical school. In the school's Center for Clinical Skills, community volunteers are trained to understand the symptoms and issues associated with their assigned conditions, and are then examined by the medical students. While the program focuses on diagnostic training, it also assesses the student's ability to respect the patient's privacy and modesty, and teaches good bedside manners and how to take the time to get to know patients. "We want our doctors to be kind, compassionate and respectful," Sakai says.
As for the "patients," they come from all corners of Oahu, and represent all ages. Many have been in the program for over a decade. "It's their way to contribute to health care in Hawaii," Sakai says.
---
Video
Watch a video that shows how nursing students learn by "treating" acting students:
tinyurl.com/nn6txe7