Local Trees Can Help Solve Our Housing Crisis
A UH graduate's relentless three-year quest proves even invasive trees can be turned into useful, even beautiful, dwellings.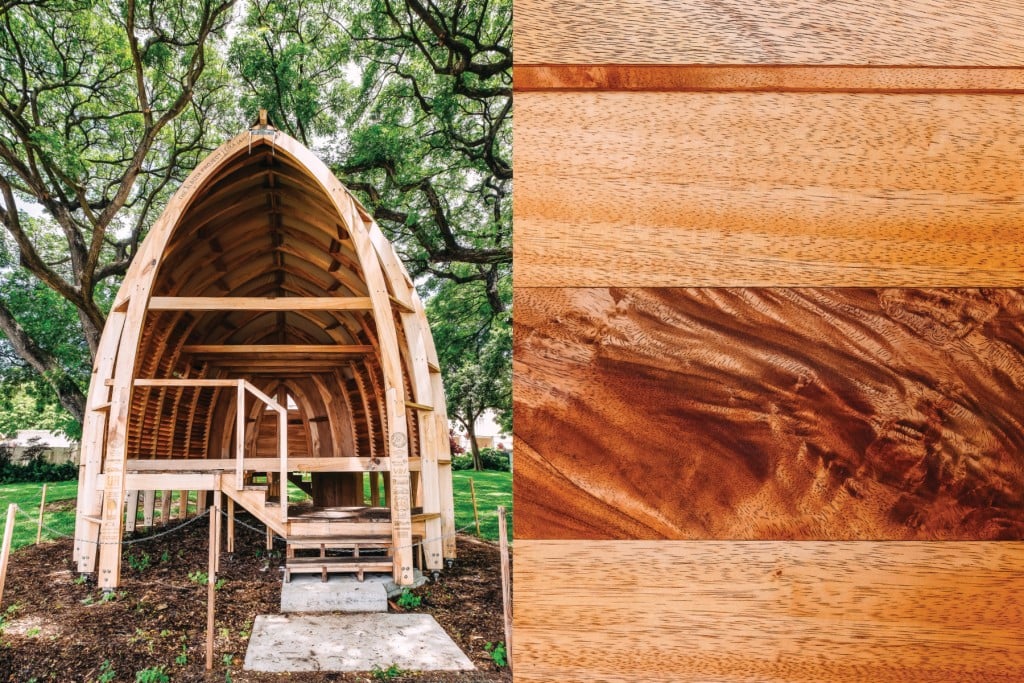 There's no getting around how beautiful it is. The way its pale trunk slices through the forest canopy and its long, delicate boughs rise, exultant, like the arms of an ecstatic churchgoer. With a crown as wide and flat as the brim of a hat, albizia trees seem like kings, towering over Hawaii's other trees like their natural rulers.
But this king is illegitimate. Native to Indonesia's Molucca Islands, Falcataria moluccana was brought to Hawaii in 1917 by botanist Joseph Rock. Thousands of albizia seedlings were planted to reforest the islands. In recent years, Hawaii has seen the tree for what it is: a scourge. Its size is a sign not of strength but of opportunism: albizia trees are nitrogen-fixing, which means they alter the chemistry of the soil around them, making it less hospitable to endemic species. The tree grows so fast – up to 15 feet a year – that its wood is spongy, full of microscopic holes and as flimsy as cheap wooden chopsticks.
The tree is categorized as "highly invasive" by the Hawaii-Pacific Weed Risk Assessment and is prone to what is known as "sudden limb shear": In 2016 an albizia branch fatally crushed a utility worker on Kauai. Downed albizia can clog streams, exacerbating flooding. State foresters have gotten serious about ridding Hawaii of the tree. In January, the Hawaii Invasive Species Council approved a statewide plan that outlines the best ways to protect people and property from the dangers posed by albizia. Among the strategies is selective logging, and landowners have been working with the state and other partners to identify the most dangerous specimens and take them down before nature does.
It was during one of these removal projects that a young, soon-to-be architect named Joseph Valenti conceived of the project that would consume the next three years of his life.
It was November 2015.
Valenti, a blue-eyed, soft-spoken Southern California surfer who had come to Hawaii for school, was in the last year of an architectural degree program at UH Manoa. Valenti, who goes by Joey, had been wrestling with how to close the gap between where a building material is manufactured and where it's used. It's an issue with special significance in Hawaii, which imports almost all of its construction materials. Valenti was interested in "building local," using what could be made on island. When a professor mentioned an albizia removal project at the Lyon Arboretum in Manoa, he drove to the back of Manoa Valley, where he watched in awe as these massive trees – some of them 150 feet tall and more than 4 feet in diameter – came down.
More surprising was what happened after. Nothing. "Most of it got dumped in a ravine," Valenti says. "I think they saved two or three logs out of 50 or something. It was mind-boggling."
In a place with exorbitant building costs and an acute shortage of affordable housing, here was a free and abundant material. Not only that, but Hawaii was spending millions of dollars to cut down albizia, only to leave them in the forest to rot. This was the spark of Valenti's idea: What if he could take this highly invasive, destructive species, mill the unwanted logs into lumber, and then use that wood to build affordable housing? By eliminating the cost of the main building material, you could, in theory, build far more cheaply and create short-term housing units for a fraction of the current cost.
There was only one problem. The wood was trash. The reason albizia were dangerous, the reason the trees were being felled in the first place, was because of their weak wood. You'd be insane to build a house out of the stuff. Plus, it was hard to mill. "Everyone was like, this stuff is worthless," Valenti says.
But Valenti also knew timber technology had advanced exponentially over the past several decades. New materials like cross-laminated timber, or CLT, a kind of "plywood on steroids," had emerged as an alternative to concrete, ushering in an era of bigger, stronger, taller wood buildings and prompting architects to dub the 21st century the "timber age." Cities around the world currently compete to erect the world's tallest timber building, a distinction currently held by the 18-story Tallwood House at the University of British Columbia in Vancouver. The honor is likely to be short-lived: Design firms have developed concepts for timber skyscrapers rising 20, 30, even 80 stories.
Why the obsession with an age-old material? There are environmental, economic and aesthetic reasons. Wood's greatest advantage arguably is its carbon footprint, which, according to a study by the Yale University School of Forestry and Environmental Studies, is roughly 10 percent of steel's and a quarter of concrete's. Timber is both a renewable resource and a carbon sink; a piece of lumber retains the carbon the tree has absorbed over its lifetime. And there is also a growing body of medical research that says natural materials, including wood, have positive effects on building occupants.
But the main reason companies are betting on "mass timber" – the generic term for this type of engineered wood – is the speed with which it can be erected. Unlike concrete, wood needs no time to cure. It often requires fewer complex connections, and prefabrication means much of the work can happen off-site. (It's worth noting that this type of timber is no more susceptible to fire than steel or concrete; in fact, many experts say the material is safer, given the way it chars in a fire, sealing the core and preserving its integrity.)
Lendlease, a multibillion-dollar real estate and construction company whose leadership has called wood the "way of the future," says it was able to erect a 10-story mass timber residential tower in Melbourne, Australia, in just 10 weeks, a full four months faster than if the building had been concrete. Similarly, the 225,000-square-foot T3 building in Minneapolis (the largest timber building in the U.S., by square footage) was built in just 12 weeks. Since labor is almost always the most expensive part of any project, such speed translates into substantial savings.
Against all odds, wood has emerged as a disruptive technology.
Wood Can Often Replace Steel and Concrete
In Hawaii, builders have been excited by the potential of mass timber since at least 2011, when the American National Standards Institute approved a new standard for CLT, clearing at least one hurdle to widespread adoption. "This is great news for our industry and for the Hawaii market. The new CLT approvals provide even greater levels of strength and opportunities of use in structures to replace steel and concrete," Ken Laughlin, the president of the Hawaii Lumber Products Association, said then.
As a student, Valenti knew mass timber had become all the rage. He wondered if albizia's flaws could be mitigated by engineering the wood the way manufacturers engineered fir or pine. He began working with Ian Robertson, a professor of civil and environmental engineering at UH Manoa, and a student, Tyler Allen, to test albizia's strength. Using small, 4-by-4 pieces of lumber, Allen and Robertson measured just how much weight and pressure albizia could take before breaking. Despite its reputation, they found albizia was just as strong as Douglas fir, a wood often used in mass timber products. If builders used albizia the same way, gluing layers to create large beams, perhaps this "trash wood" wouldn't be trash at all.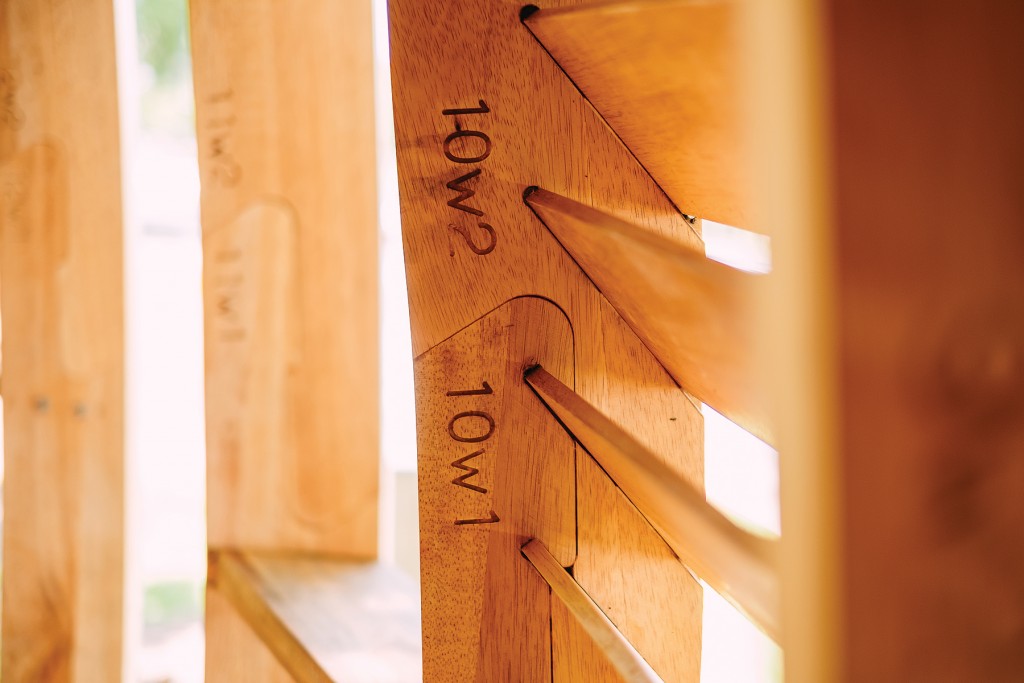 Valenti also developed a design for what could be a housing prototype. The dwelling would be entirely albizia, except for its steel footings. He envisioned a series of these small, stand-alone units that could be built affordably and quickly, erected on vacant lots or other underutilized spaces. They were intentionally minimal, just 400 square feet of floor space, offering a simple kitchen, bathroom and living space, with high ceilings for a sleeping loft and an elevated floor to prevent flooding. Inspired by early Pacific island architecture, the structure consisted of a series of telescoping wood arches enclosed with wood louvers to allow airflow. The curved walls gave the dwelling a biomorphic, almost shell-like appearance, while its exposed wooden arches lent the interior a lightness and warmth often missing from affordable housing projects.
And yet what Valenti was really designing was a kit of parts, a series of building components that could be assembled in various configurations, depending on the needs of a particular site. In flood-prone areas, perhaps it would need a higher floor, or in rainy locations, a more secure roof. The key was versatility. Arches already are efficient structures, creating a building's roof and walls in a single system. But a person could also tweak the number and dimensions of the dwelling's arches, creating units of various sizes to accommodate a family of any size.
In March 2016, what might have been just another lofty thesis project got the chance to exist in the real world. Valenti was one of two winners in the UH Office of Sustainability's inaugural Green Project competition and found himself with $10,000 to fund the construction of a full-scale prototype of his albizia shelter, to be exhibited on the Manoa campus. "Naive as I was, I honestly thought $10,000 would build me a timber house," Valenti says. "Not even close."
Over the next two years, Valenti raised an additional $80,000 for what became known as the Albizia Project. The money came from all over, including the Hawaii Housing Finance and Development Corp., the U.S. Forest Service and the UH Manoa School of Architecture, which also hired Valenti part-time. Dozens of other partners supported the project by donating time, materials, labor or tools.
New supply chains don't materialize overnight, however. Although albizia trees were being felled around Oahu, Valenti realized it would take substantial money and manpower to get the logs to a sawmill and then to the campus. Valenti undertook what he calls an epic "scavenger hunt," coordinating with state agencies and private property owners to secure enough lumber. He spread the word any way he could, posting ads on Craigslist and asking friends if they knew anyone who could help. Slowly, he began to stockpile wood. Like the funding, it came from all over, everywhere from Schofield Barracks to the Hawaii State Veterans Cemetery in Kaneohe.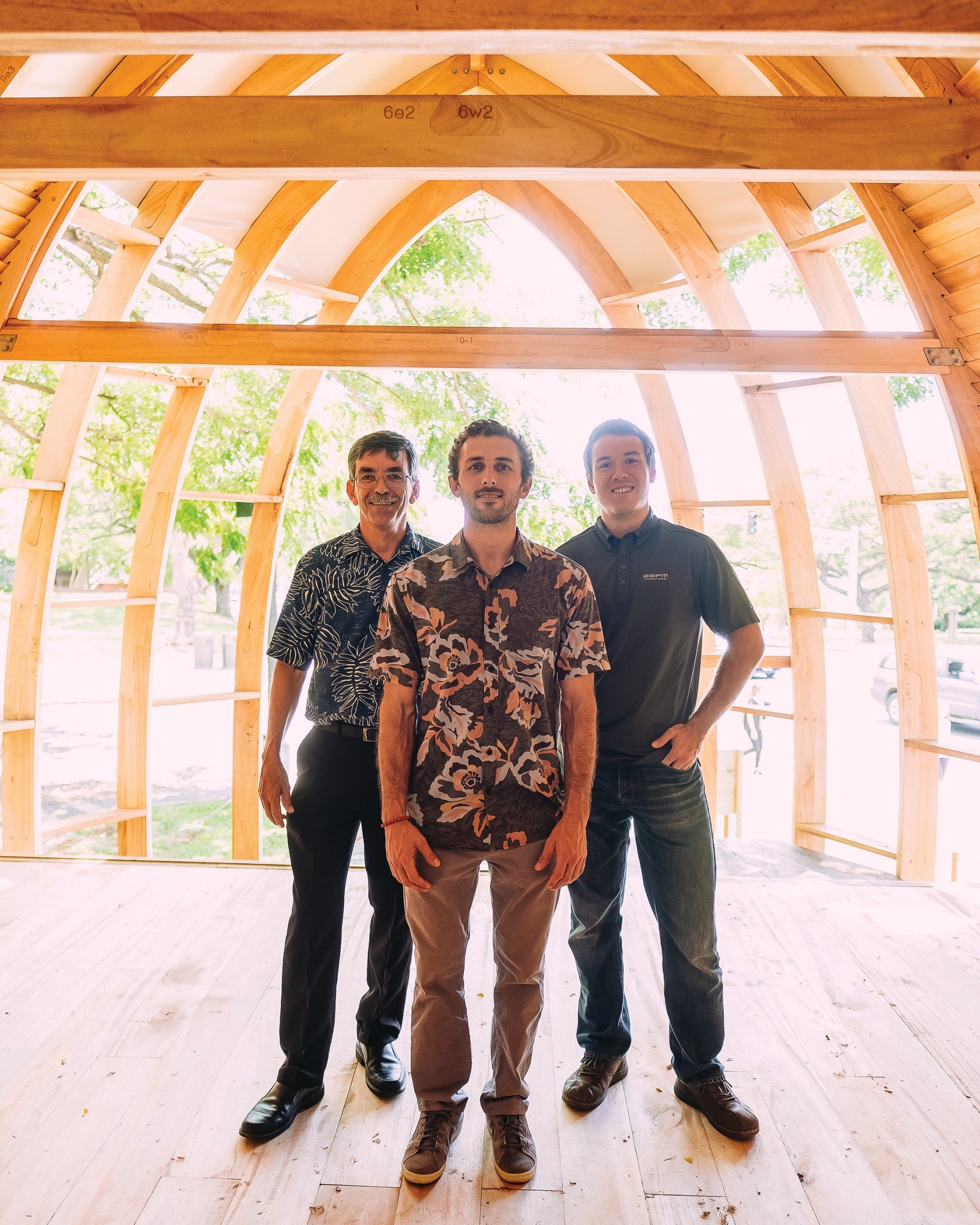 Amassing the raw material was just the first step. From Waimanalo Wood, where the logs were milled into inch-thick boards, they were trucked 30-some miles to Bello's Millwork in Wahiawa, where they were glued and pressed into 3-inch-thick panels. A computer-controlled cutting machine cut out the complex shapes of arches and beams, which were then hauled to UH Manoa. All told, Valenti would end up using more than 7,500 board-feet of albizia.
Then the project hit a major speed bump. In August 2016, Valenti got a phone call. His mother, Lisa, was in a coma. She had contracted West Nile Virus, and it had hit her hard, doctors said. The prognosis wasn't good. He flew to California, to St. Joseph's Hospital in Santa Ana, where he met his step-father and his two sisters, Amanda and Jacqueline. Lisa would remain in a coma for six months. Because Jacqueline was still in school at UH Manoa, Valenti and Amanda took turns staying with their mother, spending weeks at a time in California. Uncertainty shrouded Valenti like a fog. He considered leaving Hawaii, moving home. From the beginning, the Albizia Project had been ambitious. With his mom sick, it seemed impossible. Making matters more difficult, Valenti lacked the luxury of a full-time job, which would have afforded him a steady income and maybe even institutional support. And yet in some ways, the project – and more specifically the lack of commercial constraints – was a blessing, Valenti says. "If I was in a firm or something, I don't think I would have had the flexibility to work remotely."
On Valentine's Day 2017, Valenti's mother died. Valenti and his family were devastated. But Valenti also felt a new sense of purpose. From day one, his mother had supported his vision. As cliche as it sounds, Valenti believed his mother would have wanted him to finish the prototype. "That's basically what helped motivate me to keep pushing this," he says. "I felt like there was something backing me, telling me not to give up, to just keep going."
Over the course of the next year, Valenti assembled the rest of the albizia he needed, working with Waimanalo Wood and Bello's Millwork to produce the prototype's albizia arches, louvers, joists and cross beams. The arches arrived at the site in sections, each piece labeled with a code that communicated where in the structure it went. It was spring 2018. Valenti had promised the dean of the architecture school that the prototype would be complete by the time the school's accrediting board made its quadrennial visit the first week of April. He had until Saturday, April 7, to grade the site, pour the concrete for the walkway, truck the last lumber to UH and erect the structure. "(It was) probably the most important deadline of my life," Valenti says.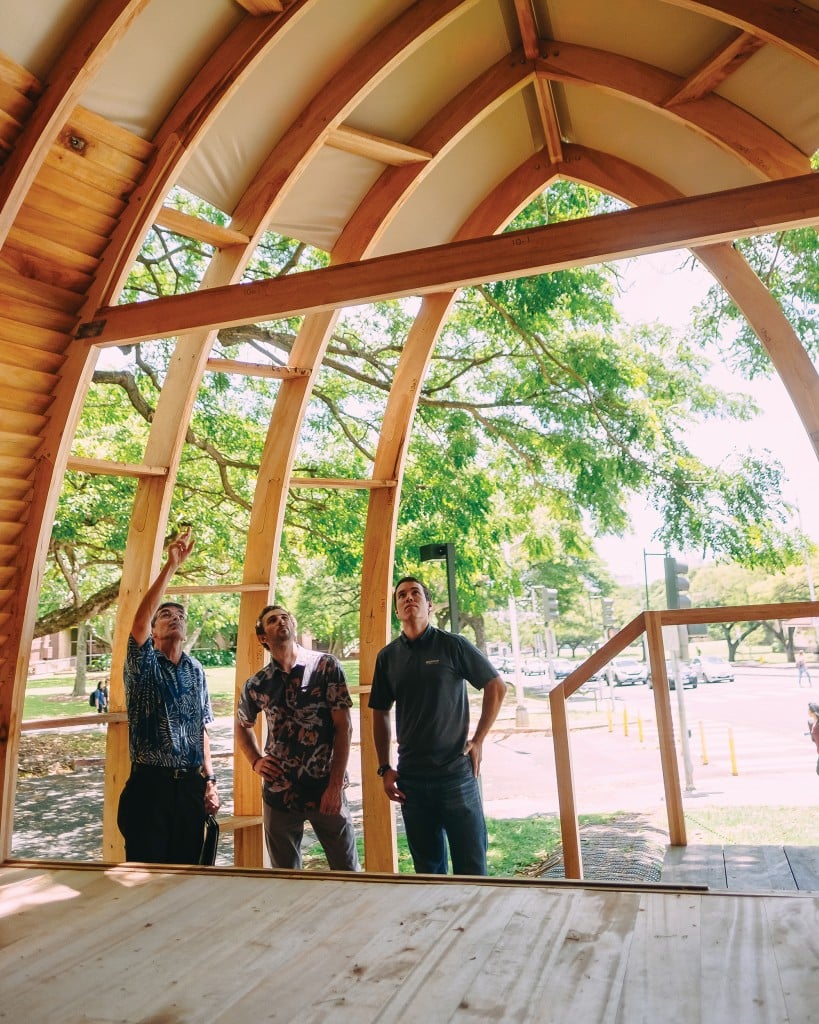 The Thursday before the deadline, there was still no building. But over the next 48 hours, a construction crew made up mostly of students, faculty, friends and family members rallied with enough vigor to rival an Amish barn-raising. Valenti's father and stepfather – both in construction – flew out from California to lend a hand, and by Saturday evening, the structure was standing, its exposed wood a stark contrast with the concrete buildings that surrounded it.
The dwelling wasn't completely finished. Only half the louvers were installed and there wasn't yet a floor, but this only made it more useful as an object of study. Like a living cross-section, a person could see how the albizia structure fit together, with its custom joints and steel footings. More importantly, the prototype stood. Here was a full-sized shelter built almost entirely out of a wood that everyone thought was useless. An idea that had seemed far-fetched asserted itself through its sheer existence, a refutation in three dimensions.
In the hubbub, one detail was easy to miss. Near the apex of the forwardmost arch, inscribed in the wood, was the structure's name. Valenti had chosen a Hawaiian name, but one that had a direct equivalent in English. He dedicated it to his mother and called it Lika.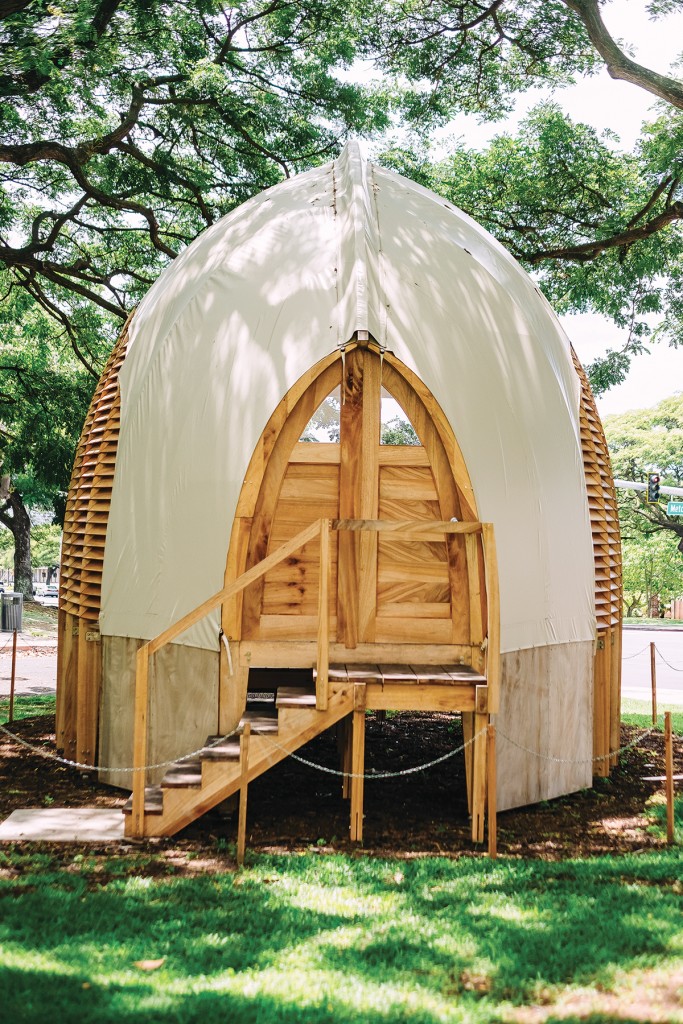 Local Trees Are Poised for a Bigger Role
Is albizia the answer to Hawaii's housing crisis? Probably not. It could take years before albizia is available at a commercial scale, and even then builders can be skeptical of new materials. However, Hawaii is poised to enter the "timber age." This past May, the state received a $250,000 grant from the U.S. Forest Service to spur use of local wood. The grant will fund the creation of a forest products directory (which will help link suppliers with craftspeople and other customers), as well as the design and construction of an accessory dwelling unit (ADU) and the conceptual design for an education center at the Mana Plain Forest Preserve on Kauai.
These initiatives will be overseen by the newly formed Hawaii Wood Utilization Team, a group of architects, business owners, forestry experts and at least one economist. The person coordinating the group's activities (and leading the design of the ADU and education center) is none other than Joey Valenti. In his new role, Valenti will turn his attention from albizia to other local woods, including eucalyptus and Queensland maple. Both are abundant in Hawaii's "timber management areas," or TMAs – vast tracts of non-native forest planted by the federal government in the 1950s and '60s. "It's unthinkable today. They bulldozed 10,000 acres of ohia forest and planted these exotic trees," says Philipp LaHaela Walter, the state resource and survey forester for the Hawaii Division of Forestry and Wildlife.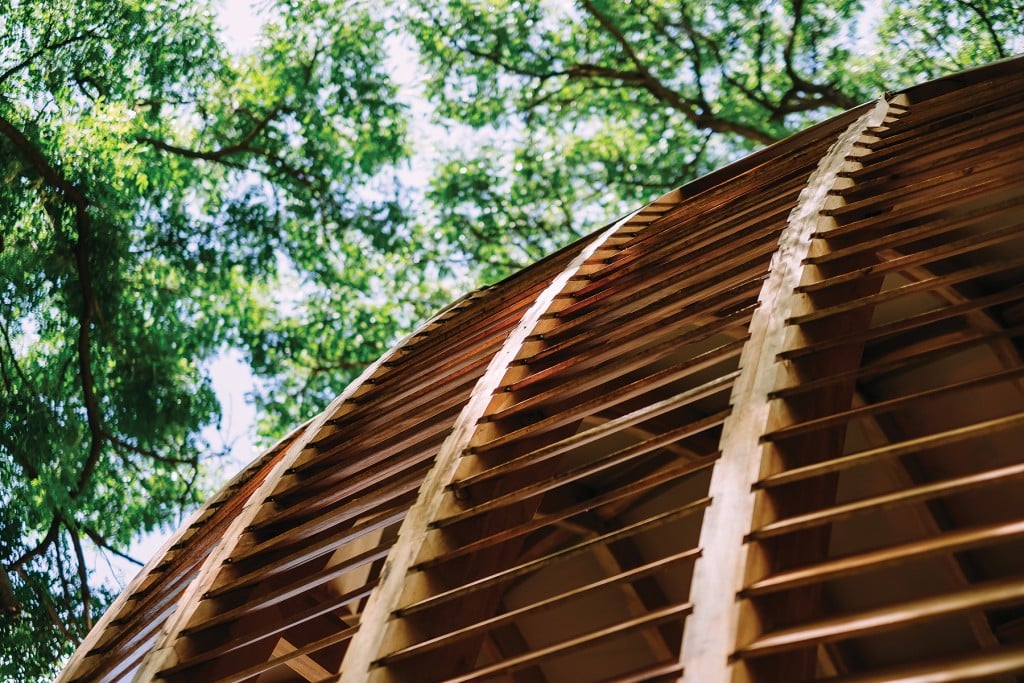 The idea had been to kickstart a Pacific lumber industry, but over the years, any number of plans to build sawmills and other infrastructure all fizzled. So Hawaii's TMAs have grown and grown, dormant plantations just waiting to be harvested. Today these timber plantations pose new threats to native forests, as well as surrounding communities, primarily by increasing the risk of wildfire. Having gone virtually untouched for 50 years, these stands have grown dangerously dense, transforming themselves into giant stands of kindling. As the Hawaii Wood Utilization Team noted in its grant application, "Thousands of acres of timber stands have not been managed regularly due to a lack of market for this wood, which has left overstocked, heavy-fuel-laden forests."
In other words, the state's push to find uses for its local timber is as much about conservation and public safety as it is about economic development. "Fire is really an issue. The difference here is that it's not a part of our ecosystem," Walter says, explaining the difference between Hawaii and a state like Oregon. "So it's even more important to avoid it here." And yet in 2012, three separate wildfires ravaged a total of 3,000 acres of the Hokee TMA on Kauai.
Although efforts have fallen through in the past, Walter says new biomass power plants on Kauai and Hawaii Island make logging Hawaii's TMAs more viable today, thanks to a market for low-quality timber. "When you harvest, you always have good quality and not-so-good quality (wood)," Walter says. A biomass plant creates a market for the low-quality wood, which otherwise goes to waste. "The margins in forestry are so low that it really makes a difference if you have a biomass power plant that buys the low-quality wood from you."
The bigger roadblocks to incorporating more wood in new building projects may lie in local building codes and contractors' general aversion to risk. Since 2015, the International Building Code has listed CLT and other engineered timber products as safe and acceptable materials. However, the city and county of Honolulu still uses the standards laid out in the 2006 edition of the building code. That doesn't mean builders can't use mass timber – there are routes for what is known as alternative compliance, and the city says it will consider the specs outlined in newer editions of the code – it just means a lot more time and effort, two things no contractor wants to add to a project.
The second hurdle may be more significant. Andrew Neuman, an architect at local firm Urban Works, says his firm has tried to specify nail-laminated timber, a solid timber panel similar to CLT, but has gotten pushback from contractors who prefer concrete, which is more familiar to them. In general, there is a reluctance to experiment with new materials such as mass timber, he says. "There's a real timidity to get into that stuff."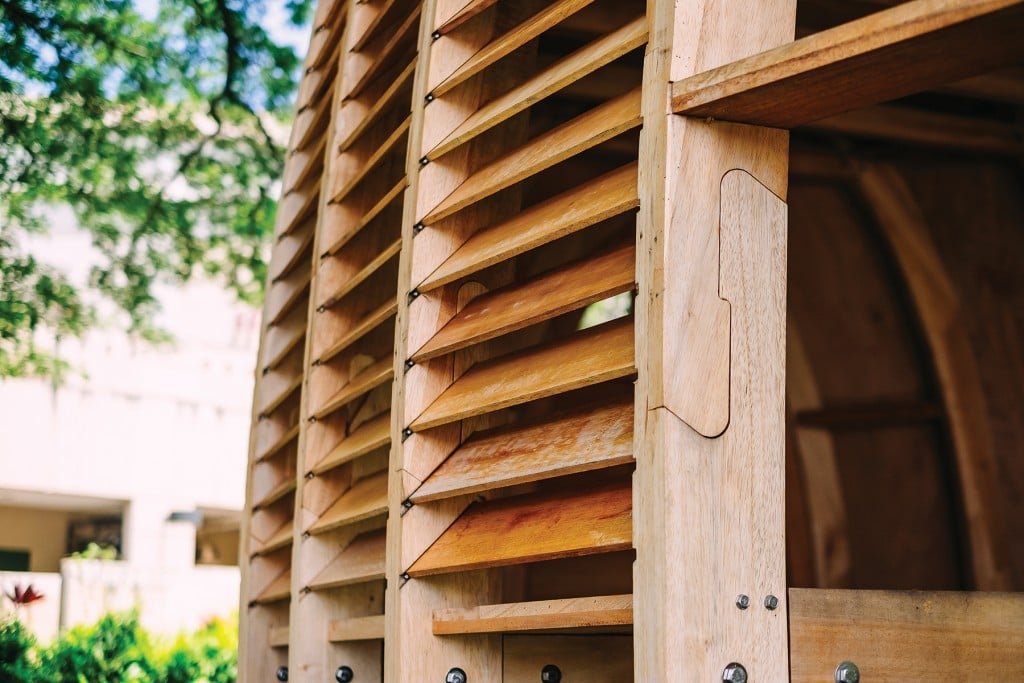 Builders' concerns aren't completely unfounded. Swapping out a precast concrete deck for one made out of wood comes with a significant learning curve, one felt most acutely by the contractor. That's why Neuman says he believes it will take "a champion from the construction side, who says, 'We want to push this too.' That's really what's happening on the West Coast."
The Hawaii Wood Utilization Team is doing what it can to allay fears and speed adoption. Currently, it is working to find workarounds to code compliance and other obstacles in collaboration with WoodWorks, a national nonprofit funded in part by the Forest Service and the Softwood Lumber Board, which provides education, resources and free technical support on large-scale timber projects.
Meanwhile, Valenti has made several trips to Puna to explore using albizia to build emergency shelters for those displaced by lava. The recent flooding in Hilo only adds to the need for new housing. These emergencies on Hawaii Island could serve as important testing grounds, since temporary structures are often exempt from certain building code regulations.
Long term, however, the hope is to make large-scale wood buildings the norm, not the exception. "My vision is that there will be a market and an appreciation for locally produced wood products," Walter says. For him, Valenti and others, wood provides a connection to the environment that steel and concrete cannot. Spend a few minutes in Valenti's Lika prototype, and you can't help but absorb the wood's warmth, its elegance. Its aliveness.
"When you walk into these amazing buildings where the wood is really showcased, it changes you," Walter says. "You see it, and you're like, this is how a building should look. It should live."