Chris Benjamin Retiring; Lance Parker Will Take Over as A&B's CEO
In a recent interview, Benjamin describes the company's transition to being entirely focused on Hawai'i commercial real estate.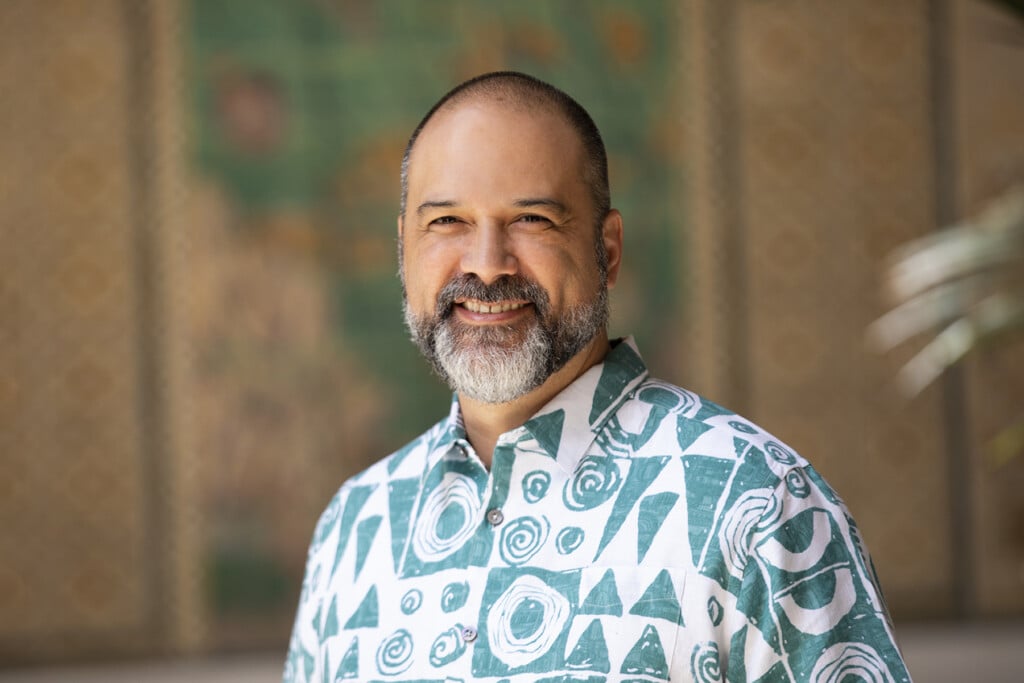 Alexander & Baldwin announced on February 1 that Christopher J. Benjamin will step down as CEO on June 30 and be replaced by Lance K. Parker, currently the company's president and COO.
Benjamin will serve as a consultant to the company through the end of 2023 to ensure a smooth transition.
"When Chris became CEO, his mandate was to transform A&B from a diversified conglomerate to a focused commercial real estate company. He accomplished this goal and, in the process, assembled the strongest real estate team in the state," says Eric Yeaman, A&B's chairman of the board.
"Consistent with his long-term intent to retire at age 60, he is handing the reins to that team to lead A&B into the future. The board and I appreciate his outstanding leadership over the past seven years," Yeaman says.
Lance Parker was previously head of A&B's real estate division. He became COO in 2021 and was promoted to president this year, A&B says in a press release.
Parker was born and raised in Hawai'i. He is a graduate of Kamehameha Schools and the University of Southern California.
Recently, I interviewed Benjamin about the company's recent adaptations and pivots.
A&B is the largest owner of grocery store and drugstore-anchored retail centers in the state. After all of the disruptions caused by online shopping, the pandemic and the drop in tourism, how is that business going? What is the vacancy rate? How are your tenants doing?
We lost some tenants, but if you had laid out those factors for me three years ago, I would have expected we would be in a much worse place today than we are. Our occupancy is very, very high. In fact, we had relatively little drop-off as a result of the pandemic and we managed to backfill most or all of those spaces. Traffic through the centers is very strong.
Many of our tenants are experiencing volumes and revenues greater than they were before the pandemic. I think a few reasons why is the economy is doing very well, unemployment is way down and those who want to be back to work seem to be back to work.
While I can't declare that we have de-urbanized, there's no doubt people are spending more time in their local communities and less time commuting to the urban center. And our retail centers are in those communities.
And there's growing demand for services in the community. For example, we've had a number of new leases to veterinary clinics. People got pets during the pandemic and they need someone to take care of them.
There have been tenants whose business models have been challenged by the pandemic, though I don't think online retail has had nearly the impact we thought several years ago. Part of that is because a lot of retailers have online models, which allow customers to buy online, pick up in store.
So overall, we're feeling good about the sector we're in and how it's performing.
The permit process in Hawai'i has never been quick or easy. But the process on O'ahu has gone from bad to worse to terrible. How has that impacted tenants who want renovations or new tenants coming in?
That has had a significant impact. In many cases, we've signed the lease but the tenant has not yet opened because the permitting process has taken so long. We have to work with our tenants in those situations because it's very difficult for them to have the burden of rent when they can't even do their build-out. So we try to be accommodating in setting free rent periods, but there's only so much we can do.
We have a strong internal team that supports our tenants through that process, including architects and folks who have deep knowledge of the permitting process. A lot of our tenants don't have that experience. That's a service we provide because it's in both of our best interests to get them open as quickly as we can – and the community's best interest.
In the last few years, A&B redeveloped some of its properties. What have you emphasized?
Where possible, we've done adaptive reuse of existing assets. The two biggest examples are Lau Hala Shops, which was the old Liberty House/Macy's in Kailua (now a collection of stores and restaurants) and at Aikahi Park Shopping Center (where the old movie theaters have become a veterinary clinic). We're very proud of those redevelopments because, from an environmental standpoint, it's much better to repurpose an existing property than it is to tear down and start from scratch.
And as we approach those projects, we try to develop designs that repurpose it into buildings that retain the historical significance and authenticity of the buildings, but also modernize them and make sure they meet the needs of the community today, and by using native planting and creating a friendly, walkable environment.
Next one up is Mānoa Marketplace. That's been a couple stages. Several years ago, shortly after we bought the center, we did some improvements – some behind the scenes – but the more visible one was completely redoing the parking lot. In response to strong support from the community for the monkeypod trees there, we redesigned the lot to create bigger planters that would protect the roots of the trees, while also allowing us to make the parking lot safe.
The next phase is upgrading the center: refreshing the overall exterior facade, renovating the second-level balconies and restrooms, installing energy-efficient lighting throughout the center, as well as EV parking stalls, water-efficient irrigation, a family friendly plaza with a keiki play area. We want our centers to be gathering places for the community. We hope people will not just pick up their order at a restaurant or retailer, but spend time there.
We also have a significant focus on improving the sustainability of our commercial portfolio. We have a lot of roof-tops that can post PV installations and we recently flipped the switch on a 1.3 megawatt PV installation on top of our Pearl Highlands Center. And it's one of the largest of its kind in the state and it's going to generate enough power to cover all of our common area needs, as well as a significant portion of our tenant needs.
Our focus on sustainability includes both reducing our consumption of energy and water, but also generating as much energy as we can on our rooftops. We have already approved the next PV installation, which is going to go on our Kakaako Commerce Center and industrial property in Kaka'ako.
A small part of your business is residential development. Do you have anything in the works?
The short answer is we don't. The longer answer is that because we have had a history of residential development, and because it can sometimes be complementary to these communities we're building, and because there's such a need for housing, we continue to evaluate whether we could or should leverage that expertise. But it's no longer our core business.
You offered a subsidiary, grace pacific, the state's largest asphalt paving contractor, for sale. Any bidders?
We've had indications of interest from potential buyers. We hope sometime in the first half of 2023, we will complete the sale – an important step in our simplification process. Our simplification began a decade ago when we spun off Matson. And it's continued through our transition out of residential development, out of our sugar and coffee operations, out of some of our other smaller operating businesses, including renewable energy projects. And we're almost complete in the sense that we're almost now 100% focused on commercial real estate. That's a very important goal for us.
A&B had owned almost 19,000 acres on Kaua'i. What happened to that land?
We have now sold those acres on Kaua'i as part of our continued simplification effort. Late in 2021, we sold our Kukui'ula residential development on Kaua'i to Brue Baukol Capital Partners. And during 2022, we were able to complete the sale of the other 18,900 acres of conservation land on Kaua'i to the same company. So in a sense, those lands stay connected, because there are synergies between those lands. The sale allowed us to better focus on commercial real estate and also helped significantly reduce our debt, which puts us in a great position to now be an acquirer of additional commercial real estate in Hawai'i. That's the pivot that we're making: We're now pivoting back toward a primary focus on growing our commercial real estate portfolio.
What about the 4,300 acres of AG land you still own on Maui?
We still have most of that land, but there are a couple of things going on there. One is that they're scattered around the island, so there will probably be multiple buyers for that land.
And we are donating 45 acres to the County of Maui for parks and public use. They are parcels that have been enjoyed by the public on Maui for generations and they really belong in the hands of the county. (The 45 acres are spread over 15 parcels, including land at Baldwin Beach Park, Baby Beach and other shorelines.)