Talk Story: Andrew Rosen, CEO of Hawaii State FCU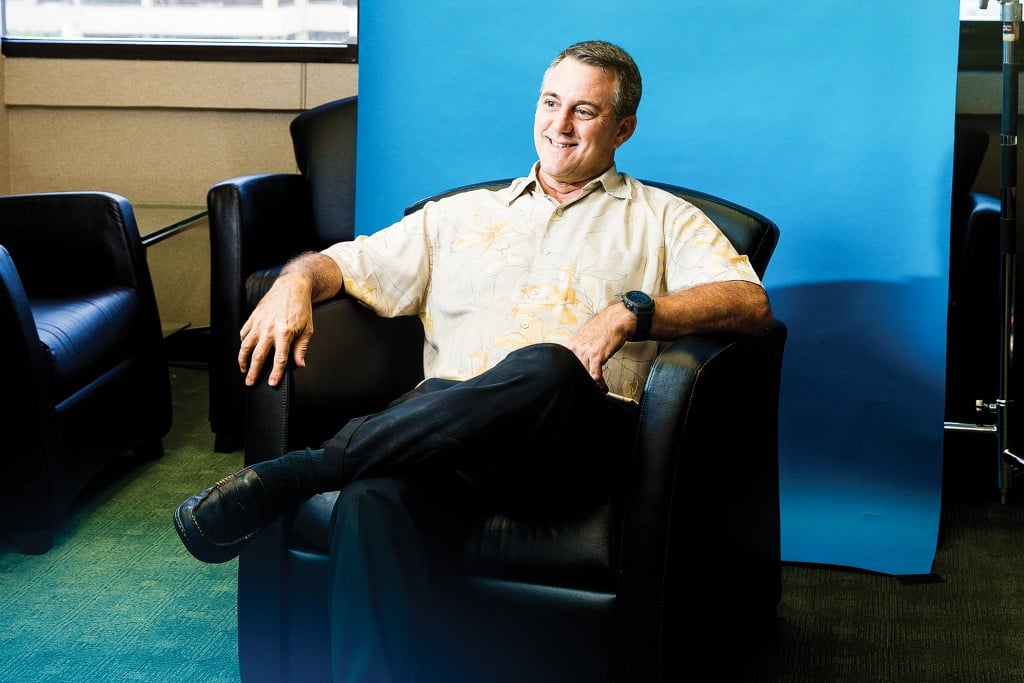 Hawaii State FCU
is on a roll: It celebrated its 80th anniversary this year with a record of $820 million-plus in loans and 99,000 members. But Rosen cannot afford to let his guard down in a finance industry dealing with broad regulations, security breaches and consolidation – the number of credit unions in Hawaii has fallen from a peak of 140 to 60 today. He says he is constantly thinking of ways to invigorate HSFCU, so it remains relevant in a changing environment.
Q: You've been at HSFCU for five years. How has it changed?
Rosen: I had spent most of my career working for big banks, so when I got here I was amazed at how well run the credit union was and what a good value we offer our members. What was disappointing was that many people in town didn't know. One of the first things we did was a re-brand because it was important to let people know who we are and what we offer. We've been growing the number of members 5 to 8 percent yearly, so we've done a pretty good job in building awareness.
Q: Who are your primary competitors: banks or other credit unions?
Rosen: There are 60 credit unions in Hawaii; together, we have 17 percent of the market. Then we have eight banks, which combined control 83 percent. So if we're going to grow that's where the majority of growth will come from.
Q: Given the long history of credit unions in Hawaii, why are banks so dominant?
Rosen: Most credit unions in Hawaii started around 1936. A lot were started on plantations, mirroring the Japanese concept of tanomoshiko, which was neighbors pooling their money to help each other. Even though credit unions are small at 17 percent of the local market, that's about triple the Mainland, where credit unions have an average of 6 percent market share.
Originally, credit unions didn't do business banking, but that has changed. We're giving small loans to members who own businesses and that's helped us to grow.
Q: What are the differences between banks and credit unions?
Rosen: Structure is a big difference. Credit unions are nonprofits. We are owned by our members, whereas the banks are owned by shareholders. All of a bank's profits go to shareholders, which a lot of times are big companies on the Mainland. All of the profits we make either get re-invested in the credit union or go back to our members. It allows us to offer better rates on loans, lower fees, better rates on deposit accounts.
Q: What are your big hurdles today?
Rosen: Since the financial crisis, regulators have come down hard and written about 22,000 pages of rules we have to follow – both us and the banks. We are doing our budget for 2018, and it's really frustrating when I want to spend more money to build systems that will protect us against cyberattacks or better service our members, but we're being burdened with significant regulatory costs.
That gets compounded because we are in a historically low interest rate environment. Rates have been almost flat for the last 10 years and that really squeezes our profit margin, making it harder for us to operate.
Q: But rates are creeping back up.
Rosen: Yes, we're forecasting another half a percent to one percent increase in 2018, but it will be very, very slow.
Q: How about the surge in financial technology firms?
Rosen: Yes, they are up-and-coming and some are trying to steal our business. For example, Venmo or PayPal, which are providing technology that allows people to transfer money online. That's traditionally one of the roles banks and credit unions have played. We need to make sure Millennials know we have the exact same technology. We have mobile banking. We have mobile check deposit.
These startups have a lot of competitive advantages. No. 1, a lot of them don't have to make money. No. 2, they don't have the same regulatory burdens we do. And they don't have the same overhead or cost structure.
Q: There is consolidation in your industry: are you eyeing potential mergers or acquisitions?
Rosen: In 2015, we were asked by our federal regulator to help Dole Wahiawa Federal Credit Union because it was having financial trouble, so we merged. It was very small, originally set up on the Dole plantation to serve workers. But as the plantation got smaller, their member base shrank. My goal is to support credit unions. If a merger benefits their members and ours we're open to that.
Q: How do you cope with being the target of hackers 24/7?
Rosen: When I first got here we had a cyber-attack on our website, so if you logged onto Hawaii State FCU there was a picture of Lady Gaga. It happened because one of the vendors that managed our website hadn't kept up with the latest security updates. It took us awhile to get out from under that. It was a big wakeup call. 
We have made a ton of investments. Our chief information officer expects to spend 12-15 percent of his overall budget on cyber security, which is a lot. Technology and education will help to protect our members.
We've estimated that just offering text alerts on debit and credit card transactions can reduce fraud by 40 percent. So we offer text alerts to our customers. We also enable customers to use their mobile phone to turn off their debit card or credit card if they have lost it. The EMV chip is another security measure, which we deployed ahead of the 2015 deadline.
Q: What guides your leadership style?
Rosen: I follow Bill Belichick's philosophy: "Do your job." Make sure you get the job done, that you are excelling and supporting your team and I really believe in that. If everyone on the team is doing specifically what they've been assigned, the tasks they've been assigned, then the team can really work well together and you can trust
each other.