My Job: Aquarium Biologist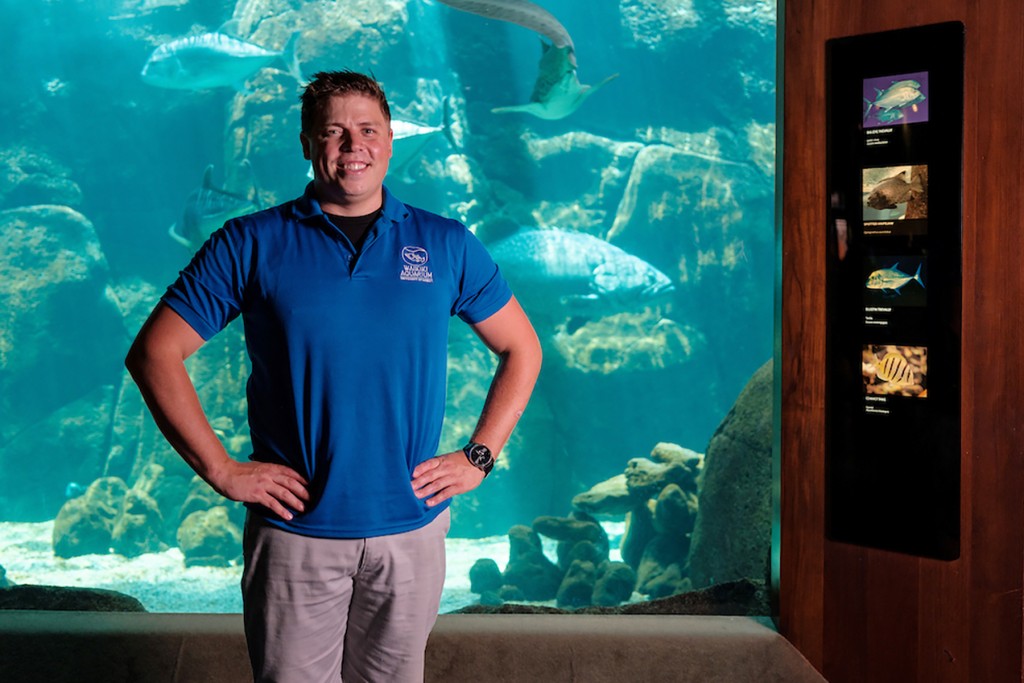 Name: Johnathan Casey
Age: 31
Job: Senior aquarium biologist and laboratory manager, Waikīkī Aquarium
Beginnings: "I was first inspired to become an aquarium biologist when I was 6 during a field trip to the Seattle Aquarium," Casey recalls. "I was mesmerized by the deep-water sharks on display and the biologists that were diving with these apex predators." 
After receiving a Bachelor of Science degree in biology in 2009 from George Fox University in Oregon, Casey returned to the Seattle area to become a senior aquarium technician at Clayton Aquariums. In 2012, he was recruited to be the supervisor and lead aquarist of the Reef Life Department at Sea Life Park Hawaii. He's been at the Waikīkī Aquarium for the past three years.
What it Takes: "I'm responsible for a multitude of marine vertebrate and invertebrate species, including the largest of the aquarium displays, Hunters on the Reef, containing many apex predators found in the Pacific Ocean. This includes a several-hundred-pound giant grouper, numerous large jacks and an 8-foot male zebra shark. I manage our state-of-the-art life support system and all husbandry aspects for the livestock."
Diet: "My team and I create the diet for each specimen based off of research done on wild populations. This includes a diverse selection of restaurant-grade fish and shrimp fed three times a week."
Public Feeding: "Our feed days are Sundays, Tuesdays and Thursdays at 11 a.m., so the public may observe these predators in action. We feed the tank from the topside deck area; divers are not in the water at this time, as we never want to associate our divers with food."
Feeding Dilemma: "In the past, we had only one biologist feeding all the animals and we began to see crowding issues where all the fish wanted to be in the same spot at the same time, leading to aggression and injury. We began a multifaceted training program with an additional biologist. This included a beginning and ending auditory cue that the animals associate with the start and end of the feed. Another technique was to feed each group at a different location at the top of the tank to avoid competition.
"Apex predators are very aggressive, but also very intelligent – they learned fast." 
Cleaning Day: "We have work dives each Wednesday morning, when our scientific divers scrub the walls and rocks of the exhibit, as well as gravel-wash the substrate to remove particulates. We always satiate our animals the day before to ensure there's no aggression toward our dive team."
Challenges: "Recently I obtained a small group of golden cuttlefish from the Monterey Bay Aquarium. Little to no information was available on the care of this species. But through persistence and collaboration with other institutions we have become very successful – with our animals more than quadrupling in size and being featured in a new display."
Advice to Newbies: "Be fully aware of the incredible time commitment and responsibility to the animals we care for; 13-hour days are common and we always have to be at our wits."
Pay Range: "Aquarium science is a labor of love. Starting aquarists with a four-year degree in science and professional dive training usually begin at $25,000 on average. A senior aquarium biologist may see $45,000."