Armchair Travel, Hawaiian Style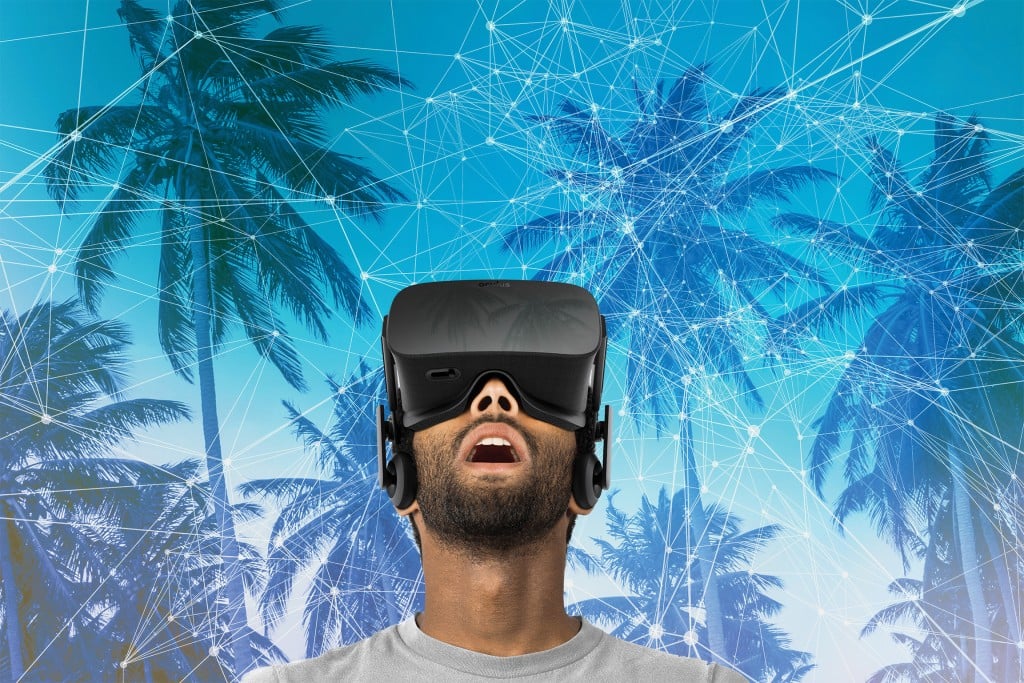 A young Japanese couple experiences a dream Hawaii vacation. They start the day riding horses along a dusty mountain trail at Kualoa Ranch. Then they cruise down Kalakaua Avenue in a convertible, lounge on Waikiki Beach and end the day parasailing. They do all this 3,855 miles from Honolulu in a brightly lit, compact office in Tokyo. All they need is panoramic footage and an Oculus Rift, a headset that fits over users' eyes, simulating their active presence in a real or imagined location.
This is virtual reality, aka VR, once the stuff of science fiction and now a burgeoning industry. Take Oculus Rift. It was launched and funded by Kickstarter in 2012 as a $2.4 million campaign. In 2014, Facebook purchased the VR hardware company for a cool $2 billion. Google has its own headset, called Cardboard – the $15 VR kit is made out of cardboard and works with your smartphone – and Samsung boasts its Gear VR and Microsoft has the HoloLens in development.
These devices have incredibly high resolution per eye, rotational and positional tracking and a wide field of view, making users feel as though they really are riding a horse or parasailing 500 feet in the air. They have been applied to education, military training, gaming and, recently, tourism marketing.
Kai Kau sees unlimited potential with virtual-reality technology. He would know: Kau owns several VR headsets and, in 2012 founded VRCHIVE, pronounced "archive," a free website in which users can upload and share panoramic photographs and images, and then view created or real locations with VR headsets. He says the site has more than 2,000 uploaded destinations, many of which are virtual creations. The Punahou grad recently moved to Silicon Valley to continue developing the website. VR is the next frontier for marketing, he says, "but only by the select few who do it right in the beginning."
The Japan-based Hawaii travel agency HIS recognized the potential of virtual reality early and, this past March, invested $1 million to open a new location in Tokyo. The store's main attraction is the Oculus Rift, enabling users to "travel" to Oahu.
"The Hawaii Tourism Authority is monitoring and evaluating the use of new, improved technologies that appeal to the millennial traveler."

— George Szigeti, CEO, Hawaii Tourism Authority
"The device allows our guests to experience a part of Hawaii (in a way) most people have never seen," says HIS president Konosuke Oda. "With its mesmerizing 360-degree visual effects, you can experience the beauty of Hawaii." Oda says the virtual-reality presentations at its Tokyo storefront have increased HIS' vacation and tour bookings to Hawaii. In fact, the number of walk-in customers at the storefront has doubled since it opened last year; even Gov. David Ige and his wife, Dawn, visited in June. Not long after the company launched its Tokyo office, it opened a second location in Japan, complete with another VR headset, in Osaka.
"HIS Hawaii is (taking) additional footage of scenery from outer islands to encourage guests to travel outside of Oahu," Oda says. The company also has virtual reality scenes from last year's Great Aloha Run and will be using them to promote athletic activities and for a display at the Great Aloha Run expo this February.
Hawaii's natural beauty makes it the perfect virtual-reality destination. That's why Marriott, now the biggest hotel chain in the world, chose Maui as one of two locations for panoramic, 360-degree filming. (The other was London's Tower 42.) The video was used in the Teleporter, a full-body immersive VR device built by the visual effects company Framestore – the team behind the special effects in the movie "Gravity." Installed outside New York City Hall in September 2014 and introduced to newlyweds as they came out of the building, the Teleporter instantly took them to remote Waianapanapa Black Sand Beach. They not only saw the scenery, but, thanks to built-in heat lamps, misters and fans, they felt the sun, the ocean spray and the trade winds, says Michael Dail, Marriott's VP of global brand marketing.
"Waianapanapa State Park in Maui is such a unique, special place and one of the most beautiful and popular vacation destinations," says Dail, "so we felt it was the perfect place to let our guests experience via the Teleporter." In a Marriott marketing video for the Teleporter, the newlyweds said VR technology made them more likely to book a vacation to the destination they experienced.
This fall, Marriott introduced a second virtual-tourism pilot project: VRoom Service. Guests in its New York Marquis and London Park Lane hotels could rent a Samsung Gear VR headset and headphones and, without leaving their room, travel to Chile, Rwanda and Beijing. While neither the Teleporter nor VRoom Service are still active, Dail says, Marriott will continue to pursue VR for marketing purposes. "It's part of a larger effort as a brand to inspire our guests and spark conversations around why people travel," he says. "We believe there are myriad possibilities for the application of virtual-reality technologies within the travel industry worth exploring."
The Hawaii Tourism Authority is keeping tabs on virtual reality and its applications for marketing the Islands.
"As we look to attract the next generation of travelers to the Hawaiian Islands, the Hawaii Tourism Authority is monitoring and evaluating the use of new, improved technologies that appeal to the millennial traveler," says president and CEO George Szigeti. That includes "evaluating virtual technologies that may introduce potential visitors to the wonders of our Islands."
In 2013, Kau started Hawaii Virtual Reality, a meet-up for folks interested or involved in VR locally. It currently has 73 members, he says. "The next few years will see more innovation in VR and AR (augmented reality) than all the time up until this point," he says. "By then, we'll have a plethora of reasons to use the technology."
While there's huge potential for VR in the tourism business, Kau says, he's thinking beyond just one industry. For example, he suggests, with virtual reality, real estate agents can walk potential buyers through a home and architects can show clients a project before it's built. "It is a new medium and it is going to change every industry," he says.