Attention Passengers: This Form Is Really Important to Hawaii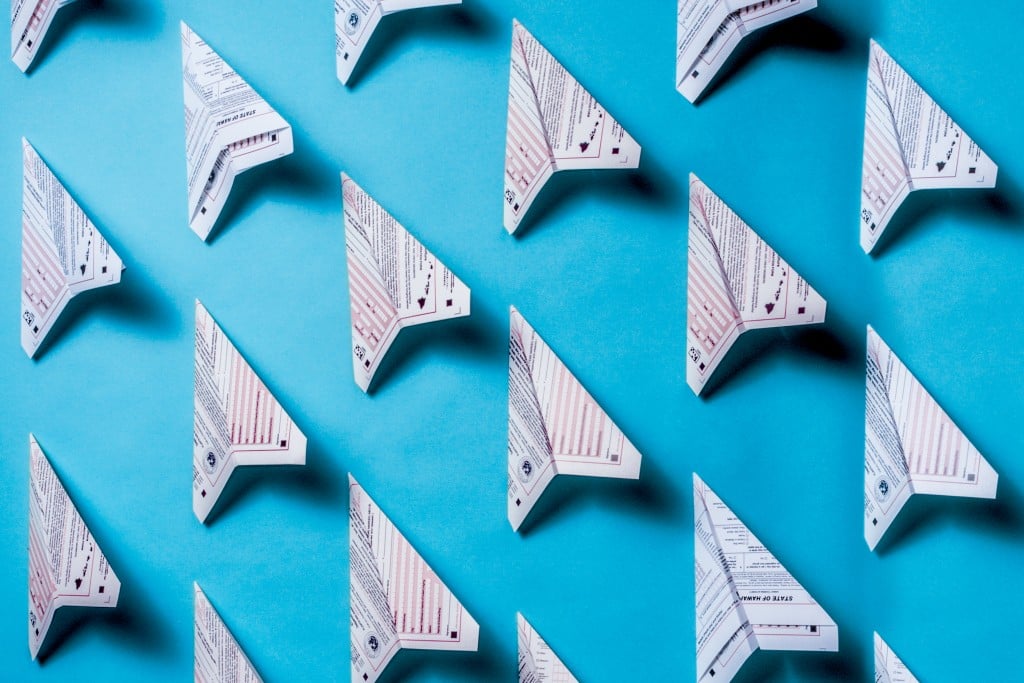 YOU ARE ENGROSSED IN the latest action movie, noise-canceling headphones in place, halfway through your book chapter or, worst, sleeping. The flight attendant comes down the aisle, interrupting everyone's mid-flight routine, and says, "Please fill this out." You get the familiar two-sided form, but never anything with which to write.
For more than four decades, state law has required that passengers arriving from the U.S. mainland declare any produce, plants, animals, insects, soil or microorganisms. (We'll get to passengers arriving from foreign countries in a moment.) Many passengers, particularly kamaaina, don't fill out what's officially called the "state plant and animal declaration form" despite the bold red letters saying it is mandatory. Failure to do so is a misdemeanor that carries a maximum $25,000 fine, but locals know the statute has never been strictly enforced. Even the plant and quarantine branch inspectors from the state Department of Agriculture – who pick up the forms, read them and talk with passengers – admit it comes down to voluntary compliance: The state relies on flight attendants to distribute and collect the forms, and on passengers to fill them out.
Jim Dannemiller, president of SMS Research, the downtown Honolulu firm contracted to scan and process the approximately 3 million forms each year, says the completion rate is less than half.
"There was a ball python put in the amnesty bin 13 years ago."

— Jonathan Ho, Branch acting inspection and compliance section chief
The other side of the form contains a survey created by the Hawaii Tourism Authority to monitor tourist trends. This side is optional, but the information collected sheds light on visitor demographics that is useful for marketing: where travelers come from and where they visit in the Islands. HTA values this information so much it covers the costs for the state Agriculture Department and spends $397,000 annually to print, distribute and process the forms.
In 2014, 3.15 million visitors and locals filled out the surveys. Each day, roughly 10,000 forms are completed, collected, processed and analyzed. These pieces of paper reveal a lot about visitors and residents alike.
Declaring your fruits
Though some have slipped in, Hawaii remains unencumbered by a whole host of pesky insects, invasive plants and perilous animals. And the state is trying to keep it that way. That's why, in 1973, legislators passed a law mandating that all visitors arriving from the U.S. mainland, including foreigners, must fill out a form declaring if they have any of the above before leaving Hawaii's airports or harbors. According to a 2002 risk assessment by the state Plant Quarantine Branch, airline passengers were thought to be the primary source of illegal animals and plants.
Excluding new pests is a big job. There are at least 50 flights from the mainland to Hawaii each day, with between 17,000 and 24,000 people on board. However, in 2009, the agriculture plant quarantine branch suffered debilitating budget cuts and laid off much of its staff, including agriculture inspectors, says Jonathan Ho, the branch's acting inspection and compliance section chief. "The office is 35 to 40 percent vacant," he says.
Currently there are 10 agricultural inspectors working at the Honolulu International Airport and 10 covering the other state airports. Before the recession, about 19 inspectors worked in Honolulu alone and, says Ho, they now work shorter shifts. The airport agriculture inspectors, clad in sky-blue uniforms, are the first to receive the declaration forms from the airline gate agents in the baggage claim area; they go through each form by hand before they are sent to SMS
to be scanned and processed.
The most common declaration is produce, says Ho. For example, Californians might bring a persimmon or a small bag of radishes, visitors from Florida, some citrus. "If it's a small quantity, I tell people to just eat it," says Ho, a longtime inspector himself. "They'll peel the citrus, give us the peel and eat it. Or if they don't care, they'll just give it over to us." Much of what's on the restricted produce and plant list is because of the destructive pests that attack them. "For example, we don't have the cabbage maggot here," he adds, a pest that invades the turnip family.
Sometimes it's more than just a piece or two of fruit. If locals bring back caseloads of produce or live seafood, Ho says, the foods are inspected and, if necessary, treated with pesticides. "The folks will call us before they leave (for Hawaii). They're locals so they know the process," he says, adding that they must have a permit
processed beforehand.
Sometimes, it's not food at all. "There was a ball python put in the amnesty bin 13 years ago" in the Honolulu airport, says Ho, adding that inspectors usually just find produce or trash in the bins. "People do try to smuggle snakes on the plane," he says, adding that illegally smuggled reptiles are shipped to mainland facilities. Ho says sometimes the creatures are already legal pets; he remembers one person declaring his pet turtle, which is a conditionally approved animal, if properly permitted prior to arrival (the permit costs $20).
While Ho credits the procedures in place for helping keep out unwanted invasives, he says a stronger presence at Hawaii's airports is needed. "Hawaii is different from the rest of the U.S.," Ho says. "We try to work with passengers so they understand why it's important, why they need to declare. The inspector is one of the first people travelers talk to upon visiting Hawaii, especially on Neighbor Islands … When you're not there, that presence is gone and some unscrupulous people take advantage."
Tracking U.S. tourists
Hawaii is one of the few states that is able to effectively survey its domestic visitors arriving on airplanes and cruise ships. "It gives us an advantage," says Daniel Nahoopii, the Hawaii Tourism Authority's director of tourism research. "We know how many visitors are coming, from where, but also foreign visitors that come through the United States … From there, our marketing partners can target markets much more effectively."
As you might expect, Nahoopii says, surveys show 78 percent of domestic visitors come to Hawaii for vacation, 11 percent to visit family and friends, and only 7 percent come on business.
"Before the recession, we had a much stronger business component," he says. "There were a lot of cutbacks from business travel and associations having large conventions. Our goal is to get it to 15 percent." While Nahoopii admits the national media still doesn't consider Hawaii a serious place for conventions, it's become more attractive as an international business destination, particularly since the APEC conference in 2011.
DBEDT also utilizes the data from the tourism
survey, says Eugene Tian, chief state economist, who works in the state Department of Business, Economic Development and Tourism's research and economic analysis division. "We use the declaration forms for three uses every day. The first use is collecting daily
passenger counts; the second is counting the people coming in who intend to stay in Hawaii as residents; and the third is the de facto population (by determining) how many residents are gone from Hawaii temporarily."
International Visitors
For people entering Hawaii from foreign countries, the U.S. customs process prohibits plants and produce in a way similar to the state declaration. Those international arrivals don't get the onboard survey, but the HTA hires people to conduct in-person exit surveys of foreign travelers before they fly out of Hawaii airports. The survey forms are similar to those domestic passengers fill out, says Nahoopii. "We add another component to ask about their expenditure patterns, how much did they spend on lodging, shopping and activities," he says.
Nahoopii says the surveys reveal many things: for instance, that Japanese visitors are shopping less nowadays and spending more on experience-based activities, such as kayaking or biking. Also, that the accommodations preference for both U.S. and international visitors is changing. "Right now we're seeing an increase in our visitors using bed and breakfasts, vacation rentals and rental homes," says Nahoopii. "We're seeing an increase in Japanese visitors using timeshare units."
International visitors are also getting out of Waikiki, he adds, and into Oahu's trendy neighborhoods such as Kailua or Kaimuki, or off the island entirely. "I like to track which Neighbor Islands international visitors go to. International visitors have to go directly into Honolulu International Airport because of customs, but where do they go after?" he asks with a laugh. "Lately, there's been a trend for Japanese visitors to go to Kauai. A lot of Chinese and Korean
visitors are on tour packages so they go to multiple islands."
The Kamaaina Factor
The survey isn't all about the tourists, though. It details important information about how locals travel and when they go.
A surprise to no one, the No. 1 domestic destination for locals is Las Vegas, and has been for decades. Interestingly, kamaaina tend to go on vacation for as many days as visitors stay in Hawaii; the median number of days for both is nine, says Nahoopii.
Tian says the daily passenger counts provide a more accurate estimate of how many people are in the state at any time, which is useful when planning road closures, construction projects and other large-scale work.
Dannemiller says the surveys can provide a preview of hot local issues. "Visitors today are more likely to want to stay in visitor rentals or B&Bs," he says. "These issues involve everyone in the state, not just the administration, HTA, the Legislature or the City Council, which makes the rules and regulations to make that work, but every person who lives in the state who says, 'I could have
visitors living next door.' The important issues of the day show up in the data before they show up in town."