Hawaii Business magazine – Award-Winning Publication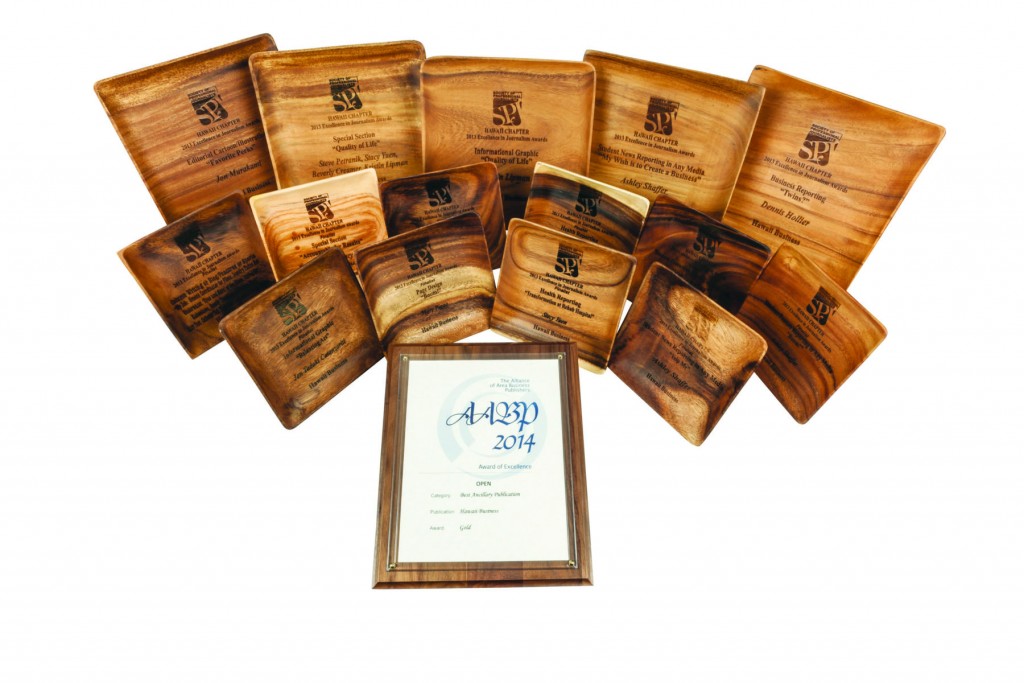 Hawaii Business won two national awards and two statewide awards for its Hawaii Quality of Life Report in the December 2013 issue. In total, the magazine won 18 awards this summer from two journalism competitions that judged work published or broadcast in 2013.
The Quality of Life Report won gold as best ancillary publication and silver for best design at the national awards in Baltimore for the Alliance of Area Business Publications. Hawaii Business competed against 43 regional business publications from across the country, including those based in the biggest markets, such as New York, Chicago and Los Angeles.
The contest's judges praised the Quality of Life Report. "The staff made this work with a consistent voice and storytelling format," the judges said. "The critical thinking about business issues and the addition of social issues were handled with sensitivity and effectiveness. The charts are incredible; the design is beautiful. Each piece is good and together they serve as a call to action."
Also in that national contest, senior writer Dennis Hollier won gold for best magazine feature for his story "Twins?" in August 2013, which compared the state's two biggest banks, First Hawaiian Bank and Bank of Hawaii. 
"Hawaii Business took a potentially dry subject and made it interesting and easy to read," the judges said. "And there's a lot to learn in the story of two banks that avoided the booby traps that caught many banks in the economic upheaval. The story is clear, interesting and, most important, well reported."
That same story also won the first-place award for best business article published in a Hawaii magazine during 2013. That prize was one of five first-place awards and 10 finalist awards won by Hawaii Business at the Society of Professional Journalists' Hawaii awards in June. Three of the awards were won in categories open only to magazines, but the other 12 HB awards were won in categories open to all media, including newspapers, TV, radio, online sites and magazines. The other SPJ Hawaii awards won by Hawaii Business were:
First place in special sections by any media for the Quality of Life Report by editor Steve Petranik, writers Stacy Yuen and Beverly Creamer, and art director Kristin Lipman. "Stunning use of graphics, photos and well-reported stories to create an outstanding public-service package," said the judges.

Lipman also won first place for informational Graphics in any media for her work in the Quality of Life Report.
Freelance artist Jon Murakami won first place in editorial cartoons and illustrations in any media for his colorful cartoons on the "Favorite Perks" of Hawaii's Best Places to Work (April 2013). The judges called it "an amusing presentation. … Lots of content in a compact space."
Last summer's HB intern, Ashley Shaffer, won first place for student news reporting in any media for her story called "My Wish Is to Create a Business" (September 2013). In it, Shaffer tells about Skylar Soares, a 12-year-old battling life-threatening illnesses, who uses her "wish" to create a business that helps protect other children from skin cancer. Shaffer also won three finalist awards. One was for best news reporting by a student in any media for her report called "Yelp Me" (October 2013). She also won both finalist awards for feature writing by a student for her stories "Startup in a Cup," about Tealet (November 2013), and "Boom!" about gun stores and the firearms business in Hawaii (October 2013).
Art director Jen Tadaki Catanzariti won a finalist award in informational graphics for "Balancing Act," which visually explained how the variability of solar and wind energy must be balanced with the peak demand by electricity consumers (July 2013). "Clean way to present a lot of info in an easy-to-digest fashion," the judges said.
HB's popular monthly feature My Job was a winning finalist in the category of column writing in any media. The award recognized a collection of stories written by five authors: Stacy Yuen, Catherine Toth, Paula Rath, Lehia Apana and Lee Ann Bowman.
Hawaii Business won both finalist awards for health reporting in any media. The story "Enabled," by college student Rylan Suehisa, was about how modern technologies have opened up new jobs and opportunities for blind people (August 2013). Yuen won for her feature about changes at Rehabilitation Hospital of the Pacific, entitled "Transformation at Rehab Hospital" (November 2013).
Our report on holding administrators, principals and teachers accountable within the state Department of Education won a finalist award for best special section. The report was called "Accountable for Results," and was written by Beverly Creamer, Dennis Hollier and Stacy Yuen (May 2013). The judges said, "The writing is descriptive: 'bloated, inefficient and sometimes corrupt …' Incredibly comprehensive report. Well-researched and clearly written."
Associate art director Mary Pigao won a finalist award in magazine page design for "Boom!" an inside look at the gun business in Hawaii (October 2013). "Layout really grabs the reader's attention," the judges said.
Hollier's story "Million Dollar Microbes," about research at UH, won a finalist award for best business story in a magazine. The judges said, "A terrific examination and clear explanation of how much a research center can mean to a college or university. Plus, the story provided many meaningful examples of how this all works."
Hawaii Business' sister magazines were also big winners at the SPJ contest: Honolulu won six first-place awards and five finalist awards; Hawaii won four first-place awards and four finalist awards; and Mana, in its first year in the competition, won one first-place and 10 finalist awards, including both finalist prizes in the prestigious public service category open to all media.
When counted together, these four magazines of PacificBasin Communications won 45 SPJ awards, including 29 of the 53 awards that were open to all media. That's 55 percent of those open awards.