Behind the Scenes at Eden In Love's Online Launch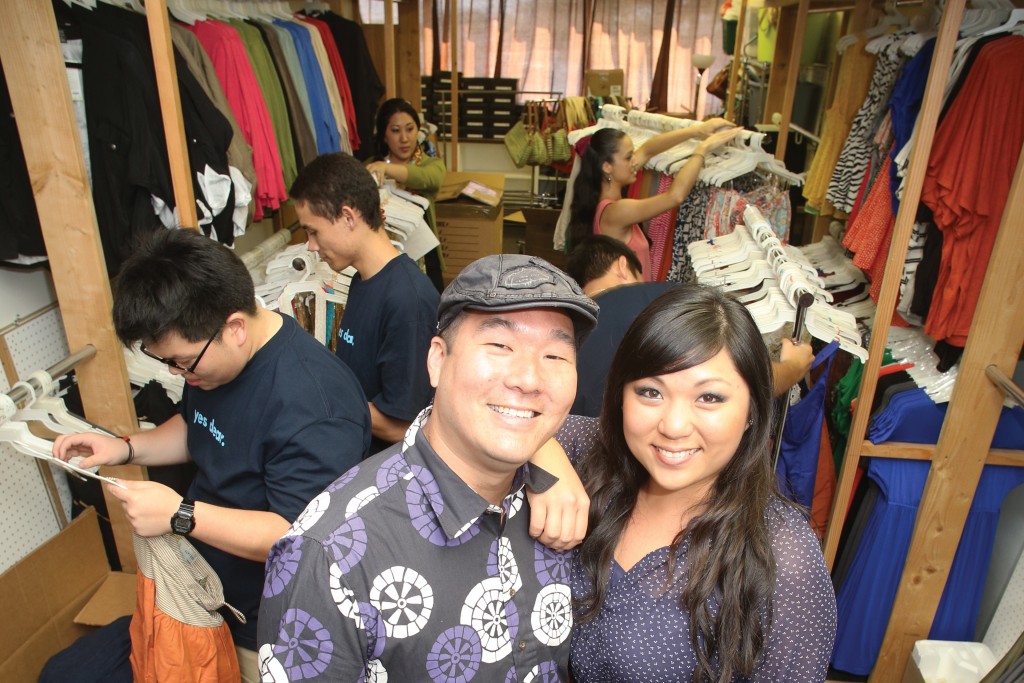 Tanna and Bryson Dang operate a popular women's clothing boutique called Eden in Love at Ward Warehouse, and have been planning for a year to sell products online. Their site, edeninlove.com, was set to go live on Sunday, April 22, the same day as their bricks-and-mortar store held a big birthday sale.
If that wasn't enough to keep the 30-something entrepreneurs busy, their video was at the same time one of 10 finalists in the National Retail Federation's online video contest, "This Is Retail."The video highlights the many contributions made to local nonprofits by the store, its owners and their staff. The contest's grand prize: $25,000. (See the video on YouTube.)
The Dangs allowed Hawaii Business behind-the-scenes access to the preparations and pandemonium during the hectic week leading to their online launch and, later, to the video contest's finals. Interspersed with the Dangs' story is the broader story of how online retail is forcing shopkeepers across Hawaii to change the way they do business.
Monday, April 16, 3:30 p.m.: Nine people jam the 15-by-40-foot Eden in Love warehouse space on the floor above their Ward Warehouse store, feverishly unloading 15 giant cardboard shipping boxes. In semi-controlled chaos over the next eight hours, 3,000 clothing items need to be hung, sorted, priced, steamed and styled in preparation for the company's next huge step: going live online to sell to the world.
"It's a new frontier. … It's scary," admits Bryson Dang, hunched in a corner of the warehouse, punching an endless list of prices, access codes and descriptions into the computer so the printer can spit out sticky labels for every dress, skirt, camisole, blouse, belt, scarf and pair of shoes.
Online retail sales in America topped $35 billion for the 2011 holiday shopping season, 15 percent higher than a year earlier. Even with that growth potential, it's an expensive and risky gamble for a small, two-year-old Hawaii company to launch an online sales site. Only 9 percent of retail sales locally and 7 percent nationally occur online now, though the amounts grow each year. That growth is what the Dangs are banking on to expand beyond their bricks-and-mortar space.
Many Hawaii retailers have already taken the leap into cyberspace sales. According to the latest BOSS survey, 53 percent of Hawaii retailers say they have a site offering products for sale online. On average, "these retailers say their customers are about 56 percent from Hawaii, 33 percent from the mainland and 11 percent from other areas," says Barbara Ankersmit, president of Qmark Research, which conducts the BOSS survey for Hawaii Business.
Monday, 4:30 p.m.: "We've been hesitant (to go online) because of needing to double the inventory and double the staff," admits Tanna Dang, the driving force behind Eden in Love. The store is a spin-off of their first shop, The Wedding Café, and the name is meant to suggest a Garden of Eden paradise for shoppers. The next step is to take Eden online.
"They've got to try it," says her dad, Steve Takekawa, a retired photo equipment salesman, who shakes his head at the speed of contemporary commerce and the challenges faced by his daughter.
"It's the next phase," he says. "… It's something my generation doesn't quite understand and so we watch the kids. A new generation is taking over."
Monday, 5:30 p.m.: Tanna's sister, Tessa Gomes, Eden's general manager, has been nibbling at the fried rice she bought for lunch, but most of the food is still in the takeout box and has long since gone cold. There's no time to eat now.
At the far end of this skinny warehouse room, Tessa's face turns a little dismayed as she opens a box of neon pink, green and blue slouchy shirts. It was one of Bryson's occasional buys and, whileneon is huge on the mainland, she knows Hawaii customers are more conservative.
Nearby is another box, this one with scarves in soft grey and cream, or grey mixed with electric orange and pink. Tessa nods, imagining them against the neon. Yes, it will work. And it will be something that online customers now living far from Hawaii will appreciate.
With a week to go, the Paypal account is still being finalized so customers can pay online, flat-rate postal boxes are being collected and item descriptions are being written. Tanna is also pondering which fashions stay in the store downstairs and which go global. Just pricing the latest order will keep more than half the staff of 19 working until midnight tonight.
It's been a year of this kind of detailed planning: Not just for the right mix of fashion, but figuring out supplies needed for a demand they can only imagine. They need not only the New Age skills of building a sales website and marketing it, they also have to create systems for packing, wrapping and shipping.
"Marketing on Facebook is huge for us. … At least 30 percent of our sales in a day (at the store) are driven by Facebook," says Tanna. "And when we do a 'Like' promotion on Facebook – putting items on sale for 50 percent off if we have 150 'Likes' or more – it drives 90 percent of our sales."
But the store's Facebook page is only for marketing; it can't handle online sales. Until now, the Dangs could only handle off-site orders individually from an email or a phone call, with the clothes to be picked up by a mother or cousin for forwarding to the customer. With each order, marketing manager Michelle Fujii or designer Jillian Parel had to dart through the shop to find and bag the requested items, then hang them on hooks lining the staircase. Not exactly cutting-edge retail.
Monday, 6 p.m.: "For online, sizing needs to be easy," Tanna says, tugging a rolling rack of soft, swishing dresses out of the way so boxes can be stacked and handbags hung on other racks. "It always has to be easy to fit for the customer who isn't here and can't try it on."
She pauses. What if the 700 items she has pulled for online sales go in the first day? The shop's Facebook page already has 8,000 fans and counting, and gets hundreds of hits daily. Items featured on the page sell out inside the store in a few hours.
"We may be on an airplane to L.A. two days later to do another buy," muses Tanna. "Bryson said last night, 'We better start looking at flights,' and I said, 'Don't be crazy.' "
Wednesday, 10:30 a.m.: Four mannequins in various stages of undress await the deft work of sales associate Cara Kuramoto. She slips colorful dresses over their headless torsos, clips the backs with wooden clothespins and pulls them into position to be photographed.
The "merch" shoot needs at least 24 shots of items going up for the online launch. Photographer Michael McDermott adjusts the large, white, circular light reflector and bends in close as designer Jillian stands at a nearby laptop, typing descriptions as fast as she can, queuing them up for Facebook and edeninlove.com.
"Keep it simple," advises Tanna. "Just with a belt."
Wednesday, noon: In anticipation of Sunday's birthday party sale, 35 orders come in by email. That's just in the first hour this morning. "Please call me," some customers ask. At Eden in Love, someone always does. Today, it's Bryson making all the calls.
"We're already packing, taping and ready to ship 800 dresses we're giving away (as part of the video promotion)," says Tanna. "It was like a post office here last night."
Sunday, 7:30 a.m.: Tanna's father struggles in the Ward Warehouse parking lot to erect two tents borrowed from his sister, as marketing manager Michelle and several volunteers blow up 150 balloons. Three University of Hawaii student workers move racks of clothing onto the sidewalk, shaded by a deep overhang. Cars slow down, as drivers peer at the hubbub and the gathering crowd.
Sunday, 8:30 a.m.: The line has already formed, and gets longer by the minute. By 10, it snakes down the sidewalk and around the corner, with more than 100 shoppers. Half a dozen have babies, toddlers or significant others in tow.
Nursing student Kelsey Yamane has brought her mother as the clothing holder while she shops, standing on the sidewalk as she pulls tops and dresses over her head for her mom's opinion. Courtney Fujieki and Kimi Andrew are two others in the throng of women trying on items. Kimi already knows she'll be "mostly" using the new online store, as does Courtney. "If they have online, I would definitely do that if I can't come down here," Courtney says.
Sunday, 10:30 a.m.: Ruthie Diaz is inside with her boyfriend, David Oi, and their 4-year-old, who is happy with a cupcake as Ruthie tucks half a dozen blouses and dresses under her arm to try on – when she can get through the crowd to a dressing room.
Outside, instead of taking his family to the movies, contractor Ozzy Naweli pulls over so his wife, Shontaz, can join the line of shoppers while he waits with 3-year-old Shaily, asleep in her stroller. They'll catch the movie later, he says.
Just inside the door, 250 cupcakes crowd a table next to the computer where customers can vote in the national video contest. Eden in Love's video is now among the final five, with a good shot at the top prize of $25,000. If they win, Bryson says, half of the money will go to the videographer and the other half to kiva.org, an online worldwide microfinance organization. Each month, the company already donates about $2,000 to local causes through its "Divas Doing Good" program.
Upstairs, glitches and unforeseen issues prevent the online site from going fully live. Bryson works feverishly to fix the problems. At the last minute they realize they'd forgotten to establish a mailing policy for out-of-country sales and international shipping rates can be double or more than the in-country rates. And they hadn't yet figured out a return policy: A refund? A credit? Would they charge for mailing things back? And how long would the return policy be? Two weeks as it is now or longer to accommodate the mailing time?
It all means sitting down with key staff and talking it through. At the same time, Bryson discovers the sales layout looks different – and unattractive – on some Apple computers' online browsers. With these last-minute issues, they decide Sunday to do a "soft" launch of the edeninlove.com sales site – merely announcing it at the birthday party downstairs, rather than with a full-fledged announcement. That announcement is postponed for 24 hour.
Bryson's IT skills are crucial right now, but even before he began work on the sales website, Eden in Love was taking more and more of his time. So, in May 2011, he had left his job as an electronics technician at Hickam Air Force Base to work full-time for the family business.
Monday, April 23, 4:15 p.m.: After the glitches and issues are resolved, the site goes live at 4:15, heralded by a Facebook announcement and an email blast to Eden in Love's customers. But, even before that, lots of local and mainland customers have been checking out the online shop since its soft launch.
"We had about 80 to 100 views and click-throughs on each page in the last 24 hours before we announced anything," says Tanna.
Monday, 5:15 p.m.: In the first hour of official online sales, page views soar to more than 600.
"You've made this Maui girl very happy," enthuses one fan on Facebook.
"Whoa!" says Tanna. "Here we go."
Monday 6 p.m.: On the counter next to Tanna are seven boxes ready for shipping. Seven online orders in the first 24 hours. All on Oahu.
"Definitely manageable," says Tanna, masking any disappointment she may be feeling.
If they grow to 10 or 20 a day, it's still manageable. If they hit 200 a week, it might mean hiring a 20th staff member.
Tuesday, May 1, 9:19 a.m.: The National Retail Federation announces that Eden in Love's video has been picked as one of three finalists for its nationwide "This Is Retail" contest.
"Tanna's story is one of philanthropy and opportunity," the federation says in a news release. "Highlighting the charitable acts she and her associates take on throughout the year, Tanna's video centers on how 'retail creates opportunities to do good and make a difference.' "
Tanna, Bryson, Tessa and Michelle will all fly to Washington, D.C. – expenses paid by the NRF – for the awards ceremony May 16 to hear the final results.
Wednesday, May 2, 10:30 a.m.: Ten days into cyber sales, the online site and follow-through is running smoothly. The site is getting thousands of hits daily, and sales are climbing. Tanna has handed the work of pulling, wrapping and shipping to Bryson and another staffer, so she can focus on daily Facebook promotions and customer service.
"The postman is coming daily to pickup," she says. "But we're still figuring out some systems. Sometimes people see something online and want to come into the store and pick it up, but the inventory is completely separate. So we're trying to figure out how to work that out. Nothing has completely sold out yet, but some sizes are sold out. Some things are really popular online, but they weren't popular in the store. We're constantly, every day, launching new items on Facebook and suggesting fans check it out."
Wednesday, May 16, 9 a.m.: Tanna wins!
Eden in Love takes the top prize of $25,000 in the "This is Retail" video contest and Tanna is called a "shining star" by National Retail Federation. Nearly a million votes were cast nationwide from April 3 to 22.
"When they announced second place I knew we had won," says an elated Tanna by telephone from Washington, D.C. "We were so excited we wanted to scream and stomp our feet but we also wanted to honor the second-place winner's moment. But I just felt, 'I can't believe we did this.' … The cool thing is that we were able to show people that you can use retail as a platform to give back and that giving back matters. That was always the mission – to have opportunities to do good. No matter if you're a small or large business, you can make a difference."
The Dangs wanted to give half of the prize money to their videographer, Julian Gilliam of10th Letter Media, and the rest to a Third-World rural village – yet to be chosen – to help the village use retail to support itself. Gilliam thanked them for their generosity, but told the Dangs that he wants all the money to go to the village.
Tanna says their plan is to someday visit the village with Gilliam to see their gift in action.
"We want to go to the village, help support what they grow or create, and help them be sustainable," Tanna says. "We want to pay it forward."
U.S. Online Retail Sales
Source: Forrester Research
*Forecast
BOSS survey on Hawaii Retail
Retail's Future Is Now
The truth is this: Online sales are a growing piece of retail's future, social media are helping make it happen and your store could die if you don't keep up.
"We're talking about commerce on social media sites," says Carol Pregill, president of theRetail Merchants of Hawaii. "It means mobile commerce on iPhones to get alerts from stores saying, 'I have this and this on sale today and here's a special coupon.' Not just browsing websites, but actually making purchases on your iPhone.
"For merchandising, this is the very latest. There's not just social interaction, but commerce on Facebook."
Forty-seven percent of Hawaii companies don't yet sell online, compared with 53 percent who do, according to the latest Hawaii Business BOSS survey. But, Pregill says, the time has come when "every retailer has to have an online presence."
A consumer survey by Qmark Research that was tied to the BOSS survey found that Hawaii's holiday shoppers spent an average of more than $1,000 during the 2011 holiday season, and they made 9 percent of their purchases online.
"Thirty percent of the people we interviewed did purchase something online," says Barbara Ankersmit, president of Qmark. "… I have a feeling that's going up."
Pregill says regular retail stores nationwide saw an increase of 3 to 4 percent a year over the past three years, while Internet sales increased about 15 percent a year over the same period. Nationwide, 53 percent of Americans bought something online last year, according to a study by the Forrester Research firm.
Store Apps on Your Phone
At a conference last year sponsored by the Retail Merchants of Hawaii, both Home Depot and Target explained how their smartphone apps work after customers download them.
"You walk in the store and immediately on your phone there's the store layout," says Pregill. "You program what you want and the map will take you directly to where you want to go and show what's on sale. The sales associates have them, too, and they can tell you if it's in stock and when it will be if it isn't.
"Most of the time the research done to create these 'blueprints' come from the largest stores in the marketplace doing ecommerce. It helps the smaller retailers gear up and get in line to compete. For instance, some retailers, for their Black Friday sales, you don't even physically have to be there. You can order on your iPhone and pick it up later at will call."
"I don't know of any industry as competitive as retail," Pregill says. "Whether it's big box or luxury, everybody seems to be moving in this direction. It doesn't require a lot of money, but it takes time and effort.
"A lot (of small stores) use Facebook, which is essentially free, just to reach their customers. They seem to have a smaller, more targeted following. They have to know their customers better than anyone else. But it all depends whether they can manage it. If they're a small retailer, they may not be able to, because it takes time."
Leveling the playing field?
How much revenue does the state lose because residents don't pay the excise tax on online purchases?
According to a study by Lowell Kalapa, president of the Tax Foundation of Hawaii, the amount could be anywhere from several hundred million dollars a year to as little as $15 million.
"I don't think anybody really knows," says Kalapa, who also looked at estimates by the state auditor and Bill Fox of the University of Tennessee, an expert in the field.
Hawaii's Legislature is one of many across the country trying to raise revenue with what is called "e-fairness" legislation, says Carol Pregill, president of the Retail Merchants of Hawaii.
"There are 12 states that are very close or have an e-fairness regulation or are working on it. They're looking for revenue," Pregill says.
It's also a way to "level the playing field for the bricks-and-mortar businesses," says Sherry Menor-McNamara, senior VP for governmental affairs at the Chamber of Commerce of Hawaii. "The bricks-and-mortar businesses are at a disadvantage to the Internet and catalog businesses, which have no tax mandates."
However, an e-fairness bill failed to pass the state Legislature this year because of disagreements between the House and Senate conferees.
Online retail giant Amazon has opposed paying state sales taxes in the past, but now supports federal legislation to require all larger online retailers to collect state sales taxes in cases where states simplify their tax law enough to reasonably allow it.
"New York has been collecting this tax since 2008," says Kalapa, who has testified to the Hawaii Legislature on the subject. "And California will begin collecting this September. Maryland is also going to start collecting and a number of other states are implementing the same law."
Hawaii's Legislature considered a couple of ways to implement an e-fairness tax, including what's called the Steamlined Sales Tax. The House and the Senate each passed different versions of an e-fairness bill, SB 2226 HD2, but they were unable to compromise on their differences during a conference committee near the end of the session.
Sen. Carol Fukunaga favors the Steamlined Sales Tax approach, but Kalapa is less enthusiastic because he says that option would force Hawaii to change its excise tax or implement a true sales tax.
"Everyone in the world envies our general excise tax, because we have such a low rate because the base is so broad," says Kalapa. To generate the same revenue, the sales tax would have to be about 10 percent, he says, though others think it might have to be as high as 16 percent.