Best Honolulu Bars for Networking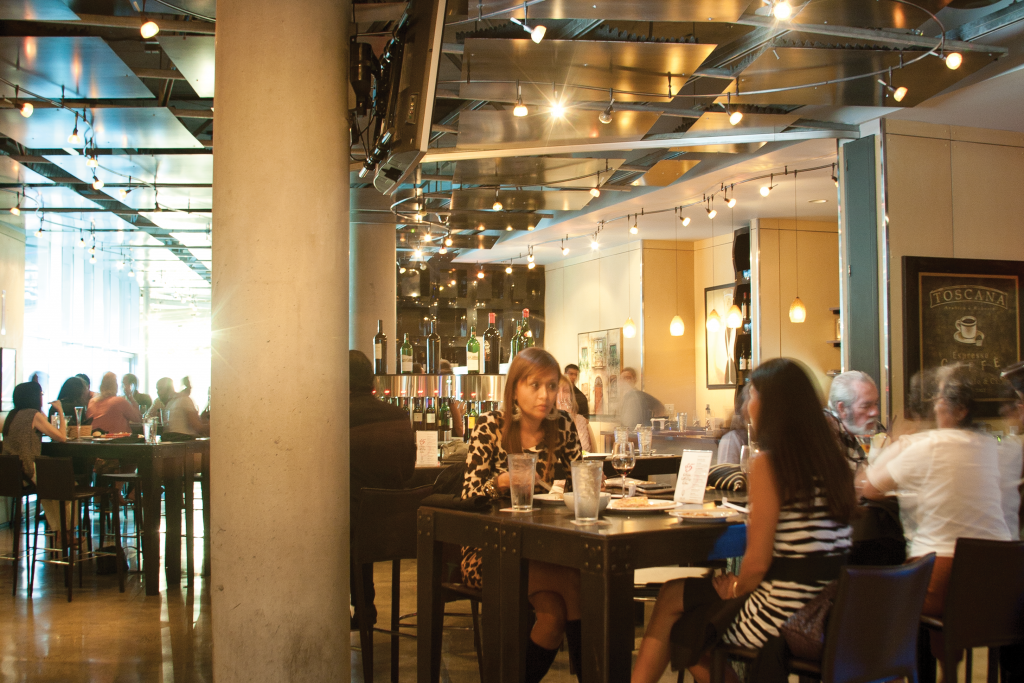 Sometimes there's no better way to meet a new client or seal a deal than with your business card in one hand and a drink in the other. Whether it's at a well-organized networking event or just standing at the bar at one of Honolulu's hippest spots, young professionals are finding ways to mingle, network and do business.
What do you get when you combine Hawaii's rising professionals with a drink menu?
More often than not, you'll wind up with a networking event that looks more like an exclusive private party, complete with swag bags, thumping music and drink specials. It's the nametags that give it away.
As you probably already know, networking – especially in these word-of-mouth Islands – is often the most effective way to do business. We talk. We connect. We ask people where they graduated from high school before we inquire about their professions.
"I feel like people here in Hawaii have always naturally networked and embraced networking as a way to help people in business and in life," says Joann A. Seery, executive director forBusiness Network International Hawaii, which boasts more than 800 members on Oahu, Maui, Kauai and the Big Island. "The opportunities here are great. Almost any time of the day or night, there is an event or opportunity to network."
Thanks to new venues, creative event planners, social media and an increasing urge to blend business with pleasure, Hawaii's networking scene has exploded.
There are regular mixers at nightclubs, business-launch parties at restaurants and all-out galas at exclusive private homes. There are networking events over lunch, after hikes, in boutiques, in art museums, at pau hana, after surf sessions, on golf courses, in coffee shops and at oceanfront lounges.
Of course, a few places are better than the rest. On nights when there isn't an event, most of these spots are also great places to hang out and network with whoever drops by.
Venues matter for events. You want enough floor space for people to meet and mingle. You want plentiful free or cheap parking. And you've got to have good food and drinks.
It's all about the math, says social-media guru Toby Tamaye, president of AT Marketing, a Hawaii-based firm that specializes in advertising, public relations, event marketing and social media. "Networking events are about people. The more you can bring in, the better chance you have to see and meet more people."
Here are some of the best schmooze spots in Hawaii. Get your business cards ready.
Waikiki Edition
Sometimes, all that matters is ambiance.
The swanky Lobby Bar at the Waikiki Edition hotel has a lot of that – including oversize sofas and a dramatic, rotating bookcase that separates the bar to create a more intimate setting for networking events.
This 353-room boutique hotel, which opened in October, is the first of five Edition brands created through a partnership withMarriott International and hip hotelier Ian Schrager. It's contemporary, stylish and one of Honolulu's hottest places to hang, especially after hours. (It doesn't hurt that the upscaleMorimoto Waikiki, owned by Masaharu Moritmoto of "Iron Chef" fame, is its signature restaurant.)
Scott Rasak, marketing coordinator at the Pacific Aviation Museum Pearl Harbor, who helps organize networking events with Nextworking, recently held an event for Ad 2 Honoluluhere, drawn by the environment.
"The space worked out perfectly, with great trendy lounge music," Rasak says. "The food is always good and specialty drinks keep the interest of the crowd. This is truly a great networking space for a weekday event."
It's the kind of environment that lures patrons – and not just for the networking opportunity. But these chance meetings can often turn a casual night out into a productive business connection.
"It's a great way to meet people and grow my sphere of influence," says Lauren Horikoshi, 26, a project coordinator at Prudential Locations, who attends networking events about once a month but who goes out – especially to the various bars at the Edition – more often just to meet people. "I'm always trying to network on behalf of my company, whether it be at events or just at the bar."
1775 Ala Moana Blvd., 943-5800,
www.editionhotels.com.
Ka Restaurant & Lounge
Sure, it's an awkward space in Ward Center, with dark corners and small seating areas tucked away from the rest of the restaurant. But that, in a way, is what makes Ka such a popular spot for networking events. There's a lot of space in which people can mingle, but enough quieter areas where they can actually have conversations.
"It's just comfortable," says Yukari Takai,marketing manager for Toastman Inc. and Hitchhike Records, after a recent launch party at Ka for the Honolulu affiliate ofGroupon, an online daily deal program. "A lot of networking events have been held here, so I'm used to it."
In addition to a lot of parking – including valet service – at the centrally located Ward Center, Ka offers something that makes event planners swoon: flexibility. "We are willing to work with you in any type of event you might have in mind," says Bryan "Yosh" Yoshida, managing partner of Element Group, which operates Ka, Tsunami and Ginza Nightclub, all of which host networking events.
It helps that this favorite pau-hana spot has nosh that's perfect for mixers, including furikake corn puffs, bacon-wrapped mochi skewers, garlic edamame and specialty Asian-style pizzas with toppings such as spicy Thai peanut sauce, Korean-style barbecue sauce and natto.
Ward Centre, 1200 Ala Moana Blvd., 593-7885,
www.karestaurant.com
ArtAfterDark
Take an after-hours event at an art museum, add food stations, cool art and deejays spinning electro and house, and you've got ArtAfterDark, a hip party held on the last Friday of every month at the Honolulu Academy of Arts. The event attracts hundreds of well-dressed professionals looking for a unique Friday-night experience.
That means hundreds of opportunities to meet people who could turn into clients, partners or even future employers – without the pressure of being an actual business-focused event.
"A great way of cultivating solid business contacts is through social events where you casually get to know people in complementary businesses," says Danielle Scherman, founder and president of Social Wahines, which hosts well-attended networking events for women every month. "You are better able to learn about each other's needs and become long-lasting contacts that help one another."
Honolulu Academy of Arts, 900 S. Beretania St., 532-8700,
www.artafterdark.org.
Pearl Ultralounge
You haven't been to a networking event in Honolulu until you've been to one at Pearl.
It has hosted everything from business mixers to launch parties to industry get-togethers – all lured by the venue's convenient location at Ala Moana Center, plentiful parking, spacious environment, happy-hour menu and a database you can use to help get the word out about your event.
That usually translates into an event that's well-promoted and well-attended by business professionals from around Oahu. Since this space is really a popular nightclub – with a menu that boasts mini Kobe burgers, crab-stuffed mushroom caps and Kumamoto oysters topped with a Bloody Mary granita, all with wine pairings – this venue isn't all business, either.
"Most times, I go to these networking events to meet people outside of my social circle and get to know my peers. But it's also about having fun," says Brandon Suyeoka, 33, a senior account executive and social-media director for Hendrix Miyasaki Shin Advertising. "I'd say half the time I'm more concerned about having fun versus making business connections."
Ala Moana Center, Hookipa Terrace, 944-8000,
www.pearlhawaii.com.
Stage Restaurant
If you're into wine – and you're looking to connect with other like-minded connoisseurs – Stage is your kind of place. This fine-dining restaurant on the second floor of theHonolulu Design Center – which also houses the versatile Cupola Theatre and Amuse Wine Bar – hosts wine-tasting events in a contemporary setting. In fact, all wine bottles are half off on Tuesdays, with a daily happy hour that features $5 draft beers, pupu and signature cocktails.
"It's a huge facility with free parking, large bathrooms and in a central location," Tamaye says. "It's great for wine-drinker-targeted events."
It's a great place for lunch meetings and after-work get-togethers, too. Its Asian-fusion menu has such palate-pleasing options as Kurobuta pork chops with Yukon potato puree, seared hamachi with a yuzu-mustard vinaigrette, pan-roasted New Zealand king salmon with prosciutto-wrapped asparagus and a whole-grain mustard butter sauce, and a coffee panna cotta you can't miss.
The entire venue at the Honolulu Design Center is versatile for all types of events: the Cupola can be used for film screenings and concerts, the Ice Bar is an intimate venue with hi-tops and barstools that look like ice carvings, and the Sunset Terrace can seat up to 170 guests outdoors with tray service and food stations.
Honolulu Design Center, 1250 Kapiolani Blvd., 237-5429,
www.stagerestauranthawaii.com.
Rumfire
Being in Waikiki isn't always a bad thing.
Case in point: Rumfire in the Sheraton Waikiki, which has played host to dozens of networking events, industry mixers and high school reunions.
There's a lot of indoor and outdoor seating, with panoramic views of Waikiki's famous surf breaks and Diamond Head. It's got a menu with a variety of food choices, from fish tacos to kim chee fried rice. The bar boasts more than 100 rare and unique rums and happy-hour discounts twice a day. And there's validated parking. Yes, in Waikiki.
It's become a popular pau hana spot for Waikiki-based professionals and those who want to venture out of downtown.
"It's a very nice venue to showcase the island," says Takai, whose office is off Kalakaua Avenue. "Even if it's a business networking (event) or just socializing with friends, you really gain an appreciation for being in Hawaii."
Sheraton Waikiki, 2255 Kalakaua Ave., 922-4422,
www.rumfirewaikiki.com.
Hukilau Honolulu
Sometimes the best networking spots are the ones within walking distance of your office.
That's why Hukilau, located on the bottom floor of the Executive Centre on Bishop Street, is a popular lunch and pau-hana hangout for downtown workers in need of tasty, local-style grub in a laid-back, no-deadline environment.
The menu, alone, will incite your salivary glands, with truffled fries topped with asiago cheese, crispy shrimp and lobster potstickers, grilled kalbi ribs, Kobe beef burgers and its popular prime-rib chili with rice.
The restaurant also hosts live music and events – such as Sushi & Martini on Thursday nights – with pupu and drink specials. Nothing lures downtown workers faster than cheap eats and beer.
"It's a comfortable atmosphere and it's located in downtown," says Scott Yoshihara, a vice president at Bank of Hawaii, who attends networking events to keep in touch with industry colleagues and stay on top of what's going on. "I haven't gotten a lot of tangible business, per se, but, more importantly I've made new friends and contacts, which is important in a small town like Hawaii."
Executive Centre, 1088 Bishop St., 523-3460,
www.dahukilau.com.
(Disclosure: The parent company of Hawaii Business magazine, aio Hawaii, is also a part owner of Hukilau.)
Uncle Bo's
You're having a hard week. That dreaded deadline just got pushed up. Your least favorite coworker got assigned to your project. To top it off, the only copy machine in the office broke.
You need a drink.
Uncle Bo's has been a favorite watering hole for over-worked folks since it opened about five years ago on Kapahulu Avenue. In addition to a full bar – trust us, you can find just about any drink you want here – the casual restaurant offers more than 35 different pupu, including Thai-style steamer clams, kalua-pig fried rice, tiger pork kabobs and something called a Boca-Rota (garlic cheesy bread with sliced prime rib, sautéed mushrooms and mozzarella cheese).
If you can't seem to meet people at the bar or in its lofted lounge dining room, Uncle Bo's has a private room that seats up to 65 people, making it a great, intimate setting for events or business meetings.
"It has a casual but classy atmosphere, and draws a diverse crowd and a lot of young professionals," says James Chan, 30, a Realtor and partner with Prudential Locations LLC. "The way young professionals are meeting each other and interacting with each other today is much different from just five years ago. Face-to-face interaction in more casual and less professional settings seems to be the trend."
559 Kapahulu Ave., 735-8311,
www.unclebosrestaurant.com.
Waiolu Oceanview Lounge
It's got a multimillion-dollar view in a multimillion-dollar hotel.
That's why this lounge in the Trump International Hotel, which seats about 80, is quickly becoming a hot spot for networking events. Its unobstructed view of the Pacific Ocean in a relaxed setting will make you feel as though you're on vacation – when you're really just minutes from the office.
While the lounge serves a mix of Italian, Japanese and local favorites on its dinner menu – from black-truffle risotto to miso butterfish to its version of the classic loco moco topped with a quail egg – the real draw is the drinks menu.
The diverse offerings include its award-winning signature mai tai, made with Old Lahaina rum, orgeat syrup, mango puree, fresh lime and pineapple-mango foam. The lounge can create custom drinks for each event, too.
"We pride ourselves in 'liquid artistry,' specialty drinks made from the freshest ingredients," says Liana Mulleitner, director of residences and public relations at the hotel. "We don't just make drinks; we create them."
Trump International Hotel, 223 Saratoga Rd., 683-7777,
www.trumpwaikikihotel.com.
Other Ways to Network
• Join professional organizations: Just about every industry – from media to real estate – has professional groups that serve as instant networking circles. These organizations often host mixers, lunch talks, fundraisers and community-service projects that provide opportunities for members to meet, socialize and, ideally, help each other.
Emi Hart, community manager for Yelp.com in Honolulu, attends monthly luncheons hosted by the Public Relations Society of America, where she learns about new trends and issues in the industry while meeting new people.
"I am a firm believer that success is 20 percent what you know and 80 percent who you know, especially in Hawaii," Hart says. "It's amazing how much faster things get done when you've met someone in person and are able to create a great working relationship."
• Get involved with nonprofits: Nonprofit organizations rely heavily on fundraisers – and these fundraising events can be great places to meet like-minded professionals who share similar interests and values, whether it's raising money for the American Heart Associationor cleaning up beaches with the Surfrider Foundation.
Tanna Dang, owner of The Wedding Café and Eden in Love, launched her own nonprofit,Divas Doing Good, which has become a networking group of sorts. "Building new relationships, developing existing relationships, renewing past relationships – it's amazing how much business can get done at happy hours or at an industry get-together," Dang says.
• Attend trade seminars: Not only will attending conferences, workshops and seminars contribute to your professional development, these are often great places to meet other people in your field. "It really comes full circle," says Kim Fujinaka, marketing coordinator for PacRim Marketing Group, who likes to attend seminars on social media. "You're likely to run into those same people at the next workshop."
• Get on social media: These days, Facebook, Twitter and Yelp have become their own virtual networking venues, with people in every industry using these free social-media sites to connect with clients and customers, promote their businesses and meet new people. Facebook makes it easy to find relevant events, Twitter users organize tweet-ups to interact, and Yelp stages its own social events, from karaoke nights to beach potlucks.
"Social media has been a fantastic marketing tool for growing and developing an audience for events," says Danielle Scherman, founder and president of Social Wahines. "(This area) is absolutely growing, so much that sometimes there are too many events on any given night. I think this is a good problem to have and it's great that Hawaii's business people have so many outlets for networking, growing their businesses and developing their careers."
• Take advantage of every opportunity: Most professionals will tell you – every time you go out, whether it's to a trade show or the nearest bar, there's always an opportunity to network.
"Surprising as it is, I've met a lot of people at the gym," says Scott Kamiya, a Realtor with Coldwell Banker Pacific Properties. "I guess, the typical salesperson that I am, I like to talk to anyone at the gym. I think a lot of people these days are into exercise and getting fit, so this is the perfect venue to meet like-minded people and to build those relationships."