Best Practical Jokes at Work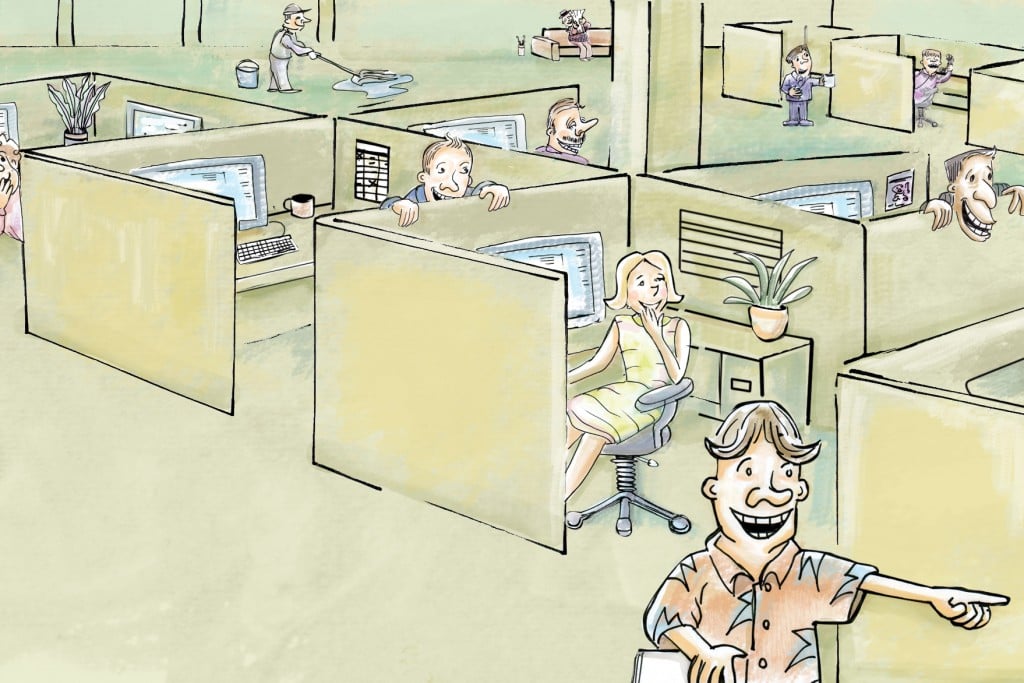 First Place: Baldridge & Associates Structural Engineering Inc.
OVERALL WINNER – THE FOOSBALL HIJACKING
Victim: STEVE BALDRIDGE, president, BASE
Pranksters: BASE EMPLOYEES
BASE employees wanted a foosball table, so when president Steve Baldridge was gone on a business trip, they bought a used table. There was no space that Friday, so they set it up in Baldridge's office and turned  it into the Employee Lounge. After playing, the gang blew up "Inflata-Frank," dressed him in a BASE shirt and posed him at the table, according to an account of this prank and others sent in by BASE marketing director Serena Humay.
Some employees, eager to see Baldridge's reaction, showed up early Monday but were shocked to find the table gone. When the boss arrived, he claimed he had no idea what they were talking about, but an employee found the table at the loading dock with a sign that read "TRASH." It turned out that Baldridge had come to the office straight from the airport and, exhausted from his long trip, got upset with what had happened to his office. Though it took four people to carry the table into his office, Baldridge single-handedly took it to the loading dock.
After much negotiating, the employees kept the foosball table but moved it elsewhere. Baldridge continued to resist it, though, until Miss Hawaii visited. He gave her a tour and, when they came to the foosball table, she exclaimed, "I love foosball!" Baldridge told her how the foosball table was his idea to improve morale and invited her to play.
Afterward, the staff rallied to get their money back for "his" idea. Baldridge acquiesced and reimbursed everyone. The table now sits in the official BASE recreation room and is still being used.
AT THE CLUB
Victim: Steve Baldridge
Pranksters: BASE employees
Another time  Baldridge was away, a few employees decorated his office with a stripper pole and Inflata-Frank, this time dressed in a nurse's outfit. Silver door streamers and blinking lights added to the club atmosphere, as did an audience of dolls with fake dollar bills. This time, when Baldridge returned, he loved the prank and insisted on keeping it as office decor. He was finally persuaded to take it down before a new-hire interview.
DRIP…DRIP…DRIP
Victim: FRANK HUMAY, VP
Pranksters: BASE employees
An engineer placed abandoned landscaping drip lines above the ceiling tiles in Frank Humay's office and water slowly dripped onto his head, like Chinese water torture. Humay was told it was condensation from the air conditioning. Another time, as Humay prepared for a vacation, concerned employees put Inflata-Frank in his office because they were worried about going without an indispensable leader. However, the prank escalated: Employees took Inflata-Frank out of the office on wild escapades that the real Frank would never have gone on – including a mock drinking binge – and captured the fun with pictures.
SHUT UP HIPPIE
Victim: FRANK HUMAY, VP
Prankster: base employee
Frank Humay has a colorful personality: He is outwardly politically conservative, yet also "green" and very protective of his vehicle. That set him up for a prank last April Fool's Day, when an employee put political bumper stickers all over his car after he arrived early in the morning. That allowed arriving building tenants plenty of time to view the stickers which had sayings such as, "Annoy a Liberal …Work Hard and Be Happy," "Shut Up Hippie" and "NObama." When he learned about it, Humay threatened to call the police about the "vandalism." Turns out the stickers were only laid on the hood, not stuck on, so Humay eventually forgave the prankster.
BEST SUPERHERO PRANK
CASTLE GRAYSKULL
Victim: IAN FORSYTH
Pranksters: Employees at Allana, Buick & Bers Inc.
Employees at the Hawaii office of Allana, Buick & Bers, an architectural and engineering firm, pride themselves on their pranks. Laina Gauker says they've covered co-workers' offices with aluminum foil, messed with display settings, filled offices from floor to ceiling with beach balls and even remodeled an office with pink wallpaper and Hello Kitty décor. But, when operations manager Ian Forsyth went on vacation, the staff wanted to make prank history. After many ideas were considered, inspiration came from a popular 1980s TV cartoon show, "He-Man and the Masters of the Universe."
Staff cut foam, painted cardboard, wrapped wire and braided rope to turn the front of his office into Castle Grayskull. The Blueprint Co., now known as ARC, printed a door cover with a picture of He-Man, on which Forsyth's face was superimposed. The staff also created a magical Power Sword – Styrofoam wrapped in aluminum foil – so Forsyth could defend Allana, Buick & Bers from evil. For a crowning touch, the staff created a fully functional drawbridge that had to be lowered so Forsyth could enter his office.
BEST BIRTHDAY PRANK
WE LOVE YOU, REALLY
Victims: BIRTHDAY BOYS AND GIRLS
Pranksters: GP Roadway solutions staff
The people at GP Roadway Solutions celebrate birthdays in style, with redecorated cubicles and "used" toilet paper, among other pranks.
BEST FAREWELL PRANK
HAVE YOU SEEN MY PEN?
Victim: DEPARTING MANAGER
Pranksters: Employees at Xerox Hawaii
The call for contest entries in the January issue of Hawaii Business inspired Debra Hamlin of Xerox to organize this farewell prank for a manager being transferred to Chicago.
While the departing manager was receiving lei and kudos at her farewell party, Hamlin says, other staff covered every item in her office with aluminum foil. Pens were all wrapped separately and even business cards were "lovingly wrapped," then placed back in the wrapped business-card holder.
Hamlin says the manager took it pretty well until she had to come back from the parking garage to find her keys. Her last words were, "All that tin foil better be gone by the time I get in tomorrow." Well, the foil was gone, but "everything we took out of the foil was now hanging from the ceiling!"
RUNNER UP
BEST FAREWELL PRANK
WHEW. SHE'S GONE.
Victim: GAUHAR NGUYEN
Pranksters: HER CO-WORKERS at Work Development Council
Gauhar Nguyen nominated Jillian Yasutake and Ruth Coldwell, who were her colleagues when she was a temporary worker at the Work Development Council, part of the state Department of Labor and Industrial Relations.
"These guys are serious about work and workforce development," Nguyen says, but, "I wrapped their chairs in Christmas decorations, put glitter into keyboards and a fan (so they can't type or
the fan blows glitter into their faces)," among other pranks. In payback, on Nguyen's last day, her colleagues presented her with a cake that read "Thank God You're Leaving!!" Nguyen says, "I can't top that."
RUNNER UP
BEST SUPERHERO PRANK
IRON MAN
Victim: GLEN 'IRON MAN' NAKAFUJI
Pranksters: INFO SYSTEM GROUP at Oceanit
"One night after work, Vince Lee and folks from the Info System group at Oceanit converted Dr. Glen "Iron Man" Nakafuji's cubicle into the coolest Iron Man hangout," writes Oceanit marketing manager Ian Kitajima. All the furniture was "wrapped" and Iron Man's picture was taped to his computer screen. Nakafuji loved it.
RUNNER UP
BEST BIRTHDAY PRANK
HAPPY BRRRTHDAY
Victims: BIRTHDAY BOYS AND GIRLS
Pranksters: EMPLOYEES AT T.G.I.FRIDAYS
Randy Botti, now owner of Walaau Media, recalls that "back in the day" at TGI Fridays on Ward Avenue, the favorite birthday practical joke in the kitchen was to freeze the birthday person's street clothes.
"Shortly after their shift started, we would take their clothes out of their locker, soak them in water, then hang them in the walk-in freezer. When they started to firm up (one hour or so), we would shape them so they would stand up on their own, constantly spraying them with water so they were stiff. Both pants and shirt."
When the victims finished work, they would find their clothes standing upright in front of their lockers. "We always bought the 'victim' dinner for two for their birthdays to soften the emotions," Botti says.
NEW CONTEST
BEST COMPANY VEHICLE
Hawaii Business is looking for Hawaii's best company vehicle, which could be a car, truck, boat, airplane, bus, bicycle or any other vehicle.
We are considering several categories, including:
• Best overall company vehicle;
• Best green machine;
• Most unusual;
• Most eye-catching;
• Best tour bus or other bus;
• Most effective use of advertising space on the vehicle.
Send us a high-resolution picture of the vehicle and a brief description or explanation. Send the entries to feedback@hawaiibusiness.com by April 13.
We plan to show the winning entries in our June issue and award restaurant gift certificates to our first- and second-place finishers.