Big Island Hui Offers Big Prize for Entrepreneurs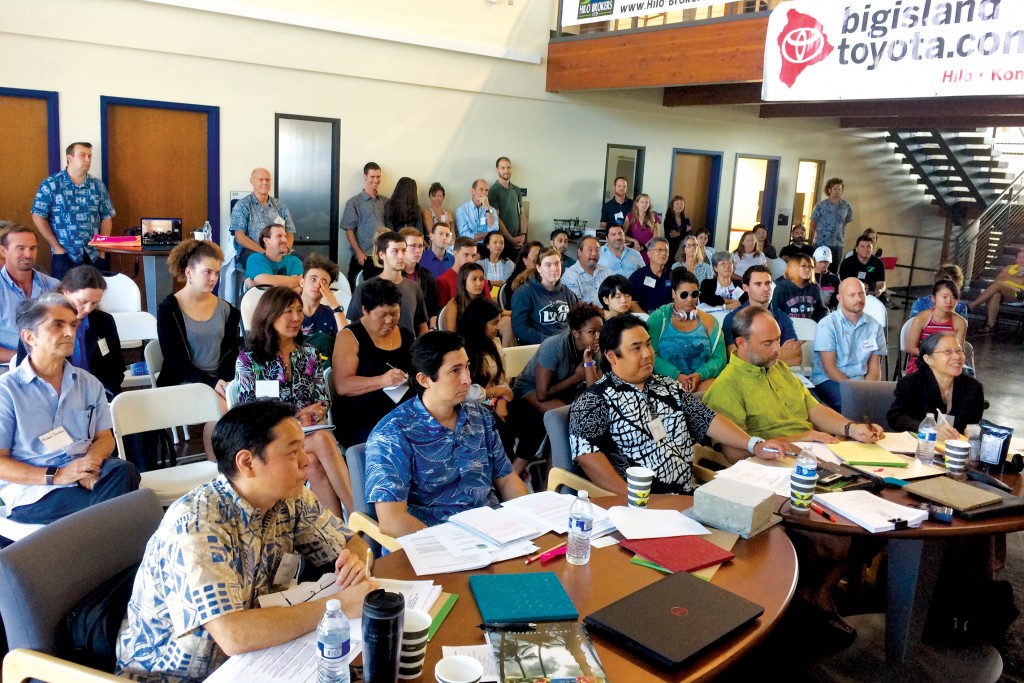 The HIplan business plan competition provides a $25,000 grand prize while helping to build an islandwide entrepreneurial network.
It was a morning in the fall of 2017, and Dr. Shallon Craddock was catching a few precious minutes of sleep in the car, en route with her family to the HIplan business plan competition in Kona. Just the night before, she was doing calls at the hospital, her second job. She was also sole pediatrician at Sunshine Pediatrics, the private practice she opened with her business manager husband, Daniel, a few months prior. "What a busy year," says Daniel, looking back.
Despite the duo's packed professional calendar, they were working tirelessly, refining their Sunshine Pediatrics business plan, presentations and business pitch. At stake: $25,000 worth of prize money they hoped to use to grow their practice to the next level. The cost: a lot of work, a few sleepless nights, a few chaotic days and other items on their to-do lists getting pushed to the side. In the end, though, it paid off. Sunshine Pediatrics became the second-ever HIplan grand prize winner.
With the 2018 application deadline coming up fast in September, the prize money – and designation as HIplan's third winner – is up for grabs. "I started the competition two years ago, and the idea was that Hawai'i Island has a lot of resources and a lot of talented people," says founder Jim Wyban. "But because it is a big island people are really spread out and there doesn't seem to be an entrepreneurial community."
A consultant and local entrepreneur himself – he launched and eventually sold a successful shrimp breeding business – Wyban had a vision for a competition that would provide valuable training while creating a local network or "ecosystem" of entrepreneurs that he considers key to a healthy, robust local business scene. "Oftentimes, entrepreneurs within their family are kind of the black sheep," he says. "They don't want a job at the state, they are more independent-minded and they have pressure from their family to, you know, 'get a job.' So, entrepreneurs need to meet each other and discover, 'Wow, there's someone else in my community who has the same attitude as me.'"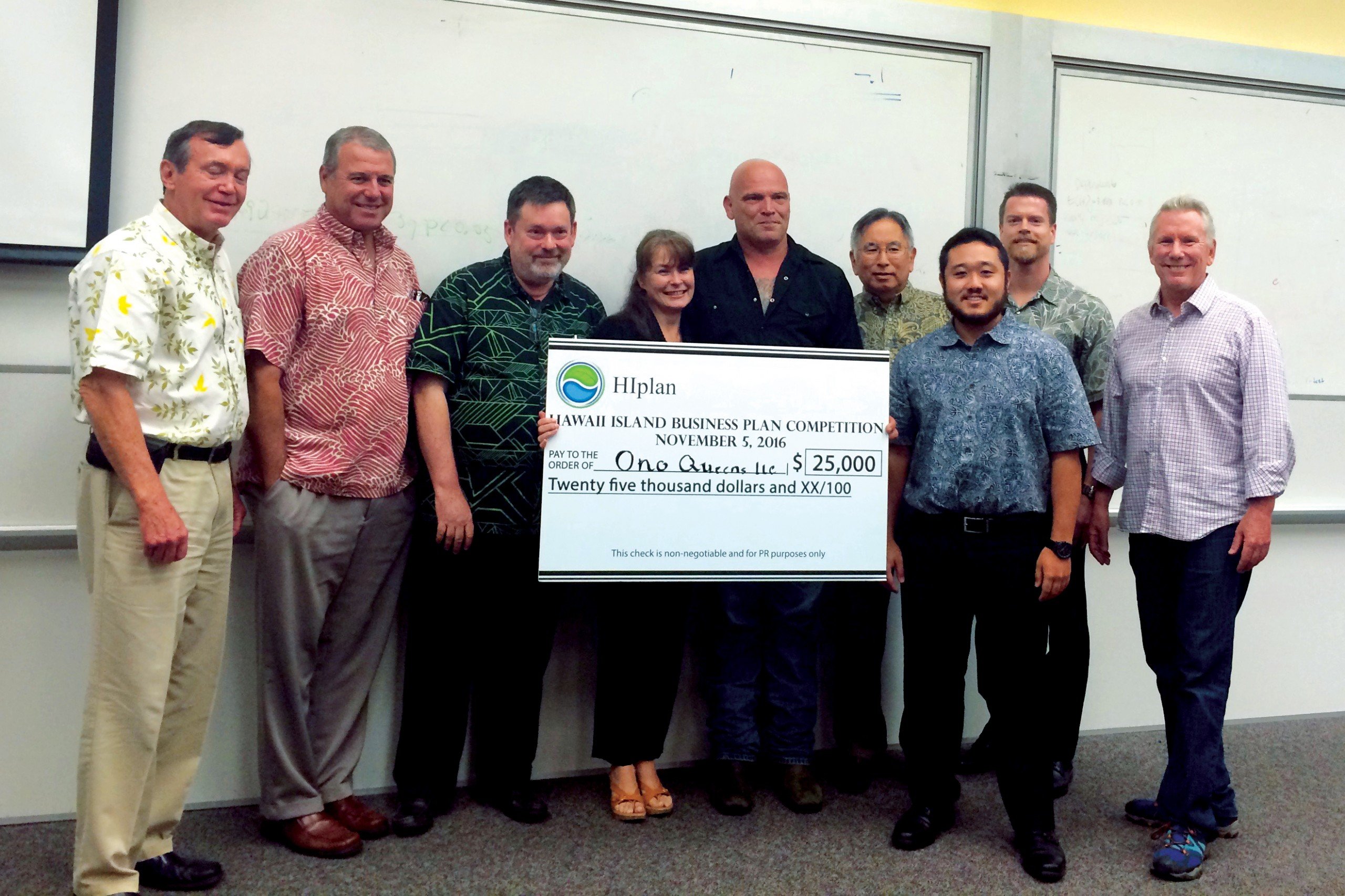 Wyban enlisted UH Hilo and the Big Island Chamber of Commerce as sponsors, and fundraised from state and private donors for the $25,000 prize. ("Big enough," says Wyban, "to really get people's attention.") Then he set to work researching business plan competition formats and finding a structure that would best serve the community. HIplan consists of three phases, one involving a written business plan, the second an oral presentation of the plan and the third both an "elevator pitch" and presentation. Each submission is judged by a panel of business academics, experts and potential investors, all of whom can provide valuable feedback that can help the businessowners refine their plans.
Murray Clay, of HIplan sponsor Ulupono Initiative, served as a judge in HIplan's first year, when Pāhoa-based queen bee breeders 'Ono Queens won – and were able to more than double their business output and production space.
"Usually, these smaller companies only have a partial team. They rarely have a full team where they've got a sales guy, a finance guy, a business plan person, an operator, a subject matter expert," says Murray. "So, to be judged by a full team of expertise across the panel, it helps them understand where they're lacking, where they need to kind of plus things up, and to see holes in their plans where they may have been too close to see for themselves."
Developing those skills can be invaluable, even for entrants who don't walk away with the grand prize. Wyban remembers a previous entrant who had high hopes for building a clinic. While she didn't win, HIplan prepared her for the steps she needed to take to make the clinic happen. "She said, 'Jim, you know, it was because I went through the HIplan process that this was so easy for me. When I walked into the bank, I had the whole business plan all written up. I had the whole elevator pitch,' " Wyban recalls. "I was totally stoked because that's just what we are trying to do."
Participating in the competition is certainly a serious energy and time investment for small business owners who are already juggling day-to-day operations but, the Craddocks point out, it's worth making. With the prize money, they scaled up their business dramatically – they just hit their 3,000th patient, up 2,200 since October of last year. Newly purchased vital machines allow Sunshine Pediatrics to service more patients at once, while an upgraded IT system cuts wait times and improves Dr. Craddock's workflow. A new autoclave, which sterilizes tools, makes it possible for the team to offer more services and procedures in-house, so patients don't need to go elsewhere, or in some cases fly to O'ahu. On an island with a shortage of primary care physicians and pediatricians, that has huge community impact. In the end, says Dr. Craddock, "Our goal was to improve the care to the children on the island. Just having the funding to do that definitely fueled my passion to make that happen."
As for advice for this year's applicants? "Keep it real," urges Clay. "Those that really did the research, spent the time to find out what things really cost, how long things really take, what are the steps to build a business, what prices are reasonable, what's the competition – really tried to answer those questions instead of just throwing something on paper that sounded good – those are the ones that made it far in the competition."
Daniel Craddock agrees. "Be willing to do the work," he says, because the work can mean a huge return – for both the individual and for the Big Island as a whole. "Any time you can become an incubator for innovation and for business success you are making a huge contribution to the economic growth and the wellness of this community. I believe HIplan will help to inspire folks young and old who want something more that the island may not have as an employee. So instead they move from an employee to a creator."
How to Apply
2018 HIplan deadline: Sept. 8
Application and rules at: bbibp.org/rules.