Black-Owned Local Businesses: Rebel Kitchen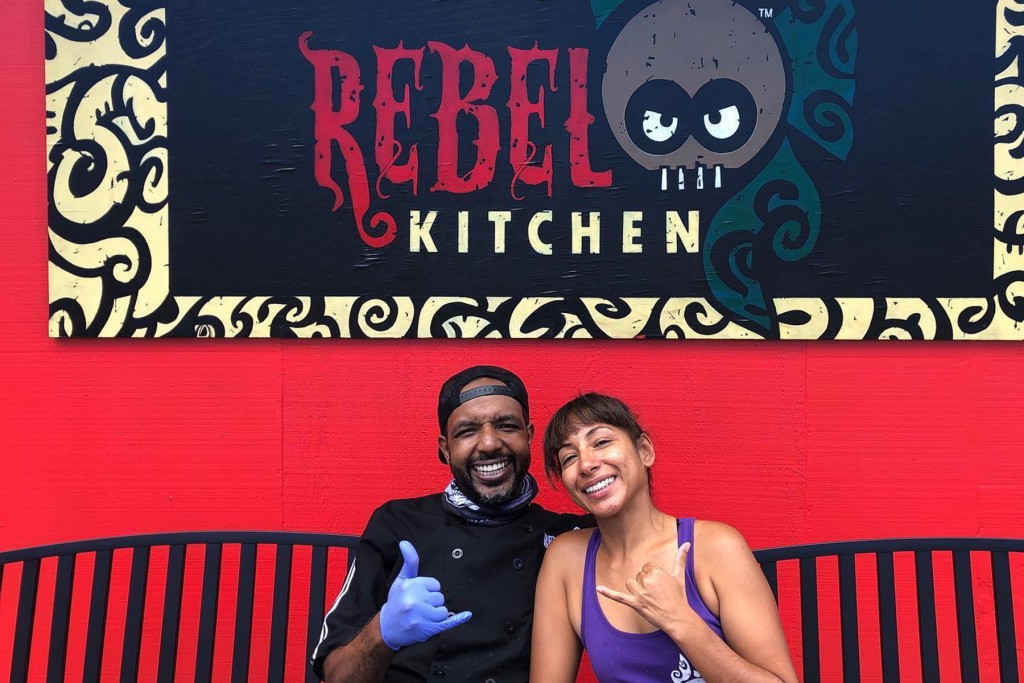 One in a series of profiles of Black-owned businesses across the Islands
Two rebels, one dream: That's the story of Rebel Kitchen, located in the Kona town of Kainaliu and owned by the husband and wife team of Randy Martin and Gabby Bermudez.
Before Rebel Kitchen, Martin and Bermudez were unsatisfied with their career paths and wanted to do something in which they could see their hard work pay off. Something they could be proud of. 
What they had in common was their restaurant backgrounds – the two met working at a restaurant and already knew they could work well together.
"Randy has always loved to cook for people, whether it's a holiday or just a weekend cookout," say the couple in an email. "We started to dream of opening our own restaurant … and one day, we were like, let's do this now or never, and so we made a business plan, started saving and doing lots of research."
In 2011, Rebel Kitchen was born. 
"People thought we were a little crazy, but that's why we called it Rebel Kitchen, because we felt like rebels for pursuing our dreams," they say.
For Black business owners, Hawai'i is different from the Mainland, say Bermudez and Martin, who have been in the Islands for nine years. Here, they say, people are supportive of everyone. Martin and Bermudez are, too, and it's reflected in their connection to the larger community. 
"The most rewarding is when other Black people realize we are the owners and are proud of us, both older and younger generations," write the couple. "For the young people, they see they can do it too – you can be Black and successful."
COVID-19, though, hasn't made their journey easy. The owners say that closing the restaurant for 2½ months during the stay-at-home order was difficult for them, their staff and the community. Now that they've reopened, business hasn't entirely recovered, but the couple says they try to stay positive.
"We are fortunate to have a strong local business. … We have received a lot of support from our community, but business is still much slower than before. It's going to be a long road ahead."
Martin and Bermudez say they're satisfied keeping their restaurant as is within their small community and have no plans to expand. The couple's sights are set on growing another portion of their business: their condiment line. They currently sell their own Kona Ketchup, Hawaiian Fire Sauce and Mauka Mustard among other sauces and marinades – and they hope to see their products on shelves across Hawaiʻi someday.
They advise anyone wanting to start a business to start small and do the research, use local resources like the Small Business Administration and, most of all, be willing to do what it takes. 
"Being a business owner is not glamorous, but it is rewarding."