Blending Old and New Marketing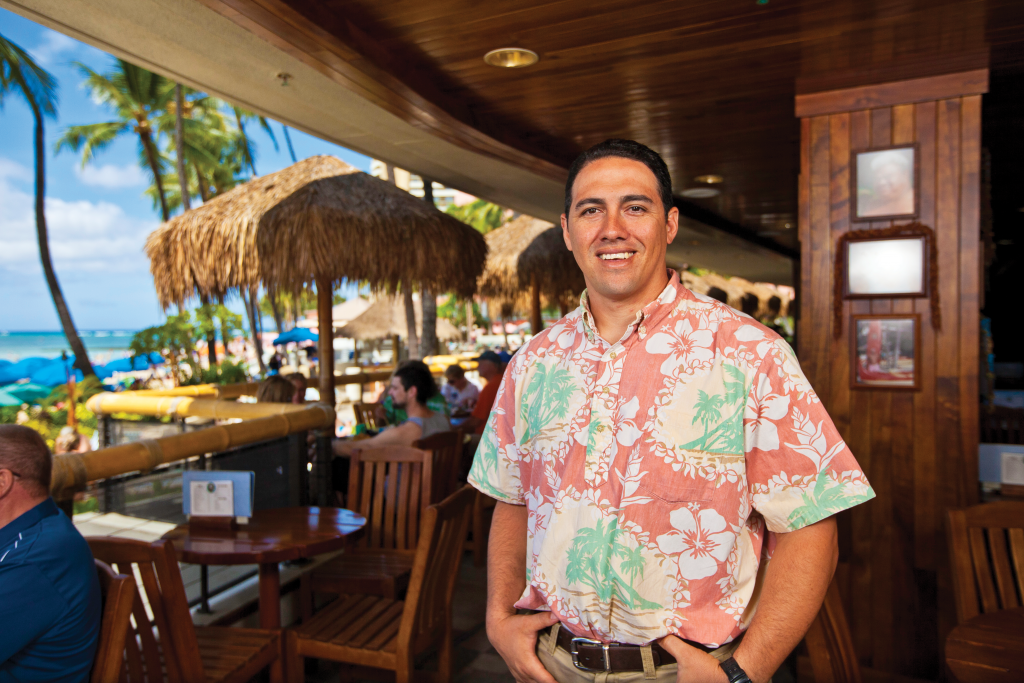 Tourists have hundreds of ways to spend their money; here's how more than a dozen small companies draw them in.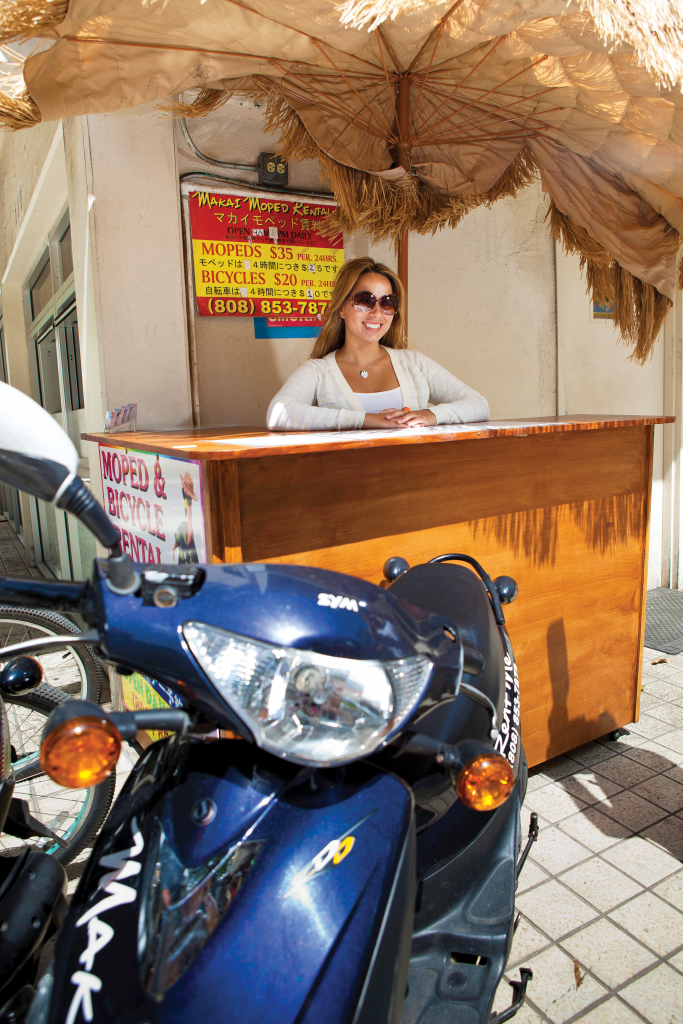 Well-tended tourists in skin-baring dresses and tropical shirts sip after-dinner drinks on the terrace at Duke's restaurant, while a Hawaiian singer croons and waves lap onto Waikiki Beach.
General manager Dylan Ching, scanning the room, excuses himself to have two complimentary Hula Pies delivered to a table of repeat guests – a couple from Arkansas celebrating their 40th wedding anniversary with their daughter on her 35th birthday.
"We like to make sure that our guests leave with exceeded expectations," says Ching. "That's something we pour money into."
Duke's is also pouring a lot of money into a mix of traditional and new marketing tactics to draw in those tourists. The mix of old and new is also being practiced by hundreds of other tourist-dependent businesses across the state.
The traditional marketing strategies include commissions to concierges and taxi drivers, and colorful flyers and cards in racks scattered around resort areas. The new approaches include special events and working social media like Twitter, Facebook and Yelp.
A few lucky companies have hit the marketing jackpot: an appearance on "Hawaii Five-O" or a visit from a celebrity like singer Rihanna that generates buzz around the Internet and brings in lots of new customers.
Genesis Aviation offers helicopter tours from Honolulu International Airport and owner Jeff Gebhard estimates that tourists make up 99 percent of his customers. In the past, he has committed his marketing dollars strictly to direct mail, Internet advertising and commissions to hotel concierges.
Since January, Facebook has been added to his marketing mix. "We're trying to get every state and country represented on the page," he says.
Social media also represent a new dimension for Makai Waikiki, a moped and bicycle rental shop on Royal Hawaiian Avenue, where the average customer is a tourist age 18 to 26.
Owner Vanessa Aispuro says her past marketing initiatives focused on fliers, brochures and walking maps. But she has received much better results reaching her youthful customers on social-media sites like Facebook and Twitter, as well as Yelp, an online business-review site where her company enjoys a positive rating.
"Since turning to them in January, I've noticed a lot more people calling to make bookings," she says. "Our phone calls have gone from zero in a day to six to seven calls daily."
Those changes in her marketing reflect a world where travelers can walk out of their hotels, point their smartphones into the street to find restaurants and shows, read reviews, consult maps and make reservations. But, for many companies, tried-and-true techniques remain effective.
Star of Honolulu is one example. Internet marketing and advertising have worked well for the company's whale cruises and sight-seeing tours, says president Ron Howard.
He attributes a double-digit increase in bookings through the first two months of the year to Internet sales. Yet, he's quick to point out that his brochures in kiosks in hotels and other places are what drive most sales.
"Clients tell us they respond to our brochures more than any other form of marketing," Howard says.
That is good news for Hawaii Folder Service, which has been around Waikiki since 1977.
More than 100 of Oahu's big and small tourist attractions pony up between $50 and $185 a month to display their brochures on racks at 180 locations across the island, says Bob Hogan, president and owner of the company. "The number of clients has remained pretty constant over the years," he says.
The folder service is one of the main ways word gets out about Germaine's Luau Hawaii, which averages between 400 and 900 people for shows five nights a week at its leafy enclave in Barbers Point, says Paulette Watson, director of sales.
The company's national reputation soared when ABC-TV's "Good Morning America" named it America's Best Luau. Since then, front-table luau seats have hosted such high-profile guests as Chelsea Clinton, says Watson, who recalls receiving a thank-you letter from former President Bill Clinton for the hospitality afforded his daughter.
"We get a lot of repeat guests," she says. "And it mostly comes from word-of-mouth advertising."
Word-of-mouth advertising is prized above all others in the marketing efforts at Mama's Fishhouse Restaurant & Inn, whose popular dishes include fresh fish prepared Upcountry style, with caramelized Maui onion, avocado and jasmine rice.
The fishermen who bring their catches directly to the Maui restaurant are recognized on menus as a way to make the culinary experience real to tourists, who make up as much as 90 percent of the business, says Karen Christenson, VP of the business her parents started 37 years ago.
"We make sure our guests want to come back and that everyone they know wants to come here, too," Christenson says. "There's no marketing that you can buy that is as effective as word of mouth."
A surfing school with locations in Kihei and Lahaina woos customers with a blend of old and new strategies. On the one hand, the family-owned Maui Wave Riders connects with tourists through a new website and the online travel site Expedia.
On the other hand, the company has expanded its presence at activity desks in hotels on Maui and continues to offer incentive payments to taxi drivers, who bring in a lot of clients, says office manager Monica Redins.
In Hawaii, there is no law against incentive payments or commissions offered by companies to persuade taxi drivers to steer business their way.
In fact, taxi drivers have long played a key marketing role for Club Rock Za and its roster of exotic dancers, says Yvonne Dang, who for 23 years has owned the strip club located across the street from the Hawaii Convention Center on Kapiolani Boulevard in Honolulu.
She says tourists make up about 60 percent of the customers who keep her dancers' G-strings stuffed with dollars. Dang pays cabbies as much as $10 for bringing her legitimate business.
A block away at Club Femme Nu, cabbies are also paid for delivering tourists, though they make up only 25 percent of club's clientele. However, the club's general manager says it is bracing for a marketing boost from an episode of "Hawaii Five-O" in which the club appears in a chase scene.
Greg Longnecker, owner of X-Treme Parasail and Jet Ski in Kewalo Basin Park, says he just started blogging about the adventures his company offers off the coast of Oahu. He's also invested heavily in his website and in search-engine optimization – SEO – designed to keep his company high in Google search results and a step ahead of rivals in the race for business from thrill seekers.
He says these new efforts have complemented his traditional approaches, which include paying for fliers in racks and kiosks, commissions to travel agents, and ads in tourist publications.
"Over the last year, we have put more emphasis into our website and social media," Longnecker says. "It now accounts for about 10 percent of my advertising budget."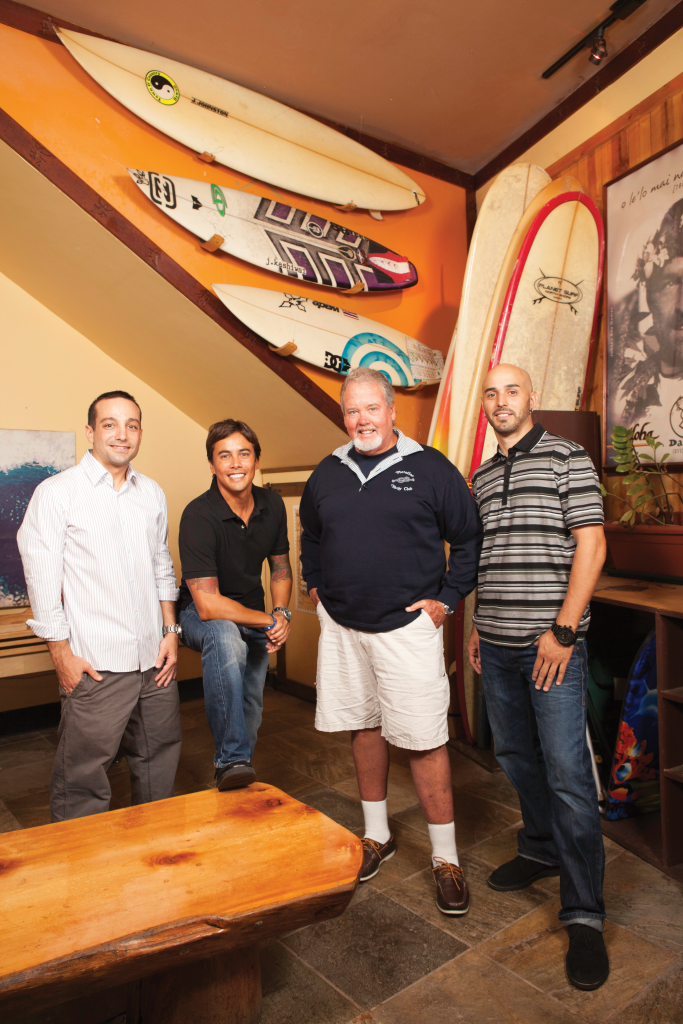 His marketing paid off big in February, when pop princess Rihanna booked a parasail with his company.
"She rolled up in three black Cadillac Escalades, carrying two of her girlfriends, a guy and a bodyguard," Longnecker says. "She had a wig on and was trying to be very incognito. She was trying to stay out of the spotlight."
It's all see-and-be-seen at Lulu's Waikiki, a restaurant and bar across from the Honolulu Zoo on Kalakaua Avenue, where movie star Adam Sandler is a repeat visitor who enjoys unwinding with friends over beer and Mai Tais.
Skip Lambert, marketing and events director, says the ocean-themed restaurant and bar has also been rebranded to appeal to customers who can walk off Waikiki Beach dripping wet, put a surf board on a rack, and go to the bar for a beer and hamburger.
"We have a very relaxed dress code that appeals to beachgoers," he says.
Hotel concierges get complimentary meals for good referrals. And on "hospitality Mondays," all hotel workers who can show proof of employment with a pay stub or some other form of identification get 50 percent off all food and drinks.
"That marketing program has been a huge success," Lambert says. "It started out as just a way to spread the word about us and it has really taken off."
A few blocks up the street, in the Royal Hawaiian Shopping Center,
P.F. Chang's China Bistro has taken a new approach to drum up business from tourists.
All appetizers and drinks are now 50 percent off between 3 and 6 p.m., says manager Ed Locke. "When we first started, we saw 15 to 20 people," he says. "Now we see 200 to 250 people for happy hour."
Those numbers are encouraging for a company unaccustomed to putting money into marketing, Locke says.
"Before now, we just opened sites in prime locations, the word would get out and we would build our reputation on our food and execution. But our happy hour attracted people who worked in the hotels and they would spread the word. That has created a lot of buzz."
Another key effort is creating Chinese and Japanese menus and hiring employees who are fluent in those languages, as well as Korean and English. "It just makes guests feel comfortable," Locke says.
A half block away, Japanese tourists are the main targets of Doraku, a sushi restaurant whose only other location is in Miami's South Beach. To reach Japanese tourists in Hawaii, the restaurant sinks between $300 and $400 a month into promoting 10-percent-discount coupons in "KauKau," a free monthly magazine distributed in Waikiki.
"Everything else is word of mouth or Yelp," says Hide Yoshimoto, an executive chef at the restaurant. "But three out of every 10 of our Japanese customers have seen the ad with our coupon."
Back at Duke's in the Outrigger Waikiki hotel, Ching gives a detailed account of the behind-the-scenes efforts to raise the restaurant's profile.
He talks about putting money into special marketing ventures, such as sponsoring canoe races. He also refers to the burst of business the restaurant gets every February during NFL Pro Bowl week. That's the busiest time of the year largely due to parties hosted by Hall of Fame quarterback Warren Moon and Atlanta Falcons tight end Tony Gonzalez. Visitors of all stripes delight in unwinding with the two NFL stars, he says.
To keep up with the times, he has rolled out a Facebook page, which helps customers stay connected on the restaurant's moves.
But, he says, there is no higher priority on his marketing to-do list than cultivating strong business relationships with doormen, bell captains and concierges at hotels in Waikiki. For doormen and bell captains – usually the first and last people hotel guests see – that could mean buying them an occasional beer at his restaurant.
The strategy for concierges is a little more complex. For them, he's assembled teams of employees who are routinely dispatched to crisscross Waikiki in a quest to establish rapport with concierges, whose main agenda is to make hotel guests happy.
His teams warm up to concierges in part by keeping them updated on the action at the restaurant and bringing them complimentary cookies, pies and invitations to eat at the restaurant.
"We rely on them to recommend us and we want them to feel comfortable that we will deliver."
Book 'em, danno
The Valentine's Day episode of "Hawaii Five-O" showed the marketing power of the hit show for local tourism companies.
The episode featured a dozen gorgeous young people partying — and then being kidnapped — aboard the catamaran Makani, which takes tourists sailing and snorkeling.
"We had a record number of bookings the next day" — 70 customers, says Capt. John Jepson, general manager of the Makani. "A lot of people mentioned seeing the episode. And we definitely have been seeing more business since that episode."
Jepson is using the buzz to help establish a strong presence on Facebook and Twitter, where the company is posting photos and tweeting messages that tout the business while noting its starring role on TV. "We recently hired an information-technology guy who has been dedicated to work on our social-media site," Jepson says.
Retail aims to get back its share
Last year, spending in Hawaii by tourists who arrived by air rose 16 percent, to $1.4 billion, from 2009, according to the Hawaii Tourism Authority.
At one point, stores and other local retailers took in about 20 percent of visitor spending, says Carol Pregill, president of the 200-member Retail Merchants of Hawaii. That figure has since dropped to about 15 percent, she says.
To reverse the decline, retailers have stepped up their marketing to tourists. Increasingly, they are turning to in-room marketing at hotels to get on the radar of leisure travelers and conventioneers, who are being offered up to 15 percent off purchases.
"Retailers have been trying any way possible to reach tourists," says Pregill. "We have not seen their spending in retail. It's going mostly to lodging and transportation."
Illegal, But Not Eradicated Some hotel doormen still shake down cab drivers
It has been illegal for years for cabbies in Hawaii to pay cash kickbacks to hotel doormen, yet doormen at Waikiki hotels — including some luxury ones — are still shaking down taxi drivers and tour operators before handing over big-spending guests.
"Everyone knows that it's illegal, but it's still going on," says Howard Higa, president of The Cab, which has 10 contracts with hotels in Waikiki for a fleet of 700 taxis, the largest in the state.
Dale Evans, chief executive of Charley's Taxi and Limousine, says she has not only fired drivers over these payouts, but has also canceled contracts with hotels that refuse to rein in their doormen.
"Some hotels have no control over their doormen," says Evans, who has contracts with five hotels in Waikiki for a fleet of 300 taxis. "They let their doormen do whatever they want."
The illegal practice is not unique to taxi drivers. One owner of a tour shuttle service, who spoke on condition of anonymity, says kickbacks have become a "side business" for some doormen in Waikiki, who want as much as $10 for passengers to Pearl Harbor and $15 for North Shore-bound tourists.
Those paying the kickbacks are mainly independent tour operators and cabbies not employed by the taxi company with the official contract to serve guests at the offending hotels. "We call them bandit drivers," says Higa.
Honolulu police officials say the law is difficult to enforce. They do not cite any recent prosecutions and decline to speak much about the problem.
Hoteliers insist they have strict policies against the payouts to doormen.
Even so, Herman Villanueva, who has been driving a cab for the past 18 months, can't mask his frustration as he talks about recently being extorted for an illegal $5 kickback by a Halekulani hotel doorman hailing him for a guest who needed a ride to the airport.
"I didn't take the fare," says Villanueva, rolling his eyes over the $37 he would have earned after giving the doorman a $5 cut. "As far as I know, it could have been a setup, since what the doorman was doing is illegal."
Gerald Glennon, general manager of the Halekulani, says in a statement: "Our operating standards for all valet staff do not allow for this type of behavior. If it were ever determined that this in fact was happening, it would be immediately addressed."
Michael Nisky, general manager of the Marriott Waikiki, adds that most of the bigger resorts in Waikiki have policies against such behavior and says violators are aggressively disciplined. "Our employees are not allowed to make their own deals," he says.
Among the other offending hotels mentioned in taxi circles is the Aston Waikiki, but a spokeswoman for the hotel insists it has a policy against the illegal practice.