Boss Survey 2011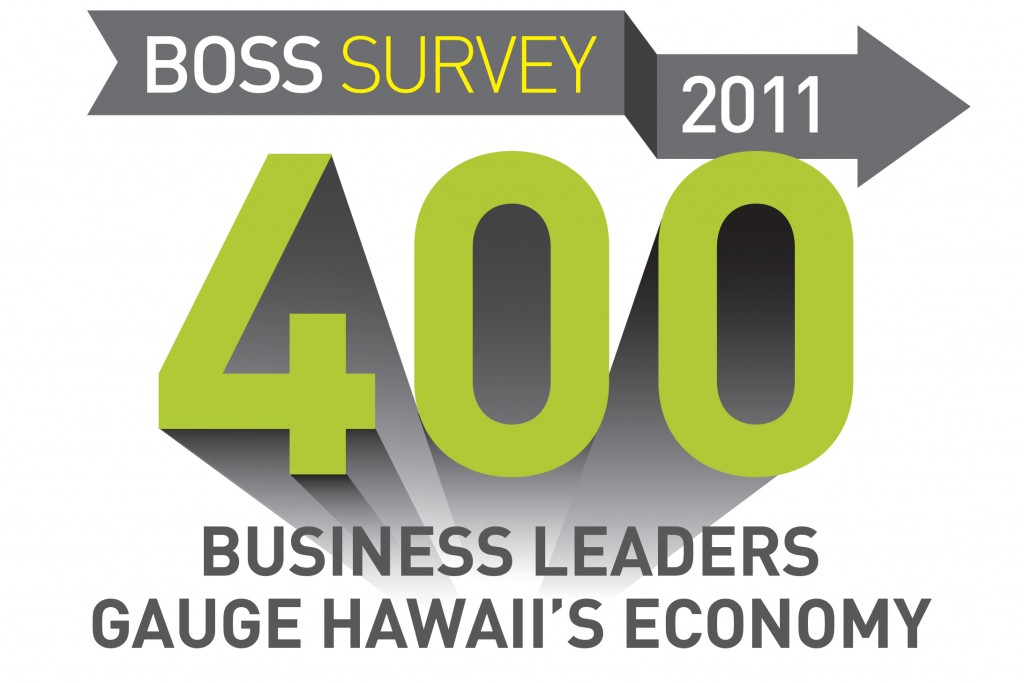 HIGHLIGHTS AND LOWLIGHTS
TOUGH TIMES PERSIST: The news remains bleak on three key measures: jobs, revenue and profi t.
In each case, more companies surveyed suffered declines during the past year than enjoyed increases.
OPTIMISM STEADY: The outlook for the coming year remains relatively sunny: 34 percent of those surveyed predict the overall economy will improve in the coming year, while 24 percent foresee a decline.
OIL PRICES: 31 percent of Hawaii companies say rising oil prices have already hurt their companies a lot.
CONSTRUCTION: In general, companies in the construction industry are doing much worse than the average Hawaii company. Nonetheless, the leaders in the construction industry share the same level of optimism for Hawaii's economy as the average Hawaii business leader.
About the Survey
BOSS – the Business Outlook and Sentiment Survey – is a survey of 400 business leaders on all major islands.
It is done twice a year for Hawaii Business by QMark Research, a division of the Anthology marketing group. Four hundred random interviews were conducted by telephone from April 12 to April 20. In each case, QMark spoke with the company's owner, CEO or other senior executive.
The companies were stratified based on number of employees:
Very small: Businesses with 3 to 9 employees; Small: 10 to 49;
Medium: 50 to 99;
Large: 100 or more.
A targeted sample of 100 businesses in each size sector was the goal. Here's where the respondents were based:
Oahu: 69 percent
Maui: 19 percent
Big Island: 7 percent
Kauai: 5 percent
In this edition of BOSS, 111 businesses in the construction industry were surveyed. Eighty-one were part of the original sample, with another 30 surveyed to meet a targeted quota.
The overall data was weighted to reflect the proportion that each company size represents in the Hawaii workforce, as reported by the state Department of Labor. A sample of this size (n=400) has a margin of error of +/- 4.90 percentage points with a 95 percent level of confidence. Thank you to the Business Banking Council for agreeing to our use of historic data from past surveys.
The survey is rich with data, far more than can fit in the magazine, especially about construction.
MANY BUSINESSES STILL SUFFERING
But, overall, Hawaii's companies are better off than at any time since 2008.
HIGHLIGHT: The Performance Index – based on changes in jobs, gross revenue and profit – is at its highest level since the second quarter of 2008.

LOWLIGHT: Only 16 percent of the businesses polled added jobs over the last year.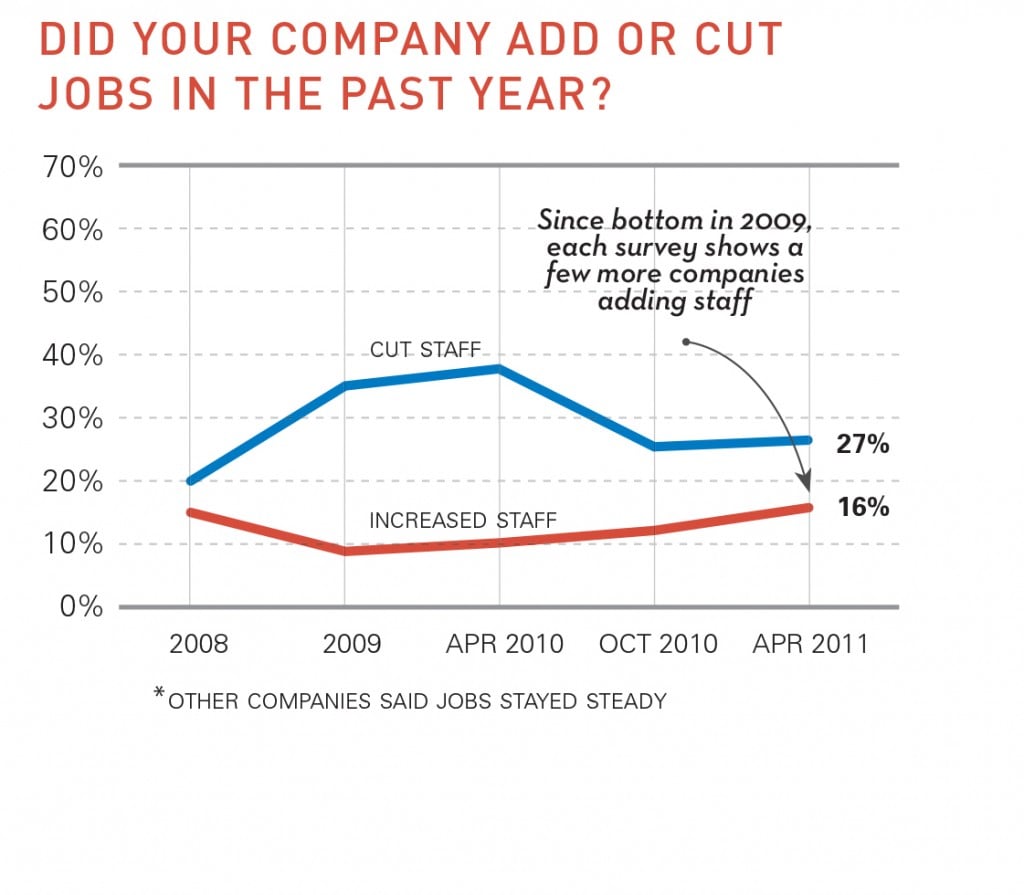 HIGHLIGHT: Large companies were most likely to have added jobs in the past year.

LOWER REVENUE AND PROFIT FOR ALMOST HALF OF ALL COMPANIES
LOWLIGHT: 43 percent of the companies surveyed reported lower gross revenue.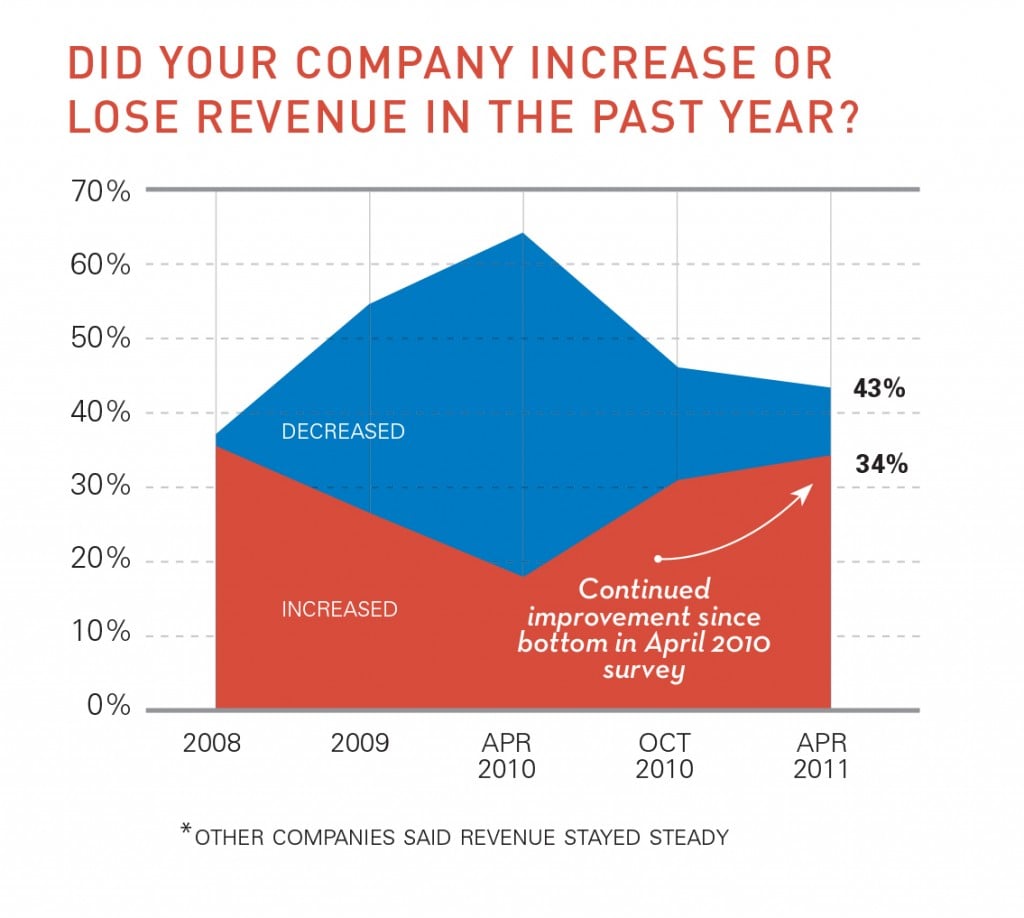 HIGHLIGHT & LOWLIGHT:
• More than half of large companies increased revenue
• Almost half of small & very small firms lost revenue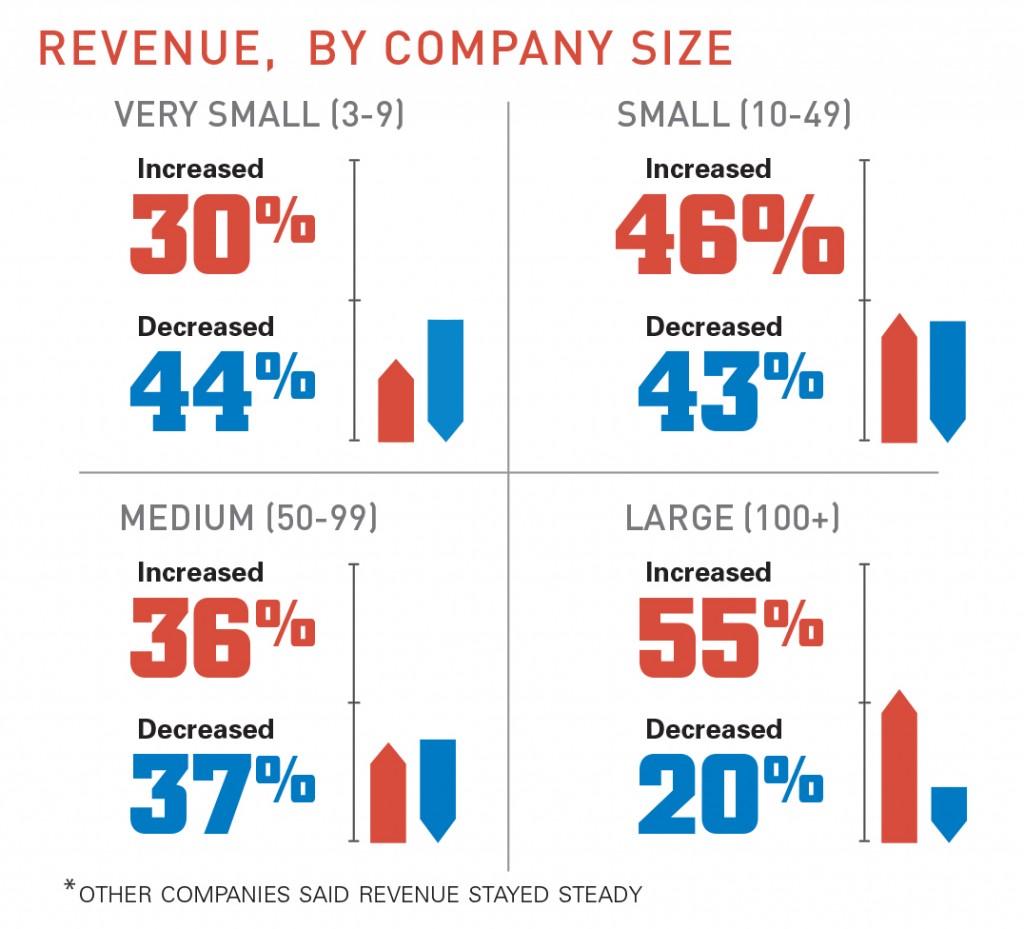 LOWLIGHT: 41 percent reported a decline in profit.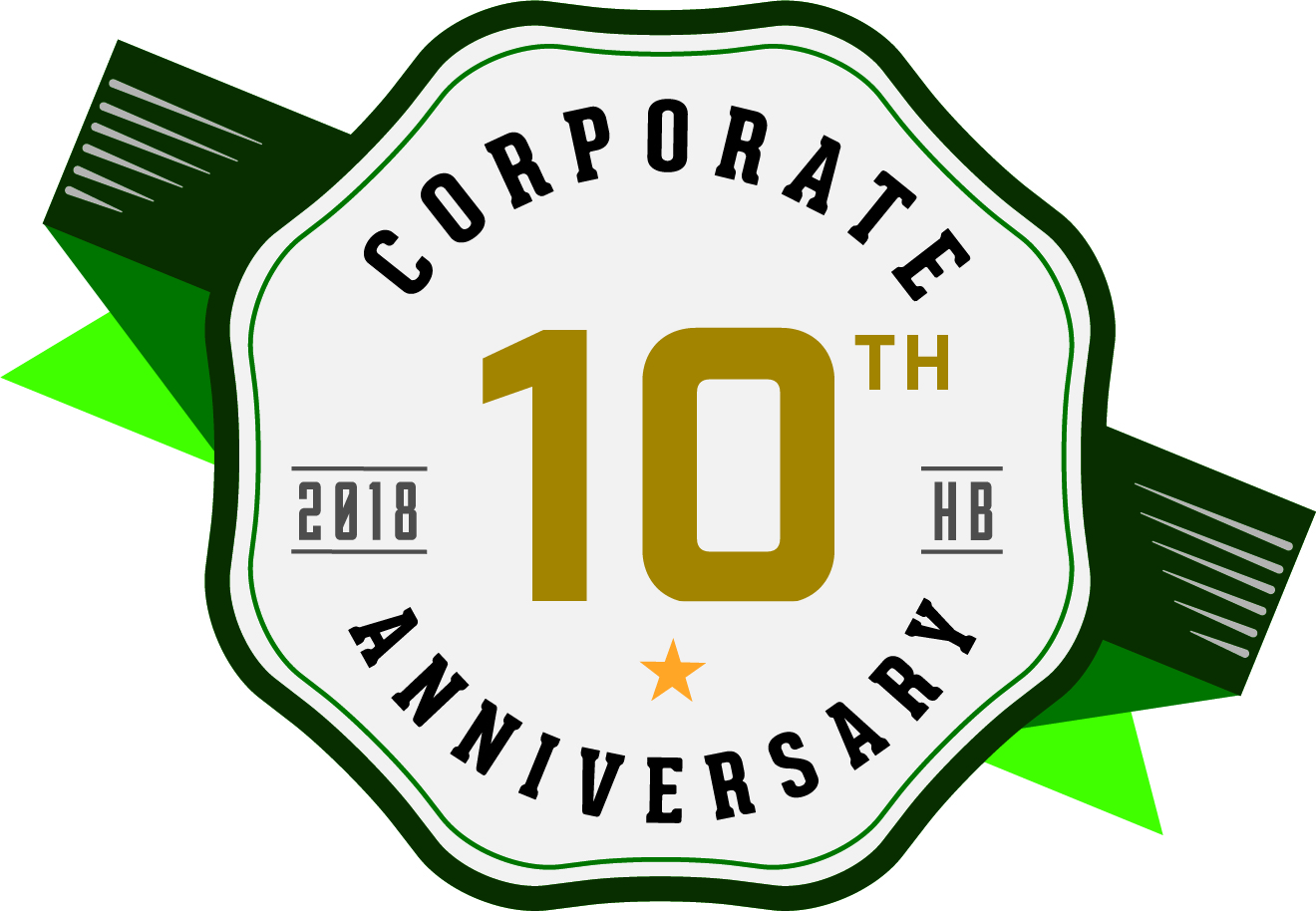 HIGHLIGHT: 40 percent of large companies enjoyed higher profit.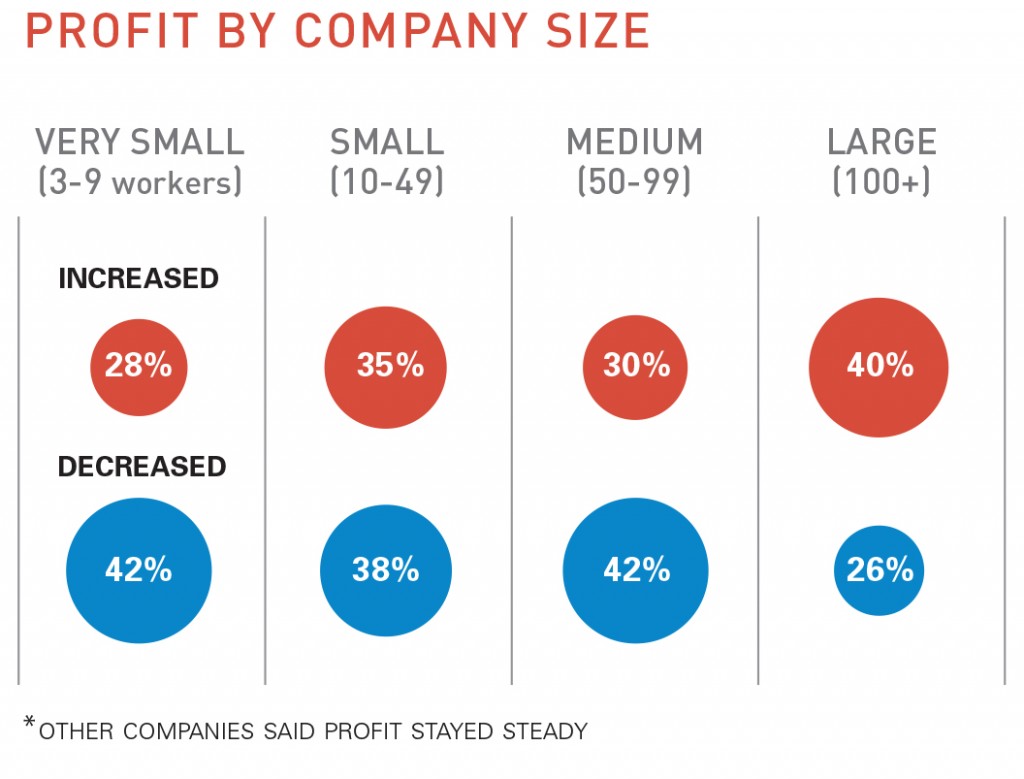 OPTIMISM HOLDS STEADY
BOSS OPTIMISM INDEX

HIGHLIGHT: 34 percent of the businesses polled believe the Hawaii economy will improve in the coming year.
PREDICTIONS BY THE PESSIMISTS: Those business leaders who predicted the Hawaii economy will worsen in the coming year were offered three scenarios of the future and asked to choose the one that best mirrored their personal view.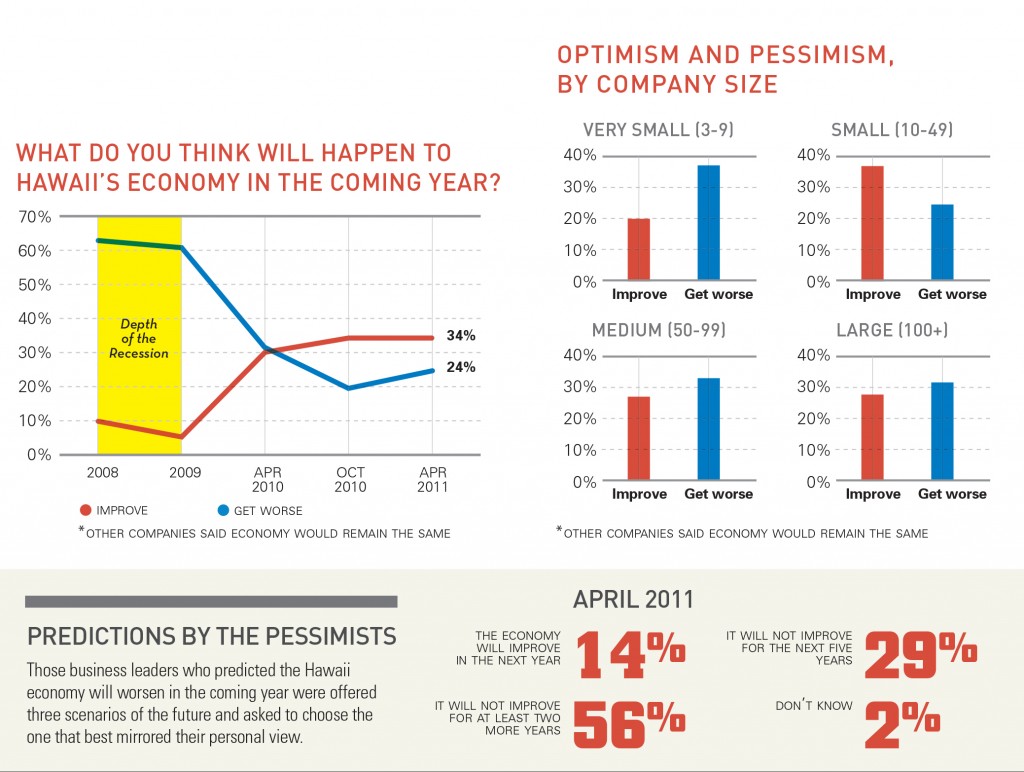 SPENDING PLANS
LOWLIGHT: More than one-third of all businesses said they planned more cost cutting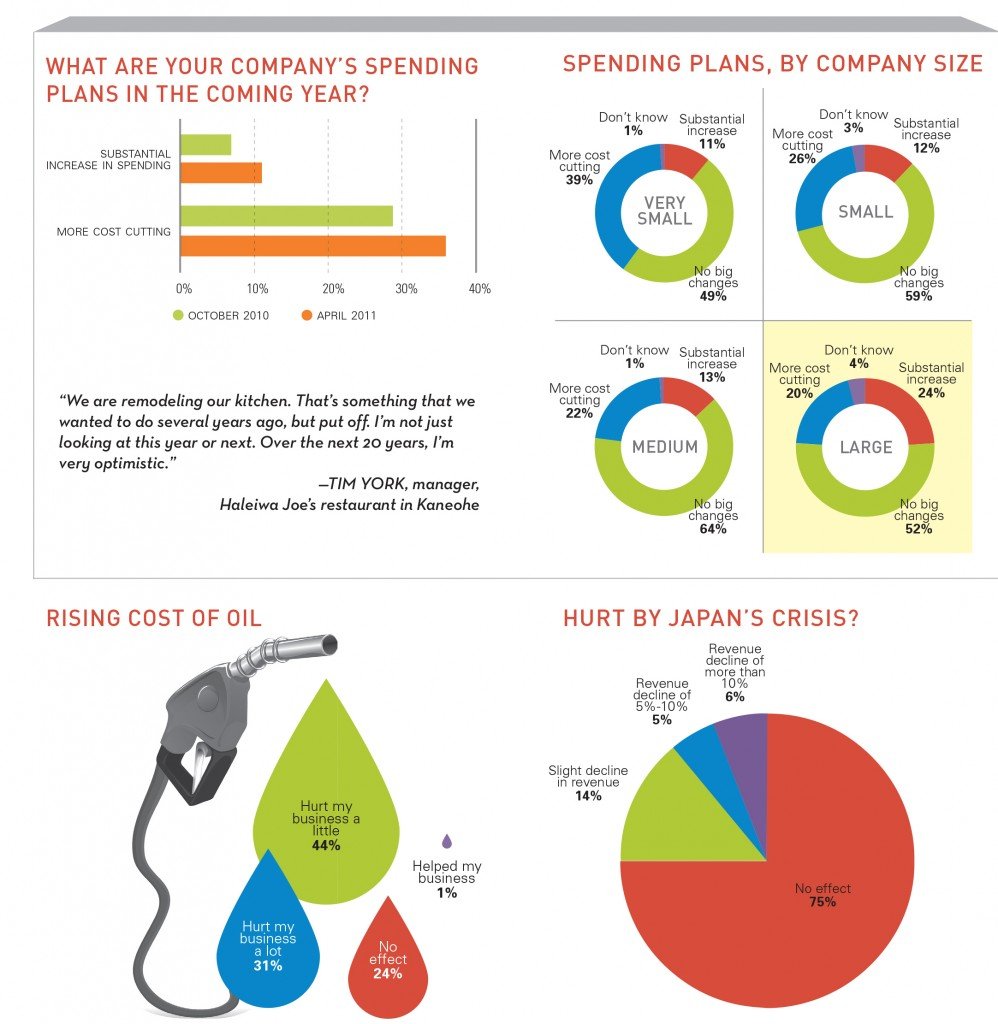 TOUGH TIMES DON'T KILL OPTIMISM
LOWLIGHT: By every measure, construction companies are doing worse than the average company.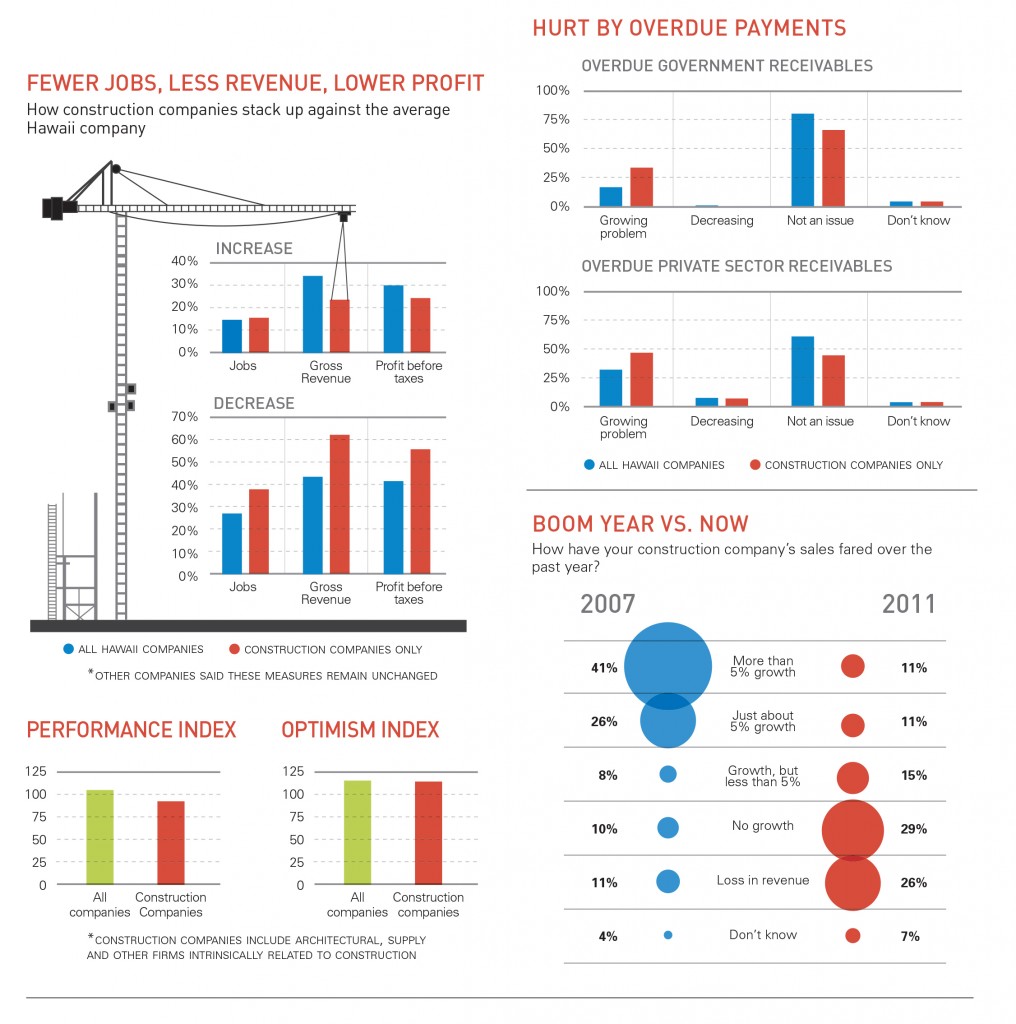 HIGHLIGHT: Nonetheless, construction leaders are as optimistic about the overall economy in the next year as the average business leader.
LOWLIGHT: Half of construction companies say they are hurt by a growing number of overdue payments. Their plight is much worse than Hawaii companies in general.