Bring Back Our Beach!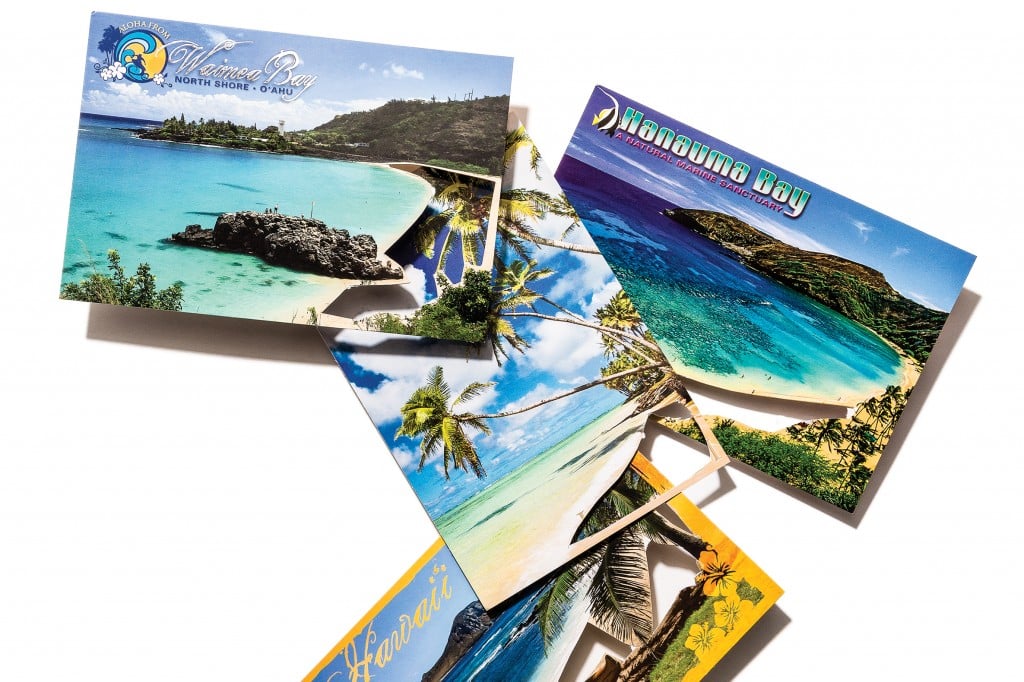 Oahu, Kauai and Maui are outlined by nearly 170 miles of sandy beaches, but about 70 percent of them are slowly shrinking from erosion, storms and a rising sea, according to a USGS report. Hawaii has the technology and expertise to rebuild those beaches, but what we usually lack are two things: the right sand and the money to pay for it all.
Hawaii has been looking for sand since the 1960s, says Scott Sullivan, VP for Sea Engineering Inc., which has worked on beach nourishment projects in Waikiki, Poipu and Iroquois Point. While Hawaii's beach sand is not unique, he says, it's also not the most common. Our sand is predominantly made from ground-up shells, coral and algae – the scientific name is calcium carbonate.
In previous times, sand to replenish beaches would be mined from other beaches, but today that practice is prohibited, so sand has to come from inland sand dune deposits or from offshore, says Bradley Romine, a coastal management specialist with UH's Sea Grant College Program and the state DLNR's Office of Conservation and Coastal Lands. However, there are few in-shore dunes and many are on private land, so the main option is going offshore where the sand is free.
"The need to go offshore for sand is much a result of just a lack of available sand for nourishment projects and particularly finding good, clean, compatible beach sand," he says. "We have guidelines for DLNR; we're very careful in authorizing nourishment projects, making sure the sand matches the existing natural beaches as best we can." Because sand is hard to come by and a good match needs to be found, replenishment projects are expensive, he adds. For instance, the 2012 replenishment of part of Waikiki Beach cost $2.9 million and took four months.
But even offshore sand has faults. If the sand sits on the ocean floor for a long time, it will darken – anaerobic decay results in the formation of iron byproducts that stain the sand black. In addition, offshore sand is typically finer than sand on beaches.
To replenish a beach, state rules require the new sand matches the characteristics of existing sand grains, such as color, size and material. If the new sand grain is too small, it won't stay on the shore, and, if it's too large, it will slump into the ocean and won't be conducive to recreation, says Chip Fletcher, a geology professor at UH-Manoa.
USING SONAR DEVICES

The search for sand typically starts with aerial photographs, such as those on Google Earth, and looking for light-colored patches that might be sand, ideally in depths less than 100 feet, Sullivan says. His company, Sea Engineering, uses sonar devices to confirm the material and assess the thickness of the deposit. Laboratory analyses then determine the characteristics of the sand, such as the grain size and quality.
"It's a lengthy process, and it's somewhat expensive to go searching for sand. We have expensive instruments and it takes time. And a lot of time, what we find is not good, so it can be pretty frustrating," Sullivan says.
Although offshore sand doesn't have to be located in front of the beach that's being worked on, the distance will determine the cost and what methods are used to bring it in. For short distances, a sand/water mix can be pumped to a settling basin on shore to dry out. Later it is moved to the beach. For longer distances, sand can be loaded on a barge, moved to shore and stockpiled somewhere, and then trucked to the project site.
The cost to take sand from its source to its destination can range between $100 and $200 per cubic yard of sand. However, economies of scale also play a role, Sullivan says, citing Mainland projects that bring in a million cubic yards of sand at a few dollars per cubic yard.
ATTRACTING VISITORS

Needless to say, beaches are valuable to the Islands – locals use them every day and they help draw millions to Hawaii each year. At Waikiki Beach, from 1939 to its most recent project in 2012, between 310,400 and 340,400 cubic yards of sand have been hauled in to keep the center of Hawaii's tourism economy attractive, according to a 2012 Waikiki Beach maintenance report.
The 2012 replenishment project in front of the Royal Hawaiian Hotel cost $2.9 million to bring in 24,000 cubic yards of sand. Deposits were located 2,000 feet offshore, though the problem was their lack of depth. Fletcher says it's not enough if deposits are only one or two feet thick – the idea is to borrow from as small a footprint as possible but as deep as possible to minimize the impact on organisms that live there.
The sand was brought in through hydraulic dredging – it was pumped in a slurry of about 20 percent sand and 80 percent water – an operation Sullivan describes as messy. The mixture could cause issues with water quality, so a dewatering basin was needed to separate the sand from the water before dump trucks could move it to the project site.
In the end, the dry beach area was extended 35 feet out to sea, though that's with the expectation it'll need to be renourished again in five or 10 years. By recycling the sand from offshore – and not adding additional sand to the area – the DLNR tried to mitigate potential impacts to the surf system, Romine says. Though, as the beach continues to erode, the new sand will likely be pulled back offshore.
In Kaanapali, the DLNR and Kaanapali Operations Association are getting ready for the beach's first nourishment project, focusing on the area fronting the Hyatt and Marriott hotels and Hanakaoo Beach Park. Wayne Hedani, KOA president, says the plan is to use about 75,000 cubic yards of sand to restore the area to its 1988 position, when aerial photos show the beach extended about 35 feet further into the water.
While the beach helps drive tourism at Kaanapali Beach Resort, Hedani says, "I don't think we've seen a specific impact that can be tied to the erosion in that particular area. But the concern we have is that failing to restore the beach, at some time, will produce a cumulative effect on the entire resort." He estimates the resort, with its hotels, condos, recreation facilities and shopping centers, contributes about $2 billion in economic impact annually to Maui and the state.
While the project is currently being environmentally assessed, two offshore deposits have been identified, with the best one off Black Rock, Sullivan says. However, the waves are rougher there than in Waikiki, and there's no room for a dewatering area, making pumping in the sand unlikely.
MAINTAINING OUR BEACHES

On Oahu, the beach by the Kailua Beach Park boat ramp is replenished once a year with sand taken from the nearby mouth of Kaelepulu Stream, which is plowed open regularly by the Honolulu Department of Facility Maintenance to lower the water level in Enchanted Lake, says Nathan Serota, public information officer for the Honolulu Department of Parks and Recreation.
The area is prone to seasonal and storm erosion, Romine says, but it's one of a few places where there's a clean, opportunistic sand source available. Sand is only taken seaward of the stream mouth, where beach sand is washed in by wave action and allowed to dry for several weeks before placement on the beach. The idea is similar to Waikiki: the sand moved toward the boat ramp will probably get washed toward the stream mouth when the area starts to erode again. (Sand from Kaelepulu Stream mauka of the bridge is considered too dirty to use.)
Other beaches that have received new sand include Lanikai Beach, Poipu Beach on Kauai and Sugar Cove on Maui.
In 2015, Rep. Ryan Yamane introduced a measure that annually allocates $3 million in Transient Accommodations Tax revenues to protect and restore beaches in accordance with the Hawaii Tourism Authority's strategic plan. Act 117 was signed into law by Gov. David Ige last year. However, Yamane says it's also important the state address beaches primarily used by locals.
" The need to go offshore for sand is much a result of just a lack of available sand for nourishment projects and particularly finding good, clean, compatible beach sand. "
— Bradley Romine, coastal management specialist at UH and the state Office of Conservation and Coastal Lands
"This issue for rural beaches (is) very emotional with those who support the artificial measure to fight erosion, to others who believe that any changes to the beaches will result in loss of public access and impact our precious environment," he says.
"Unfortunately, these types of projects are very expensive, it is very difficult to attain the right environmental approvals and there needs to be community input, which results in a project taking years to be ready for improvements."
Romine says state beach restoration projects are usually funded through capital improvement project requests through the Legislature, and these requests may be more appealing if there is a clear economic benefit to the Islands.
"Beach restoration at tourist beaches benefits locals, also," he says. "It would be nice to see a fund developed to help support … funding for beach restoration projects outside the main tourist areas."
Small nourishments have been done under permits from the Office of Conservation and Coastal Lands' Small Scale Beach Nourishment program for the last 10 years. Each year, the program permits two or three projects, which are typically about a few hundred to a few thousand cubic yards of sand each. Romine says, "Compared to a Mainland project, it's a drop in the bucket. For Hawaii beaches it's significant; we have relatively small beaches."
REPORT ON HAWAII'S CHANGING SHORE

➸ A study by the U.S. Geological Survey says Oahu, Kauai and Maui have nearly 170 miles of sandy beaches, but about 70 percent of them are slowly shrinking from erosion, storms and a rising sea. The report is called the National Assessment of Shoreline Change: Historical Shoreline Change in the Hawaiian Islands. You can read it at pubs.usgs.gov/of/2011/1051/.