Budding Industry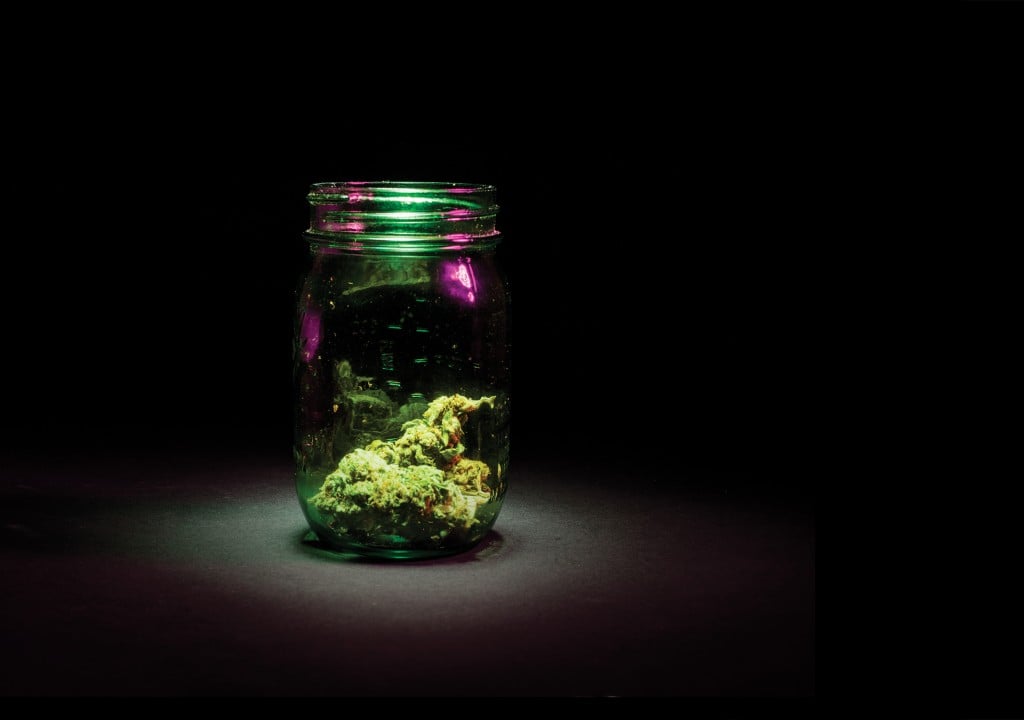 Sixteen years ago, Hawaii legalized medical marijuana but never made it easy for qualified patients to obtain it. That's about to change: Eight companies are preparing to open stores statewide that will sell state-tested and regulated medical marijuana for roughly 14,000 registered patients. Here's a look at the patients, doctors, businesspeople and others inside this new industry.
---
THE WOUNDED WARRIOR TURNED ADVOCATE
Casey Eckhoff remembers little about the combat mission on Sept. 12, 2009, the day that changed his life. But that day led him, by a tortuous and painful path, to his new mission: Advocating for cannabis as an effective medication for himself and others.
At the age of 19, Eckhoff left his small Virginia hometown to enlist in the Army and was eventually deployed to Afghanistan. On that fateful day seven years ago, Eck- ho and three other soldiers were driving through a village they had patrolled dozens of times before when their armored truck ran over an improvised explosive device, or IED. The blast threw Eckhoff, a gun turret operator, 180 feet, yet he somehow survived. Only one of his buddies also lived.
Eckhoff suffered six spinal fractures, a cervical fracture, a ruptured spleen, a torn liver, three cracked ribs, a fractured jaw, a severed long thoracic nerve in his right arm and pulmonary embolisms, not to mention rainbow-hued bruises covering his back, hips and legs. He spent 11 months recovering at Walter Reed National Military Medical Center in Maryland, and relearning how
to walk, write and spell. Eckhoff's uncle lives on Oahu, and in January, the veteran moved to Hawaii for a fresh start in a warmer climate.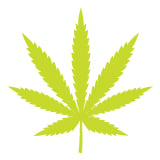 His hands shake slightly as he brings up photos on his phone of the time at Walter Reed. It's hard
to connect the now healthy looking, fit 29-year-old to his former skinny, almost vegetative self, wearing a neck brace, attending physical therapy, receiving the Purple Heart in a wheelchair."I'm not supposed to be alive, but I'm here for a reason."
Once a year, Eckhoff visits a VA-affliated primary care doctor. His progress continues to surprise healthcare providers. One thing that surprises a lot of people is that, since 2014, he has used only one medication: cannabis, which he now inhales daily through a Volcano vaporizer.
"I USE (MARIJUANA) TO ADDRESS MY PAIN, ANXIETY, PTSD, INSOMNIA AND STOMACH ISSUES. I DON'T TAKE IT UNLESS I NEED IT."

— CASEY ECKHOFF, WOUNDED ARMY VETERAN
Eckhoff 's pain management
wasn't always so simple. "[Doctors] wanted me to try everything," he says, describing daily doses of Xanax, Ambien and Opana, an opioid pain drug. In fact, Eckhoff says, those medications made it more difficult for him to adjust to his new life.
In Hawaii, Eckhoff has started going to the gym, gained back 30 pounds and says he's happier than he's been in years. He's also started growing his own medical marijuana (registered patients can possess seven plants and four ounces of useable marijuana) and has helped other new patients learn to cultivate their own. In fact, this fall, Eckhoff is using the GI Bill to study botany at UH. "I'm able to use a single plant and treat everything that should have killed me."
---
THE DOCTOR TURNED SUPPLIER
Dr. Gregory Park has heard many stories of patient suffering. He has been a physician for 41 years, practicing internal medicine and medical oncology in Kihei. His interest in medical marijuana first piqued when Hawaii legalized it back in 2000.
"I remember standing next to people while they were receiving their chemotherapy and they were asking me about medical cannabis," Park says. "They were taking it and mentioned it was helping them with the side effects of chemotherapy and cancer. They wanted access and asked how they could get it more freely. I told them, 'Ask your son, or a friend.' That's all I could say."
Registered patients, with an approved illness such as cancer, glaucoma or MS, can grow their own marijuana plants or have a caregiver grow it for them. But many patients were unable to supply themselves and had to buy from the black market. That meant no assurance that the marijuana was safe to use. Patients had advocated for dispensaries for years, but lawmakers resisted because they feared cannabis stores would lead to abuse of the system and crime.
The more Park's patients talked about their use of marijuana and their struggles in getting it, the more he was intrigued.
"THEY WANTED ACCESS (TO MARIJUANA) AND ASKED HOW THEY COULD GET IT MORE FREELY. I TOLD THEM,

'ASK YOUR SON, OR A FRIEND.' THAT'S ALL I COULD SAY."

— GREGORY PARK, MAUI WELLNESS GROUP AND DOCTOR OF 41 YEARS
He pored over medical-marijuana studies done in Israel and the Netherlands, where research is more common, because regulations restrict U.S. federal funding for research into any benefits from marijuana.
After more than a decade of little change, May 2015 was a watershed moment for patients and advocates when last-minute political jockeying led to the passage of medical marijuana growing centers and dispensaries. Park pivoted from researcher to entrepreneur: He partnered with David Cole, the former CEO of Maui Land & Pineapple and assembled
a team of seven physicians and researchers, all with experience in medical marijuana. With primary funding from Cole, they applied for a medical marijuana cultivation and dispensary license as Maui Wellness Group.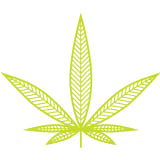 On April 29, Maui Wellness Group was one of the eight organizations in Hawaii awarded a license to grow and sell medical marijuana for the state's approximate 14,000 registered patients. Park, the group's chairman and chief medical officer, says he's treating the new business like his practice.
"It's about better quality of life, it's about symptom relief," he says. "Dispensaries allow (patients) to select the (cannabis) type that will be most beneficial for their condition." Maui Wellness Group will operate two dispensaries on Maui – Park declined to disclose their locations – slated to open by the end of the year.
Getting a license was no small feat. In January, 59 organizations applied for the eight licenses. Each was majority owned by Hawaii residents, as required by the medical marijuana law. Each paid a $5,000 application fee and proved they had $1 million in escrow, plus another $100,000 for each dispensary. Many spent several hundreds of thousands more in attorney and consulting fees and financial analyses.
Eight companies were awarded licenses: three on Oahu, two each on Maui and Hawaii Island and one on Kauai, each authorized to operate two medical-marijuana production centers and two retail locations, for a statewide total of 16 dispensaries. Applicants had already scoped out property for cultivation and dispensary locations. When the eight organizations were chosen, they had one week to pay another $75,000 for the license, with a $50,000 tab each year to renew. While the estimated startup costs ranged up to more than $7 million, none of the organizations Hawaii Business interviewed chafed at the cost
---
TWO ENTREPRENEURS TURN TO A NEW CROP
For Richard Ha, medical marijuana was a chance to salvage his 600-acre farm in Hilo. Originally, he planned to lease his land for cannabis cultivation, but, as time went on, he decided that taking a direct role would be better for his employees and the Big Island community, which has 41 percent of the state's registered medical marijuana patients. In January, Ha helped submit an application for the hui called Lau Ola, with him as CEO.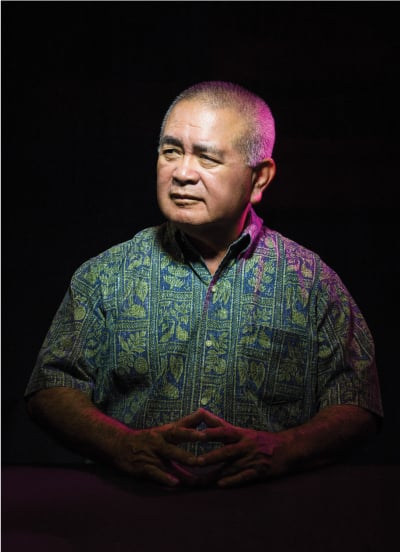 "I FELT IT WAS


THE RIGHT THING TO DO. I WAS ALSO INTERESTED IN USING THE HIGHEST TECHNOLOGY TO GROW CROPS."

— RICHARD HA, CEO OF LAU OLA
Hamakua Springs Country Farms, which used to grow bananas, tomatoes and hydroponic vegetables, will house Lau Ola's 3,000-square-foot cannabis production center, and the company's dispensaries in Hilo and Kona are scheduled to open by the end of 2016. Ha says Lau Ola has community support and more than $5 million in investor money from along Hawaii Island's Windward coast.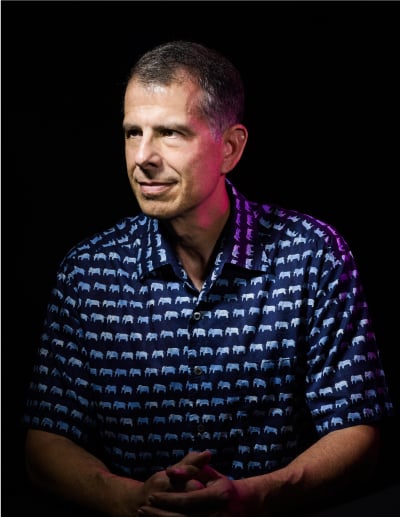 Before Brian Goldstein, the founder and CEO of Manoa Botanicals, was awarded a license, he spent four years researching the medical- marijuana industry on the Mainland. "When the bill passed, that's when I went from spending time to spending money," he says.
Goldstein retained the law firm of Alston Hunt Floyd & Ing, attended four medical marijuana conferences on the Mainland, toured facilities, met with venture capitalists and consulted with cannabis business experts. Manoa Botanicals, named for the verdant valley where he and his family live, has 15 investors. The organization's dispensaries will be in Honolulu and Aiea, though Goldstein declined to say when they will open.
He says his company is building a 20,000-square-foot cultivation facility on former Dole agriculture land in Central Oahu. "The importance for me is to get this right and serve our patients," he says.
The articulate Arizona native is no stranger to startups: He has founded and co-founded several technology-based organizations, including Hoana Medical and Kona Bay Marine Resources. But medical marijuana is different. "There's no handbook." And, it's a fast-paced, growing industry. "Working in this industry is like dog years," says Goldstein. "A year ago, I attended my first marijuana conference. I'm pretty sure I was the only person from Hawaii there. I was very green, pun intended, still learning about this
industry. Next month, I'm speaking at a
marijuana conference."
Goldstein says Manoa Botanicals will remain strictly medical, even if Hawaii eventually becomes a recreational cannabis state. "I have no interest in opening a recreational facility," he says. "Our goal is to be able to provide customized medicine for patients."
To breed its cannabis and research
specific strains, Manoa Botanicals says
it has secured a three-year exclusive
partnership with the Hawaii Agricultural Research Center, which began as a
research arm of Hawaii's sugar planters
but has long since diversified into studies of forestry, coffee, forage, vegetable crops, tropical fruits and other crops. Manoa's medical director is Sue Sisley, president of the Scotts- dale Research Institute in Arizona, which conducts research into the medical benefits of marijuana. Sisley, who has consulted with other medical-marijuana programs nationwide, is currently organizing a clinical trial on the effects of cannabis for veterans with PTSD.
Maui Wellness Group is also uninterested in recreational marijuana, says Park, and, like Manoa Botanicals, is focusing on patient care and identifying the best cannabis strains for each qualifying ailment. "We plan on doing patient studies" for cancer sufferers, he says.
While Lau Ola is focused on medical marijuana, Ha says he would be open to transitioning to recreational marijuana if Hawaii legalized it. "I have to anticipate what would happen under that scenario," he says. "It's likely that it will change."
---
GROWING A
 NOW LEGAL INDUSTRY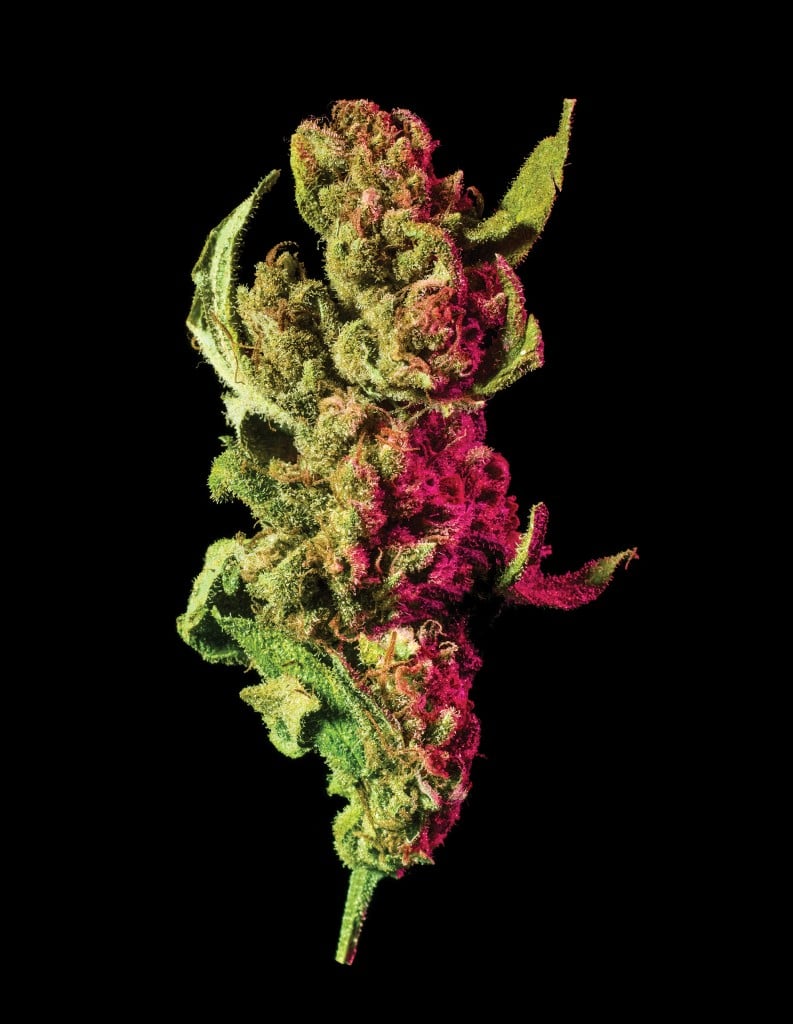 Legal marijuana is the fastest growing industry in the U.S., according to ArcView Market Research, a leading marijuana-industry investment and research rm. ArcView says legal marijuana sales nationwide grew to $5.7 billion in 2015 from $4.6 billion in 2014. By 2020, ArcView predicts, the industry will generate $22.8 billion in sales nationwide, about half of that from medical marijuana.
"I hope it's a lucrative industry," says Park, "but doing business in Hawaii is expensive." For instance, Hawaii's eight dispensaries will likely face exorbitant electricity costs for their cultivation facilities. According to ArcView, cannabis production consumes 1 percent of the nation's electricity, at an estimated cost of $6 billion annually.
Under Hawaii's law, the organizations must grow cannabis in enclosed indoor facilities. "When I tell growers on the Mainland what our kilo watt per hour cost is, you can hear an audible gasp," says Goldstein. He says he'll pay 26 cents per kilowatt-hour. (Current licensees can alter their facilities after one year to a "hybrid greenhouse," with roofs that let in sunshine.) Ha says Lau Ola has a hydroelectric generator on the farm, and is investing in a solar PV system to o set electricity costs.
Despite the revenue stream and their patients' needs, medical-marijuana organizations still face stigma. "There are numerous unique challenges of working in an industry with a federally controlled substance," says Goldstein. Among those challenges are lining up banks, insurance companies, law firms and other service providers. Park says Maui Wellness Group has yet to secure banking and Goldstein declined to say where Manoa Botanicals is banking.
Ha says Lau Ola is banking with West Oahu Community Federal Credit Union.
"We're lucky to have a financial institution that will (work with us)," he says. "White-collar businesses are hesitant to work with the industry," says Christopher Garth, executive diretor of the Hawaii Dispensary Alliance, a trade association for the state's dispensaries, patients, physicians and ancillary businesses. "We had a meeting the other day with a guy who works for a publishing company and he went to his boss to pitch the idea of them producing our publication. The boss said, 'What, do they want to do a trade (publication) for weed?'"
That's why the industry feels community outreach is crucial. The alliance plans on visiting the neighbor- hoods where dispensaries will open to address concerns and dispel marijuana myths. It's also gearing up to educate the medical community through a partnership with the Hawaii Medical Association.
"We're not a bunch of stoners sitting on the grass, trying to figure out, 'What's next, man?' " says Garth, adding that the Hawaii Dispensary Alliance currently has 60 members. "I think when everyone sees what these dispensaries actually end up looking like, how professional they'll be, there will be a lot more confidence."
Goldstein says the alliance held patient talk-story sessions last fall. "We built a compassionate-care plan listening to patient concerns and how to address their concerns of access, affordability and private consultation," he says. Earlier this year, Sisley held a series of training sessions in Hawaii for physicians and nurses about cannabis as medicine.
---
THE MOTHER


LOOKING FOR AN ANSWER
Kim Andrada was getting desperate. Her 6-year-old son Ethan (not his real name) had suffered a grand mal seizure. She had tried four kinds of medications and a specialized diet, yet his epilepsy only seemed to get worse. At one point, he was enduring 300 seizures a day.
"The medications did nothing to control the seizures," says Andrada, "but instead made him like a zombie."
News coverage of Hawaii's medical- marijuana dispensary program drew her attention, so Andrada and her husband spoke with Ethan's neurologist. They decided to try it.
"We got the card and it was like, 'OK, now what? Where do I go?' I was over- whelmed," says Andrada.
A friend gave her a small amount of cannabis oil for Ethan and it worked surprisingly well.
"IT'S SO AMAZING. THE RECOVERY TIME HAS SHORTENED A LOT WITH MEDICAL MARIJUANA, AS WELL AS THE LENGTH OF THE SEIZURES. HE'S ABLE TO FUNCTION AND DO ROUTINE THINGS. HE'S MORE ALERT, MAKES MORE EYE CONTACT."

— KIM ANDRADA, WHOSE SON WENT FROM ABOUT 300 SEIZURES A DAY TO ONLY 20 TO 50 NOW
Andrada bought more online, but
it was expensive and, without dosage instructions and labeling, it was risky. "It was $200 for a 60 ml bottle," she says."We were going through a bottle per month." She hopes, when the dispensaries open, not only will the cost be lower, but she'll have consistent, natural medicine for her son.
"We can take out the guesswork," she says. "I feel it's really promising." Brian Goldstein and Dr. Gregory Park say they got into medical marijuana not for the money, but for patients like Ethan, Casey Eckhoff and thousands of others.
"It's hard not to be touched by how important this is for these people," says Goldstein. "It's been an underserved segment of our society."
---
REPORT'S ESTIMATE: $50 MILLION A YEAR IN SALES
It's unclear how big medical marijuana will be in Hawaii, but a report from the Hawaii Dispensary Alliance says its best estimate is $50 million in sales in 2018.
There are 14,074 registered medical marijuana patients in Hawaii, but it is hard to estimate how many will buy marijuana from the new dispensaries or how much the average patient will spend.
The alliance's report, released in late June, made some estimates, based on Hawaii's circumstances and the experiences of other states that legalized medical marijuana dispensaries. The report estimated that:
75 percent of Hawaii's registered medical marijuana patients would buy at dispensaries
Those patients would each spend $1,200 to $3,600 a year on average.
$40,000


ESTIMATED PATIENTS IN 2018
Most states found that the number of patients grew dramatically after dispensaries were legalized, the report says, and projected the number of Hawaii patients would reach 40,000 in 2018.
$50 million


ESTIMATED 2018 REVENUE
Based on that estimate, the report projects 2018 revenue at between $34.8 million and $104.4 million.
The report's best guess at 2018 revenue was $50 million. But, if sales to tourists who are medical marijuana users were legalized, the reports annual estimate of revenue jumps to $80.55 million.
---
MAINE IS A MARIJUANA MODEL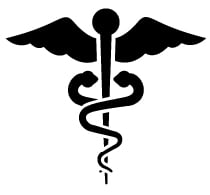 When Hawaii went looking for best practices for medical marijuana, legislators and dispensary applicants visited West Coast states. But Paul Armentano, deputy director of the National Organization for the Reform of Marijuana Laws, says one New England state deserves recognition, too.
"Colorado and California get all the attention when it comes to marijuana, but Maine has a fairly ideal and comprehensive medical- marijuana program," he says. Notable, he says,
is the program's voluntary patient registry and recently passed legislation allowing patients to use non-smokeable marijuana in a Maine hospital and for adolescent patients to use non-smokeable marijuana in a school.
Maine legalized medical marijuana in 1999 and established dispensaries in 2011. The state has roughly the same population as Hawaii and an estimated 35,000 medical- marijuana patients, says Catherine Lewis, education director of Medical Marijuana Caregivers of Maine, a trade association. (Garth forecasts that Hawaii's patient population will grow to about 25,000 patients.)
"When dispensaries came online in 2011, there were a lot of patients who liked the convenience of going to a storefront," says Lewis, adding that eight dispensaries
in Maine have "been more than enough." According to the Portland Press Herald, in 2015, medical marijuana sales in Maine generated $23.6 million in revenue for its legal suppliers and $1.29 million in taxes. Dispensaries aren't the only ones who've benefited financially. Electricians and construction companies, security and natural pest control are now in what's known as the cannabusiness.
"One of the things I've seen is all these side businesses starting as an offshoot of the cannabis industry," Lewis says.
Lewis stresses marijuana cultivation by caregivers has been integral to the program's success. "Care-givers and home cultivation are two critical things you don't want to lose," she says. She says there are roughly 2,800 caregivers for medical marijuana patients in Maine. Caregivers can grow for up to five patients; in Hawaii, it's strictly one to one. "Many like the feel of the small-business model," Lewis says. Hawaii, however, will no longer allow caregiver cultivation come December 2018.