Business Executives Sign up to Lead Nonprofits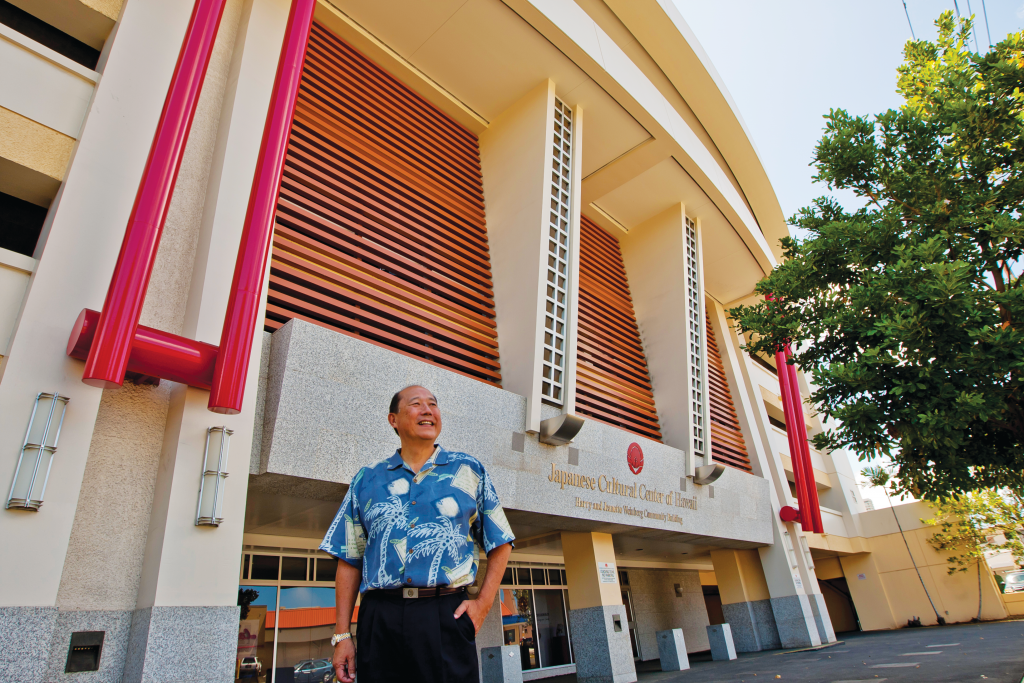 As a former top executive at Aloha Airlines, Aloha Island Air, Roberts Hawaii and theHawaii Superferry, Neil Takekawa has had more than his share of high-flying corporate jobs, with their big salaries and big headaches.
Now, as COO at the nonprofit Japanese Cultural Center of Hawaii, Takekawa says he is enjoying life as never before. He's not making the money he once did, and the job is anything but cushy, but the rewards are immeasurable.
"The mission has to be the right one on the nonprofit side. … It has to tug at me for me to be passionate about it. At the cultural center, for example, we brought in about 1,600 kids from high-poverty, Title I schools, and, if we hadn't done this, they wouldn't have had the chance to go on an excursion at all. … You watch the laughing faces and it makes you happy."
Takekawa is part of a national and local trend in which executives from for-profit businesses are becoming leaders of charities and other nonprofits.
Kathryn Inkinen, president and owner of Inkinen & Associates, which focuses on executive job searches for local businesses and nonprofits, says nonprofits are no longer satisfied with presidents and CEOs who are simply enthusiastic about their missions – although that remains important.
"The model is changing," Inkinen says. "You need someone with certain skill sets. Boards are looking for someone with a business sense to run their operation. It is no longer an altruistic thing. They are looking for entrepreneurs, someone who can raise funds, maximize sales and run the operation like a business."
The agencies are not abandoning their missions, she says. "But if you cannot run the operation efficiently and provide services, then your clients are hurt."
Linda Lampkin, research director for the Economic Research Institute based in Redmond, Wash., which conducts salary surveys of executives, says she has seen a gradual increase in people moving from the for-profit to the nonprofit sector.
"There are some middle managers who have been laid off and want to be reemployed. Then there is an aging of the workforce in the nonprofit sector as well," she says.
Generally speaking, Lampkin says, nonprofit pay lags behind that for similar jobs at for-profit companies. Yet, the work can be just as challenging, or even harder.
"People think: I'll just retreat from the world and have this easy job," she says. "It's not so."
"I've seen more and more people interested in crossing the boundary," says Kelvin Taketa, president and CEO of the Hawaii Community Foundation. "We are the Baby Boomer generation and there is some residual idealism – Peace Corps, Earth Day, things like that. Also, I think people start entering a stage in life where they want a greater intrinsic value in the work they are doing."
However, he says, it's a mistake to think that the people in the nonprofit sector do the work simply for love.
"The complexity of running a high-performing, large nonprofit is as difficult or harder than it is to run a similar business," Taketa says. He quotes Tom Tierney, co-founder of theBridgespan Group, which tries to link the for-profit and nonprofit communities: "The best CEO of a large nonprofit could run a Fortune 500 company, but the opposite is not true."
A Bridgespan study found that the increasing complexity and regulation of nonprofits, plus other factors, have fueled a substantial jump in the demand for highly skilled leadership.
The study, based on a survey of some 433 top nonprofit leaders, concluded that the "functional skills" to manage a complex organization are critical. But equally important is the "fit." Does the new hire understand and believe in the agency's mission?
"Cultural fit is the deal-breaker," the report says. "While functional expertise is desired and relevant, Bridgespan's study indicates that only cultural fit can seal the deal."
Hawaii Foodbank board chair Linda Chu Takayama makes that point when recalling the time the charity needed to find a new executive director 11 years ago. What the board wanted, she says, was a combination of high-level business skills and a passion for the organization's mission. They found it in long-time board member Dick Grimm, who was then GM at KGMB TV.
"Hands down, he was the best candidate," says Takayama. Grimm has been leading the Foodbank ever since.
More recently, other TV people have made the move to nonprofits. Three years ago, KGMB anchor Kim Gennaula joined the Kapiolani Health Foundation, and this summer she took over as president at Aloha United Way. Reporter Darryl Huff left KITV in June after 22 years, to join the nonprofit medical-services provider AlohaCare.
While salaries for nonprofit executives have been rising, they lag behind comparable roles at for-profit companies, say people on both sides of the divide. However, "There is no Hawaii-specific data in terms of aggregate salaries," says Hugh Jones, state deputy attorney general in charge of charity oversight. He says there is no prohibition against making as much in the nonprofit sector as in the for-profit sector, as long as the compensation is "reasonable." But reasonable for nonprofits rests on a separate set of metrics that is set by donors, clients and the IRS.
"You do more for less pay, no question about it," says John Howell, who took over at Easter Seals Hawaii in 1993 after a quarter-century with for-profit firms such as Xerox, Wang Computers and Hawaiian Telephone. Howell recently stepped down as the charity's leader, but remains on the board.
While pay for nonprofit executives has improved in recent years, he says, "It is still way behind what you find in downtown Bishop Street."
How Much Nonprofit Leaders Make
Here are agency incomes and the salaries for CEOs or presidents for some of Hawaii's major charities, most of them focused on social services. The figures are the latest available for each agency. The principal officers have since changed at some agencies. Compensation figures do not include nontaxable benefits because not all agencies report such benefits.
From Board to Boss
Nonprofits often discover that the best – and most committed – talent for top posts can be found right in front of them, on their own boards of directors.
That was the case for Neil Takekawa, who was a Japanese Cultural Center board member before he became COO. It was also true for Honolulu Star-Bulletin editor and publisher John Flanagan, who had served for years on the board of Aloha United Way before he jumped full time into the nonprofit sector.
"I was on an allocations committee and visited a lot of nonprofits and learned about their challenges," Flanagan says. "About the time I decided to leave the Star-Bulletin, a job opened at a nonprofit I'd done a lot of work with, Hawaii Community Services Council. The organization was going through a lot of changes and, with a lot of help from my board, I was able to reestablish HCSC as the Hawaii Alliance of Nonprofit Organizations."
Dick Grimm, former GM at KGMB TV and now head of the Hawaii Foodbank, has a similar story. Grimm had been on the Foodbank's board of directors for years while at KGMB, but, when he retired, he told friends, he was set to do nothing much more than play golf.
Linda Chu Takayama, chair of the board, had other ideas. "Dick announced his retirement about the same time we were losing the executive director of the Foodbank," she says. "So I asked Dick to come on board and temporarily run the Foodbank. I told him four weeks. He says I lied," she laughs.
"While I conducted a search, Dick would call me every day and he would be raving about how much he loved working there. So I told him, 'Why not throw your hat in the ring?' "
Grimm strongly believed in the Foodbank's mission, but he offered something else just as valuable – hardheaded business experience. "(Foodbank founder) John White had tremendous passion, but he wasn't a very good businessman," Grimm says.
If anything, cutbacks in government grants and "just-in-time" delivery by food distributors, which radically reduces their surplus food, has increased the need for smart management at the Foodbank, Grimm says.
"You have to have a black bottom line. You can have all the passion you want, but if you don't execute, it won't work."
Kim Gennaula: From News Anchor to Nonprofit Newsmaker
Kim Gennaula did not plan for her transition from the hectic world of TV news to the nonprofit sector. Originally, she simply volunteered to act as a public spokeswoman for the Kapiolani Health Foundation.
"I was looking for some cause I could be part of, and since both my kids were born at Kapiolani, it seemed a natural choice," she says.
Before long, the foundation asked if she wanted to go full-time as director of philanthropy. "You start wondering what the second act of your life is going to be and I discovered that telling their story was just so satisfying."
When she left TV to join Kapiolani, Gennaula says, she took a dramatic cut in pay. "But what I gained in personal happiness" was enormous, she says.
Gennaula had no plans to leave Kapiolani, but was intrigued when she was asked to apply for the top job at Aloha United Way.
"This is a lot heavier," she says of her new job. AUW needs to change and reestablish itself as a "top-tier" charity in the minds of local donors, Gennaula said.
Gov. Neil Abercrombie has also appointed her to the school board, another important Hawaii institution in the midst of transformation.
"My challenge is to juggle AUW and the Board of Education, and still come home at 5 p.m. and make my kids think I never worked at all," she laughs.