Business Support Helps Build Science Workforce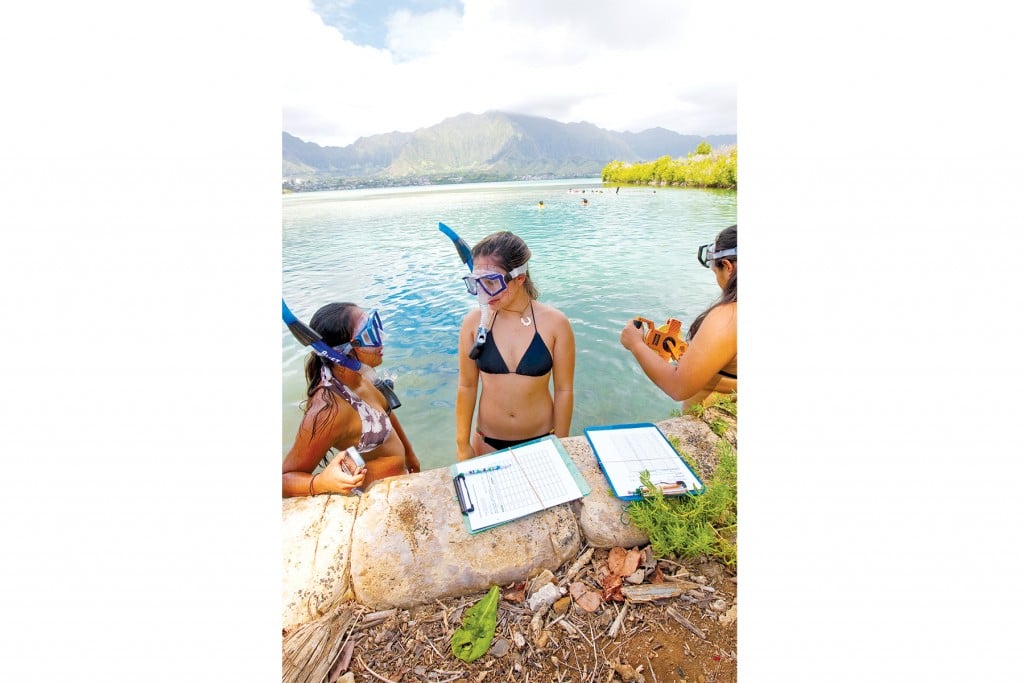 Sleek as seals, 24 high school students slip into the turquoise water off Coconut Island, snorkels and swim fins in place, gripping scientific gear to measure the health of the underwater reef.
The work – part of a summer program through Windward Community College – is providing important information to scientists working at the University of Hawaii's Hawaii Institute of Marine Biology. But it's also offering college credit and important career skills to the students.
The program – called PaCES, for Pacific Center for Environmental Sciences – is supported by private donations to the UH Foundation. Hallett Hammatt, president and CEO of Cultural Surveys Hawaii, with 62 employees, sees his company's support of PaCES as a way to help build the state's future workforce.
"They learn about science, about what independent thinking is, about how to work with a group, cooperate with their teammates, all the things that people who excel in the world have learned at a young age," says Hammatt. "A great many of those skills are applicable to what we do. We're always looking for people who have those kinds of qualities."
The latest group of students, still 16 and 17, are becoming interested in careers based around ocean sciences or Hawaii's environmental issues. "I was always in love with the ocean – surfing, body boarding, everything," says Kaimi Naone of Kalaheo High School. "If I can get a job that incorporates that, it would just be like having a career around my hobby."
Companies like Oceanit are letting students like these know that careers in STEM (science, technology, engineering and math) are available in their backyard, says spokeswoman Cindy Matsuki, who accompanied the group to Coconut Island. "We're all over the place to let them know there are companies here who will hire scientists and engineers and to just keep them interested. We're trying to hire, but it's been tough. The last time I heard we had 30 positions open."
Initial funding of $225,000 for the program came from the Castle Foundation, which helped leverage a federal grant. Another federal grant helped fund training for teachers, who have taken new expertise back to their classrooms.
"Castle liked what we did so much they decided to provide us with additional funds, giving us $20,000 per year after the first grant, and now $15,000 a year," says one of the program's founders, David Krupp, professor of Marine and Biological Sciences at Windward Community College.
UH Foundation fundraiser K.C. Collins, who assembles the money to support programs like PaCES, says Hawaii's technology companies benefit greatly by supporting programs like this.
"We're letting the tech companies know it's not just happening at the Manoa level," says Collins, trekking Coconut Island with the students and watching their commitment grow. "And the students see how exciting science can be. It's that confidence-building that's so fabulous."