Carrots and Sticks for Workers who Smoke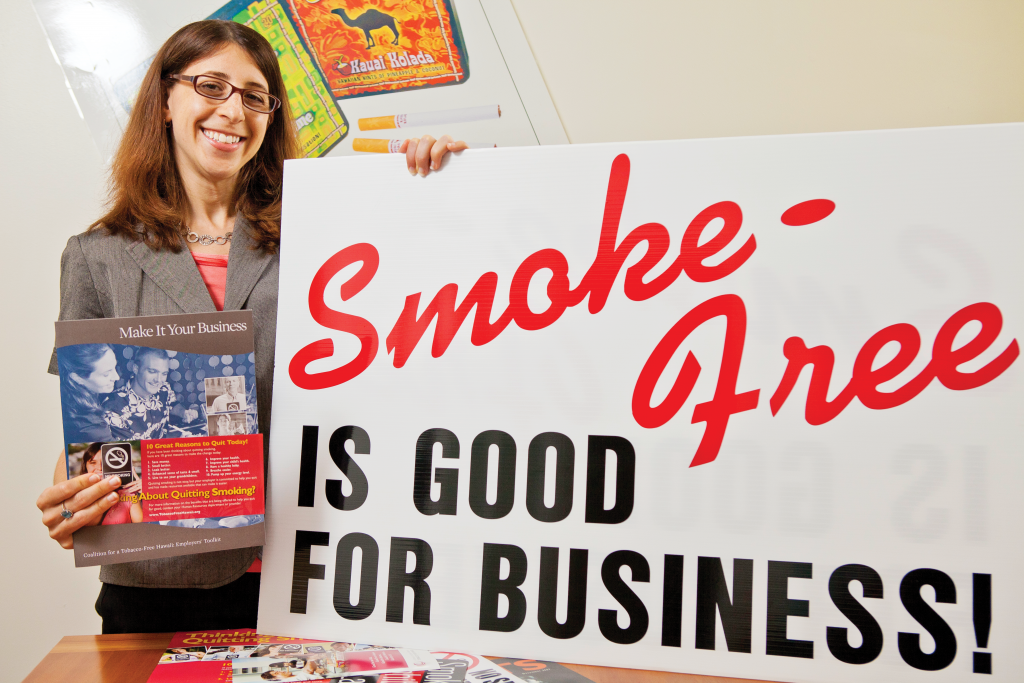 Smoking in Hawaii Hawaii has the fifth-lowest rate of cigarette smoking by adults among the states — and that rate is falling.
2000: 19.7%
2008: 15.4%
Source: Centers for Disease Control and Prevention
Smoking cuts workplace productivity in Hawaii by an estimated $215 million a year — and two approaches are being taken to reduce that cost.
In the tougher approach, some Mainland companies and a few Hawaii ones have stopped hiring any smokers. The second approach is to try to get more smokers to quit.
A study last year concluded that the savings from smoking-cessation programs for employees statewide "greatly outweigh the cost to implement them." The study by researchers at Pennsylvania State University was called "Potential Costs and Benefits of Smoking Cessation for Hawaii."
A bill mandating comprehensive insurance coverage for smoking-cessation programs is positioned in the state Legislature for passage next year, but the state auditor must first complete a study analyzing costs and benefits.
"Mandating cessation services by health insurers would basically save money for businesses," says Don Weisman, government relations director for the American Heart Association in Hawaii. The new federal health-insurance law mandates such services, Weisman says, but that rule doesn't take effect until 2014 – and could be delayed further.
Mainland companies that forbid the hiring of smokers are often in the health industry, but "It has not been a big trend here," says Deborah Zysman, executive director of the Coalition for a Tobacco-Free Hawaii.
"We (emphasize) more the carrot than the stick," says Zysman. "We're doing a big push on workplace-wellness programs and highly recommending that employers include a cessation program in their benefits."
The American Cancer Society Hawaii-Pacific is one of the few local entities that won't hire smokers, says Milton Hirata, director of communications.
"People are aware that the American Cancer Society is a very big advocate against smoking, so it makes sense that if they're going to work here, that's something we're not going to allow," says Hirata.
At the Madden Corp., a lifelong allergy to smoke and an asthma condition in childhood led president and CEO Dale Madden to establish a tough no-smoking policy in hiring.
"We advertise the fact that we do not hire smokers," says Madden, who put the policy into effect 20 years ago. "I have been a real anti-smoker since I was a kid. I just couldn't be around smokers because of my allergies. As I developed my business, I decided I was going to have a no-smoking company."
Madden added some ammunition for his policy: A two-year survey by the company (before the no-smoking policy began) found that nonsmokers used the company's health coverage less often and missed less work than smokers.
Madden has occasionally been confronted by people claiming his policy is illegal, but "It is legal," he says. "One of the few liberties we still have."
Companies often hire Diagnostic Laboratory Services to do drug testing of employees and potential recruits. It also performs occasional tests for nicotine in the bloodstream, but these are largely requested by insurance companies trying to measure risk among potential clients.
"You cannot legally drug test for nicotine if a person becomes an employee," says Carl Linden, scientific director for the toxicology department at the lab. "You can just test for illegal drugs."
Linden says companies can have no-smoking policies and it is legal to ask employees if they have violated the policy. However, he says, "You cannot dictate to an employee what they do after work."