Carving is in his Bones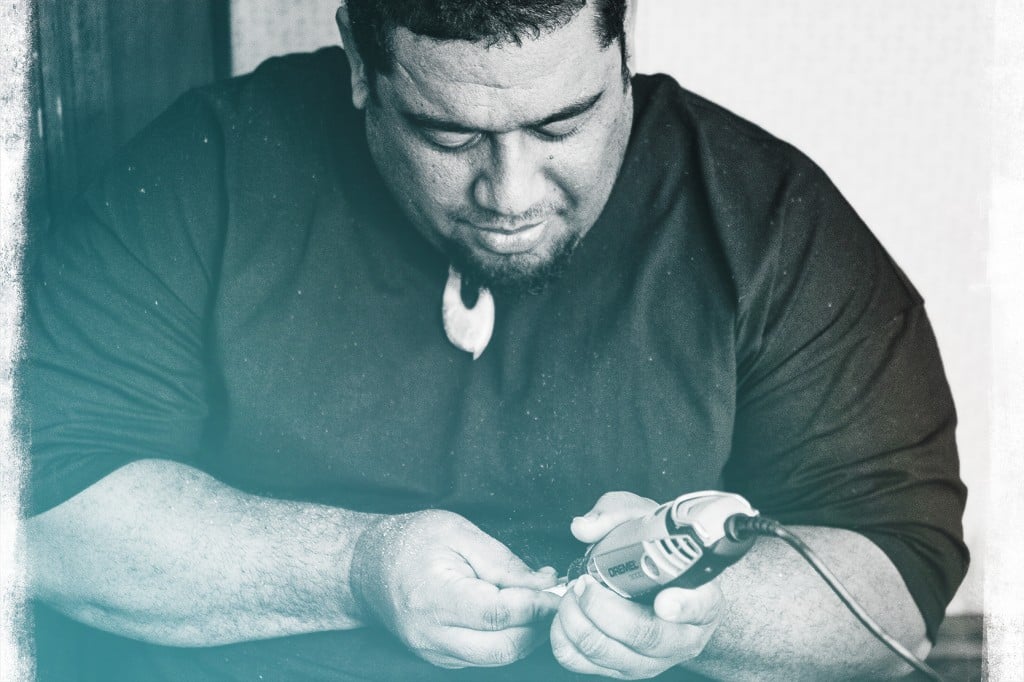 Like his father and grandfather, Inoke "Male" Pomale is a master carver. He works with local cow bones, bison bones from Montana, and fossilized mammoth and whale bones from Alaska and Siberia.
Inoke "Male" Pomale says he comes from at least four generations of carvers.
"When I was 9 or 10 years old, I'd watch my father create carvings in his shop," recalls the 36-year-old Kahuku resident, originally from Tonga. "Anyone who carves tiki, either in Hawaii or back in Tonga, knows my father's name.
"My grandfather was also known as a master carver – he made everything by hand, using a marlin's fishbill as one of his files. He'd make canoes and even hale.
"My family's geneology can be traced back to Tahiti, and it's believed all the carvers in Tonga were brought over from Tahiti and Fiji, so I think the tradition of carving goes back even farther than four generations in my family."
The married father of two came here in 2002 to attend BYU Hawaii on a scholarship and performed in the shows at the Polynesian Cultural Center, but only finished two semesters.
"I found that school wasn't for me, even though my father wanted me to get a good education and not end up doing his type of work. He'd always tell me, 'What I do is tough, I don't want you to do this the rest of your life.' But I'd always end up sneaking into his shop and playing with his tools and watching him carve. I liked seeing things being created.
"The first piece I carved on my own was a scrimshaw design on a cow bone."
"His skill is impressive – it's true art and very expressive. When you look at the curve of his whale's tail, you can just feel the strength coming out of it."

— Dave Hillman, Customer of Male's
After a stint doing construction work, Pomale found himself $800 behind in rent in 2008, trying to support a young family and living in Kahului on Maui. His parents were visiting and saw his struggles, and his mother suggested going back to the carving he loved.
"A light clicked on in my head," he says with a grin. "There are tourists everywhere here. I went out and bought some small Dremel power tools and, over a few days, my dad and I made 42 necklaces for only about $45 in materials.
"I took the necklaces to the swap meet and made $800 that day!" he says proudly.
There was no looking back. With the support of his wife, Kisaea, Male's Finest Bone Carving was formed and is now based in Kahuku on Oahu.
The business has regular stalls at the Hyatt Regency Waikiki and at the Hale Koa Hotel, participates in major craft fairs, festivals and swap meets – both in Hawaii and on the mainland – and wholesales to a few galleries. 
Pomale's handmade designs are unique, and so are his cords and lashings. "My dad would tell me a puka in the material would make it weak, so all my pendants are specially lashed and they never come off. There's absolutely no metal in the pieces. We use a plastic bead at the end as a hook, and nylon rope instead of hemp so it won't break."
At the beginning, finding the right materials was a problem. But now, Pomale has several sources: cow bone from local markets ("This is the most work because we have to clean, boil and dry it in the sun"); bison bone from Montana; and fossilized mammoth and whale bone, and walrus tusk from Alaska and Siberia.
"The depth of the color of the mammoth bone depends on where it's been buried. Bison bone is thicker, so easier to carve. I've also done some wood sculptures in milo, monkeypod and wild hibiscus." He also works in black coral.
About 40 percent of Pomale's customers are locals and the rest tourists. "But the first people for me are the locals, because they proudly wear my pendants."
Among his "royal customers" – those who spend more than $1,000 and "have fallen in love with the art, because it's a piece of lost history" – is Dave Hillman, an Air Force service member living in Tampa, Florida, who stumbled on Pomale's stall at the Aloha Stadium Swap Meet in 2012 while stationed here.
"I've seen other native carvers before, but Male's style rises above the others. His skill is impressive – it's true art and very expressive. When you look at the curve of his whale's tail, you can just feel the strength coming out of it."
Hillman has 15 to 20 of his pieces, including a sculpture carved from a whalebone vertebrae called "First Breath," of a mother humpback helping her newborn to the surface.
"I look forward to seeing each new piece that Male creates."
Male's Finest Bone Carving
633-0389 or 205-0745
facebook.com/maoricarver
tinyurl.com/pomale
Each month, Local-Kine Biz tells the story behind a Hawaii small business. If you know a business we should cover, email localkinebiz@gmail.com.