CHANGE: Health & Wellness 2020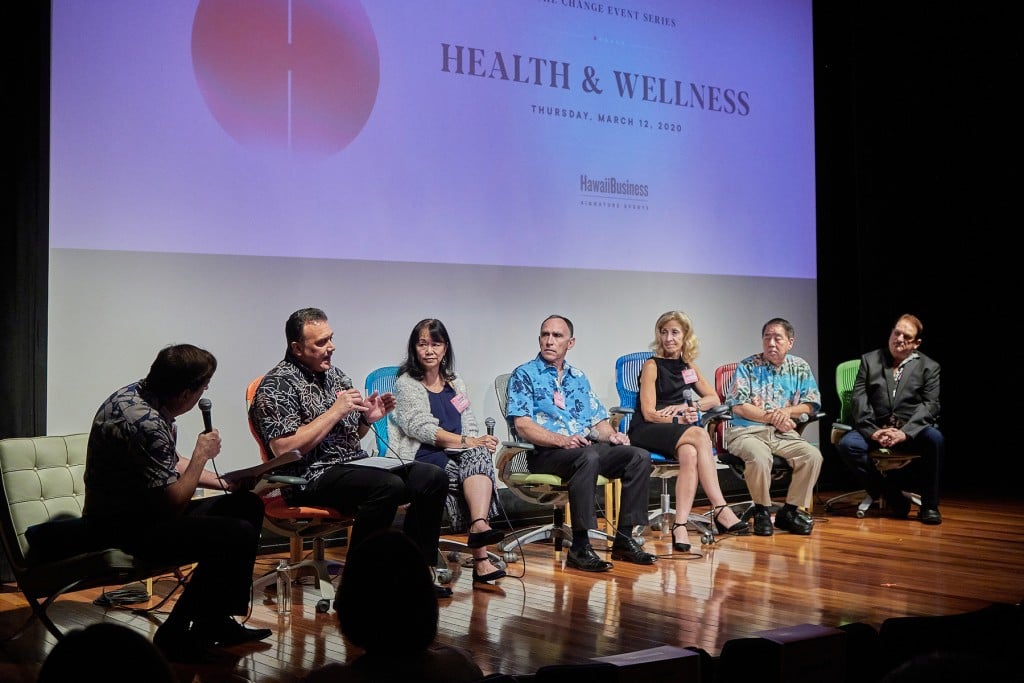 Thursday, December 3, 2020, 4:30 pm – 5:30 pm
Take a good healthcare system and make it better.
Hawaii ranks among the best states in the nation for health care, but persistent problems remain. Hear from our speakers about key developments in:
Breaking down ethnic health care disparities

Treating mental illness, especially among the young

Fighting back against the diabetes epidemic

Making wellness a priority
Listen to the entire discussion with the Hawaii Business Podcast!
Episode 3 – Health & Wellness, Part 1, CHANGE Event Series
In part 1 of the Health & Wellness discussion, Jill Hoggard Green, Dr. Mark Mugiishi, Bob Harrison, Dr. Joseph Keawe'aimoku Kaholokula, Connie Mitchell, and Rich Bettini explore breaking down ethnic health care disparities, fighting back against the diabetes epidemic, and more!
Read the full transcript here >>
Episode 4 – Health & Wellness, Part 2, CHANGE Event Series
In part two of the Health & Wellness discussion, Jill Hoggard Green, Dr. Mark Mugiishi, Bob Harrison, Dr. Joseph Keawe'aimoku Kaholokula, Connie Mitchell, and Rich Bettini elaborate on mental wellness, the COVID-19 pandemic, local efforts to improve access to health care, and what it will take to adapt to the evolving industry.
Click here to see the entire CHANGE Event Series >>

Panelists: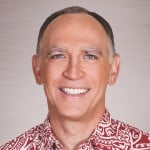 Bob Harrison, President & CEO, First Hawaiian Bank
Bob Harrison, the Chairman, President and Chief Executive Officer of First Hawaiian, has been the Chief Executive Officer of First Hawaiian Bank since January 2012, was reappointed the President in August 2019 and has been the Chairman of the bank's board of directors since May 2014. A 24-year veteran of the company, joining First Hawaiian Bank in 1996, he has over 30 years of financial industry experience working for banks in New York and in Hawaii. He currently serves as a member of the Board of Directors for Alexander and Baldwin, Hawaii Bankers Association, Hawaii Business Roundtable, Hawaii Community Foundation, Pacific Guardian Life and is Chairman of Hawaii Medical Service Association. He served in the U.S. Navy before earning a bachelor's degree in Applied Mathematics from the University of California, Los Angeles and an MBA from Cornell University in New York.
Jill Hoggard Green, PhD, RN, President & CEO,
The Queen's Health Systems
Dr. Hoggard Green was appointed President and Chief Executive Officer of The Queen's Health Systems (QHS) on September 30, 2019.
QHS is a nonprofit corporation that was established to provide expanded health care capabilities to the people of Hawaii and the Pacific Basin. Although established in 1985, QHS' legacy of caring for the people of Hawaii dates back to 1859, when King Kamehameha IV and Queen Emma founded The Queen's Hospital to "stay the wasting hand," to stem the tide of diseases during a time when epidemics were sweeping the islands.
Today, QHS is Hawaii's oldest and preeminent family of health care-related companies that includes four hospitals on three islands, including The Queen's Medical Center (formerly known as The Queen's Hospital), a 575-bed acute care facility that is the state's only Level I trauma center; more than 7,000 employees; a diagnostic laboratory; a home care agency; ambulatory care facilities; and more than 1,500 affiliated physicians and providers in its statewide network.
Before joining Queen's, Dr. Hoggard Green served as Chief Operating Officer of Mission Health and President of Mission Hospital in Asheville, North Carolina. Mission Health is a $2 billion, 12,000-employee health system comprised of six hospitals, including a 770-bed teaching hospital; multiple ambulatory care facilities; an 800+ provider group practice; a $100+ million post-acute provider; a health plan; and related services. In 2018, for the sixth time in the previous seven years, Mission Health was named one of the nation's Top 15 Health Systems by IBM Watson Health.
Prior to Mission Health, Dr. Hoggard Green served as Chief Operating Officer of the Oregon Region of Peace Health, which included four hospitals, over 600 medical staff members, over 200 employed clinicians, and 4,500 caregivers. She also spent more than 15 years at Intermountain Healthcare in Salt Lake City, Utah, a nationally recognized, vertically integrated not-for-profit health system.
A registered nurse whose career includes work with the oncology and bone marrow transplant units at a Level I trauma facility and at leading hospitals, ambulatory, and home health services in Alaska, Washington, and Oregon, Dr. Hoggard Green has dedicated her life to improving patient care.
Dr. Hoggard Green received her Bachelor of Science (nursing), Master of Science, and Doctor of Philosophy (concentration in health system leadership, quality, and models of care) from the University of Utah in Salt Lake City, Utah.
She has been involved in numerous community service and professional organizations and boards, including Make-A-Wish Foundation and the YWCA.
Richard P. Bettini, MPH, MS, President and CEO, Waianae Coast Comprehensive Health Center
Richard P. Bettini has been chief executive since 1994 of the Waianae Coast Comprehensive Health Center (WCCHC), Hawaii's largest Federally Qualified Community Health Center serving more than 38,000 patients through 206,000 clinical visits annually. The Health Center employs approximately 800 individuals with most residing in the Center's service area.
Rich graduated from the University of California, Berkeley School of Public Health and also holds a Master of Science from San Jose State University.
Rich is a board member of the National Association of Community Health Centers. He is an officer of AHARO Hawaii, a health center based network pursuing a unique, value based, and community driven Medicaid payment model. He is past president and current officer of the Association of Asian and Pacific Community Health Organizations (AAPCHO). He is past chairman of AlohaCare, a community-directed health plan.
Rich is the hānai son of Agnes "Aunty Aggie" Kalanihookaha Cope. His Hawaiian name (given to him by the Elders Council of the WCCHC Native Hawaiian Traditional Healing Center) is Kia'iikeolamaiola (Guardian for Health and Wellbeing).
Dr. Mark Mugiishi, M.D., F.A.C.S., President and CEO,
Hawaiʻi Medical Service Association
Dr. Mark Mugiishi is the president and CEO of HMSA, since February 2020. For the majority of his career Dr. Mugiishi has practiced and taught surgery in private practice and in association with the University of Hawaii John A. Burns School of Medicine. He has served HMSA in a variety of capacities since 1995, from part-time medical director to consultant. In 2015, he joined the leadership team as executive vice president, chief medical officer, and chief health officer.
In addition to his leadership at HMSA, Dr. Mugiishi co-founded the Endoscopy Institute of Hawaii and the Eye Surgery Center of Hawaii, and was a medical director at Hawaii technology accelerators. He was a general surgeon in the state for nearly 30 years and was associate chair of the department of surgery and director of surgical education at the University of Hawaii medical school.
Dr. Mugiishi currently serves as chair of the Iolani School Board of Governors. He coached varsity basketball at Iolani where he led the team to 11 league championships and seven state championships. He holds the distinction of being the winningest high school basketball coach in state history and, in 2010, coached the All-American Nike Jordan Brand Classic game in Madison Square Garden.
Dr. Mugiishi was a producer of the Broadway musical Allegiance starring George Takei and Lea Salonga, which ran at the Shubert's Longacre Theater in New York City in 2015-16.
He earned his medical degree from Northwestern University Feinberg School of Medicine.

Connie Mitchell, Executive Director, Institute for Human Services
Connie Mitchell has led the Institute for Human Services and stood at the forefront of addressing homelessness in Hawai'i for over 10 years. During her tenure, IHS grew from serving 1,400 to more than 5,000 individuals through the development of case management, housing, employment, health promotion and healing programs and an array of specialty shelters for homeless people in our community. Prior to IHS, Connie established a nurse-run rural clinic on Hawai'i Island and was Director of Nursing at Hawaii State Hospital where she helped settle a consent decree with the U.S. Dept. of Justice. She serves on the boards of EPIC Ohana, Pacific School of Religion in Berkeley, Ca. and the State's Workforce Development Council. She is firmly committed to cross sector collaboration in the interest of social innovation.
Dr. Joseph Keawe'aimoku Kaholokula, Professor & Chair, Native Hawaiian Health, JABSOM, UH Mānoa
Dr. Joseph Keawe'aimoku Kaholokula is Professor and Chair of Native Hawaiian Health in the John A. Burns School of Medicine at the University of Hawaiʻi at Mānoa and a licensed clinical psychologist. His research involves developing community-based and culturally relevant health promotion programs to address diabetes and cardiovascular disease inequities in Native Hawaiians and Pacific Islanders using community-based participatory research approaches. His research also examines how biological, psychosocial, and sociocultural factors interplay to affect their risk for and management of chronic diseases. His work has had an impact on the local, regional, and national levels to bring systemic improvements to health care delivery, clinical outcomes, and policy through community-based research efforts. He has a strong commitment to achieving health equity and improving the health of Indigenous communities, which are reflected in his services on the national level as past Chair for the Intervention Research to Improve Native American Health (IRINAH) network and his recent appointment to the National Advisory Council on Minority Health and Health Disparities. On a local level, he serves on boards of organizations with a mission to improve population and Native Hawaiian health to include the Queen's Health Systems and Hawai'i Public Health Institute. As a Native Hawaiian, he is passionate about improving the health of Native Hawaiians and Pacific Islanders and has made a life-long commitment to improving their social and cultural determinants of health.
Moderator:
Steve Petranik, Editor,
Hawaii Business Magazine
---
Hosted drinks and pupus served immediately after panel discussion.
Parking:
Honolulu Museum of Art School lot
Limited hosted parking available across the street with valets on hand to maximize parking.
First Insurance Center
Entrance and exit to parking structure on Beretania Street. Special flat rate of $5.00 with validation at registration table courtesy of The RMR Group.
---
Presenting Sponsors
Y. HATA
HMSA
Community Sponsors
UHA HEALTH INSURANCE
HAWAII DENTAL SERVICE
ALOHACARE
HAWAII PACIFIC HEALTH
Student Sponsor:
DAMIEN MEMORIAL SCHOOL
Venue Partner:
HOMA (HONOLULU MUSEUM OF ART)
Click here to see the entire CHANGE Event Series >>
Honolulu Museum of Art, South Beretania Street, Honolulu, HI, USA