Natural Environment
June 10, 2021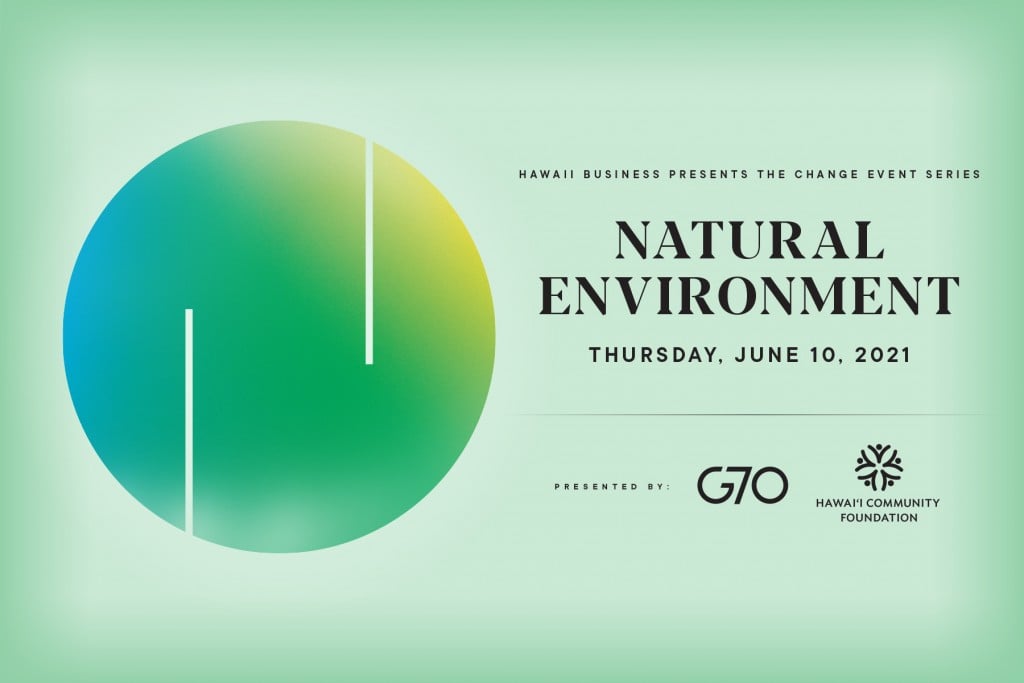 We are bringing together panelists and attendees from across the Islands to hear how Hawaiʻi can:
Make large-scale tourism sustainable.
Meet or surpass our clean energy goals.
Feed ourselves with more sustainable local food.
Properly manage public lands for the greater good.
Panelists:
Sonia Lo
Chief Executive Officer
Sensei Ag
A farmer, a chef, an angel investor and a mother of two who speaks seven languages and holds a third-degree black-belt in Tae-Kwon Do, Sonia Lo is not your traditional CEO. The only woman to serve as CEO of a major vertical farming company, Sonia joins the Sensei Ag team with over 32 years of combined agriculture, technology and business experience.
Sonia began her career in technology when, as Head of Innovations, she drew the first network diagram the Group CEO of a major UK media conglomerate had ever seen. She explained that '1's and 0's' were going to change the media landscape, and they did. Sonia then went on to build her first tech venture as CEO of eZokaGroup, a UK-based internet startup that was sold in 2002. Following eZoka, Sonia founded and served as Managing Director of ChalsysLLP, an advisory and direct investment firm which has invested over $120 million in 15 global growth stage companies. From Chalsys, Sonia became the Director of Localization and Global Content for Google, Inc.
Most recently, Sonia was CEO of Crop One Holdings, Inc., a vertical farming company that owns FreshBoxFarms in Millis, MA and a joint venture with Emirates Flight Catering in Dubai. This joint venture is building one of the world's largest vertical farms with an anticipated output of three tons per day. Sonia was appointed one of the Global 100 Technology Pioneers at the World Economic Forum two years in a row and named one of Management Today's leading 35 businesswomen in the UK under the age of 35. She earned her BA in Political Science from Stanford University and an MBA with Distinction from Harvard Business School. She also holds Professional Chef and Pastry Qualifications from London and City College and has completed certifications in Green Supply Chain Management and Zero Energy Architecture.
David Bissell
President & CEO
Kauaʻi Island Utility Cooperative (KIUC)
David Bissell has served as the President & CEO at Kauaʻi Island Utility Cooperative (KIUC) since June 2010. Under Mr. Bissell's leadership, KIUC has been consistently ranked as one of the top utilities for solar integration in the country and has increased its renewable energy sourced generation from 8% to more than 60%.
In March of 2017, KIUC drew international attention when the world's largest utility-scale solar-plus-battery facility, developed by Tesla, was unveiled. The Tesla solar field stores energy during the day and releases it during peak evening hours.
In December 2018, construction was completed on KIUC's second dispatchable solar project, developed by AES Distributed Energy. In combination with the Tesla system, more than half of Kauaʻi's evening peak energy needs are now supplied by energy generated from the sun. The utility also routinely runs on 100% renewable generation for multiple hours during the daytime.
In 2021, KIUC's third dispatchable solar project, also developed by AES Distributed Energy, will come online. KIUC is currently developing an integrated pumped storage hydropower, solar, and battery project: the first of its kind in the world. Upon completion of these projects, KIUC will exceed 80% in renewable sourced energy.
Mr. Bissell earned his bachelor's degree in accounting and finance from the state University of New York at Brockport, and his M.B.A. from the Kelley School of Business at Indiana University.
Springer Kaye
Manager
Big Island Invasive Species Committee (BIISC)
Springer Kaye directs the Big Island Invasive Species Committee (BIISC), addressing invasive species threats to the natural environment, economy, and way of life on the island of Hawai'i.
Ms Kaye has worked at the intersection of conservation, agriculture, and public policy for 20 years. She is also the owner/operator of Kaye Family Farms, which provides fresh island-grown lychee shipped direct to customers statewide. She serves on the Hawai'i County Board of Appeals and Mauna Kea Environment Committee.
Before taking the Manager role, Ms. Kaye was the Invasive Species Management Plan Writer for BIISC as well as the Invasive Plants Project Leader for the Center for Environmental Management of Military Lands (CEMML) at the Pōhakuloa Training Area.
Ms. Kaye earned her MSc in Tropical Conservation Biology and Environmental Science at the University of Hawai'i at Hilo, a certification in Women in Leadership from Cornell University and her undergraduate from Pomona College. She is a proud alumna of Punahou School.
Eric Co
Senior Program Officer for Ocean Resiliency
Harold KL Castle Foundation
Eric Co has 25 years professional experience working in the fields of marine science and management in Hawai'i, the Pacific Islands, the Caribbean, the mainland US and Australia.
His work spans field restoration and monitoring, research, community organizing, program development, strategic planning and mentoring, organizational strengthening, fundraising and grantmaking. He has developed these skills at The School for Field Studies, The Nature Conservancy in Hawaii, the National Oceanic and Atmospheric Administration, and currently at the Harold KL Castle Foundation where he serves as the Senior Program Officer for Ocean Resiliency.
He has been sailing with the Polynesian Voyaging Society aboard Hōkūle'a since 2005 and currently serves on the organization's board executive committee. His other board service spans organizations all working toward making Hawai'i more sustainable in a variety of ways. He holds an MA in Marine Resource Management and an Executive MBA from the University of Hawai'i- Mānoa.
Murray Clay
President
Ulupono Initiative
As president, Murray oversees and manages all aspects of Ulupono Initiative. He guides the team on overall strategy and process, focusing on the best way to achieve the firm's mission-driven goals using due diligence and analysis. He is also one of Hawaii's leading proponents in the area of performance-based regulation (PBR) as a means to accelerate progress toward the state's ambitious renewable energy goals.
Prior to joining Ulupono Initiative, Murray served as deputy chief investment officer of SDS Management LLC in Connecticut. He has more than 15 years of experience in managing hedge fund and private equity portfolios, and he has led due diligence, negotiated and structured direct investments in many industries including energy, natural resources, and biotechnology.
Prior to his finance career, he served as an intelligence officer for U.S. Air Force special operations forces for five years. A graduate of the U.S. Air Force Academy, Murray holds a Bachelor of Science in International Affairs, with a minor in Japanese. He earned his Master of Business Administration with High Honors from the University of Chicago Booth School of Business.
Murray serves on the board of directors for the U.S.S. Missouri Memorial Association, Inc. and the Oahu Economic Development Board, and is an active member of his church. He and his wife, Jodi, have five children.
LiAnne Yu
Co-Founder
Studio Resilience
LiAnne Yu is the co-founder of Studio Resilience, a design lab that creates digital artifacts for exploring and sharing the impact humans have on our environment. Her apps, Smog Selfie and Sea Level Check, are used in over 20 countries. As an anthropologist, she has done global research on artificial intelligence, social media, underserved communities, health+wellness, and entrepreneurialism. She is also a writer, with bylines in Hawaii Business Magazine, the New York Times, and National Geographic. Her article on how climate change has affected Hawaii's beaches won the 2020 Society for Professional Journalists gold medal for science reporting.
Moderator: Steve Petranik, Editor, Hawaii Business Magazine

CHANGE Event: Natural Environment
June 10, 2021
3:00 – 4:00 PM