Concierge to the Rescue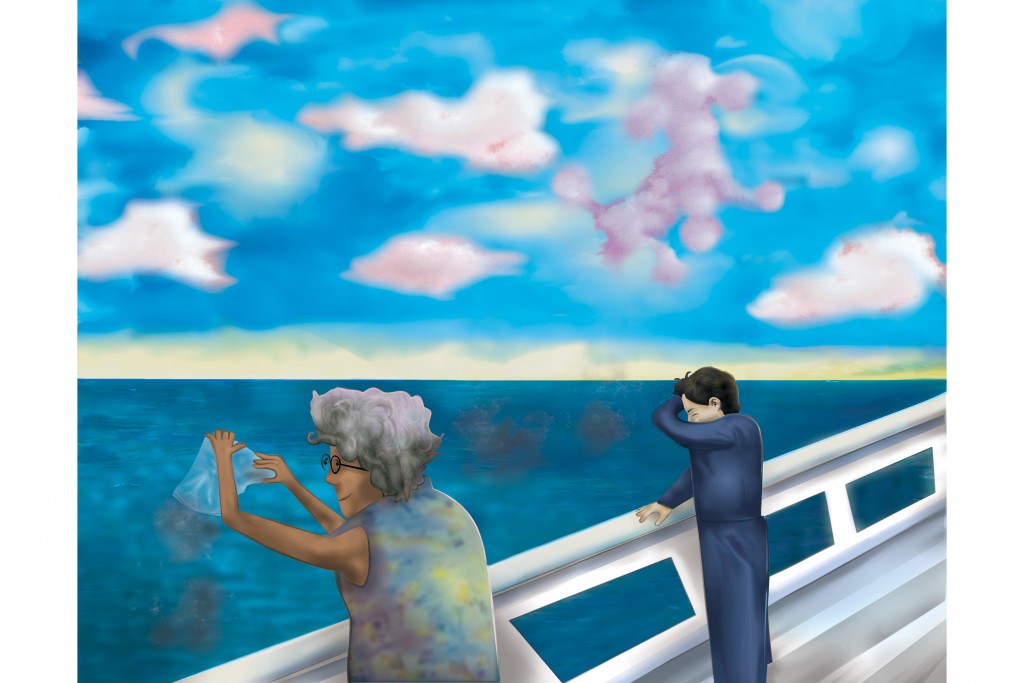 Helping guests in every way possible
Guests usually ask the hotel concierge basic questions like, "What's a great place for a romantic dinner?" or "How do I get to the North Shore?" But the request is sometimes more challenging, like helping with a marriage proposal or arranging the memorial for an old friend.
We wanted to write about some of those outside-the-box stories, so we asked two of the best people in Hawaii hotel customer services about their most unusual experiences. 
Farewell to Aloha Pumehana
With 15 years in guest services, Bert Momotomi has many unusual tales to tell, but one of the most gratifying is about a dog he never met.
A woman in her mid-70s booked a trip to Hawaii to scatter the ashes of her beloved, long-time companion, named Aloha Pumehana. The dog had been born in Hawaii, so "She felt like she had to bring the dog home," says Momotomi, guest services director at The Hilton Hawaiian Village.
He checked into renting a canoe for a memorial service, but the cost was over $100 – more than the woman could afford. So Momotomi called Atlantis Submarines, which ferries passengers to one of its submarines from a pier in front of the Hilton. Atlantis agreed to take Momotomi and the woman out to sea aboard their last guest shuttle from the submarine back to the pier at no cost.
"She pulled out a plastic bag full of ashes, and asked if I could help," Momotomi says. Together, they prayed for Aloha Pumehana before scattering her ashes on the water. Momotomi recalls the wind blowing ashes back on him.
"It was definitely odd, but a very gratifying experience," he says. "This elderly lady flew all the way to Oahu with a dream of bringing her dog home and, seeing her with tears in her eyes, I was just so happy that I could do that for her." 
Retracing a Lost Vacation
Concierge Susan Koki has been working at the Halekulani for 23 years and is known for going the extra mile to help her guests – even when she is off the clock.
"It's the self-satisfaction of knowing that you were able to make someone's stay," says Koki. "Not many jobs can give you that reward."
She got to know a couple from Michigan, who came to Hawaii for the first time and spent much of their trip exploring Oahu and taking lots of pictures. But, after returning home, all of their precious photos were lost when the drugstore developing the film made a mistake.
Heartsick, their daughter-in-law called the Halekulani concierge. "She asked for postcards of the hotel, the Arizona Memorial, so her in-laws could have something for their scrapbook," says Koki. "I could feel their pain through the phone call."
"It was definitely odd, but a very gratifying experience. This elderly lady flew all the way to Oahu with a dream of bringing her dog home and, seeing her with tears in her eyes, I was just so happy that I could do that for her."

—Bert Momotomi, Hilton
On her day off, Koki set off to recreate the couple's memories by driving all around the island and taking photos along the way. She stopped at Pearl Harbor, Hanauma Bay, the Dole Plantation, Waimea Falls Park, the Polynesian Cultural Center and Sea Life Park. Koki had the photos developed and even arranged them in an album for the couple.
"It was fun," she remembers. "I got to play tourist for a day and they were just so pleased. You could hear the tears when they called to thank me. I also sent chocolate-covered macadamia nuts as a little treat." 
The Ring Is Gone!
Someone who was not staying at the Halekulani contacted the concierge to ask for help with his surprise wedding proposal at the hotel's La Mer restaurant.
"He needed to get the ring there without his fiance suspecting anything," says Koki. "The engagement ring was being sent via UPS from Tiffany's in Seattle to their hotel."
She offered to pick up the package from his Waikiki hotel right after her shift and arrange for La Mer to present it on a silver platter during dessert.
"It's just not something you can pass on and explain the whole situation," says Koki. "So, I just stayed from start to finish to make sure that everything went well."
When she picked up the package, she noticed the box had been tampered with. "I explained that we would normally refuse packages in that condition due to liability and the uncertainty of the contents being compromised," says Koki. "I opened it together with the managers of the hotel and discovered that the $5,000 engagement ring was missing."
Unsure of what she could do, Koki called the guest to tell him what had happened and alerted UPS and Tiffany in Seattle, and the store notified the Waikiki Tiffany store. With only 3.5 hours to pull it all together, Tiffany replaced the ring and delivered it to the Halekulani concierge desk, where Koki ensured the ring made it to La Mer in time.
And the lucky girl? Koki confirms that she did say, "Yes."
Christmas in July?
One summer, a guest called the Hilton's concierge desk to ask where he could buy a traditional Christmas tree.
"He was so set on getting a tree for his room," says Momotomi, though it was not clear exactly why he insisted on getting a pine tree shipped from the Mainland. Nonetheless, Momotomi and the guest services team called a local Christmas tree importer to ask about the cost of shipping a single tree.
They presented the guest with a variety of shipping options, but he decided he couldn't afford any of them. "Since he wanted only one tree and not in bulk, the shipping was outrageous," says Momotomi.
Even though the guest didn't order a tree, Momotomi says, the guest services staff were happy to help in any way they could.