How the Construction Industry Aims to Tackle Hawai'i's Biggest Problems
Five industry leaders discuss affordable housing, climate change, adaptive reuse and a multibillion project coming to O'ahu.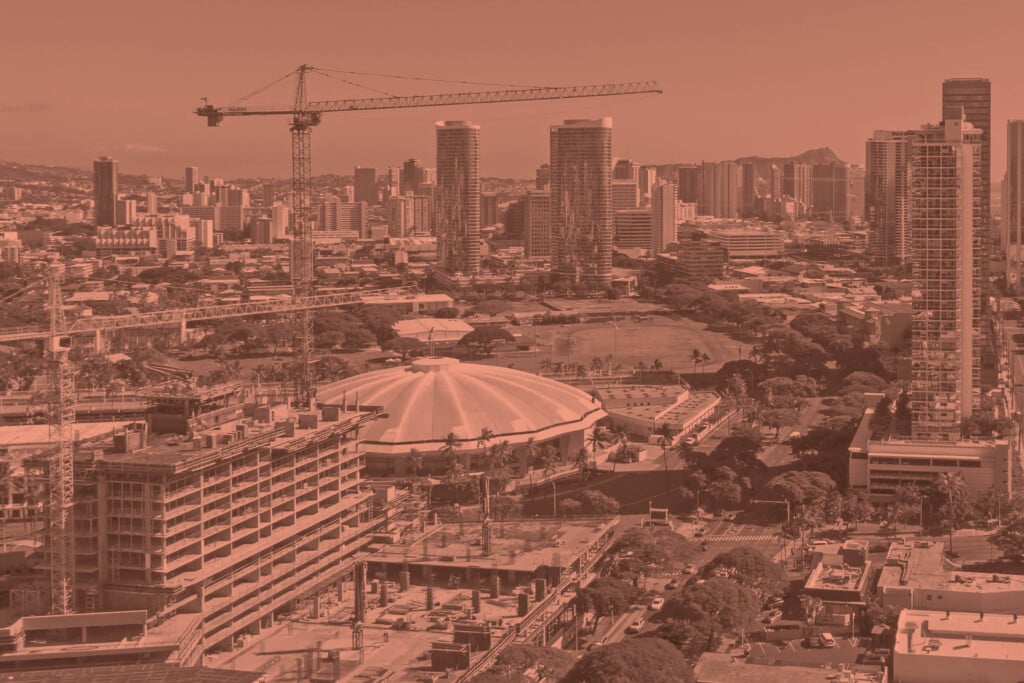 We all want smart answers on the affordable housing crisis, the high cost of housing in general and climate change. And smart answers are what I heard when I held a wide-ranging and compelling discussion with five leaders in the construction industry.
Those leaders are:
Glen Kaneshige, president of Nordic PCL Construction
Alana Kobayashi Pakkala, executive VP and managing partner of Kobayashi Group
Sarah Love, president of the Building Industry Association (BIA) Hawai'i and a partner at Lung Rose Voss Wagnild
Gerry Majkut, president of Hawaiian Dredging Construction Company
Bettina Mehnert, president and CEO of AHL
The discussion was conducted over Zoom on Dec. 8. Here is a condensed version of that conversation.
Petranik: Let's start with your outlook for the building industry in 2023.
Love: I think everybody's forecasting 2023 to be a transitional year. Higher interest rates will have a chilling effect on the industry, both in the residential and commercial sectors. Projects with secured financing are probably going forward; projects that still need financing are probably going to be relook-ing at budgets and whether the projects are feasible in today's market or stall for a little bit or maybe a couple of years.
BIA Hawaii is a part of the National Home Builders Association, which is already projecting a rapid decline in new housing construction starts in 2023, before maybe stabilizing in 2024. Nationally they're saying we're already in a recession based upon the decline in the number of housing starts, permits being pulled, new home sales and existing home sales.
Hawai'i and O'ahu aren't immune to this. Our members have started to feel the slowdown: new home projects in the design phase that don't have financing yet are finding it difficult to secure financing. The permitting obstacles meant a lot of people who went in for permitting when interest rates were low are only now getting their permits. So they're looking at either value engineering (finding ways to reduce costs) or not being able to go forward with the actual plans because their budget is completely out of whack with the new financing rates.
On a brighter note, NHBA is reporting multi-family construction like apartments seems to still be pretty strong – at least on a national level – as well as remodeling projects. Also relatively unaffected are government-backed projects, especially with the federal infrastructure funds out there in the next couple of years.
Petranik: What's the outlook for your organization in 2023?
Majkut: I'm pretty optimistic. Our company has quite a few projects ongoing and when federal funding gets released, that'll open up a lot of projects. And with what Gov. Josh Green has planned for housing and people all across the state rallying together on a mission to provide housing, I'm some-what optimistic.
Petranik: What is the biggest federal project on the horizon?
Majkut: The really big one is the Shipyard Infrastructure Optimization Program at Pearl Harbor Naval Shipyard. That's a multibillion-dollar project. And that's looking to be awarded in the first quarter of 2023.
Kaneshige: That SIOP project is huge. It will create a new dry dock for modern nuclear attack submarines, because the existing dry dock was built around World War II. From what we understand, what is driving that is concern about China and Taiwan. If there is activity there, the Pacific Command will coordinate the joint forces from here. And the Navy will be key to deploying forces from Pearl Harbor into the Taiwan Strait.
The other thing is definitely a big push for affordable housing: Every candidate in the election put affordable housing at the top of their platform. We're about 40,000 to 50,000 units behind across the state.
The controversial project still out there is the redevelopment of the Aloha Stadium site. We all expected the RFP (request for proposal) would be out by this time, but it's not. So with the new governor, hopefully we get a better idea of what the plan is. (After this discussion, Gov. Josh Green announced he was reviving the idea of a public-pri-vate partnership for the stadium site; then-Gov. David Ige had shelved the P3 proposal.)
As for the overall market, I'm cautiously optimistic. Because of our key position in the Pacific, we will always get our fair share of federal dollars for military projects. And the state has a pretty good budget this year, so look for the state to put out a bunch of things, like school projects and Aloha Stadium.
The area of concern is the private work. As rates get cranked up by the Federal Reserve, we're going to see some project postponements. We haven't experienced a cancellation yet, but there are whole projects we should have started by now, but developers pushed them back to second quarter of 2023. They're probably still trying to cut a deal with their lenders.
Mehnert: I'm quite optimistic. As designers, we often see opportunities before they go to the contractors. What we see is activity in almost all of our sectors. It is a lovely time to be an architect quite frankly. I agree that a lot of indicators warrant pessimism but the work we are approached with indicates our clients are moving forward, including the private, the institutional as well as government sectors.
Petranik: Does that include the hospitality sector or has that leveled off now that the pandemic is winding down and tourists are back?
Mehnert: We are starting to see an increased interest on the hospitality side – particularly from owners who want to push the envelope with sustainable design. And those owners appear to value sustainability beyond just its marketing potential. And we expect to see more of that. I think they see the role they play in providing a sustainable product and reducing their carbon footprint.
Petranik: What's a major factor spurring development?
Pakkala: The single greatest opportunity to spur responsible development, to spur affordable housing development, is probably FAR – floor area ratio. Height and density, they go hand in hand in many cases. Depending on the zoning and the site and other factors, every piece of land has an FAR that's allowed for construction in that area. Basically that ratio times your lot area create square footage you're allowed to build.
If the state and county increase the FAR, that increase can help make projects pencil without actually costing government any dollars. There's no cost to the city or state. In fact, in many cases, it's actually a net positive because the finished project will generate more real estate property taxes, which fund our city.
Mehnert: I love that you added the height to this. Here I'm the architect on a personal box: The buildings in Hawai'i all look as if they were cut off with a big knife at one elevation. There's vibrancy and synergy that comes from different looking buildings with different tops and different heights. This FAR incentive would also help us create a more dynamic skyline.
Petranik: As a developer, how would you characterize the current prevailing attitude about development in Hawai'i?
Pakkala: It really depends on what you're developing and where. There's a lot of pushback to the hospitality sector on Maui or any development on the North Shore on O'ahu. I am seeing an openness to development when it's addressing some major needs, especially affordable housing, although tragically even that's not without challenge. We are so used to the challenges here of getting any projects approved or supported.
But I'm incredibly optimistic about residential development in all spaces that we operate in: Low income by federal and state definition is rentals for people earning 60% or less of the area median income; workforce housing, defined as 80% to 140% of AMI; market rate housing that's generally considered for those above 140%; and then luxury housing.
We know residential sales are slowing down, but what really isn't tracked is pre-construction buyers – where you're putting down a deposit now but looking forward realistically to closing – even on a fast timeline – in three to four years if it's a high-rise. We start our projects easily two years even before we go public about them. And we have multiple projects – one in each of those spaces – that we're prepared hopefully to start construction in 2023.
It has been incredibly challenging to get everything to balance financially. You're seeing the purchasing power of our affordable buyers – really all buyers – decline as you factor in higher interest rates. But what if you're closing maybe in 2025 or 2026 when rates may be lower? Of course, no one has a crystal ball on interest rates.
So while residential presales – and I've been talking with other developers too – have cooled a bit, they're still very active and very successful.MEHNERT: Another big project worth mentioning is the new OCCC to be built at the old animal quarantine station in Hālawa. Parts of the existing building are over 100 years old and Hawai'i has been working on a new OCCC for over four years. The Department of Public Safety will be in front of the state Legislature again this year for funding to move the project forward.
Petranik: What about climate change? How is that affecting construction in 2023 and beyond?
Mehnert: One of the most climate efficient things we can do is adaptive reuse. It is wonderful to see more of the downtown office buildings being converted – one to a boutique hotel, several others to residential apartment buildings, both rentals and condos.
Looking at new construction, we're looking at different materials. In Hawai'i, we're looking at using albizia (an invasive tree species). I love bringing that up because it's such a weed and it grows so fast. And we have it right here … everything else needs to be shipped here.
We're looking at carbon-sequestering concrete. Alana really deserves the credit for the first real application of that material.
We have two water issues: flooding from rain and sea level rise. One way we have addressed both is there are no residential units being built on high-rise ground floors anymore.
One of our Maui clients has a historic building in danger of falling into the ocean. We're helping that client to figure out how to extend the life of that building, and we're anticipating more projects like that.
I think innovative thinking by responsible developers needs to be incentivized and rewarded.
Pakkala: As a local developer, we have been really focused on sustainable design and how we can innovate. On every project, we push ourselves to do something new and different, usually taking great practices from other states or other countries, like CarbonCure, which has a lower carbon footprint. (CarbonCure says its technology allows concrete makers to inject captured carbon dioxide into fresh cement mix during mixing. It then gets converted into a mineral embedded in the concrete that increases the concrete's strength.) Concrete and steel are two of the highest carbon footprint building materials, so innovating in that space without sacrificing structural integrity makes a big difference.
Also innovating around energy efficiency – prioritizing passive cooling in the building and orientation to take advantage of trade winds.
One of the challenges is that some tsunami guidelines are pushing us in the other direction, toward more structure, more concrete.
And agreeing with Bettina about innovating in the water space: We're working on two buildings that will be the first on O'ahu to implement gray water processing and reuse on-site. (They are Kuilei Place, a development near 'Iolani School with 603 affordable condos and 402 market rate condos, and Ālia, a luxury condo development, on Ala Moana Boulevard in Kaka'ako.) Bringing gray water back into Kuilei Place and using it to flush toilets will save 11 million gallons of potable water a year.
In another instance, processing gray water on-site and using it in a cooling tower – basically net zero water footprint for a chilled water AC system.
These things are not proprietary: We want everyone to use CarbonCure. Ask us and we'll share the data and share our experiences. And once we have gray water under our belt, we'll help share that information so that we can all work together to make a better future.
Majkut: Bettina talking about adaptive reuse got me thinking about how we renovated our headquarters building a few years back (the former Honolulu Advertiser Building at Kapi'olani Boulevard and South Street). The challenge for us as a contractor that's concerned about the environment was to turn an old building into a new building.
We did things like create the second floor from reused wooden blocks from the old printing press area. We renovated the building and got a LEED Gold certification for it.
---
Hawaii Business Magazine asks the Anthology Marketing Group to conduct surveys for us twice a year. We included housing questions in the latest version of the BOSS Survey of 421 local business owners and senior executives, and in the 808 Poll of 427 members of the general public. Respondents in both surveys were presented with a list of possible options to address the state's affordable housing crisis and asked which they favored. They could choose as many as they wished.
What's Your Solution to The Affordable Housing Crisis?
We surveyed local business leaders and the general public about which policies they favor

The biggest difference between the two groups was on rent control, which was favored by more than two-thirds of the general public and less than half of business leaders.
Multifamily Buildings
Respondents in both surveys who describe their primary residence as being surrounded mostly by single-family homes were asked if they would support the development of affordable two-story buildings that house four or more units on their block or street.

Methodology for both surveys can be found at tinyurl.com/BOSSMethod.
---
Petranik: I'm really personally grateful, Gerry, because I worked in that building for 20 years – first for the Star-Bulletin and later the Advertiser. I loved how you preserved so much of it. Sarah, your thoughts on climate change issues?
Love: In the private sector, we're always trying to educate smaller homebuilders on things like sustainability, but also it's important that when addressing climate change, that our legislators and everybody look holistically at what certain legislation may do to the cost of building. Sometimes legislators aren't really looking at that aspect.
I think it's incumbent upon the industry to both be stewards of environmentally friendly building, but to also have an open dialogue with our lawmak-ers about the impact of legislation on the aff ordabil-ity of housing and how to balance those two interests, because sometimes the impact on smaller private projects is much greater than on other projects.
Pakkala: I totally agree with you: That's such an important aspect to consider. We tend to do larger scale projects, so it's completely different economics. We need every housing opportunity to be developed with as little red tape as possible.
My personal passion lies with affordable housing and residential housing. And a lot of times making the right long-term decision after a life-cycle analysis is rarely the cheapest decision. If you're trying to deliver a sustainable development with solar hot water and all these sustainable elements, then we can't just always be rushing to the bottom of the cheapest. How can that be incentivized because, fundamentally, it costs more? How do we get it to pencil?
Petranik: Let's focus the rest of this conversation on affordable housing. We know the permit process has to be fixed, but what are the other solutions? Free land from the state or counties for housing? Is it building public housing and giving out rental vouchers? Reducing regulations might help, but which ones do we eliminate?
Pakkala: Yes, to all of it. That's what we need. There was a recent UHERO report that our state is the most highly regulated. That adds to the cost of housing, which makes it more expensive to live here.
And there is discretionary regulation that you cannot predict and can't plan for when trying to estimate costs for projects. Discretionary regulation can take different forms. For instance, when you go through the City Council for approval on a project, you're following all the rules of one program, and then you're being put through the lens of a different program by DPP (Department of Planning and Permitting). You're going to different bodies of government to get approval with differing opinions and definitions of affordable housing. It is very, very challenging.
State and county lands are key to affordable, as are the subsidies, the financing opportunities. But even if every developer stopped doing everything they're doing, and only wanted to develop aff ord-able housing, there actually wouldn't be any more units produced, because every developer and project is competing for the same bucket of tax-exempt bonds. And that bond cap is reached every year.
Kaneshige: I agree completely with Alana. You have to do all of that. We talked a bit about densities, allowing higher FARs so you can build more floor area. More multifamily, multistory residential work is going to be our best shot at meeting some of the demand. But also maybe reduce the parking requirements.
The other critical thing is the state and counties have to get ahead on infrastructure especially in the downtown corridors, so there can be more development of less-expensive high density multifamily residential. Because if infrastructure costs have to be covered by the developer, they will be passed to the buyer.
Pakkala: On top of that we should incentivize housing in areas that already have the infrastructure. Why aren't we making it easier to develop in those areas?
Majkut: On the nontechnical side of things, Steve, we've had the pleasure of doing several affordable housing projects with developers. And I think that everybody can agree that when you see those first-time homeowners get into their affordable housing, with a smile on their face and they're so happy to be a homeowner, that's very cool.