Virtual Interview on COVID-19: Adventist Health Castle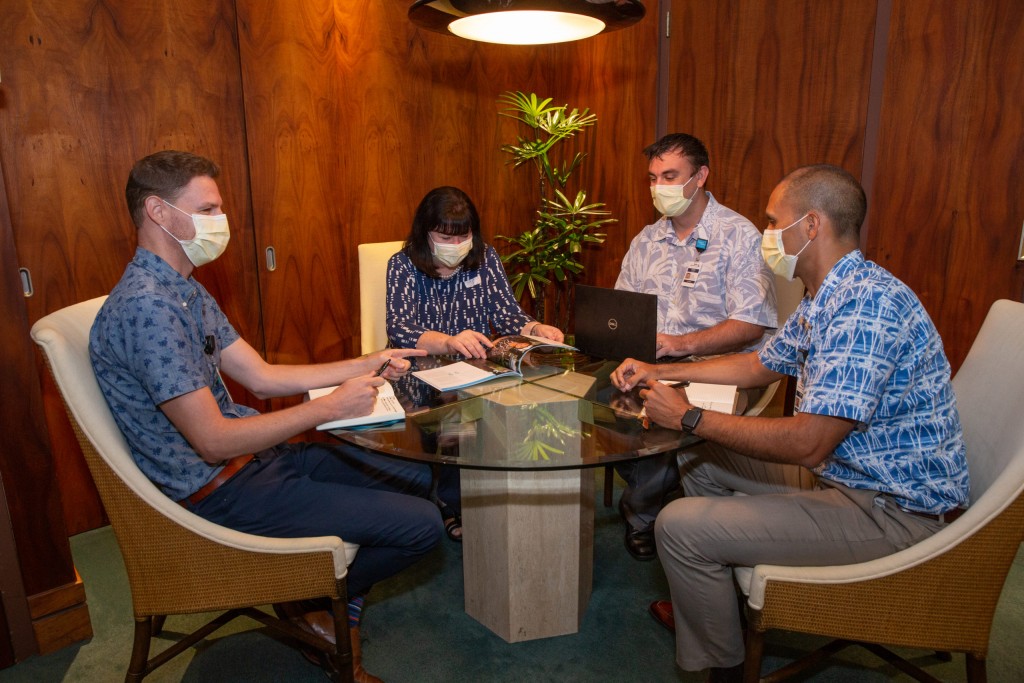 Virtual Interview on COVID-19: Kathryn Raethel, President; Ryan Ashlock, Chief Operating Officer; Derek Dickard, Director, Outpatient Clinics; and Jesse Siebel, Director, Mission and Spiritual Care, Adventist Health Castle 
What has been your company's latest pivot or innovation?
Ashlock: In this time of COVID-19, Adventist Health Castle has been adjusting our practices from one day to the next in order to adapt to this ever-changing situation.
Here are some of the changes we have implemented:
Screening everyone who comes to the hospital, including all associates at every entry point.
We've provided housing to our associates caring for COVID patients.
We've provided drive-through screening and testing.
We've installed an overflow tent for emergencies.
We've dedicated a unit to care for COVID-19 patients.
We offer telehealth/virtual health to our patients.
We're learning to work remotely.
What has been your company's latest opportunity or opportunities?
Raethel, Ashlock and Siebel: The latest opportunity for us has been the use of telehealth which continues to meet the needs of our community. We have also been able to work with our communities at large in providing support through various organizations such as Habilitat and Hope Center Ministries, which assist men in recovery with job placement, and Community Clergy in Waimānalo, which assists homeless families. 
How has your company's experience been with any level of government during this crisis?
Raethel, Ashlock and Dickard:
Castle is blessed to be able to partner with the Healthcare Association of Hawaii and other healthcare organizations across Hawai'i to navigate the complexities of working with state, local and federal governments. They consistently keep us updated on the latest developments and make working with government agencies much easier than it would be as an independent organization.
We have participated in frequent updates from local, state and federal elected officials.
We've been working with the State Office of Primary Care & Rural Health as well. They have been sending out daily updates, new grant opportunities (which we have applied for) and telehealth updatesm and holding seminars every other week to keep us updated on the changing regulations within our Rural Health Clinics.
In what ways do you think your business will be different at the end of this year?
Raethel and Ashlock: This is a great question and honestly, we do not know the answer. It really will depend on the level of testing and timing of a vaccine before we will understand what impact COVID-19 will have long-term for us as a healthcare provider. But we know:
We will be nimbler and more innovative. We will have a closer connection to our community and other organizations within the community. This crisis has brought us all together.
We will continue to screen all who enter the hospital until a vaccine for COVID-19 is found. We do this to protect our patients, associates and community members.
Visitor restrictions will likely be in effect for some time. Again, we do this to protect our patients, our associates and all our community members.
Everyday usage of PPE will be expanded for some months. We will see masks more commonly in public spaces.
For physician offices, COVID-19 will leave an impact on how medicine is provided going forward. We will be offering telehealth medicine to more of our patients as a routine part of care, not just during the COVID-19 outbreak. We will work with patients, providers, and staff to be able to have more frequent virtual touch points to make sure the patients are able to stay on top of their health care needs, have more direct access to our providers, but not having to take off work, or make a trip to the doctor's office to do this
We will also be looking at how to expand on technology to provide patient's more services at home. This may include Blood Pressure machines, Glucometers, or other devices that patients can use at home that will directly communicate with the patient's physician office in real time. This gives the physician the ability to provide real time updates of care to patients who are at home. 
In what ways have you been able to support the broader community beyond your employees and customers?
Raethel and Siebel: While Castle's focus is on providing excellent healthcare during this crisis, our community's response to COVID goes beyond conventional healthcare. Castle has partnered with organizations that are responding to the needs of our community for housing, food supply, addiction, and child and senior care. These efforts would include:
Grant funding for emergency shelter for 12 families homeless prior to March 1.
Grant funding for food supplies to prepare up to 5,000 meals for Windward O'ahu.
Staffing and screening resources for childcare for essential workers.
Virtual Healthy Living Seminars for at risk communities sheltering in place