Creative Class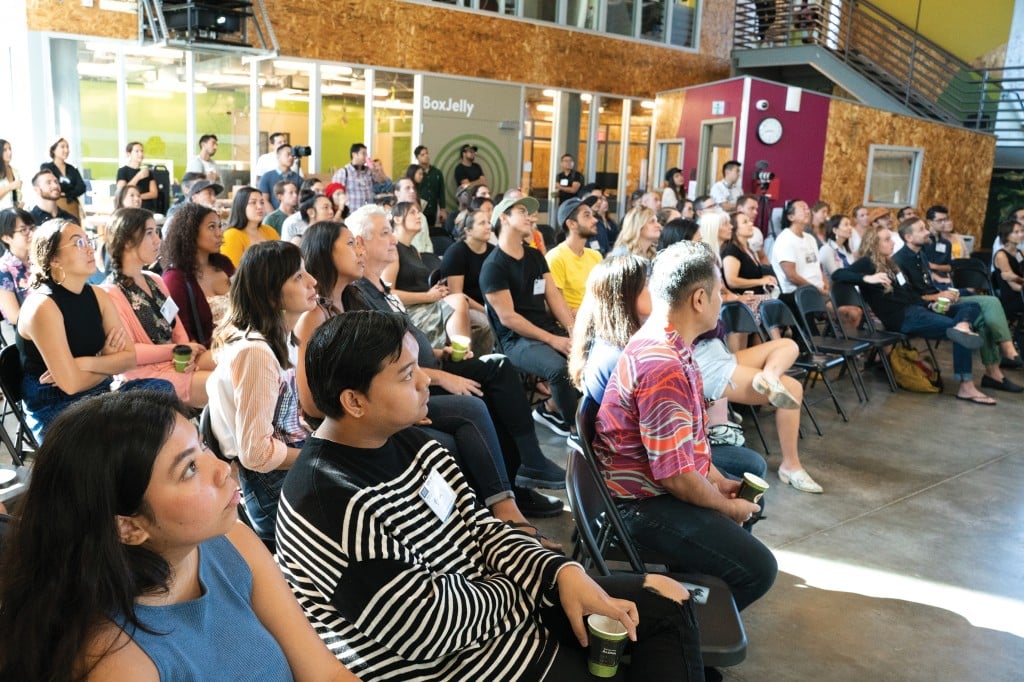 A monthly breakfast lecture series
lets emerging creatives mingle with some of Hawai'i's most talented designers and artists
The debut of CreativeMornings Honolulu, a free monthly breakfast lecture series, has given aspiring creatives an intimate way to engage with and learn from some of Hawai'i's most respected creative professionals. Since its first event in April 2019, speakers have included Matt Bruening, the Mākaha-born fashion designer; Michelle Jaime, the creative director of the Vanguard Theory; and Ara Laylo, the artist, designer and creative force behind NMG Network.
CreativeMornings was started in New York City in 2008 by Swiss designer and blogger Tina Roth-Eisenberg as a place for casual encounters among creative professionals. Since then, the volunteer-run TED-like events have expanded to 207 cities in at least 66 countries. The sessions are casual, with free coffee and pastries, a 15- to 20-minute talk followed by Q&A and time to talk story before and after.
Honolulu's chapter was started by Noah and Lauryn Gordines, owners of local design agency Ellemsee Media, and Meredith Mawhar, director of finance at the BoxJelly co-working space in Kaka'ako, at the time Ellemsee's home.
They submitted a written application and then worked with local filmmaker Shaneika Aguilar and visual artist Nanci Amaka to make the requisite application video.
"It was not just us," Mawhar says. Two other groups had applied to start a Honolulu guild. Having seen videos of talks in other countries, Noah Gordines had some doubts. "This is a big deal," he remembers thinking. "Should we be the ones to start this?"
But in March 2019, after a phone interview, Noah and Lauryn's team received word that their application had been selected. One month later, they hosted their first CreativeMornings talk, with Bruening as the featured speaker. All 50 seats went fast.
Since then, CreativeMornings Honolulu has grown in size and stature. To accommodate a larger audience, the lecture series moved to Entrepreneur's Sandbox in Kaka'ako, doubling the capacity to 100 people. In September, RSVPs again surpassed capacity. (Talks remain free as long as attendees RSVP.)
Noah says the team has been overwhelmed not only by attendance but by the support of the local community. "The generosity from local businesses is insane," he says. "HonBlue sponsored all the printing. Honolulu Coffee Co. is sponsoring coffee every month, Aesop the gifts" (that go to attendees after a drawing).
Even the organizers donate their time. "No one takes home a dime from these events," Noah says. "It's completely community run."
CreativeMornings is unusual in that each of its guilds is the product of a local effort to bring a city's creative community together and, simultaneously, each is part of a global network. Each month, the lectures are unified by a preselected theme, such as "justice" or "muse."
"It feels like you're part of a bigger family," Mawhar says.
Knitting together a city's creative community is partly what makes the event series unique, says Kyle Baptista, the chief community officer for CreativeMornings. "It breaks down creative silos. If you're a graphic designer, you're hearing from an architect or a chef or a poet." Even in New York City, he says, "the multidisciplinary approach is new."
Anne Bush, who teaches design and typography at UH Mānoa, hadn't heard of CreativeMornings until she was asked to give a talk, which she did in July. She says the lecture series offers Honolulu a novel space for interaction and dialogue.
"What this does is it gives people an opportunity to talk about things locally but also imagine what that means in a larger way, and to have that discussion openly in public," she says. "You don't have to pay to go. It's an open forum for anyone interested in creativity."
Bush was so enthused by the program ("Noah and Lauryn and Meredith are real powerhouses," she says) that she persuaded the team to involve her students in the design of the events' promotional materials. Noah recalls, "Anne reached out and said, 'I love this. I have 12 students, you have 12 topics. What if I had the students design everything for 2020?' "
Bush is also working with her students to develop a visual identity for the local guild, working within CreativeMornings' design guidelines while also responding to the cultural dialogue that characterizes Hawai'i.
The vigor of the Q&As after the talks demonstrate a hunger among Honolulu's creatives for a forum like CreativeMornings. The event grew quicker than organizers anticipated, although Noah says he thinks they can still go bigger, noting that in New York, tickets disappear within minutes.
"That's the dream," Lauryn Gordines says.
The team is looking forward to celebrating its first birthday in April 2020. "We're gonna bring back past speakers and do a panel," Noah says. "And we're gonna get a birthday cake."
Want to Attend?
Find who's speaking next and RSVP at creativemornings.com/cities/hnl.