Creativity: Hawaii's Next Big Export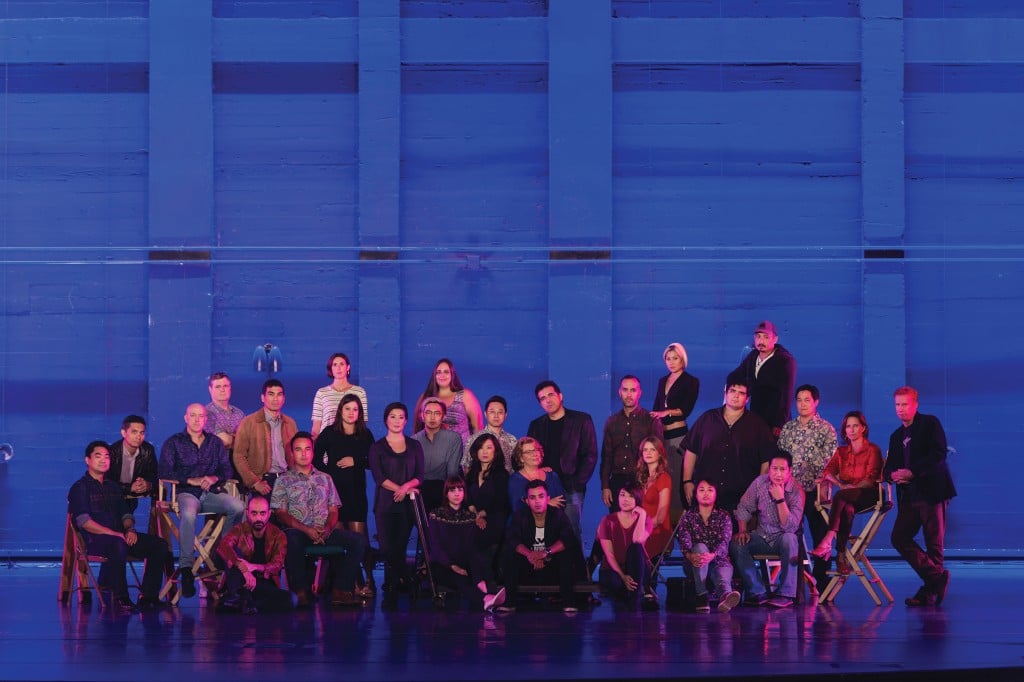 How a public-private program called Creative Lab accelerates entrepreneurs in six creative areas: screenwriting, broadband, interactive media, fashion, producing and music
While Hawaii is known worldwide for its rainbows, aloha spirit and beautiful weather, Georja Skinner hopes to add "creative entrepreneurs" to the list.
Both words are crucial, Skinner says. Hawaii has long nurtured young people's creative genius, but the essential entrepreneurial spirit was neglected. Creative Lab helps fill the hole, she says.
"Hawaii has a lot of terrific programs in the high schools, middle schools and also in college about filmmaking, screenwriting, music. But the connection to the business end of the industry and the connection to decision makers is sometimes … a big gap," says Skinner.
Creative Lab was founded in 2012 as the cornerstone program of Creative Industries Division, an agency within the state Department of Business, Economic Development and Tourism. Skinner leads Creative Industries, and oversees both the Hawaii Film Office and the Arts and Culture Development Branch inside DBEDT.
Creative Lab's links with industry decision makers start through partnerships with the Producers Guild of America, Writers Guild of America, Hawaii International Film Festival, the GVS Transmedia Accelerator and Hawaii Academy of Recording Arts. The lab offers three complementary channels: public keynote programs, ideation workshops and immersive programs.
The public keynotes, offered by the lab's industry partners, are free panels and workshops open to the public to spark interest in the programs. Ideation workshops can be the next step: They help entrepreneurs in the early stages develop their ideas and projects so they can apply for immersive programs. The yearlong immersive programs accept up to 12 applicants and include an intensive workshop, usually for a week, followed by monthly check-ins with mentors.
The Creative Lab's programming is offered in six different tracks identified by the state as high-growth areas: screenwriting, broadband content for the web, interactive media, fashion, producing and music. Four are up and running, with music and interactive media expected to launch soon.
DBEDT's 2015 Hawaii Creative Economy report says there were 3,525 businesses in the creative industry throughout the Islands employing 49,403 people in 2014. "The creative and knowledge-based economy in Hawaii is thriving and could be even further strengthened by programs," says Skinner. "That's why we're doing" Creative Lab.
PROGRAM'S GENESIS
Skinner, a former Hollywood film producer, wanted to strengthen Hawaii's film industry and refined the idea of Creative Lab, but she knew her state agency could not fund it alone. The Hawaii International Film Festival was interested in Creative Lab because Robert Lambeth, HIFF's executive director, felt there was great talent in Hawaii but not great support.
"There wasn't necessarily a way for talent to gain knowledge on how to develop, market and deliver a product or even raise money for development," says Lambeth, "I saw these pukas."
Lambeth said HIFF was also keen on having an incubator for product development. He felt films made in Hawaii often fell short in storywriting and music, and Creative Lab could improve those areas while developing local talent. HIFF responded to Creative Lab's request for proposals and became its first contractor.
Creative Lab launched its screenwriting and broadband tracks first, because Skinner felt those areas were cornerstones of future product development. From there the state would slowly launch the other tracks after finding appropriate partners and industry support.
Finding a contractor/partner for each track is essential. While Creative Industries developed Creative Lab and manages the program, it can't fund it alone, Skinner says.
The federal Commerce Department provided $400,000 in seed funding for Creative Lab for the 2015-16 fiscal year. The state then kicked in an additional $100,000 for both the 2014-15 and 2015-16 fiscal years. The state also provided an additional $50,000 for Neighbor Island expansion in 2015-16.
"We're really proud of our federal relationship and funding," says Skinner. "We see this having a long life and we're already seeing amazing results."
THE APPLICANTS
The Creative Lab application process is challenging. For instance, applicants for the screenwriting immersive must have a completed script while the fashion and design immersive requires finished samples. A panel independent of Creative Industries selects the immersive participants.
Some programs choose three finalists at the end of the immersive, and set them up with business-to-business meetings in their industries and create opportunities to make contacts beyond the Islands.
Skinner estimates each track receives 60 to 100 applicants a year. Most participants are from Hawaii, but certain tracks allow mainland and international applicants, which builds a wider network and adds diversity to the program.
Michael Palmieri, the lab's immersive director of screenwriting, broadband/new media, interactive and producing, says the program is a great way to engage new talent throughout the Pacific.
"Because of its unique geographical placement on the map, Hawaii can take advantage of the growing Asian economies and become a creative nexus of the Pacific," says Palmieri. "Hawaii's a great mid-point between Hollywood and China, Japan, Korea, Vietnam and Southeast Asia."
"These countries' creatives are applying into our program in order to get top-notch training and development in their crafts," he adds.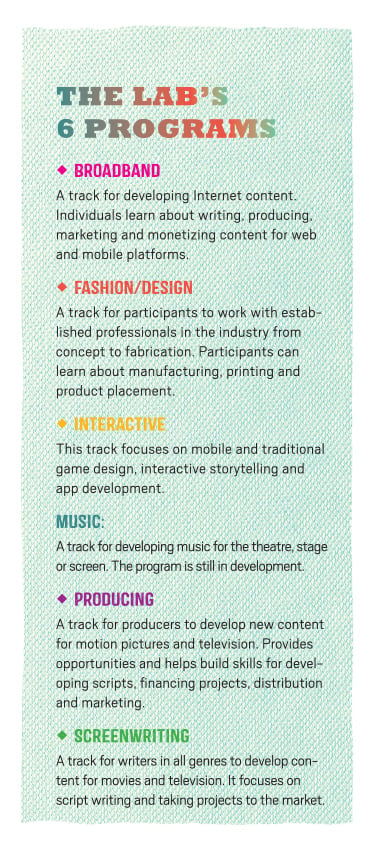 HIFF's Lambeth says he attends events around the world and finds people talk to him about the Creative Lab at many of these events, including the Cannes Film Festival.
Josh Kim, a 2013 participant in the Writers Accelerator, learned about the immersive program on HIFF's website after the festival included a short film he produced. Since that inclusion meant he would be in Hawaii anyway, the Korean American from Texas applied to the accelerator program with his script for "How to Win at Checkers (Every Time)." He says the screenwriting program was one of the best things to ever happen with his script and he saw it improve during the immersive. The film, set in Thailand, premiered at the Berlin International Film Festival in February 2015 and Thailand has named it as its official entry for Best Foreign Language Film in the 2016 Academy Awards.
Kim praises the accelerator program, saying it not only benefits participants as writers, but can change a person as well.
"I really hope Hawaii knows how important this is. Not just for local writers and filmmakers, but people all over the world," says Kim. "Michael and Georja are so dedicated and they make you really motivated in return. Because if someone else cares about my writing, then I should care about it."
Lambeth also applauds the global recognition, but says Creative Lab's biggest contribution may be the support it creates so creative local people can stay in Hawaii rather than seek success elsewhere.
"People didn't feel they had an opportunity here in Hawaii," he says, "but that has changed quite rapidly in the past three years since the state started Creative Lab."
THE CONTRACTORS
Partners and contractors help keep Creative Lab's programs running: Some, like The Cut Collective, an Oahu-based fashion incubator, host immersives, while others, like Innovate Hawaii, help provide funding. Those relationships can benefit both the partners as well as the participants. Cut Collective's co-founders, Allison Izu Song and Summer Shiigi, feel that working with Creative Lab helps fulfill their mission of showcasing Hawaii's design talent outside the state. They say the fashion program proves that people can work, design and live in Hawaii but still have a wide reach.
"I think, as a Hawaii brand, we don't usually dream that big. We don't allow ourselves to," says Song. "But you can take it nationally or internationally. That's what we want. That's the big dream for all of this."
The program can also enhance the local industry by creating a collaborative and supportive space for entrepreneurs to work together and evolve their products.
"The fashion industry is known as being cutthroat and competitive," she says. "This program is really shattering that stereotype and pushing through, showing there could be a different way where we all succeed. And that was the goal of the program, to definitely push a sense of community."
Another benefit for the Cut Collective: exposure to new talent. "It puts us in front of newer designers or people who are busy at home sewing themselves, not realizing there is something like a Cut Collective out there that can partner with them," Song says.
FUTURE PLANS
Skinner says one of Creative Lab's unique qualities is that it picks mentors based on that year's participants – not picking mentors first, as many incubators do. Yet, for all its pluses, Skinner says, there is still much to do. For instance, she hopes the program can find a permanent home soon and that each island can have its own space, which could double as a co-working space. Even though the programs have applicants from Kauai, Hawaii Island and Maui, the current program still feels Oahu-centric, she says.
Another goal is to help connect Hawaii's products globally. Skinner envisions an opportunity to have products that say, "Designed in Hawaii, Made for the World" – a creative twist on the "Made in Hawaii" that local manufacturers use.
Skinner also plans to add tracks in the future, particularly in animation and native narrative. She feels Hawaii has so many legends and stories to share with the world from the perspective of Native Hawaiians and other people living in Hawaii.
"We have a lot of storytellers," says Skinner. "I feel like it's one of the untapped goldmines of opportunity to share stories from here.
"If we can get more and more of these voices from Hawaii at whatever stage they're at to hone their skills and garner investment, then Creative Lab will have been a success."
---
LEARN MORE
Creative Lab: creativelab.hawaii.gov
Programs and Deadlines: Check the website for information on the immersives and their application deadlines, and on other programs.
---
Take Your Idea to the Next Step
Creative Lab's Transmedia Ideation Workshop: March 19-20 in Honolulu. Designed to help individuals assess the best way to develop an existing idea, book, script, property or intellectual property.
Speakers include Steven Fisher, VP of intellectual properties at the Agency of Performing Arts, a national talent agency; and author, screenwriter and producer W. Bruce Cameron who wrote the novel "Eight Simple Rules to Date My Teenage Daughter," which became a TV series, as well as "A Dog's Purpose," a novel now being made into a movie.
Register at bit.ly/CLHIDEA1.