Business Leaders Warn: "Disrupt or Be Disrupted"
The theme of Hawaii Business Magazine C-Suite event was "Disrupt or be Disrupted" – which means you need to disrupt your own company or someone else will disrupt it first and maybe put you out of business.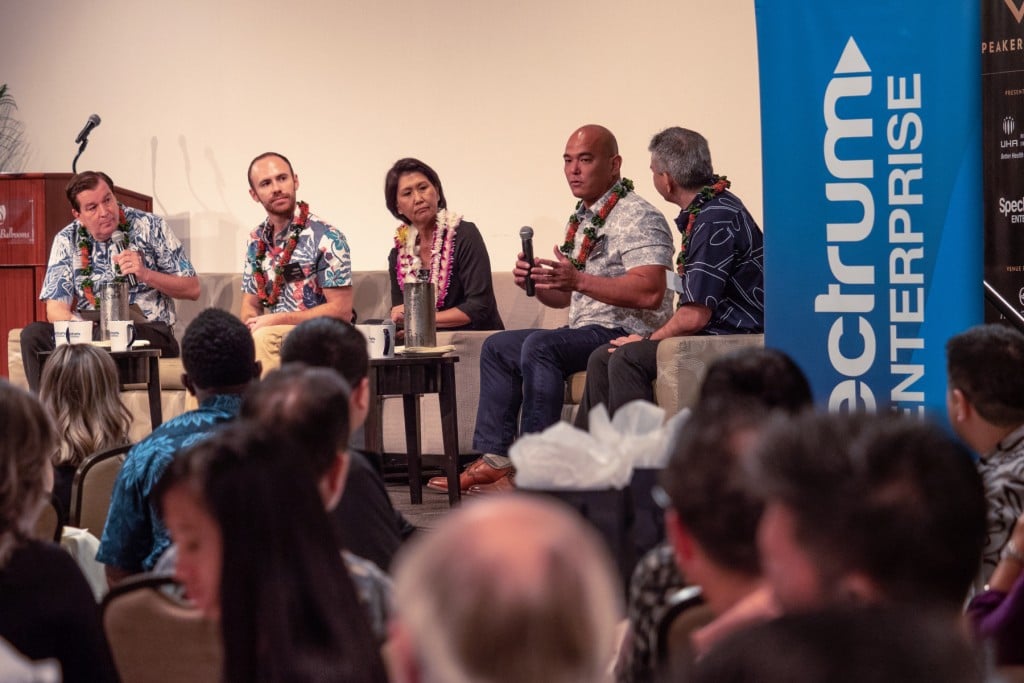 The event's four panelists came from Uber, Bank of Hawaii, University of Hawaii and Hui Car Share, a division of Servco Pacific.
Here are five ways your business can disrupt old patterns and keep moving forward.
1. "Following the customer is the business model."
Transforming your company doesn't have to mean starting over again. The needs of today's consumers are constantly shifting, so Peter Fukunaga, director of Hui Car Share, said giving them more options is a great way to interrupt old patterns. That way, you can attract new customers, and keep older clients from taking their business elsewhere.
2. Create a culture of innovation.
The days of the factory-style workplace are over. David Oyadomari, senior executive VP of Bank of Hawaii, said business leaders need to create an environment that encourages new ideas. It's hard to "look beyond how things have always been done" but Oyadomari told the audience that one of the most profitable companies in the world does just that. Google's California campus is extremely nontraditional – think nap pods and free meals – but the employees are more productive than ever. Last year, he said, Google's revenue increased by about 20%.
"The world changes so quickly you have to constantly be reinventing yourself."
– Susan Yamada, director of UH Ventures
3. Don't be afraid to fail.
Susan Yamada, director of UH Ventures, said businesspeople should wear their failures as a badge of honor. "Even if you've tried something and it's failed, you're much further along than if you didn't do anything." Try to find a lesson in your past mistakes and use that knowledge to strengthen your company.
4. Authenticity.
Local businesses cannot survive without support from Hawaii's tight-knit community. When asked how to embrace change without damaging personal relationships, Yamada said the key is to make sure your intentions and values are in the right place. Are you causing a disruption to make things better for everyone or are you looking for personal benefits? Another tip? Make sure your (excellent) reputation precedes you. "Whatever you're doing now, do it very well," Yamada said. People are more likely to be understanding if you have a good track record, and you never know who you might need to achieve your goals.
5. Ideas over hierarchy.
All of the panelists agreed that business owners need to look past their hierarchical structure and recognize that great ideas can come from anyone at the company. Tom Maguire, director and a regional general manager at Uber, said one of its most popular products, UberPool, was invented by a city operations manager. Employees are your biggest asset, so you should listen to what they have to say. Success in business is a team effort, and everyone needs to contribute.
---
Watch the entire panel discussion here: