Top Hawaii Executives Discuss Leading Now and in the Future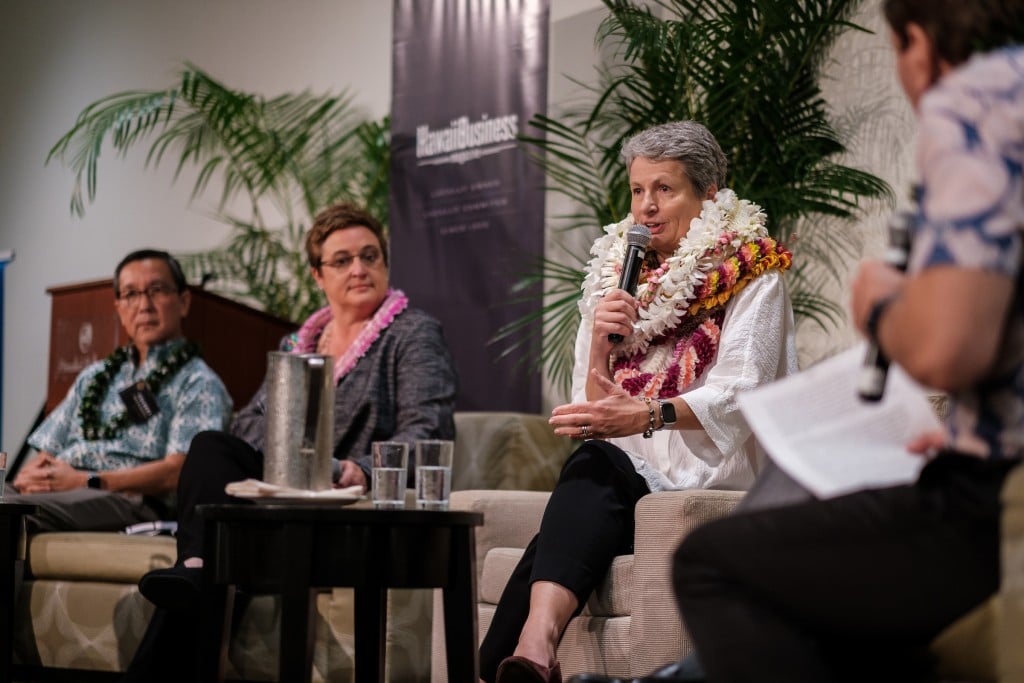 The conversation was part of Hawaii Business Magazine's annual CEO of the Year event
"I think as a leader you are constantly learning and you're never at the end of the road. There's always room for improvement," says Bettina Mehnert, president and CEO of AHL and Hawaii Business Magazine's 2019 CEO of the Year.
Menhert spoke Thursday morning to an attentive crowd of over 200 at the Pōmaikaʻi Ballrooms as part of the magazine's annual CEO of the Year event. Mehnert is the first female executive to receive this honor since it was initially awarded 10 years ago.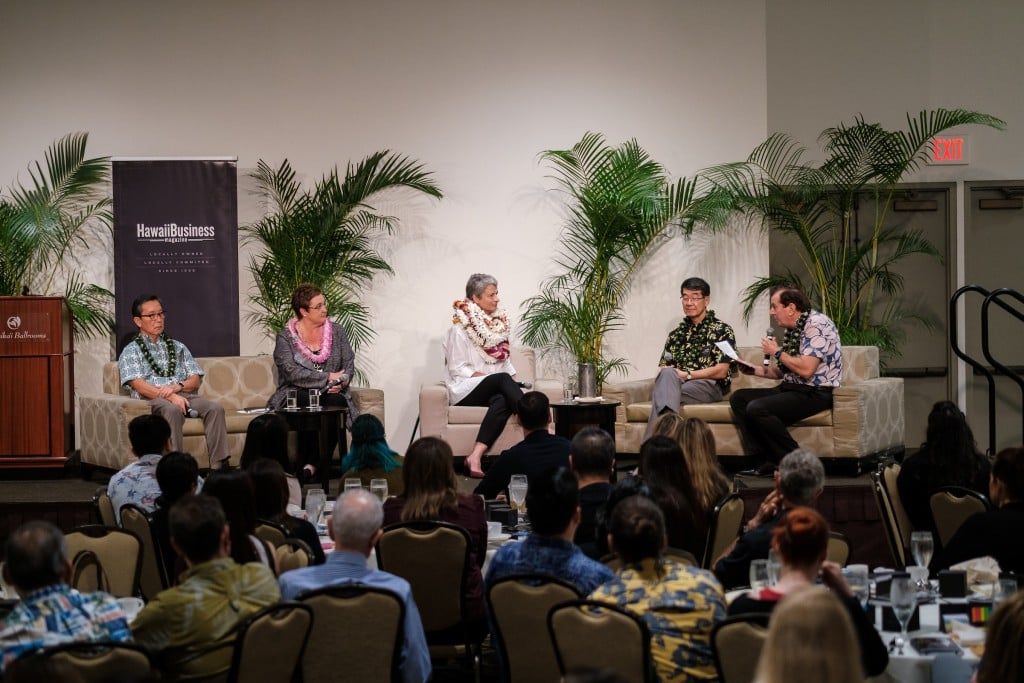 She was joined on stage by three other local business leaders to discuss the characteristics that leaders especially need in the modern world of constant disruption and innovation. Here are some of the characteristics they discussed:
Courage: "As a society we have a tendency to look back because its comfortable," Mehnert said, "but there's no data for what's next." The most effective leaders must be willing to stand up and make tough choices, sometimes in the face of opposition and incomplete information. For many issues like climate change, inaction is no longer an option, and businesses need to do as much as they can now to reduce their impact on the environment.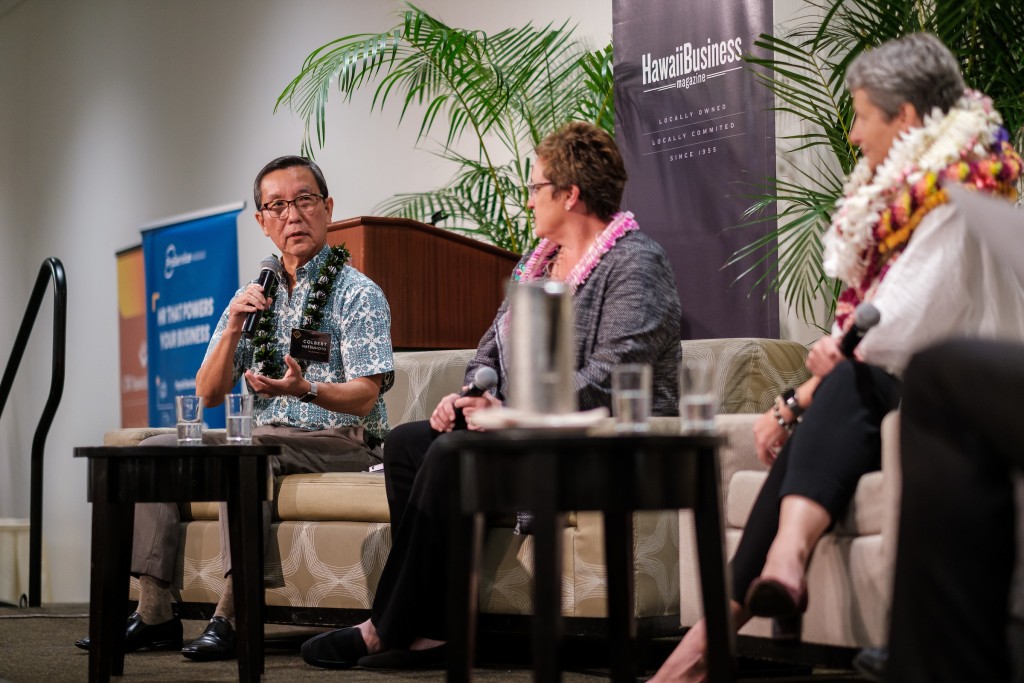 Understanding technology and innovation: Colbert Matsumoto, chairman of Island Holdings, said that advances in artificial intelligence and globalization will completely revolutionize every industry over the next 10 years. This impending transformation can create uncertainty and questions about job security. A good leader needs to acknowledge these concerns among their employees and have a support plan in place before any disruption occurs.
Champion of diversity: Leaders should make sure that diversity is reflected at all levels of the organization, especially the C-Suite. Beth Whitehead, executive VP & chief administrative officer at American Savings Bank, said that having a wide range of experiences and opinions in the room when decisions is necessary everywhere, but especially in Hawai'i , one of the most diverse markets in the country. Implementing policies to promote inclusivity could also help you recruit top talent in a low unemployment economy, she said. Today's job seekers look for employers who embrace difference and use it to their advantage.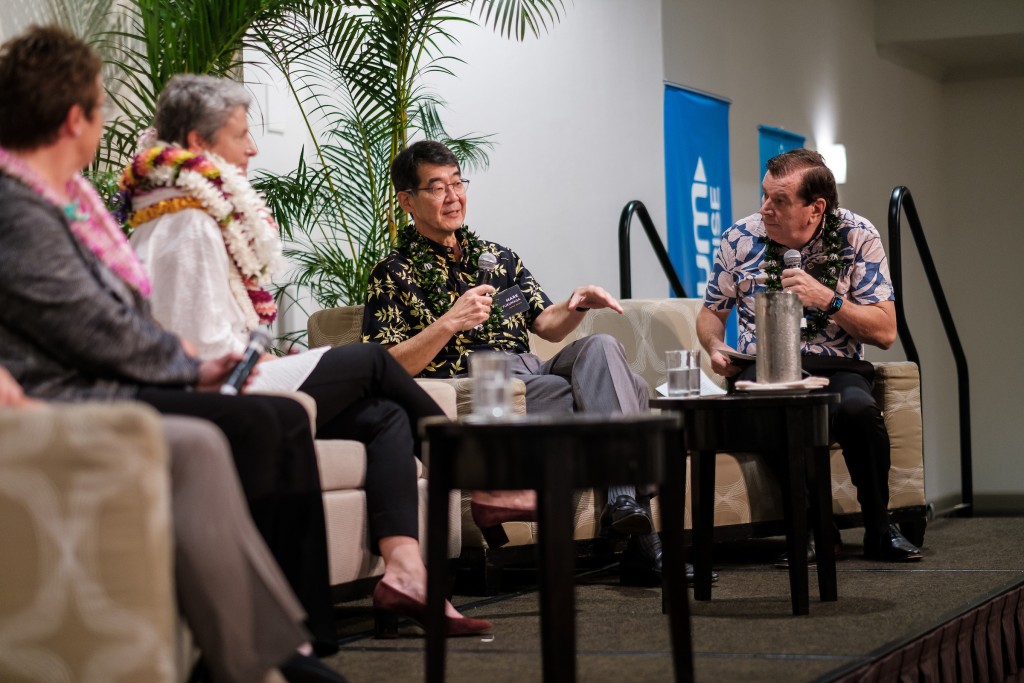 Accept occasional failure as a necessary part of innovation: "The best thing a leader can do is share their own personal failures," said Mark Fukunaga, CEO of Servco Pacific and last year's CEO of the Year. All the panelists agreed that every failure is an opportunity for your company to improve. It is the leader's responsibility to create an environment where mistakes (including their own) can be discussed openly and used as learning experiences.
The event's sponsors were Spectrum Enterprise, UHA Health Insurance, CW Associates, ProService Hawaii, Pomaika'i Ballrooms and Watanabe Floral.