DeafTax Serves Everyone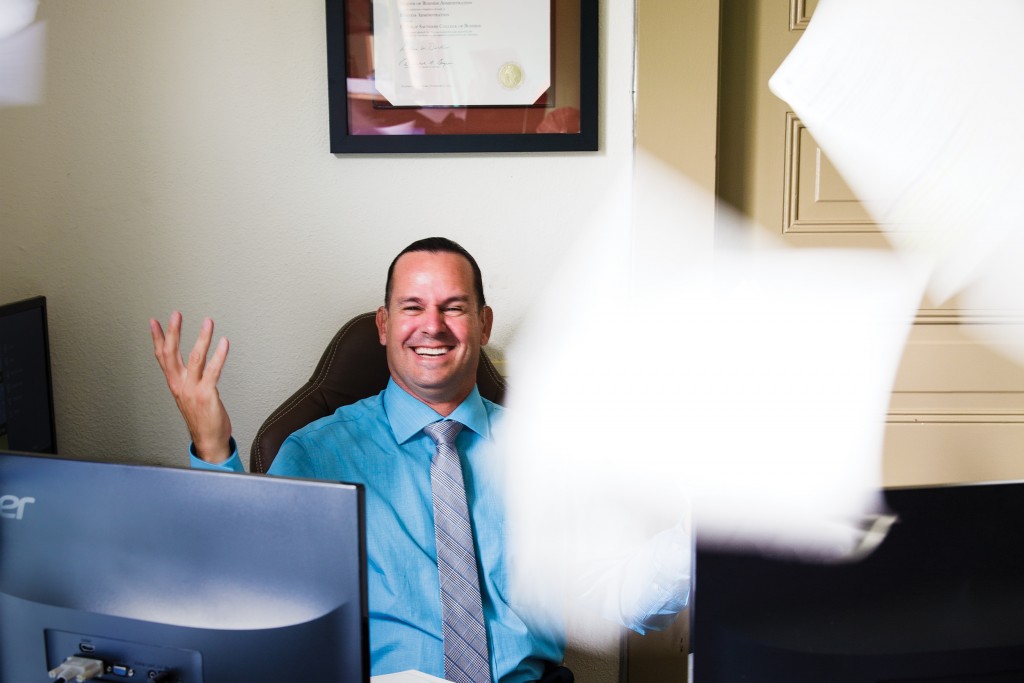 The financial services company uses technology, American Sign Language and lip reading to serve both hearing and nonhearing clients
Joshua Beal was born deaf.
"It was very isolating. I always felt different as a child growing up," recalls the owner and founder of DeafTax.com, a tax preparation and financial services firm serving both deaf and hearing clients. "It is a disability, but it's not an insurmountable challenge.
"I lip-read and rely on hearing aids to communicate with hearing people. With others who are deaf, I communicate in American Sign Language (ASL).
"I communicate with my clients using text, email and the video relay service (VRS) – which allows me to call hearing people using an ASL interpreter, and to call deaf people face-to-face over video."
Beal, 44, grew up in Santa Rosa, California, but moved to Pearl City when he was 13 after his mother remarried. "I fell in love with surfing. My mother would bring me to Waikiki Beach every weekend, and I would surf all day."
Beal finished high school in Santa Rosa, but returned to UH Manoa to get his bachelor's degree in economics in 2003. He received an MBA in entrepreneurship from the Rochester Institute of Technology in New York, then "moved to Washington, D.C., to pursue a professional career in the 'deaf hub' of the U.S. It was always my intent to return to Hawaii after building up my career."
While in the D.C. area, Beal worked for Schwarz Financial Services, the oldest deaf-owned tax preparation firm in the U.S. While there, he noticed some clients had moved and were mailing in their tax paperwork. Rather than continuing to use hard copies and the postal mail, Beal chose to capitalize on VRS and the growth of the internet by launching a new brand in 2007 under Schwarz Financial: DeafTax.com.
"Once Facebook became a part of everyday life, DeafTax exploded," Beal says excitedly. "We've grown over 50 percent a year since 2012!"
When owner Louis Schwarz retired in 2016, Beal and Charles Sterling, another Rochester Institute of Technology graduate, bought the firm. Beal is the managing partner of Schwarz Financial and the owner of DeafTax.
Sterling runs the D.C. office near Gallaudet University, a center for the deaf and hard-of-hearing. In 2010, Beal moved back to Hawaii and heads the Honolulu office in Chinatown. The office has one permanent part-time office manager and about four part-time staff during tax season, according to Beal.
"Since Mr. Schwarz retired in 2016, we have been focused on three lines of business: investments, tax preparation and bookkeeping services," the Punchbowl resident explains. "Charles and I work closely on every aspect of our business. He is the numbers guy, while I do the marketing, business development and drive the business operations.
"We currently manage $15 million in assets through Schwarz Financial, and have two options for investment clients: full advisory services and self-directed a la carte services.
"Meanwhile, we have been growing the bookkeeping division, with about 10 new clients in the past year. Our brand has become well-recognized, so people are contacting us year-round for tax filing – including back taxes, filing amended returns or seeking advice on tax planning."
DeafTax was the only deaf-owned company in Hawaii to be selected for a recent equity investment from Communication Service for the Deaf's Social Venture Fund, a fund that the Texas-based nonprofit uses to sponsor initiatives for the deaf.
"With the SVF investment, we are anticipating the spinoff of DeafTax as a separate entity," says Beal. "I feel I can create more value with DeafTax as a stand-alone company. We certainly will be serving more deaf people than ever before, and that means employing more deaf people – not just for preparing tax returns, but for marketing and outreach."
Beal says DeafTax serves clients in 44 states from both offices, but generally directs customers east of the Mississippi to the D.C. office, and those west to the Honolulu office.
"Our niche is the deaf community, but there are a lot of hearing people in that community – family members and sign language interpreters. There are about 20,000 professional interpreters in the deaf community in the U.S., and a majority of them are self-employed as freelance interpreters, so one of my specialties is helping them with Schedule C filing. Many of my hearing clients are business owners or self-employed contractors who are working in the deaf community.
"Others like our service because they can just take photos or scan their tax paperwork, email it to us and have their taxes done without ever coming into the office. Additionally, they like the follow-up service, such as replying to questions or getting copies over email. It's always been our practice to reply to emails within 24 hours or less."
DeafTax went through hard times during the Great Recession, Beal says, with his income cut in half. "There was a long period of month-to-month income, and I even took on part-time jobs locally to support my family – working at AccesSurf and at Gate Gourmet. We became self-sufficient in 2013, but before then were relying on a paycheck from investments."
Now, "We have a strong social media presence, with a majority of our traffic coming from Facebook. The emphasis on ASL communication is what drives new clients to reach out to us."
Alex Utal, 36, owner of Used Surfboards Hawaii, has been a DeafTax client since 2013, although he is not deaf.
"Josh has been doing my income taxes for a few years, and just last year he started to do my bookkeeping – getting me caught up on all my books so they're correct.
"He started me out at a really good price. He's very accommodating to small businesses, and our two businesses have actually grown together.
"He's very prompt at getting back to me and following up. I've already recommended several of my friends to DeafTax."
DeafTax.com
9 N. Pauahi St., #320, Honolulu
829-3616
---
Each month, LocalKineBiz tells the story behind a Hawaii small business.
If you know a business we should cover, email localkinebiz@gmail.com.