How to Install Order on a Messy Workplace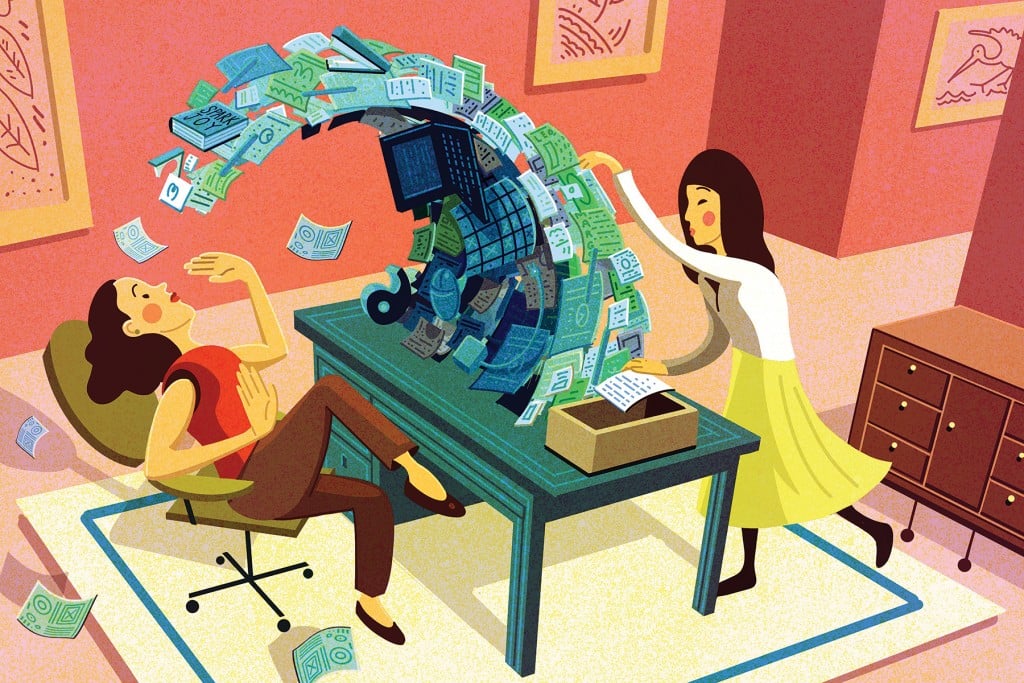 Q: After bingeing on that TV show, "Tidying Up With Marie Kondo," my husband and I got our home a lot more organized. I still have a mental block, though, when it comes to my desk. The word mayhem may be too subtle. What is wrong with me and how can I get motivated to clean this up?
A: When an avalanche probe is routine office equipment, it's time to act. I sought advice from Ellyn Sollars, who specializes in organizing home and business offices through her O'ahu company, Declutter 2 Design Inc. (declutter2design.com). She says a neat desk will optimize workflow, helping you "increase productivity, reduce stress, heighten profitability and overcome procrastination."
Sollars guesses your biggest problem is paper, because that's the bugaboo she sees time and time again. Especially in an era when many people use home offices, the personal and professional whirl into a fluttery mess, with medical insurance statements in the same heap as expense reports, and a school flyer covering the spreadsheet you prepared for a client.
Fix the inertia by addressing the horizontal accumulation. "Piles of paper that are lying down on top of each other are asleep. No one wants to go through those, and soon, it's overwhelming." The solution? Rouse them into an upright position. "You want to put them vertically in a manila folder that is clearly labeled."
When Sollars works with clients, she uses a FATS system – file, action, trash or shred – to quickly dig out from the paper drifts. Then she sets up a filing system with subcategories. Keep in mind, though, that only 20 percent of what is filed ever gets looked at again, so purge aggressively. (One caveat: Talk to an attorney and/or tax consultant about what you need to keep forever, such as patents, licenses and articles of incorporation.) Once the heap has been handled, create a small file holder on your desk for action items and use a bigger file cabinet for everything else.
The filing system for electronic documents should mirror the way paper is organized, and Sollars recommends you sort, file and purge electronic information regularly. Once you're done with your FATS project, the only thing that remains on the physical desktop is what you actually need for a day's work. Remember Sollars' advice: "File it, don't pile it."
Q: I want to get more press for my small business. I've been mulling over getting a public relations person to help on a monthly retainer and have a proposal from someone, but I'm wondering, since you're a journalist, do you have any advice?
A: Yes, yes, I do. And I've been hoping someone would ask, because I've been doing this long enough to see patterns.
One, take a hard look at your website. If the URL leads to a simple but decent looking website, that is fine if that is all you can consistently maintain. A message saying the domain is expired is not fine. Most media outlets want to link mentions of a company to a website, as a service to their readers. URLs pointing to a defunct site, or companies that are only on Facebook, might quickly be skimmed over in favor of a competitor with a more polished appearance.
Next, ensure a media contact is clearly stated on the website, with the person's name, email and phone number. General "Contact Us" forms slow down messages from getting to the right person, and hearing back from someone two weeks after contact doesn't usually help a writer on deadline. If your team is larger, create an "About Us" box detailing who's who, what they do and how to reach them.
Is the "News" section on your website, and your social media overall, reasonably up to date? Or does one see an event invitation from 2017 and three lonely blog entries from 2015? Try to update more frequently to share what timely and exciting things are happening with your business.
Lastly, maintain a small library of high-quality images, including photos of key staff as well as product shots (ideally, product shots, both with the product alone on a white background and in a lifestyle setting). That's 300 dpi for print outlets, 72 dpi for web, and the bigger the better in terms of inches across. These, you can plop into Dropbox or another file-sharing service when you're contacted by the media. A good PR freelancer or firm should help with all of this, and with creating press releases. But even if you don't hire someone, I hope my tips will help you attract more press coverage.
Q: I'm putting together my training budget for the fall and wondering if it's worth spending money on e-learning? Will my employees actually learn anything?   
A: Online learning can save money because a company won't incur travel costs. The fees for instructors and materials tend to be lower. Training programs usually have ways of reporting back to you how the employees performed, so you can measure results. But are workers really soaking up new skills? That's more of a maybe.
A study out of Kent State University in Ohio suggests that when people take a course online, they multitask more often than they do when in a face-to-face class. Professor Andrew Lepp's research focused on college students; he found that they were likely to be texting, using social networking apps, emailing and surfing the internet while supposedly attending to their online coursework.
When asked how this research might apply to workplace learning, Lepp had some suggestions. "Tap into the employee's intrinsic motivation. The more interested they are in the online content, the more engaged they will be, so give them the choice of what type of online training to participate in as opposed to choosing for them." Financial incentives can also come into play. "Are there pay raises or bonuses that come with X amount of continued education?" And consider location: Lepp notes that if training is done from an employee's desk, "There are increased opportunities to multitask and the temptation to address the daily work routine." Maybe training can be sequestered in a conference room, with plenty of good coffee and malassadas. As Homer Simpson says, "MMMMmmmm. Doughnuts."
Ask the careerist
Have a question about work, life and that place in the middle where it all gets tangled up?
Ask me at: feedback@hawaiibusiness.com