Gay Business Leaders Welcome Hawaii's Nondiscriminatory Attitudes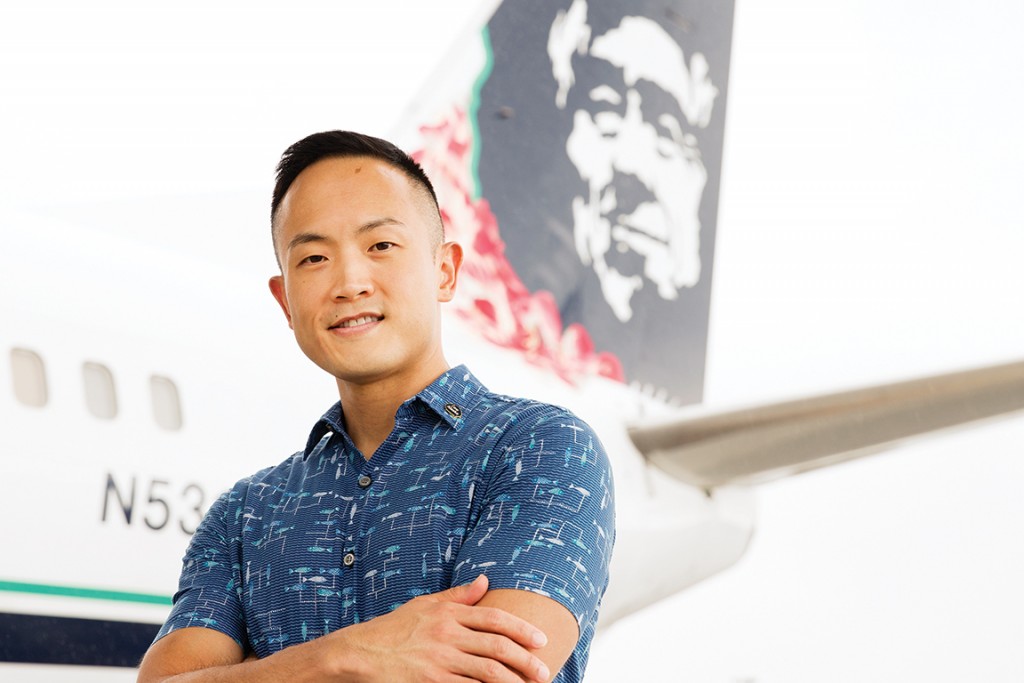 "What I have been doing most of my adult life and professional life is being very open and honest," says Daniel Chun, one of Hawaii's openly gay business leaders. "If it's weird to me, and if I make it weird, then it's going to be weird for other people. I try to normalize it in my life.
"A lot of people see me and, when I introduce my partner, it's very matter-of-fact. There are very few people now who do a double take. They accept that, just as if I was heterosexual."
Chun is part of a local, national and global trend of gay business leaders publicly discussing their sexual orientation, a trend that may have been accelerated by the Supreme Court's ruling on June 26 legalizing same-sex marriage.
"We talk about the 'gay dollar,' and there's a choice for where we spend our money. Specifically we want to support those companies who support us."

— Daniel Chun, Regional manager of sales and community marketing, Alaska Airlines
Chun is the local face of Alaska Airlines, a major carrier in and out of Hawaii. Before becoming Alaska's regional manager of sales and community marketing, he spent 10 years in Hawaii's tourism industry, including seven as executive assistant to the tourism liaison in Gov. Linda Lingle's administration.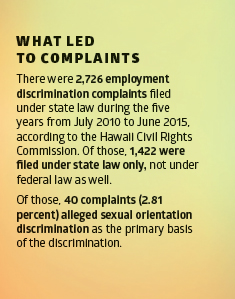 Chun is not the only local gay business leader who doesn't hide his sexual orientation, but he feels he may still be in a minority.
"There are others who don't feel the same way I do, or still feel they can't come out," he says. "It's either family reasons, or their industry, or their immediate co-workers. They might be feeling that pressure. It's up to us who are out and comfortable and open, those of us who were raised in the community, to show that this is a very normal thing."
A year ago, Apple Inc. CEO Tim Cook announced he is "proud to be gay." In his Oct. 30 essay in BloombergBusiness magazine, Cook wrote:
"For years, I've been open with many people about my sexual orientation. Plenty of colleagues at Apple know I'm gay, and it doesn't seem to make a difference in the way they treat me. Of course, I've had the good fortune to work at a company that loves creativity and innovation and knows it can only flourish when you embrace people's differences. Not everyone is so lucky.
None of the five gay Hawaii business executives we interviewed say they have suffered discrimination in their business dealings in the Islands. Four were willing to be quoted publicly; one asked to remain anonymous.
Jack Law, an openly gay business leader for more than four decades, says that, while there have been some acts of hatred directed at Hula's, the gay bar and nightclub he's run since 1974, he has never felt any overt business discrimination.
"Maybe I'm living in an Alice in Wonderland world," says Law, "but there wasn't a time when I ever felt, 'They're discriminating against me because I'm gay.' I don't think I was ever singled out negatively (in dealings with) the Liquor Commission or the Department of Health or the Fire Department or anything."
But Law quickly adds a caveat: "My business partner until about five years ago was Eaton 'Bobby' Magoon, so I think just the idea of having a business partner from an old Hawaiian kamaaina family might have had something to do with it. If I had been just some haole guy who started this, it might not have been so easy."
Media executive Joe Bock, who came to Hawaii in 2006 as a marketer with go! airline, says he has found nothing but a supportive business climate and considers Hawaii progressive and "ahead of the curve" nationally because of 2013's passage of the Hawaii Marriage Equality Act.
"I've always felt very welcomed in Hawaii and, especially, the business community," says Bock, COO of Nella Media Group, which publishes 10 tourist-oriented magazines. "If anything, the Supreme Court has just normalized across the country what Hawaii was already experiencing. I've never felt any sort of discrimination. Maybe I'm oblivious, but I feel very fortunate.
"While I have never denied my sexuality, I haven't publicly acknowledged it either, until now. So let me be clear: I'm proud to be gay. And I consider being gay among the greatest gifts God has given me."
"If anything, the Supreme Court has just normalized across the country what Hawaii was already experiencing. I've never felt any sort of discrimination."

— Joe Bock, COO, Nella Media Group
"I have not witnessed any blatant discrimination against gay business owners, but again it could happen behind closed doors. Someone may not get a job contract and they may not know why," Bock says. "But I have not experienced it myself and that gives me hope and appreciation for the business environment we have here."
Feeling comfortable and fortunate is something Cook, Law, Bock and Chun all share. In fact, Chun remembers how comfortable he felt during his Seattle interview with Alaska Airlines as he was asked back for a second day.
"I only brought one pair of clothes, so they said, 'Just wear the same thing you wore today and come meet with our senior VP.' I told them, 'I'm gay, but not so gay that I need to go and buy another outfit,' " laughs Chun.
It was an off-the-cuff joke, he remembers, but something he felt entirely comfortable saying. And when Alaska Airlines announced his hiring, the press release mentioned his work as a board member of the Honolulu Gay and Lesbian Cultural Foundation, which plans the annual Rainbow Film Festival.
"I found it interesting they put that in and wanted to put that in," says Chun. "I thought great, that's fine."
As comfortable as his public role has been, Chun recognizes it's not the same for everyone and that Hawaii's social landscape on this issue remains uneven. Some leaders feel comfortable sharing their personal lives with trusted colleagues and business groups, but not more publicly.
The Honolulu executive who asked that his name not be disclosed says he did so not out of a concern about his public image, but from a lifetime of anxiety during decades of societal homophobia.
"I remember in 1998, in Wyoming, where I was going to college," he says, "there was a horrible incident where two guys brutally beat to death a man named Matthew Shepard. It was a gay hate crime, and I thought, 'Oh my God, is this the world we live in?' "
While the case has since been seen as more nuanced, at the time it was a national rallying cry against anti-gay bigotry and focused intense scrutiny on hate-crime legislation. But it was 11 years before the federal government enacted the Matthew Shepard Act, which expanded the 1969 federal hate-crime law to include crimes motivated by a victim's actual or perceived sexual orientation, gender identity or disability.
Attitudes toward gays and lesbians have changed slowly and unevenly over the decades in America – both overall and in business communities. For instance, many companies have long had workplace policies that prohibit discrimination based on sexual orientation; similarly, some companies offered the equivalent of spousal benefits to same-sex partners long before gay marriage was legalized. Other companies, either with more traditional leadership or worried about public perceptions, have not been as welcoming to gay employees and leaders. In Hawaii, add to that our often conservative overlay of Asian culture. And local companies that have clients from Asian nations may fear a blacklash in those places, where openly gay people are generally less accepted by businesses and society than in America.
Sumner La Croix, a professor and research fellow in the Economics Department at UH Manoa, says no studies have been done in Hawaii about discrimination around the sexual identity of business leaders. And, he says, it's difficult to get a fix on just what the social landscape is now.
Hawaii has many prominent openly gay professionals in academia, politics and law, but La Croix feels it may be less common in business. When you look at nationwide studies, says La Croix, "it's about dealing (with the culture) inside the firm. People are worried about their own careers. But here in Hawaii there are some firms that are very progressive. I did a study on civil unions a few years ago and even before civil unions were legal, many (companies) had benefits for domestic partners."
In Hawaii, one of those supportive firms is Starwood Hotels, which has had partner benefits for 15 to 20 years, says Sheraton Waikiki GM Kelly Sanders. The Sheraton Waikiki is a member of the Starwood group.
For Sanders, who is also openly gay, there has never been an issue about his sexual orientation in his long career in the hospitality industry.
"As an issue, I don't think it's as relevant today as it was in the past," says Sanders, who grew up in a loving and supportive Idaho family and has been out since childhood. "I've never had an issue with it. I never hid the fact that I was a gay man, but I also don't flaunt it. It's just a part of who I am. … I have confidence in my job and what I do. I don't think I've ever had an instance where someone said, 'Oh my God.' "
Sanders believes Hawaii offers a "comfort zone" for gay individuals. "Part of the aloha spirit and culture here is about opening our arms and welcoming cultures from all over the world. Not that being gay is a culture, but there's just not a stigma attached to it."
"As an issue, I don't think it's as relevant today as it was in the past. I've never had an issue with it. I never hid the fact that I was a gay man, but I also don't flaunt it."

— Kelly Sanders, GM, Sheraton Waikiki
International business leaders who have come out say it's been good for business to be frank and forthcoming about personal identity. Lord John Browne, former CEO of Britain's oil giant, BP Group, who was outed in 2007 by a boyfriend, lost his job – not because of his sexuality but because he lied in a court document. In his subsequent book, "The Glass Closet: Why Coming Out Is Good Business," Browne interviewed 100 openly gay leaders in business, politics, sports and the arts.
"I … wanted to give people confidence by talking about role models, which are so important in life; stories about people who have come out successfully," Browne said in an interview with Forbes. "And I wanted to write a letter to all of those CEOs (of Fortune 500 companies), all of whom are straight, apparently straight, about the importance of letting people be themselves at work."
Even Exxon, ranked for years as the worst global company for sexual-identity policies by the Human Rights Campaign, this year added sexual orientation and gender identity to its anti-discrimination policy after years of resistance. The company also supported employees marching in the LGBT Pride Celebration parade in Houston for the first time, and has begun reaching out to recruit at job fair events for the LGBT community.
The growing wave of social and legal acceptance gratifies Chun. For the first time in his life, he thinks he may someday marry, a concept that had never before seemed like a possibility.
"Knowing this is the law of the land says our government acknowledges it, and our society is moving more and more toward accepting it."
Human Rights Campaign is the largest nonprofit advocating equality for LGBT individuals, with 1.5 million members and supporters nationwide. HRC publishes an annual Corporate Equality Index that rates companies on their policies supporting LGBT rights.
"This national organization for LGBT rights is the gold standard," says Chun. "It rates most airlines 100 percent. American Airlines was the first, then Delta, United and Alaska. We talk about the 'gay dollar,' and there's a choice for where we spend our money. Specifically we want to support those companies who support us."
The 2015 HRC report lists 366 major businesses that earned a top score of 100 percent and the distinction of being a "Best Place to Work for LGBT Equality." But HRC illustrates that laws protecting job applicants and employees against discrimination for sexual orientation or gender-identity are not ubiquitous: 29 states do not have legal protection for discrimination against sexual orientation and 34 states do not have formal laws against gender identity discrimination.
In Hawaii, state law provides that "no person shall be denied the enjoyment of civil rights or be discriminated against in the exercise thereof because of race, religion, sex (including gender identity and gender expression) or ancestry."
Attorney William Hoshijo, executive director of the Hawaii Civil Rights Commission, which investigates 550 to 600 discrimination complaints annually, says just a tiny percentage involves discrimination based on sexual orientation or gender identity or expression.
"I'd like to think the low number of complaints reflects progress and change in culture," says Hoshijo. "And I certainly think there's been improvement over time due to advocacy, education and legal protections. But I also think there's a generational change. As younger generations of managers and workers come into the workforce, it's not as big an issue."
Hoshijo says the relatively small number of complaints in Hawaii suggest "we're moving forward." However, there could be other reasons people don't come forward with complaints, he says. "I think we have to be realistic. Small numbers don't mean that discrimination doesn't exist."
Attorney David Brustein, a co-founder of the Life Foundation, which supports people living with HIV and AIDS, as well as vice-chair of the board of directors of the Hawaii LGBT Legacy Foundation, is a well-known litigator in discrimination cases involving sexual and gender identity. He has won many victories in employment-discrimination cases over the years.
"Back in the 1990s, we were seeing a lot more discrimination claims," says Brustein. "There was a lot of fear in the community, a lot of ignorance about people's sexuality over issues like HIV and AIDS. At the same time, there was a Kuhio District in Waikiki with a thriving gay community that had a nucleus to it, but there was also a lot of discrimination outside of the district."
Much has dramatically changed over the past 25 years, says Brustein. "Public opinion on gay issues and same-sex marriage has turned. And although things have tapered off over the years and we see less and less discrimination claims, we're not completely there yet. There was some horrific testimony given at the Legislature a few years ago during the same-sex marriage bill hearings. You saw a side of the extreme minority in Hawaii that generally we don't experience. People are entitled to their beliefs and feelings, but not at the expense of other peoples' rights and choices in life."
"Public opinion on gay issues and same sex marriage has turned. And although things have tapered off over the years and we see less and less discrimination claims, we're not completely there yet."

— David Brustein, Attorney and vice-chair,
board of directors at the Hawaii LGBT Legacy Foundation"
Brustein feels there's still an undercurrent of opposition in Hawaii. "It's a small minority of people that still needs to be educated," he says.
That minority may make some people fearful of revealing themselves publicly. Some gay executives choose not to speak publicly about their sexual orientation, but are open about it within their own workplaces.
"All of my employees and colleagues know," says the unnamed executive quoted earlier in this story. "All know my partner. And if people do have an issue with it, when you're the boss, they don't say anything." Even if some clients privately disapprove, he says, "I have never run into anyone who was outwardly negative or refused to do business with us."
He is very active in the overall community and involved in charitable causes. "I think people see you as your contributions to business or charity way before they see you for your sexual identity," he says. "There are times when their personal viewpoints will be more conservative than mine, but that's never been a problem."
In fact, he says, one prominent business colleague told him he was the first gay man he'd ever met, and he was glad to get to know him. Acknowledging the challenges being gay must have created for him, his colleague spoke with deep emotion when he said: "I really wish the world was different."
---
Niche Market
LGBT tourism market is a big opportunity
for Hawaii, business leaders say
Joe Bock has jumped on an opportunity that he says others, including the state of Hawaii, have been missing. A year ago, he launched "Lei" magazine, designed for the LGBT community, but intended for others to also read.
"It was to incentivize and attract gay travelers to come to Hawaii," says Bock, COO of Nella Media Group, which focuses on tourist publications.
"Distribution is primarily on the mainland and we target cities with direct flights to Hawaii. We buy a list with LGBT households and mail them a free copy every year. Total distribution is 70,000."
One of the ad spreads, says Bock, was from the Hawaii Tourism Authority and the Hawaii Visitors and Convention Bureau. "There was an ad from the bureau and letters both from the governor and from the head of HTA. We're happy to have their support and showcase it prominently in the book. It adds legitimacy to the message for the state to support it."
Daniel Chun of Alaska Airlines agrees it's a market ready to be tapped, and his airline is also doing that. "We have a gay travel website," says Chun. "It's Alaskaair.com/gaytravel. Just in the last year or so we hired an agency to really invigorate the site and launched new creatives for the LGBT market this past year. The airline industry in general has been fairly supportive of the LGBT market."
But this support wasn't always the case, says Jack Law, a long-time openly gay Hawaii businessman.
"As far as being a business that is represented by the HTA or HVCB, I think we have been woefully ignored. At least our segment of the market, when you compare us with a lot of other LGBT destinations," says Law. "You can open up any LGBT travel periodical and see that there is a lot of advertising done by the quasi-government authorities for different destinations. I have personally approached the HVBC and HTA and said, 'Hey why don't you throw some advertising dollars toward this market? They all said, 'Oh, yes, that's a good idea,' but nothing ever happened.
"One of the things I'd always got from whoever I talked to was that we don't market to a niche market, which, of course, isn't true. There are many niche markets that the state of Hawaii markets to, such as weddings, honeymoons, golf. I always felt they thought if they marketed to the LGBT market it would hurt the brand. But Hawaii is still a wonderful wedding destination for everybody, and that goes for same-sex couples."
While Bock is grateful for the state's support of Lei magazine, he adds, "I think there's a lot more we can do."
That includes building up events like the Pride Festival that attract the LGBT community. This past year, the festival involved a week of events including parties that weren't just for the gay community, says Bock.
Bock notes that same-sex couples often have more disposable income than heterosexual couples. "It's a huge market," he points out, "and has lots of potential for Hawaii."