South Kona Store Is Durable, Like Its Fabrics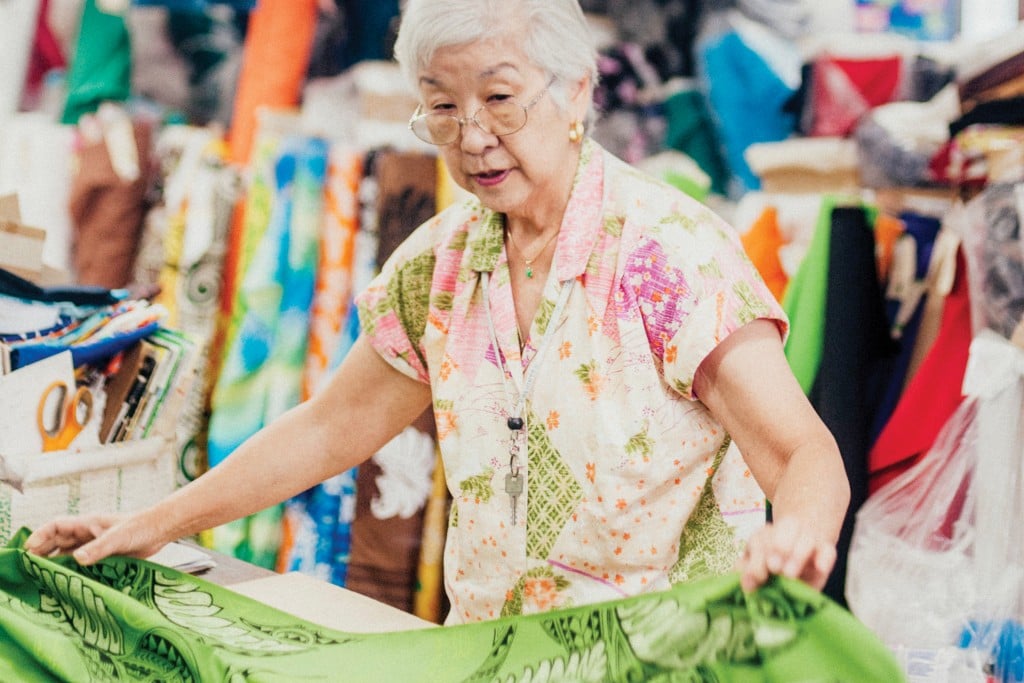 Brian Kimura
sees an unfortunate trend in the sewing industry.
"With all the discount stores coming here," he says, "they're bringing in so much cheap clothing. Before, it was cheaper for people to sew their own outfits for the kids. But now that it's so cheap to buy, they just throw them away after they outgrow the clothes.
"And young people don't even know how to sew. Many schools don't teach home economics anymore."
Yet H. Kimura Inc., Brian's 91-year-old family fabric store in the quaint South Kona town of Kainaliu, sees a steady stream of older clients who have time now to take up crafts or return to the sewing or quilting they once knew.
"We have a lot of repeat customers," Brian notes. "Many are 'snowbirds' during the winter months from Canada, Europe, Australia or the Mainland. They have timeshare condos here and fix them up, or have quilting projects and come to buy fabric from us. About 90 percent of our customers are return visitors."
Brian, 63, is VP of the corporation, and his sister, Winnie, 72, is president. Brian has an MBA from Creighton University in Omaha, Nebraska, and worked as an accountant in Kona. Winnie was a teacher at Kealakehe Elementary School for about 15 years.
They have four part-time workers who help run the 5,000-square-foot store – two in their 60s, a "young one" in her 30s, and one who is 85 "and really knows her stuff. She's been with the company at least 20 years," Brian says.
H. Kimura's has been recognized by the Kona Historical Society as a historical "heritage store." It was founded by Brian and Winnie's grandfather, Kinshichi Kimura, who came to Hawaii from Japan in 1896. "He started it as a general merchandise store in 1926," Brian recounts. "We used to sell groceries and hardware. Then my parents, Hisashi and Irene Kimura, took it over in 1939 after my grandmother got sick and my grandfather moved back to Japan.
"My mom was a former dressmaker, so she started to bring in fabrics in the late '50s. We'd still have the groceries and general merchandise, but my mom – who was a self-taught seamstress – would bring in more of the sewing items. It wasn't until the '70s that we really started to specialize in fabrics.
"But we still sell hardware, slippers, rubber boots, Japanese sashimi knives, and we were one of the first stores on the island to sell Shiseido cosmetics."
After college in the late '70s, Brian continued to work part-time at the store with his parents. Then, around 2000, he and Winnie took over day-to-day operations. Their parents passed away a few years later.
The humble business has gained an islandwide reputation among the sewing and quilting community as the go-to store for all sorts of fabrics and crafts. And stories have been written about it in national quilting and sewing magazines.
"We have a very diverse product line," Brian says. "I think we've got one of the largest selections in the state. In addition to fabrics for clothing and quilting, we carry upholstery fabrics, materials for curtains, bridal fabrics, Hawaiian and Japanese prints, silks, burlap, velvet, batiks, Pellon, sewing notions and batting, to name just a few."
In fact, fabric and sewing wholesalers now come in person to Hawaii Island several times a year to promote their products; in the past, Winnie and her mother would go on regular buying trips to California or Las Vegas.
The company is lucky to own both the store and the land under it, which helped it weather economic downturns. "But it's slowly picking up," says Brian. "Our boom years were in the '90s, when there were more people sewing.
"Our busy times are from September to April. Summers are slower because that's when people go on vacation."
How does the small family-run business compete with other retailers?
"We try to determine what the customers want," Brian notes. "We try to keep our prices down, even with the minimum wage increase. And we try to order quality stuff, with a selection for everyone.
"Customers come from other islands to buy our fabrics. Even though we may order a product from Oahu, each store is going to make its own choice, so we may have something you can't find in Honolulu."
Although the third-generation company doesn't yet have an internet or social media presence, it does advertise in the Hawaii Drive Guide magazine and on Big Island TV.
Most of its customers come via word-of-mouth, according to Brian, "but maybe we should look at different ways to get the word out, because even some people from the other side of the island say they didn't know we had been here for so long."
Ellen Crocker, 65, is an artist and teacher from Captain Cook who's been shopping at H. Kimura's for more than 40 years.
"I have purchased their Kona Cottons for Hawaiian quilting and many other fabrics for clothing and for art," she says.
"I like the history, the people, their choices of fabrics, the ohia logs in the front of the store, the country feeling and the small-town store with soooooo much to choose from."
Although no relatives are interested in taking over the business, Brian says, he and Winnie will try to keep it going for as long as possible.
"We'll make 100 years in 2026. We really appreciate all our parents did and are just trying to continue their legacy." 
---
H.Kimura Inc.
79-7408 Mamalahoa Highway
Kainaliu, Hawaii Island
(808) 322-3771