E-Commerce is the Present and Future for Hawai'i Retailers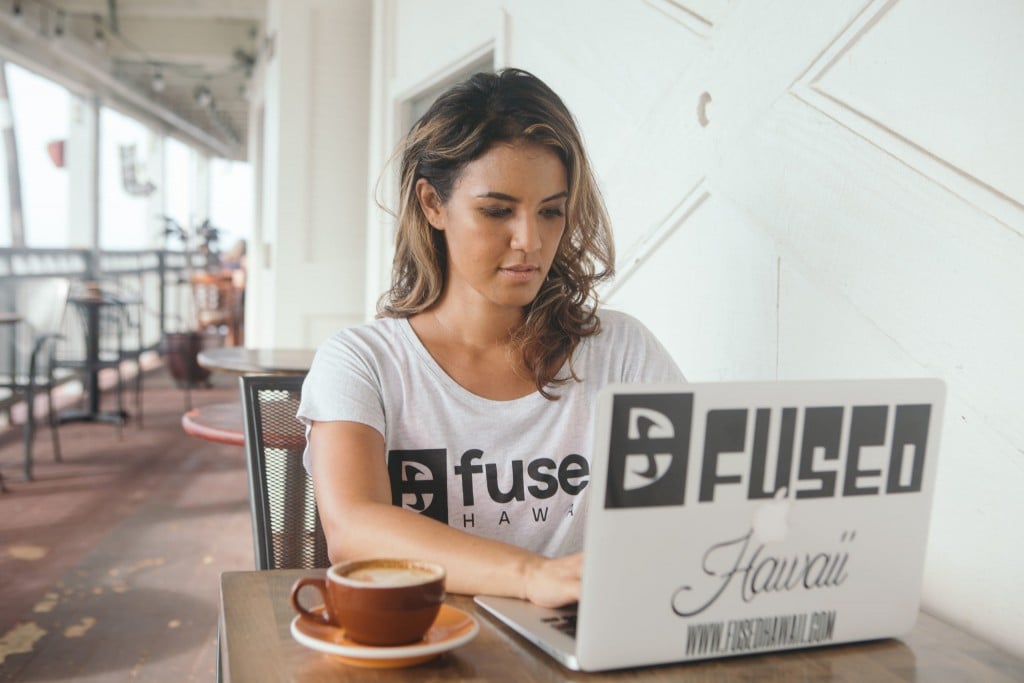 Learn how to e-sell from these local entrepreneurs and how your website can drive sales at your brick-and-mortar. First of two parts.
"There's no denying the trend toward digital commerce," according to Evan Killips, project manager at City Mill.
"It's not going to move 100% to e-commerce and it's undeniable that brick-and-mortar retail has a place in the future, but local brands need to understand that their customers also want to engage with them online and not just in stores," Killips writes in an email to Hawaii Business Magazine.
Many retailers see how important e-commerce has been during the coronavirus pandemic. As their bricks-and-mortar shut down, many retailers strengthened their social media and online advertising and added products to their websites.
"We're seeing a lot of the companies who haven't had digital really focusing on that now and seeing that as, 'How do you future-proof your business?' and seeing that as a strategy not only during this time but in the future," says Meli James, co-founder of the Mana Up accelerator program for local companies making consumer packaged goods.
Before COVID-19, global e-commerce sales were projected to increase from $1.3 trillion in 2014 to $4.9 trillion in 2021, according to Statista. Contributing factors include the growing use of voice assistants like Amazon's Alexa and Google Assistant, the use of augmented reality and artificial intelligence to enhance online shopping experiences via customers' computers and phones, and more payment options, writes Dave Erdman, president and CEO of PacRim Marketing Group and PRTech, and his colleagues in an email.
In Hawaii Business Magazine's latest BOSS Mini Survey of 88 local retail executives, 52 said they have a website that sells products. Sixteen of those businesses said Internet sales made up at least a significant portion of their businesses.
A couple of concerns stand in the way of retailers transitioning to e-commerce, says Tina Yamaki, president of the Retail Merchants of Hawaii. One is the worry that customers will only shop online and won't visit the brick-and-mortar anymore. Another is that retailers wanting to go online need websites that can handle customer traffic, plus the staff and inventory to fill those orders, and a digital marketing strategy.
Retailers only get one chance to make a good first impression, she says: "You have to be cognizant of who your customers are and customer service even when you are online." Many business owners interviewed for this story emphasized the importance of customer connection, authenticity and storytelling in running successful e-commerce businesses.
Here's how some local companies are selling online:
Roxelle Cho, founder of Big Island swimwear brand Fused Hawaii, used to have a retail store but found it was too difficult to maintain because she didn't have a large enough audience. So she went online.
"That was about three or four years ago. … I didn't know nothing back then about online business, but that was kind of my only way to survive," she says.
Today, she has a multiple seven-figure e-commerce business with over 250,000 email subscribers, a Facebook page with more than 57,000 followers and a private Facebook group with nearly 64,000 members. Cho says her revenue has more than doubled every year and that growth is still on track, even during the coronavirus.
Facebook advertisements, she says, have been vital to her business's success, though she's quick with a caveat: A business needs to build an audience, determine the type of brand experience it wants to provide and develop its brand message before launching ads.
"At every point when you're launching an ad or jumping onto advertising, what is your customer seeing on the other end? How are they feeling? Are they getting your message? And do you even know your message before you launch an advertisement?"
Connecting with a customer online is different than in a brick-and-mortar. Business owners can't look customers in the eye or strike up conversations at the register about who the customers are and how products are impacting them. Cho launched her private Facebook group, called Empowered by Fused Hawaii, to get to know the people who were buying her products and to build on Fused Hawaii's brand message of inspiring women to live confidently.
She hosted a private concert in the Facebook group with local performers Kimie Miner and Anuhea at the end of April to provide an experience and share the aloha spirit with her customers.
"If that's the one thing that I can provide to my customers, that's going to be a brand memory with them," she says, adding that customers will remember how businesses made them feel.
Cho also held a shopping party in her private Facebook group at the end of March, with products from some of the other companies that have participated in the Mana Up accelerator program. (Fused Hawaii was in the third cohort.) The aim was to encourage members to engage with one another and help other local business owners struggling during the coronavirus. That event also allowed her to see what other brands her customers like – and she continues to sell those brands on fusedhawaii.com.
Sheldon Cho, marketing director of Kaimana Jerky and owner of Snack Hawaii, says every local brand should have an e-commerce platform. (He is married to Fused Hawaii founder Roxelle Cho.)
"It's kind of a turnoff almost when there's a brand that perhaps you grew up eating, or like a well-known local brand, that has a terrible website," Sheldon Cho says.
Kaimana Jerky, which was founded by his parents in the 1980s, and Snack Hawaii sell their products online through their individual websites, wholesale contracts and Amazon. Like Roxelle Cho's Fused Hawaii, the companies have no physical store. Products sold through Amazon are shipped to online retailer's fulfillment centers around the U.S., and the businesses get paid shortly after making a sale.
Sheldon Cho says it's helpful to have more than one sales channel to reach customers. Some customers prefer to purchase from Amazon because they'll get their orders faster, and Amazon has already built customer loyalty by delivering items quickly and efficiently. The bad side, he says, is that customers associate those purchases with Amazon, not his businesses.
Online sales have grown for both of his businesses over the last three years, Sheldon Cho says. Part of that growth is attributed to the use of Facebook, Instagram and Google advertisements to target online shoppers who live on the Mainland, such as former kama'āina looking for local snacks or visitors who want to buy products they've tried in the past.
The Facebook ads, in particular, have helped the businesses grow their email lists to the point where they already had a large enough customer base to support them during the coronavirus crisis.
"If we were to start doing all that stuff right now, it definitely wouldn't work," he says, adding that sales through snackhawaii.com, kaimanajerky.com and Amazon have doubled since the pandemic started.
Kelleigh Stewart and Brandon von Damitz launched Big Island Coffee Roasters in 2013 after spending three years learning how to grow, process and roast coffees on their Puna farm.
The business has no brick-and-mortar store and instead depends on sales made through its website, bigislandcoffeeroasters.com, and wholesale orders. About 70% to 80% of sales typically come from wholesale orders, but once the coronavirus hit, that number flatlined.
Thanks to a recently launched e-newsletter, direct orders on their website have made up for that drop and enabled the business to hire new team members. The newsletter focuses heavily on education, Stewart says, and begins with a 13-page guide on growing and brewing coffee at home.
"It launched just as (the COVID-19 crisis) hit, which was the perfect timing for people to learn how to do brew better at home," she says, adding that the entire series is about 10 to 12 emails long and comprises 10 years of questions that customers have asked her and her husband. Some examples include: "What's the difference between coffee growing in Kona vs Ka'ū?" and "What's worse: using a bad grinder or getting pre-ground coffee?"
The benefit of having a newsletter, she adds, is that the content is evergreen. The couple originally used Facebook and Instagram to educate and connect with their customers, but Stewart grew tired of repeatedly answering the same questions.
The newsletter also helps the company see how well it's engaging with customers. Stewart says open rate on the email newsletters used to be the key metric to determine how well they were performing. Now the focus is on click-through rates to see the number of users who are clicking on links in the newsletter.
Big Island Coffee Roasters currently has about 15,000 email subscribers, many of them in California, Hawai'i and New York. That number, Stewart says, is the result of several years of effort.
Demand for fabric has surged as people make cloth masks at home. During the pandemic, the longest customer wait time to get into a Fabric Mart store and make a purchase was seven hours, says owner Angie Kim.
"Anything in the sewing market is booming," she says.
Fabric Mart has four retail locations – in 'Aiea, Kāne'ohe, Honolulu and Kahului – and an online store, hawaiifabricmart.com, which made up about 20% of the business's sales before the coronavirus.
Fabric Mart has had an e-commerce site for 10 years – and that's where Kim's focus has been since local government mandates led her to temporarily close her traditional stores. In mid-April, the website was updated to accommodate more traffic and to help coordinate curbside pickup and in-store shopping appointments to comply with social distancing mandates. Online sales have since grown from 50 orders a day to a high of 700.
"We're constantly changing," Kim says.
With thousands of products listed on Fabric Mart's website, the number of people assigned to fulfill online orders has grown from two or three people to 10, Kim says. Online orders are filled at Fabric Mart's main store in 'Aiea and, because of the demand, it generally takes two weeks before orders are ready for pickup. Its Maui store is also open for phone orders and curbside pickup.
Most of Fabric Mart's customers are women in their 50s, 60s and older. Kim says it's important for her to understand who her customers are as she updates her website. About five years ago, she updated the website without keeping that in mind, and customers found the site so complicated the business lost revenue. Today, the website is simple to use.
While an online web store reaches a larger audience, Kim says, it makes her nervous to think that e-commerce is the future.
"We're so used to just focusing on our brick-and-mortar stores that it's going to be a change," she says, adding that she knows there's demand for local fabrics outside of Hawai'i. "I think that made me realize we need to share these designs with more people. It does make me nervous, like, 'What does that look like?' "
The latest iteration of City Mill's website launched in early 2019. Before that, the site mostly told customers about store locations, operating hours and current promotions, Killips, the company's project manager, writes in an email.
"Digital has completely transformed most businesses and industries because it has changed customer expectations," he writes. "Customers want to shop retail stores online before driving down to the store. Even if your business is something as hands-on as building a house or plumbing repair, customers are browsing your site to learn more before calling. Businesses need to evolve to meet these changing demands and stay relevant."
The entire team helped launch citymill.com, which, Killips writes, is a continuation of one of the company's core values of exceptional customer service. The goal is to have customers feel as valued online as they do in the stores.
Killips has been operating e-commerce businesses since 2015 but says launching citymill.com involved a different set of challenges than he was used to because of its scale and complexity. The three biggest challenges were gathering product content, rolling it out to the City Mill stores and adjusting the corporate mindset and processes to this new way of engaging customers.
"City Mill has over 30,000 SKUs," he writes, using retail jargon for individual products. "When we launched, there wasn't any central database anywhere in the nation where we could access ready-to-publish content. As a result, we've had to build our own database of images, specifications and product information. Our team has done a fantastic job at meeting this challenge. It's a never-ending battle because we're constantly bringing in new, exciting and innovative products."
While online sales have grown during COVID-19, especially for cleaning and sanitizing products, they make up a small but growing piece of the company's overall sales, Killips writes.
"We have a five-year road map of how we're going to improve citymill.com to continue meeting customer expectations," he writes. "Our current site is simply the first iteration, albeit a very important first step in the journey. The e-commerce landscape continues to evolve rapidly, and companies need to have the appetite and culture to continue evolving with it."
The Hawai'i Island bakery, store and restaurant saw a 250% increase in online sales for April compared to March, according to GM Connie Koi. On the surface, that may seem like unexpected success, but it was based on years of work.
The bake shop began selling online in 2003 shortly after it was taken over by aio, which is also the parent of Hawaii Business Magazine. In 2018, it began using email marketing company Mailchimp and now has a list with over 10,000 contacts, Koi says.
"We recognized the need for improvement for our e-commerce before the crisis. Since the summer of 2019, we have been investing and working with Upspring (a Honolulu-based digital and data consultancy also owned by aio) to enhance our online presence and experience."
One of its most popular in-person purchases are malasadas, so the company pivoted to selling DIY malasada kits online. "By shifting gears and selling them unprepared, they are penetrating a different market and are cutting out the majority of the expense in the finished product: personnel and electricity/gas," says Derek Gabriel, co-founder and owner of local tech company Ignite Solutions.
Being digitally capable and agile allows you to pivot quickly when your situation changes, or the world does, as it did in March. Aletha Thomas, founder and owner of Monkeypod Jam, says her Kaua'i-based company launched a Community Supported Agriculture online program to support local farmers. In "just 21 days, (we) maxed out, providing 180 produce boxes each week," she says.
The CSA program was a public service, not a revenue generator, but it opened the door for Monkeypod Jam to offer take-home dinners, which include quiche, soup and cabbage rolls. It also offers Saturday brunch, to go.
---
Read Part II: E-Wisdom for E-Commerce Newbies from Local Companies