Eccentric Businesses at the Blaisdell Hotel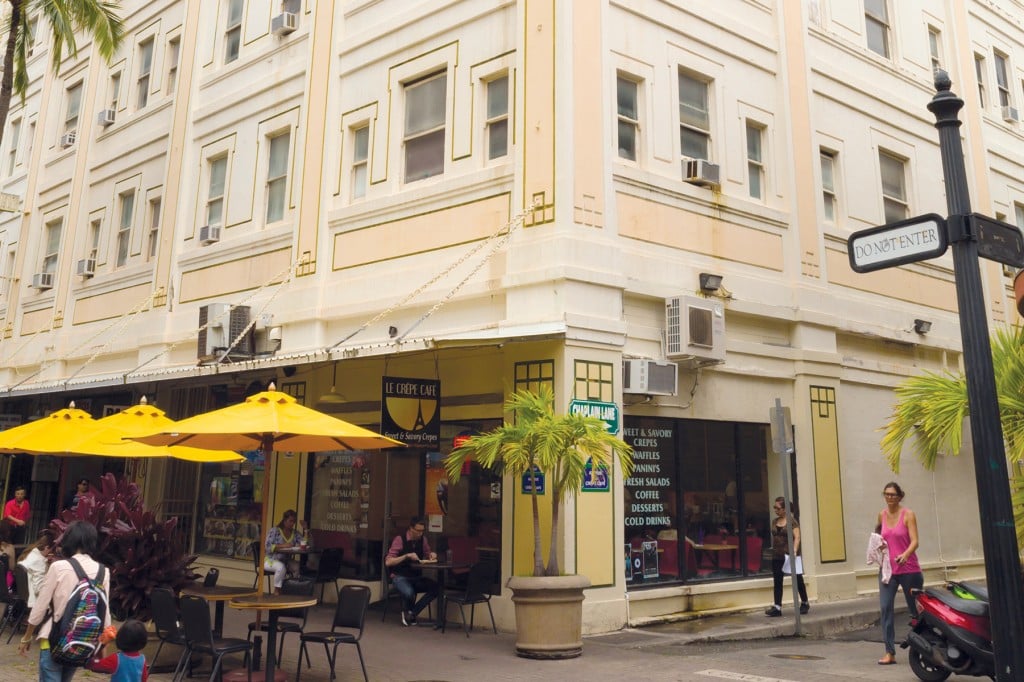 A rich history and equally interesting cast of tenants make this century-old building one of a kind
If you like modern glass and steel towers, Bishop Street has plenty of office locations to choose from. But if your taste runs to something with historical character and a bohemian mix of tenants and businesses, then you only need to walk a block Ewa to the old Blaisdell Hotel.
The L-shaped building is at 1154 Fort St., the third building makai of Beretania, in the area where Chinatown meets the business district. Existence on the edge is reflected throughout: its neo-classical architecture to its eclectic characters, its delightful incoherence and inclusion of opposites. Though there have been many renovations over its century of existence, the building celebrates its age more than tries to hide it.
The former hotel has been subdivided into a mélange of offices and shops spread over four floors. Its affordable rents have attracted such diverse current and recent occupants as a shoe repair workshop and a clinic specializing in colon cleansing, a photo studio, clothing designer Sukebe, the consulate of Palau, a barbershop and a psychiatrist's office. Current tenants include artist and music studios, restaurants and cafes, and Hawaii Pacific University's mailroom, student newspaper and athletics training room. The ground floor of the central courtyard is a popular HPU student hangout. And, of course, the building is best known for having Hawaii's last human-operated elevator.
Let's take a tour and meet some of the inhabitants.
"Birdcage" Elevator
Javier "Javi" Fombellida, 75 years young, has an interesting job: he is the only elevator operator in Hawaii. He doesn't push buttons – he drives the thing, cranking a handle back and forth on its semi-circular path. The anachronistic mechanism controls a counterweight between the building's four stories making the elevator move up or down, while Javi makes sure the elaborately decorated "birdcage" is level to floor entrances when it stops. After hours, the only way up or down is using stairs circumnavigating the glass walls of the elevator shaft.
This Cuban-born gentleman's time machine transports you back to the early 20th century, a world of switchboard operators, typesetters, street lamplighters and bowling alley pinboys. Every journey through the old hotel begins and ends with Javi, but he is more than a mere tour guide – he is the living soul of the building, and something of a psychologist. "With all the interesting people I've met here, I can write a book," he says with a radiant smile.
The story of Le Crepe Café is the story of its owners, Soufiane Boukharat and Marisol Ruiz. Boukharat was born in Algeria, but grew up in Paris; Ruiz is from California. While studying French and entrepreneurial studies at the University of Southern California in the early 2000s, she did a study-abroad program in Paris, where she met Boukharat. The two became a couple for a few months, but, after Ruiz had to go home, they lost contact. In 2007, after Ruiz moved to Hawaii, they met by accident while Boukharat was vacationing. This time they took no more chances with fate.
A lover of French culture, Ruiz had a crepe restaurant as her business plan from college. Combined with Boukharat's international business degree and experience owning a coffeehouse in France, they opened their first crepe kiosk in Waikiki five years ago.
The Blaisdell Hotel location came by accident, but it was a happy coincidence, says manager Clint Bidwell, 27. "The building has a lot of character," he says. "There are things about this little radius that feel different from just a block down."
For Bidwell, his work at Le Crepe Café is a true calling. He left his job as a legal assistant even though it meant starting at an entry-level position. "I wasn't passionate about law," he says, favoring the greater creativity and freedom of the culinary arts.
For five years, Humanhand has been a constant in the old hotel's swarming and ever-changing artistic life. In the beginning, designers Justin Cravalho, 43, and Warren Daubert, 35, used the firm as a side project to let off creative steam while away from their day jobs. Things got serious after Cravalho was laid off from an ad agency. "We were in a dilemma," says Daubert, "discontinue, or make the studio into a self-sustaining design firm. We chose the latter."
The team looked for a brick-and-mortar location to meet the needs of their growing business. "Word of mouth got us to the Blaisdell Hotel," explains Daubert. "We liked that it's really central, though kind of in between worlds. We liked the charm of the old building and its ghost stories. Besides, one of our favorite watering holes (Mercury Bar) is downstairs."
After adding Luke Aguinaldo, 34, who specializes in movie-based projects, the team has expanded to diverse forms of advertising, from logo creation and brand identity to Web design. Surprisingly, the recession helped keep Humanhand afloat as the firm attracted clients leaving larger agencies.
(Disclosure: Daubert's day job is at PacificBasin Communications, publisher of Hawaii Business.)
"When my dad saw my first tattoo," recalls Marko Livingston, now 32, "he gave me a knife and told me to cut it out. But now my parents love everything I do. In fact, my mom has been bugging me for a cherry blossom tattoo."
Even before his family moved from Pasadena to Hawaii in 1993, Livingston was hooked on graffiti, comic books and a strange hobby: drawing on his skin and clothes with colorful pens. Despite that background, his current career began only five years ago, after flirtations with acting and radio. Today Livingston's spick-and-span-clean studio on the top floor, called Markotattoos, appeals to a range of tattoo junkies as varied as its decorations of animal skulls, tribal masks and vintage foreign comic books.
Clint Bidwell calls this Vietnamese and local-food restaurant "the king of Fort Street. They have their game plan down and it shows with a line out the door every lunch." He says it holds the upper hand because it's a family business –exactly the same reason given by Fort Street Café's owners, Vince and Allison Chaleunxay.
While still newlywed, they started the business in November 2004 and it has become a staple among Downtown eateries. "We got popular because of word of mouth," says Vince Chaleunxay. Though the restaurant's most loyal clients continue to be college students, he explains, "now we notice more and more business customers."
The Chaleunxays' story is the classic American Dream, made possible by hard work: Vince is from Vientiane, Laos, but his family moved to Hawaii when he was a child; Allison and Chaleunxay met shortly after her family arrived from Saigon in 2000. The two maintain their culinary connections with Southeast Asia for continuous inspiration; the family just returned last month from a brief refresher-course trip home.
"We try to bring some more traditional Vietnamese cooking," says Vince Chaleunxay. "You can see it (elsewhere) in Chinatown, but not close to the business area."
"It's pretty neat how, when 6 o'clock comes in," says Warren Daubert, "the whole building changes as the bands start practicing. It's a transition from a creative office space to a musical rehearsal studio."
The man responsible for the nightly metamorphosis is 31-year-old Josh Hancock. Known as Josh86 in Hawaii's music scene, he started renting rooms five years ago and refashioning them for practicing bands. Experience from other rehearsal places made Hancock adapt a hands-off approach: "Anywhere else there would be some guy knocking on the door every half hour. Here we even give keys to the bands."
This philosophy has been successful and Chinatown Music Studios grew from two chambers on the second floor – Mele and the Boom Boom Room – to four, now including Crow's Nest (formerly Sandinista) and Geneva. The latter is also a recording studio, where audio veteran Babatunji Heath operates a vintage analog mixing console to get those warm organic sounds.
Honolulu Icon Blaisdell Hotel's timeline reflects Downtown's history
1911 – A pamphlet announces the future building as "Hawaii's Handsomest Hostelry."
1912 – Designed by the architectural firm Emory & Webb, the hotel costs $90,000 to build: a four-story concrete structure with a central courtyard. Originally owned by Charles M. Cooke Ltd. and managed by the Blaisdell family. Reportedly, the young Neal Blaisdell scrubs the hallways for 25 cents a week, long before he becomes mayor of Honolulu.
February 1913 – Upon opening for business, the hotel boasts, "Absolutely fire resistant, 27 baths, millinery shop, grocery store, barbershop, manicure and hairdressing parlors, hatter, tailor. Telephone in every room." Leased to J. Francis Child the same year.
1920s – Blaisdell's heyday. The hotel is popular among sailors and budget visitors. Prices start at $2.50 a night and dinner at the Mural Room costs 50 cents. Meals and the 4 o'clock tea are announced by three bronze bells on the rooftop.
1928 – The central courtyard opens as Palm Garden.
April 1933 – Blaisdell Hotel is the first establishment in Hawaii to obtain a liquor license after the end of Prohibition. The bar becomes one of the highlights of Honolulu's nightlife.
1938 – Charles M. Cooke Ltd. sells the establishment to Selma Hoerman Spitzer for $150,000. This is Hawaii's largest sale of the year and, according to contemporaries, "proof of confidence in the future of Honolulu." The hotel is still managed by the Child family.
1940s – Blaisdell Hotel is jointly managed by Walter D. Child Sr. and Dr. Donald Burlingame.
1954 – Management by A.M.M. Osorio begins. First major renovation.
1967 – Rooms priced at $5 to $11 a night. The next year Fort Street is converted to a pedestrian mall, which hurts the hotel business. Ala Moana Center's opening in 1959 and the development of Waikiki in the 1960s also channel commerce and visitors away from Downtown.
Early 1970s – Double room is $11.50 a night. Elevator operator's pay is around $2 an hour.
1977 – The long-term lease is bought by Jorgen Skov and Peter Birnbaum of SBS Corp. They begin a $350,000 renovation, though one of nearly $1 million had been proposed. The planned new 24 rooms and 16 suites are supposed to range from $10 to $15 a night, but financial complications abort the project midway.
March 1980 – Ownership changes hands again, as Fort Street Venture Inc. buys the lease and announces the refashioning of the hotel into an office building, though everyone to this day still calls it the Blaisdell Hotel. The Palm Garden is uprooted and the central court turns into a restaurant. Local artist Sunny Aigner Pauole paints a mural inside the elevator shaft.
1990 – Veteran Chinatown developer Bob Gerell acquires the lease and restores the elevator and parts of the building to pre-1980 looks.
Summer 1998 – Hawaii Pacific University successfully opposes a proposal for housing a facility for the mentally ill.
Today – The building is assessed by the city at a little more than $1 million, with the land assessed at $3,338,600.
---
Box Office Rent
The Blaisdell Hotel does not offer the cheapest rents downtown. For instance, the Union Plaza, a 9-storey class C building on Bishop Street just makai of the Finance Factors building, has rents starting at 45 cents a square foot per month, according to loopnet.com.
The Blaisdell Hotel offers rents ranging from about $1.20 to a little more than $2 a square foot for 2nd, 3rd and 4th floor offices, which is comparable to rents offered by more prestigious buildings downtown.
What makes the Blaisdell attractive is that it can offer spaces as small as 250 square feet room. Plus, the building's laissez faire attitude welcomes all kinds of tenants, including those who might not please their neighbors if located in most other downtown office buildings.