Proper Punctuation, Partners and Pride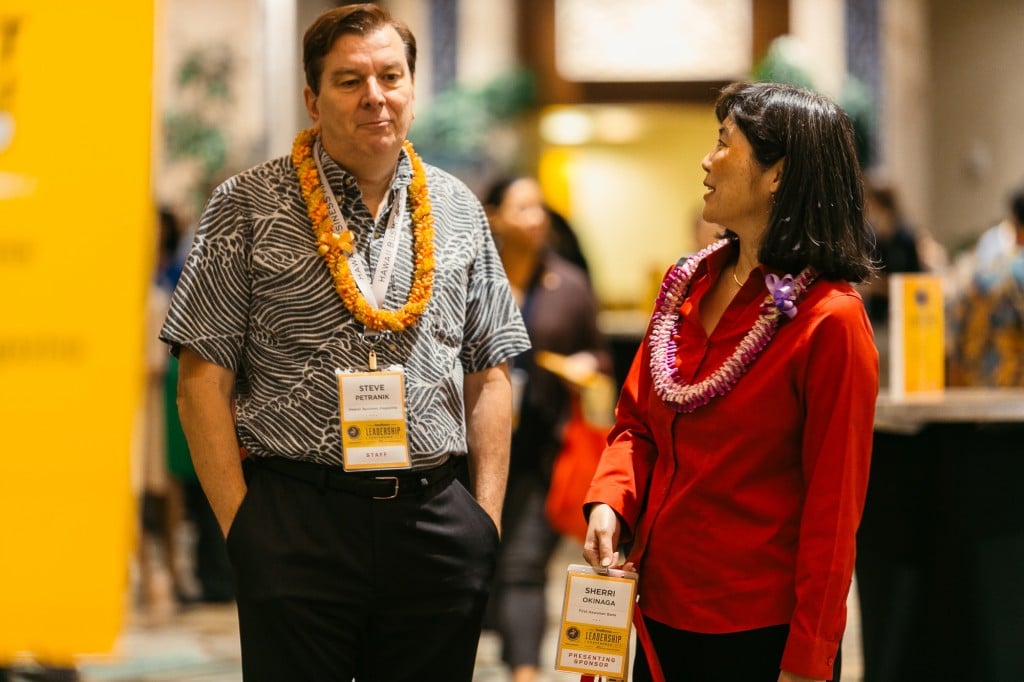 The ancient Greek poet Archilochus left us with this delightful metaphor: "A fox knows many things, but a hedgehog one important thing." In this month's column, I'm a fox, maybe because I'm juggling too many balls to be a hedgehog.
Steve Jobs preferred to launch products that were as close to perfection as his Apple teams could create, but the in vogue start-up methodology is to launch a good product and then perpetually improve and shift course as needed. We followed the latter approach and have finally started using diacritics in our spelling of Hawaiian words, even though we weren't fully ready. There was always something more urgent to work on, so we kept putting it off, until this month's cover story on 100-year visions for Hawai'i's future forced us to act immediately.
All our type fonts (I think) easily reproduce 'okina, but not all are kahako compatible. We'll fix those issues as soon as possible, but if we waited until we were fully ready to use diacritics, it would never happen. So please excuse our imperfections while we move forward. Please note: We will not add diacritical marks to the names of people and organizations that do not use them in their names and, so far, we have not added the 'okina to our name, Hawaii Business. We'll discuss that at an upcoming meeting. And note that diacritics interfere with search engine optimization, so our website and digital products will continue to not use diacritics.
Every dynamic organization has strong partners and we have recently created an editorial partnership with Hawaii News Now, the leading TV news and digital news organization in the Islands. Our different strengths make us ideal partners: HNN is very much about breaking news quickly, covering many topics and reaching as many viewers as possible. As a monthly magazine, we ignore breaking news, but cover important local issues and provide useful information to business and nonprofit leaders, managers and professionals. The Hawaii Business-Hawaii News Now partnership will have many facets: we plan to collaborate on stories; HNN GM Rick Blangiardi and his team hope we can help them connect with business people; we hope they can help bring our stories to a wider audience.
Here's what Rick told Hawaii Business senior writer Beverly Creamer in their Talk Story interview: "We want it to be a terrific marriage. The difference is we live in the minute. We live on the edge. I don't know what's going to happen. Yet the quality of your readership is the audience we want to touch. With the combination of the platforms, there's a lot to be gained. Maybe we'll work on a big investigative piece together on both platforms and also be able to coordinate with your events. In today's marketplace, these kinds of strategic partnerships are exactly what we want to have."
Well said, Rick. By the way, you can read more of Bev's interview with Rick Blangiardi and HNN news director Scott Humber.
The CEO of Hawaii Business' parent company, aio, is Duane Kurisu. Duane is a very influential man in Hawai'i, and he is also very modest. Like its leader, aio is both influential and modest. In the spirit of that modesty, this magazine has undercovered our parent company during my nine years as editor. Not in this issue. Inside, you can read about: the Kahauiki homeless village, a community-wide collaboration led by Duane and the aio Foundation; aio's 25th anniversary this month; and the nine visions for Hawai'i's future, which would not have been written without Duane's leadership.
After you read these stories, you'll understand why I'm proud to be part of the aio family.