Electric Car Range Anxiety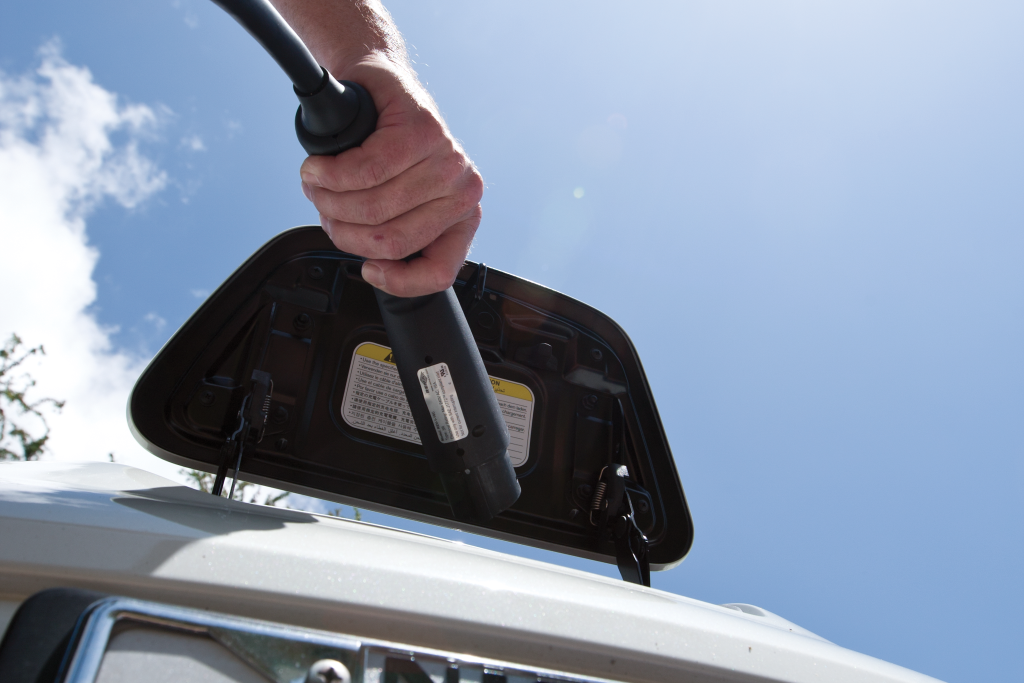 Margaret Larson has felt "range anxiety." If you buy an electric vehicle in the near future, you will feel it, too.
Larson is the electric vehicle specialist for the state Energy Office and was driving the state's Nissan Leaf electric car back from an event on the North Shore along H-1. Just as she passed the Likelike Highway exit, an automated voice chimed, "Low battery charge. You have six miles left on your battery."
The state's EV specialist was close to suffering the electric equivalent of running out of gas on the way to her downtown office, without a filling station in sight. "I was white knuckling the wheel just praying we didn't run out," Larson says.
"Range anxiety" – the fear of running down your battery – is always on the back of electric-car drivers' minds, unless they have a Chevy Volt or other electric car with a backup gasoline engine. Though Larson made it back to the office, the close call highlights the need for public charging stations to serve the growing number of electric cars on the road.
Another thing is clear: When you pull up to a public charging station, it will be a very different experience from visits to your local gas station.
Take the Sheraton Waikiki, where state-subsidized charging stations opened to the public in November.
"Anyone that brings in an electric vehicle, we encourage them to valet park. That way they can just drop off their car and go straight into the restaurant or hotel room," says Jason Ito, director of administration and planning at Kyo-Ya Management Co. "The valet takes the car up to the charge spot. When the car is fully charged, we can move it so the next vehicle can come in."
So far, few people have taken advantage of the service. "The demand is not there yet," says Ito. "But we needed to come up with a way that is convenient for the customer and easy for us as well." The biggest users are two Chevy Volts owned by the Sheraton.
The Sheraton knows it's ahead of the curve, but also that the charging station is part of what customers want, even if they don't need it yet.
"So much of it is valued as just the right thing to do, and you can't really put a dollar amount on that, but it's the wave of the future and our customers are demanding that we look at reducing our footprint, energywise," Ito says.
The three chargers installed at the Sheraton were funded by the state's EV Ready Program. As part of the American Recovery and Reinvestment Act of 2009, the state received $2.6 million dollars to fund grants for EV charger installations. The state Energy Office announced March 29 that there were 200 electric vehicle-charging stations at over 80 locations statewide, and more were being built.
Hawaii's first public charging station is located at the Green Energy Outlet on Cooke Street. "We installed the station about two and a half years ago," says Greg Kartes, a sales associate at GEO. "Since then, we've gotten about three to four vehicles a week on average using the charging station."
GEO utilizes its position as an outlet store for green energy and building products to promote the use of electric vehicles. "Some customers take advantage of our café and Wi-Fi" during the charging, which takes about an hour, Kartes says.
"The customer will use a prepaid card to pay for the charge," says Kartes. "There is also an 800 number they can call to pay with their credit or debit card." It costs $4 per hour and $2.50 per half hour.
Like most public charging stations, the GEO station is a level II unit, which charges much faster than the level I home units. According to the U.S. Department of Energy Plug-In Electric Vehicle Handbook, there are three types of charging stations for everyday electric cars:
• Level I: These residential units provide charging through a 120-volt AC plug. The cords will typically have a standard three-prong plug that fits into common household outlets. They add two to five miles of range per hour of charging time.
• Level II: These residential and public chargers provide charging through a 240-volt AC plug, which requires installation of more robust charging equipment, including a dedicated circuit. These chargers can add about 10 to 20 miles of range per hour of charging time or fully charge a car overnight.
• DC fast chargers: These chargers are strictly for public use, and enable rapid charging with a 480-volt plug. These are used in heavy-traffic areas and some other public charging stations. They can add an astonishing 60 to 80 miles of range to an EV in 20 to 30 minutes. The state Energy Office says there are six fast-charging stations in Hawaii.
For an online list of publicly available EV charging stations in Hawaii, go totinyurl.com/hbcharge.
RANGE ANXIETY
The federal Enviromental Protection Agency says the driving range of a Nissan Leaf electric car is 73 miles. Here's about where that range can take you in Hawaii:
Oahu:
Round trip from downtown at King and Bishop streets to Ehukai Beach Park, site of the Banzai Pipeline.
Maui:
One way from Lahaina to Hana, via the Hana Highway.
Hawaii Island:
One way from downtown Kailua-Kona to Hilo, via Hawaii Island's Saddle Road, your battery would die about 13 miles from Hilo.
Kauai:
One way from Barking Sands all the way around the island to Haena State Park, at the end of Kuhio Highway.