Experienced CEOs Share Their Triumphs and Failures with New CEOs and with Each Other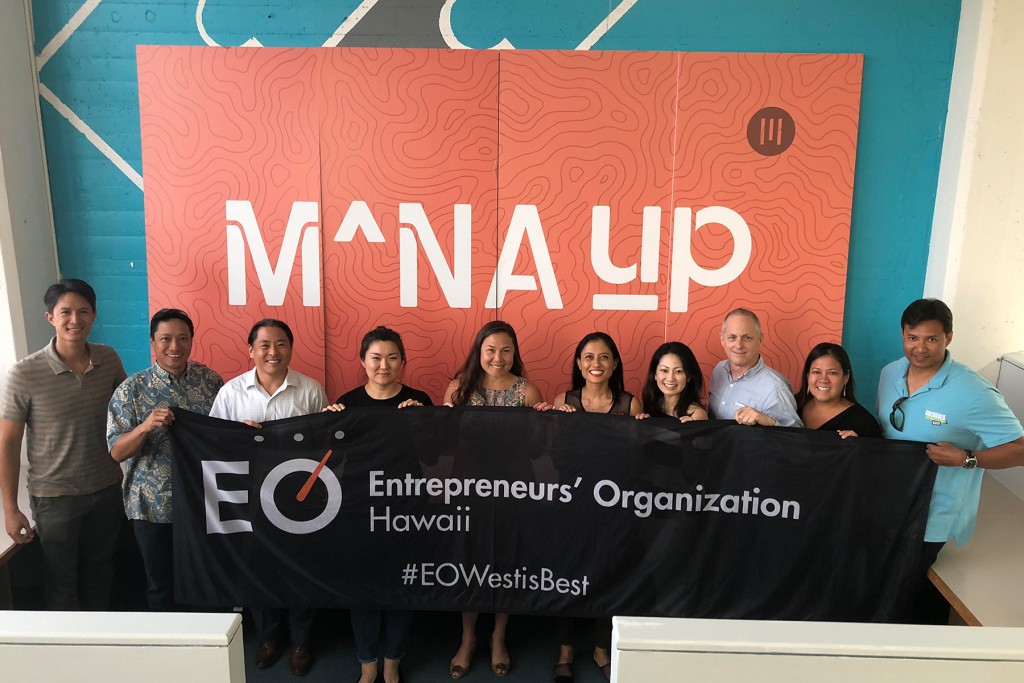 There's a new partnership in Hawaii between seasoned small business owners and early-stage entrepreneurs.
Experienced CEOs who belong to the Entrepreneurs' Organization are mentoring the founders of 11 young companies currently under the tutelage of Mana Up, an accelerator aimed at turning local companies into global brands.
"This way of sharing experiences is such a unique way of learning for them," says Sean Tadaki, incoming EO president, and co-founder and managing partner of Commercial Asset Advisors.
"You can just see their eyes open. They're thinking, 'Wow, the EO members have gone through what I'm going through, so I can do this.' As founders we all sometimes get into a situation where we feel we're out there by ourselves. So it gives them a community of trust to be able to share."
EO is an international business organization designed for CEOs and partners in companies worth more than $1 million. Internationally, there are 179 chapters in 57 countries with a membership of around 13,000. The Hawaii chapter was launched 19 years ago and has 56 members. The members belong to supportive forums, with six to 10 people in each.
At times, even the best CEOs need support, and that's exactly what EO forums provide. EO members take a pledge of confidentiality and a pledge not to offer advice to one another.
"You can share your experiences," explains Tadaki, "but there's no judgment and you cannot give advice. If someone's advice goes haywire or sour, that can create animosity. But when you share your own experiences, it's powerful.
"It's about sharing a challenge you've had in your business and how you handled it."


– Melialani James, Co-founder, Mana Up
 "Someone will come in with a problem and share what their experience is, and what they want from us in terms of sharing – how everyone else within the forum has dealt with it. So I get eight perspectives on an issue. Someone can say, 'I did this, and it failed miserably,' or 'I did the same and had this success.'  You take little nuggets from forum mates about how they have resolved situations, and put your own signature on it so you can deal with it."
The results create better businesses, better relationships, and better people, says Tadaki.
That's why Mana Up co-founders Melialani James and Brittany Heyd sought this unique partnership with EO.
"They have been incredibly helpful," says James. "Our companies are really appreciating getting one-on-one time with these CEOs and the way they think about problems. Everyone's business challenge is a little different, but they all have a similar experience. Hearing how a CEO thought through a problem, and how to critically think through problems, and also understand the nuances about business in Hawaii is incredibly helpful.
"They aren't telling our companies what to do," adds James. "It's about sharing a challenge you've had in your business and how you handled it. Our companies really like those anecdotes. And sometimes the EO CEOs will say, 'It was the wrong decision.' It's not like they're all perfect."
The EO CEOs who volunteer at Mana Up often pass along anecdotes about problems in Hawaii's business world: labor shortages, bureaucracy, product shipping and much more. Pointing out how bigger and more powerful companies have dealt with such issues can be highly useful for an up-and-coming business that's looking to grow, Tadaki says.
"One of our initiatives this year is to give back to the community and tell our story and what better way of doing that than helping new entrepreneurs who have all founded their own companies. We've all been there!"
Among EO's members, peer-to-peer learning doesn't replace more traditional mentorship or coaching from others, says Tadaki, but it does add another dimension of learning that he finds especially relevant.
"I don't take well to people telling me what to do," he says with a laugh. "EO takes a different approach." 
It operates in ways similar to some other elite business organizations such as the Young Presidents' Organization or Vistage, he says. Each EO forum becomes a support group for its members, where people share business and personal problems.
"I use that as the board of directors for my life," says Tadaki. "We cover three main points: business, family and self, so it's no holds barred. We can talk about anything in our life. We get hooked in from the business aspects, and I can grow my business. But, in reality, we speak more about personal growth – who we are, and our self-actualization to become a better leader, a better family member, and in turn a better owner of our company. That's the essence of EO."
"To be able to learn from other people's experiences has been very valuable."


– Scott Paul, CEO, Kleenco Corp.
Scott Paul, president of professional cleaning service Kleenco Corp. and an EO member for four years, can sympathize with the learning curve of the Mana Up cohort because he was in their shoes not long ago.
"I'm always looking for opportunities to learn and improve my own base of knowledge as an entrepreneur and an executive," says Paul. "I don't have any formal business training. I was an attorney and I kind of learned on the job. I bought a business and here I am in the CEO's office without any prior experience doing that.
"What sold me on EO was the peer-to-peer opportunities, and the confidential forum experience. To be able to learn from other people's experiences has been very valuable. And there have been a lot of takeaways I've been able to implement in my personal life as well as my business."
Bernice Parsons, co-founder and president of Vertaccount, an outsource accounting and bookkeeping firm, has had similar experiences through EO. "It has made me a better citizen, a better wife, a better mother," she says. "It gives you insight into how you can be more effective in helping someone or getting a message across. Overall you gain more awareness.
"It's like saying, 'We're all in the same boat. We faced that too,' rather than saying, 'You really screwed up.' It's a very different takeaway. I would say maybe the greatest value I've gotten is better insight into how I can be a leader and not just a boss."