Coworking spaces accommodate all sorts of people and companies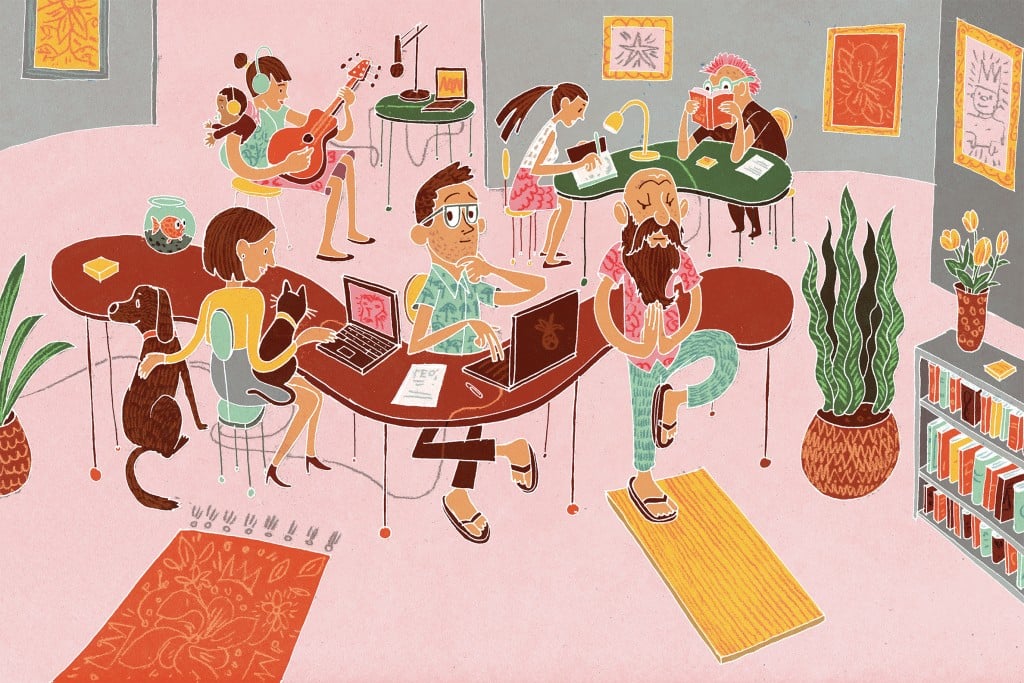 Q: I'm going stir-crazy working out of my bedroom and am considering using a collaborative workspace. Am I too old for this? Is this just for hipsters drinking flat whites? 
A: Coworking spaces – which have monthly memberships or drop-in rates and can provide anything from a spot to park your okole to a custom office suite for a small business –  is a growing trend. WeWork, the biggest player, has 345 buildings in 65 cities. The earliest adopters of the concept were digital nomad types, true, but that isn't the only demographic that can benefit.
"We have sole proprietors and local nonprofit organizations working in the same space as the fastest-growing Japanese retail company and a telecommunications firm, so coworking can be a good fit for just about any company, in any industry," says Meredith Mawhar, space manager at BoxJelly, a coworking space in Kakaako.
"We are a dog-friendly, child-friendly, nursing mom-friendly space that welcomes everyone to come as they are and we support them however we can in creating a work environment that is comfortable and inspiring, while still allowing them to be highly productive. For folks who are in search of a workspace that celebrates individuality while also supporting community and flexibility, regardless of the industry or company size, coworking could be a terrific fit."
That said, you won't be working out of your bedroom any longer, so here are a few suggestions for avoiding awkward encounters:
"If a member has their head down and is staring intently at their screen, it's best to leave them be and not disturb their productivity; once they get up to grab a cup of coffee or use the printer, you can feel free to chat with them," says Mawhar.
She also suggests using the available phone booths for calls and wearing headphones when listening to anything with sound, such as a video.
Food is welcome at workstations but enjoy pungent or crazy-crunchy snacks in the common areas rather than next to the adjacent busy-bee. "Finally, some folks work best without shoes on and that's great," says Mawhar, "though we ask that they not put their feet up on nearby vacant chairs."
Q: I need to fire an employee, and I'll be damned if I'm going to announce it on Twitter. I know there must be a better way, but what are the best practices?
A: Yes, "It would be inappropriate to fire them by email or Twitter," says Steven Fink, president and CEO of Lexicon Communications Corp., in Los Angeles. He's a nationally known expert in crisis management and communications, and the author of two books on the subject. Fink helped the state of Pennsylvania avert a public panic during the Three Mile Island nuclear crisis in 1979, so whatever HR doo-doo is hitting the fan at your company, it wouldn't make him blink.
When communicating a firing, Fink says, there are a few things to consider. Is the person being terminated for cause? "Sometimes it's in the best interest of the company to send a strong signal that someone has been fired for violating a policy," he says. Sexual harassment is just one example. "It's permissible, after an appropriate hearing, to let it be known that the company has taken steps to separate from this employee. The underlying message is, future violations will be dealt with accordingly."
On the other side of the coin, you have people who are terminated for reasons that need to remain confidential. "Then you hold exit interviews, make sure no one leaves angry. Everything should be handled with tact and discretion." What about these vague statements that someone is leaving to pursue other interests? "It's like Paul Ryan wants to spend more time with his family. It's code," says Fink. "But that code is OK." This is part of the social contract. "If you're an employer, and you're terminating someone, the last thing you want to do is demean them."
Before you do fire anyone, do your prep. If you have a communication professional in-house or on contract, consult with them prior to taking action, not for damage control afterward. Also, assess and shore up any potential security risks. A company Fink worked with in Wisconsin, for example, changed gate codes right after terminating an employee. "Nothing ever happened with the guy, but they had their plan. Identify your risks and take steps," he says.
Q: My supervisor has suffered a couple of losses in his family this past year. I've been invited to the funeral Masses but haven't felt comfortable attending as we're not very close and I'm not Catholic. I don't want to be callous, but also feel like I'd be intruding. Is there a rule of thumb for this sort of thing?
A: I sought counsel from John Tilton, executive pastor for New Hope Oahu, who assures, "A funeral or memorial service of a particular denomination should not preclude other family, friends or peers to attend to pay their respects and show their genuine love and care for those that mourn, even if they are not of the same faith or beliefs. Attendees are not expected to participate in any denominational protocol or ceremony if they are not of that faith."
So, feel free to attend, and to forgo any part of the ceremony that isn't appropriate to you. However, whether or not to go in the first place is another decision. "There is no hard, set answer for paying one's respects to those who are in mourning," Pastor Tilton says. In making your decision, you might consider if you have a relationship with your supervisor's family in addition to your supervisor, or how your attendance may affect your relationship with other co-workers. However, you can always send a card, flowers or an "in lieu of flowers" donation to a suggested charity to show your respect and condolences.
---
The Careerist:
Helping you navigate the turbulent waters of Hawaii's working world
Have a question about work, life and that place in the middle where it all gets tangled up? Ask me at: feedback@hawaiibusiness.com