Farm to Table, and Back to the Farm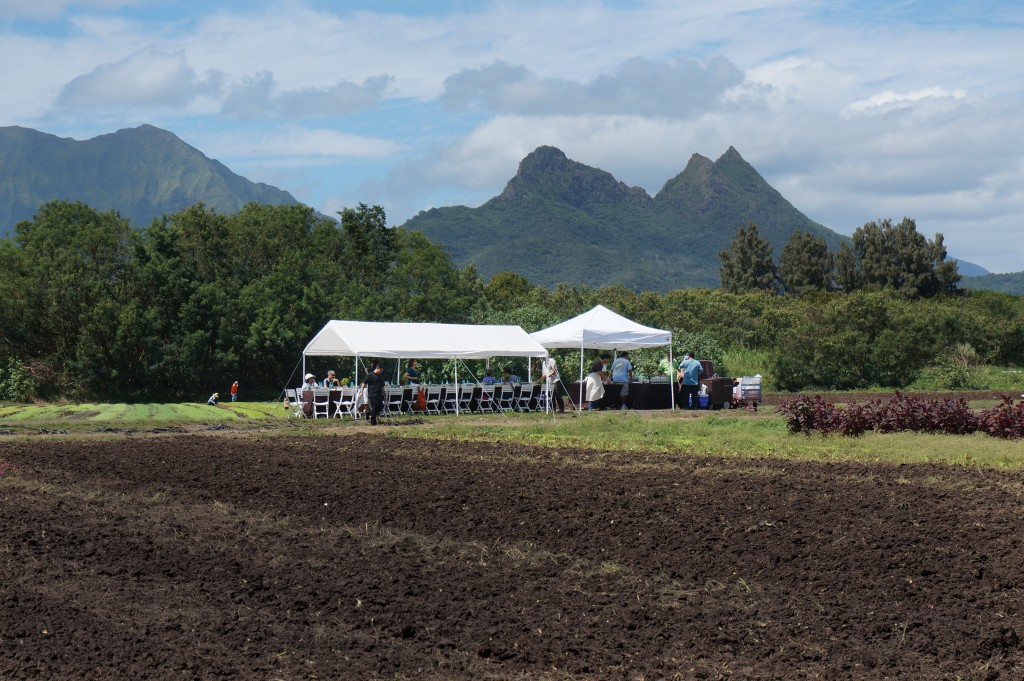 WAIALUA, Oahu – Liz Ryan takes a bite of asparagus, just plucked from the ground at Twin Bridge Farms in Waialua. "Man, that's good," says the 59-year-old from Hot Springs, Arizona, who had never eaten fresh-picked asparagus before. "It's a lot more tender than I expected. I expected it to be bitter and chewy. I'm going to start eating asparagus raw."
That enthusiasm is exactly what Colin Hazama, senior executive sous chef at the Sheraton Waikiki, hopes to hear.
In October 2014, he launched a table-to-farm – yes, in reverse – program at the hotel, where guests eat dinner on Friday night made with ingredients from a local farm, then visit the farm the next morning. The farm tour includes a gourmet lunch, too. The tour of the Twin Bridges, primarily known for its asparagus and potatoes, in April was the fourth event in the hotel's Chef's Table & Farm Tour series, with more planned monthly. There are Neighbor Island table-to-farm events at other Starwood properties.
"The whole idea is to get people educated and understand why chefs really support local farms," says Hazama, who works with more than 30 farmers. "We really wanted to highlight the farmers as the superstars, not the chefs."
About 80 people attended the April dinner, which was created by Hazama and Moana Surfrider executive chef Ryan Loo. More than 85 percent of the menu was locally sourced, with dishes like Twin Bridge Yukon potato blinis topped with a fromage blanc made with products from Naked Cow Dairy Farm in Waianae and micro-asparagus from Twin Bridge, a slow-cooked Molokai venison with Twin Bridge's potatoes and red cabbage, and a Kona cold lobster dish with locally grown asparagus and citrus, and a miso-cured egg.
"WHEN YOU'VE EATEN DIRECTLY FROM A FARM, IT'S VERY HARD TO GO BACK TO MASSPRODUCED FOODS. THE FLAVORS ARE SO MUCH DEEPER AND RICHER."
— LIZ RYAN
TOURIST FROM ARIZONA
The next morning, about 25 guests – the farm tour is limited to 30 – hopped on a bus at the Sheraton Waikiki and made the hour-long drive to Waialua, where they were greeted by Milton Agader and Al Medrano, who started the farm together after losing their jobs when Waialua Sugar Co. closed in 1996. The farm sprawls across 250 acres in Waialua and another 80 in Haleiwa next to the main highway, where they're planning to build a retail space this year.
Agader took the guests on a quick tour of the farm's recently renovated packing area and new certified kitchen, where they've started to pickle onions and beets. Then he took the group outside to see its custom-built asparagus-cutting machine.
The next stop on the tour was the farm's diversified lot, which boasts crops such as beets, broccoli, kale, cilantro, okra, long beans and mangoes. Then the group walked to a field of asparagus, with its signature feathery foliage, to see how the perennial plant grows. About 88 acres of the farm are dedicated to asparagus. Up to 8 acres can be harvested a day.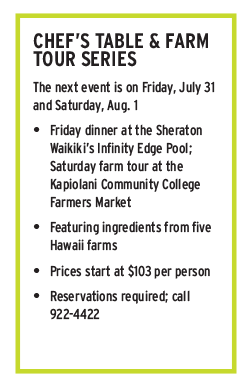 "Remember that first dish?" Agader asked, referring to the dinner the night before. He snapped a tiny branch and handed it to one of the guests. "That's what you ate last night. You had that."
The woman's eyes widened, as she marveled at that little piece of asparagus – what Hazama called "micro-asparagus." He had topped the first dish – the potato blinis – with that. She popped it in her mouth and cooed, "Oh, that's really good."
For lunch, the group headed to an elevated area with sweeping viewsof the farm to dine on country-style bloody marys using Agader's pickled vegetables, Kauai shrimp po' boy sandwiches with Nalo Farms' micro-watercress and Wailea Agricultural Group's Meyer lemon garlic aioli and, of course, grilled asparagus from Twin Bridge Farms with a whipped potage cream and Shinsato Farms crispy speck.
Ryan, the Arizonan who buys eggs and freshly butchered chickens from a farmer where she lives and shops at farmers markets in her neighborhood, loves seeing where her meal came from.
"People think our food comes from a grocery store," she says, laughing. "It's good to recognize the people who work so hard to get us the food we eat. When you've eaten directly from a farm, it's very hard to go back to mass-produced foods. The flavors are so much deeper and richer."
---
CHEF'S TABLE & FARM TOUR SERIES
The next event is on Friday, July 31 and Saturday, Aug. 1
Friday dinner at the Sheraton Waikiki's Infinity Edge Pool;Saturday farm tour at theKapiolani Community College Farmers Market
Featuring ingredients from five Hawaii farms
Prices start at $103 per person
Reservations required; call 922-4422