Where There's a Walk, There's a Way. Join the Fight to End Alzheimer's Today!
In Hawaii alone, there are more than 100,000 residents who are impacted by Alzheimer's disease or another form of dementia. Join the Walk to End Alzheimer's on November 6, 2021.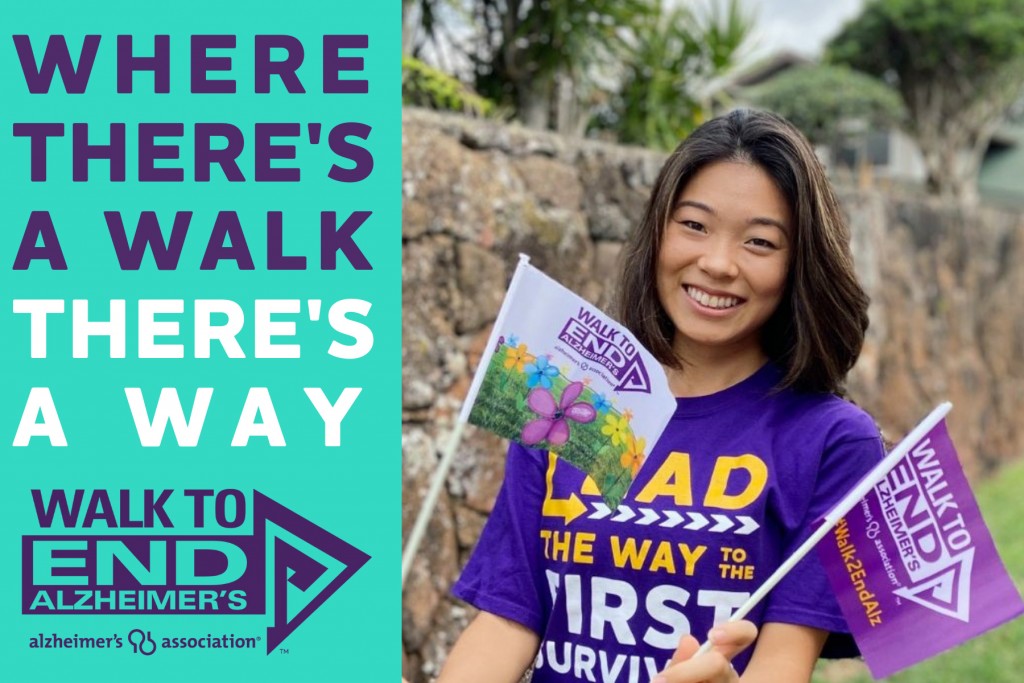 One in three kupuna who die dies with Alzheimer's, and this disease continues to be the most expensive chronic illness to treat, manage, or provide care for.
The Alzheimer's Association – Hawai'i is inviting O'ahu residents and companies to join the fight against Alzheimer's, to help raise awareness, and support local programs and services by participating in this year's Walk to End Alzheimer's being held all across O'ahu on Saturday, November 6. Out of an abundance of caution, participants and teams will not be gathering in large groups this year, but are encouraged to walk from home or safely on a beach, track or trail with their family and friends.
To honor our caregivers and those living with Alzheimer's, remember loved ones who we have lost, and thank our sponsors, a Promise Flower and Sponsor Mahalo Garden will be planted fronting Ala Moana Boulevard in front of Waterfront Plaza.
Individuals, team, and companies can register online at act.alz.org/oahuwalk, to personalize Promise Flowers, visit tinyurl.com/oahupromisegarden.
"The response we have seen from participants, volunteers and sponsors have been inspiring, O'ahu has stepped up to support our efforts and those we serve today and will tomorrow until we find a cure for this terrible disease," said LJ Duenas, Executive Director, Alzheimer's Association.
The event is chaired by First Lady Dawn Amano-Ige, Tricia Medeiros, John Henry Felix, and Kai Ohashi. Top sponsors include Edward Jones, CVS Health, Kahala Nui, Dr. Thomas and Mi Kosasa, Summit Media, The Plaza Assisted Living, HMAA, KHON, and Hawaii Business Magazine.
If companies or organizations are interested in sponsorship opportunities, please contact Justin George at jmgeorge@alz.org.
The Alzheimer's Association – Hawaii offers education programs, support groups, and other services to support individuals living with Alzheimer's and their caregivers, including a 24/7 Helpline at 800-272-3900. For more information, visit alz.org/hawaii or call 808-591-2771.