Filming Movies in Hawaii boosts economic impact and tourism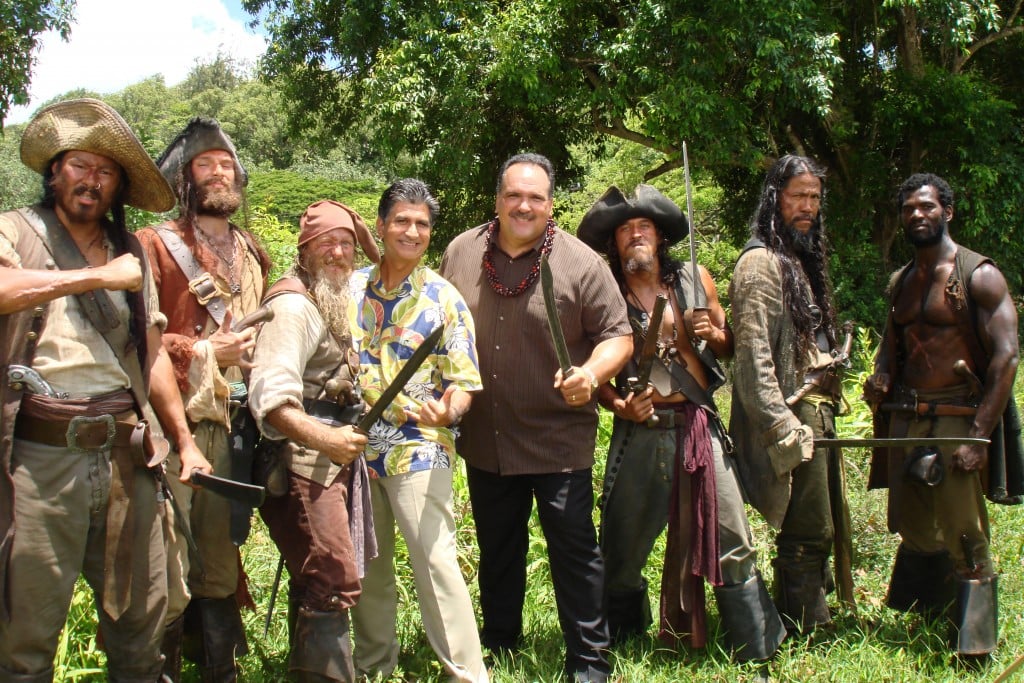 Drop by Hanalei's Tahiti Nui on what should be a slow weeknight and you will quickly understand what movie-making means to the local economy.
The family-owned restaurant and bar, affectionately called "Da Nui" by locals, was packed and buzzing with talk of George Clooney and the hit film he shot on Kauai and Oahu.
"Have you seen the movie 'The Descendants?" asks musician Koko Kanealii. "Yes," shouts back the crowd, which is mostly tourists who have come to see and experience the place where Clooney's character comes with his family and orders a mahi mahi dinner. In fact, Kanealii also appears in that scene, along with Darryl Gonzales, his partner in the band Kanak Attack.
The St. Regis Princeville Resort is another one of the many locations on Kauai that is drawing lots of customers because of exposure in the film, says marketing coordinator Hue Oldham.
"Guests (especially) want to see the 11th-floor Presidential Suite where George Clooney stayed while filming," Oldham says. "They want to lie down on the bed that he slept in."
The suite alone costs $5,000 a night, but the hotel insisted the movie's producers rent the entire floor and confine their work there for the six-week shoot so as not to inconvenience other guests. That means the hotel financially benefited twice: first from their long-term guests in the film industry, and then from heightened interest by movie lovers.
Kauai film commissioner Art Umezu says "The Descendants" is simply the latest product of a movie industry that brings both immediate and long-term economic benefits to Kauai and all of Hawaii.
Ironically, Hawaii's most prosperous film-production year was 2010, a year after Gov. Linda Lingle's administration eliminated more than half of the positions in the film office, including the position of state film commissioner (the Abercrombie administration has restored two of the posts).
"There were 10 feature films in 2010, including big feature films like the fourth installment of 'Pirates of the Carribean,' 'Battleship,' along with 'Hawaii Five-0' and 'Off the Map,' international commercials and a steady stream of other smaller projects contributing to that record-breaking year," says Donne Dawson, film industry development manager. Dawson's job as state film commissioner was eliminated in 2010, but she has served as acting film commissioner since January 2012 and assumed her new, permanent position last month.
Georja Skinner, chief officer of the Creative Industries Division of DBEDT, which oversees the Hawaii Film Office, says many of those big movies had been in the works for years before filming began. "Since the economy was tough in 2007 and 2008, especially in the entertainment industry, there was a holding back of projects," she explains. "As the economy got better, projects began getting released for production."
Along with the immediate economic benefits from the production itself, including hotel costs, catering, and hiring of local crew and equipment, there are long-lasting economic ripples.
"We're still feeling the effects of 'Jurassic Park,' "says Sue Kanoho, executive director of the Kauai Visitors Bureau, referring to the hit movie released in 1993. "It's important to tie the destination to the actual place it's filmed. The idea is to get your name out there when the film is released, again when it comes out on DVD, then the actual product, a visit (by movie viewers) to the island. So there is a triple opportunity."
Skinner's Creative Industries Division, which was established in 2003, supports Hawaii's performing arts and creative sectors, and helps artists and performers make money. Moviemaking is one way to do that.
"When we talk to producers, we encourage them to look at the music content that's developed here in the state and, similarly with TV series, how we can get more local writers in these series," says Skinner.
"'The Descendants' is a per-fect example of the melding of Hawaii's creative industries."
"We didn't have to do a lot of convincing, because director Alexander Payne came to the table with the notion of immersing himself in this place. He spent eight to nine months here prior to shooting any footage. He was so captured by the music. He visited the Mele Program at (Honolulu Community College). He recorded a lot of the other tracks that had to be specifically recorded for the film with Gaylord Holomalia at Avex Honolulu Studios in Hawaii Kai," now called Island Sound Studios, explains Skinner. "So we have a local writer, Kaui Hart Hemmings, creating a novel. It's developed into a screenplay and nurtured into a brilliant film integrating music from the Islands. That's what Creative Industries is all about."
"The Descendants" was nominated for five Oscars, including Best Picture, so three days before the awards ceremony in February, Kanoho held a reception in Beverly Hills aimed at the Hollywood media. At the event were Kauai Mayor Bernard Carvalho, Hemmings and slack key guitarist Cyril Pahinui, whose late father, Gabby, performed much of the movie's soundtrack. That event reinforced the message that "The Descendants" was all about Hawaii.
Kanoho staged a similar event in 2009 to mark the 50th anniversary of the movie musical "South Pacific." She brought Mitzi Gaynor back to Kauai for the first time since she starred in the Rodgers and Hammerstein hit, which, over the decades, has drawn untold thousands of romantic movie lovers to Kauai.
Kauai's long history of filmmaking began in 1933 with the movie, "White Heat." Though it is not as well known as some other locally produced films, there is probably no movie that spent more money in Hawaii than the offbeat Ben Stiller comedy called "Tropic Thunder."
"The fact that Ben Stiller lives on Kauai was a factor as to why they filmed here," says Umezu. "It was filmed in its entirety on the island in 2008 and the production spent approximately $68 million here."
A film star who wants to shoot close to home is occasionally a compelling reason for filming in Hawaii, but, in most cases, state tax credits help seal the deal.
"The tax credit is an important component," Dawson says. "And whether we accept it or not, we are living in a globally competitive world. People are sorely misled if they think the production world will come to Hawaii to shoot just because we're beautiful. It has got to be cost efficient at the end of the day and it's got to be competitive and comparable to what other jurisdictions are offering."
The Motion Picture, Digital Media and Film Production Income Tax Credit applies to Hawaii expenditures while producing a qualified film, TV show, commercial or digital media project. It was established in 2006 and is effective until the end of 2015. Bills to extend the tax credit to Jan. 1, 2027 and to increase the credit percentages died in the state Legislature this year. The credit is 15 percent of "qualified production costs incurred" on Oahu and 20 percent of Neighbor Island costs.
Although Kauai is popular with filmmakers for its natural, versatile beauty, Dawson says, Oahu brings in the most production work because it has more infrastructure, including the Diamond Head Film Studio, it's home to the majority of Hawaii's film crew members and it has a mix of urban, suburban and natural locations.
But, Dawson says, there is an effort to share the wealth.
"We are trying to build the film industry statewide and we have diversity to offer across the island chain," she explains. "We fought very hard for an additional 5 percent differential in the credit for the Neighbor Islands. It's not much, but it's a little bit of a bump."
In 2007, the first full calendar year that the tax credit was in place, there were major movies filming in every county. Kauai had "Tropic Thunder"; "Forgetting Sarah Marshall" and the TV show "Lost" were on Oahu; Maui and Molokai played host to "Pirates of the Carribean: At World's End"; and "Indiana Jones and the Kingdom of the Crystal Skull" was filmed on Hawaii Island.
"It was a huge year for us," reflects Dawson. "Maybe the dollars spent weren't as much as 2010, but it was a huge year because the tax credit that we had been fighting so hard to establish was doing its job."
Each county film commissioner is responsible for processing required permits for county lands, while the state Film Office handles permit requests for the ocean, coastline and state land. Dawson says the permitting process can take from a few days to months.
"It depends on where they're asking to shoot and what they want to do. The size and scope of the project determines the length of time for the permitting process," she says. However, there is a list of pre-approved sites for which permits for small projects can be issued quickly.
Agreements with the state departments of Transportation and Land and Natural Resources, which cite the film industry's importance to the state, also help speed the permit processing.
"It's a temporary industry where it's not permanently changing our environment and cultural landscape. It's essentially coming here, doing your magic, packing up and leaving places better than you found them. That's what we strive for. And all the while, providing really great, skilled, well-paying jobs," Dawson says.
Economic Impact of Film Production in Hawaii
Calculations by state Department of Business, Economic Development and Tourism and its Research and Economic Analysis Division:
| | | | | | | |
| --- | --- | --- | --- | --- | --- | --- |
| INDICATOR | 2006 | 2007 | 2008 | 2009 | 2010 | 2011 |
| Total industry expenditure ($Millions) | 116.4 | 248.8 | 160.2 | 170.9 | 383.5 | 184.1 |
| Expenditures qualified for tax credit ($M) | 39.0 | 152.5 | 82.1 | 107.3 | 333.4 | 131.3 |
| Expenditures not qualified for tax credit ($M) | 77.4 | 96.3 | 78.1 | 63.5 | 50.1 | 52.7 |
| Estimated State tax credit paid ($M) | 5.95 | 22.20 | 12.63 | 13.87 | 47.89 | 20.05 |
| State tax revenues generated ($M) | 11.2 | 23.9 | 15.4 | 16.4 | 36.8 | 17.7 |
| Household income generated ($M) | 45.8 | 109.0 | 67.6 | 75.3 | 183.7 | 83.6 |
| Direct jobs generated* | 815 | 1,742 | 1,084 | 1,117 | 2,424 | 1,125 |
| Residents | 554 | 1,184 | 737 | 760 | 1,648 | 765 |
| Non-residents | 261 | 557 | 347 | 358 | 776 | 360 |
| Total jobs generated in the economy** | 1,410 | 3,013 | 1,875 | 1,933 | 4,194 | 1,946 |
* Jobs are not full‐time equivalent, including temporary jobs.
** Including direct, indirect, and induced jobs.