Finding Your Way into the Food Business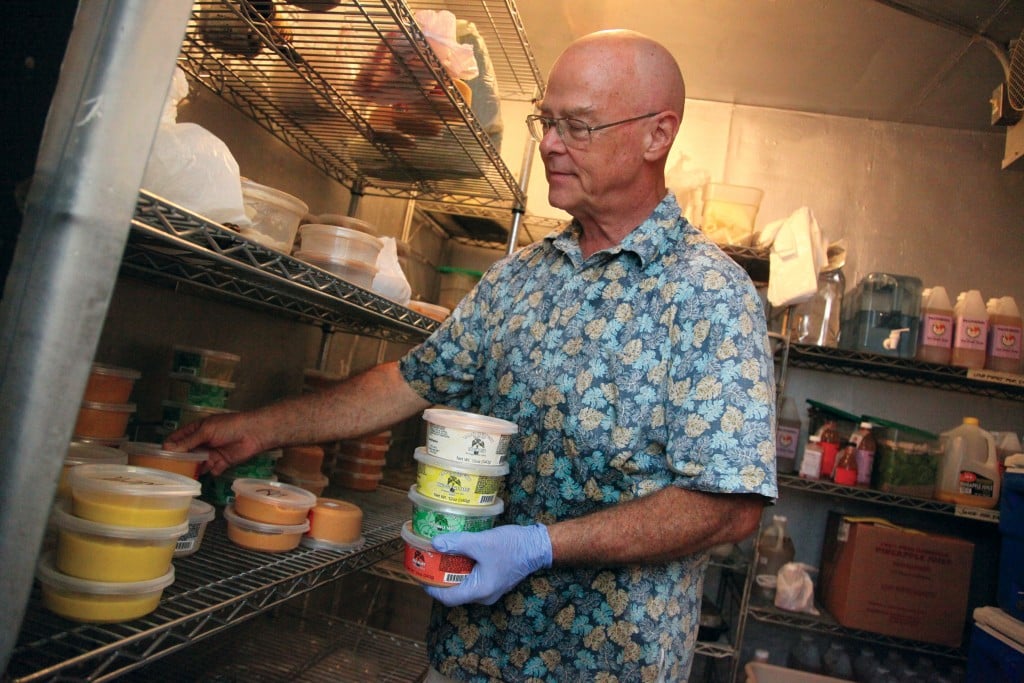 Just about everyone has a family recipe or talk-of-the-town potluck dish they think is ono enough to be a grocery-store bestseller.
These are our six steps to take your product from concept to consumer. Most of our guides are entrepreneurs who followed their own dreams and launched specialty-food businesses in Hawaii. They say the road to success wasn't easy, but it was worth it.
1. Consult friends and family
It's important to test your product before you invest in production or packaging, so start first with family and friends who want you to succeed, but ask them to be totally truthful.
"At this early stage, you want people to tell you what they like and don't like about your product," says Ted Kuahine, owner of Pelekunu's Teri Sauces. "You want them to be brutally honest, because their opinions will likely be shared by others. Ask them how much they'd pay for your product and what kind of packaging they'd like to see. It's like having an informal focus group."
Get people from different ages and backgrounds – coworkers, your children's friends and father's lunch buddies – so you cover a variety of palates. Then, tweak your recipe according to the feedback and conduct more rounds of testing until you and your taste-testers have confidence in your product.
Kuahine suggests developing an entire line of products and offering different sizes.
"It's hard to get good real estate in a retail store a lot of times if you only have one product," Kuahine explains. "If you have a variety of products, it might be more attractive for both retailers and consumers."
Tom Purdy, owner of Taro Delights, a line of flavored taro dips and spreads, says it's also important to make sure early on that all of your ingredients are readily available.
"If you're a small business, chances are you'll be manufacturing on a need-only basis in the beginning, so you can't be waiting weeks to have your ingredients shipped in. You need to have them now," Purdy says. "One thing that I always tell people is to source their ingredients at retail price so you know the worst-case scenario if you have to make a batch of something on short notice – say, you have to buy your sugar from Foodland or flour from Safeway. If you can make that work, then you know you'll be OK."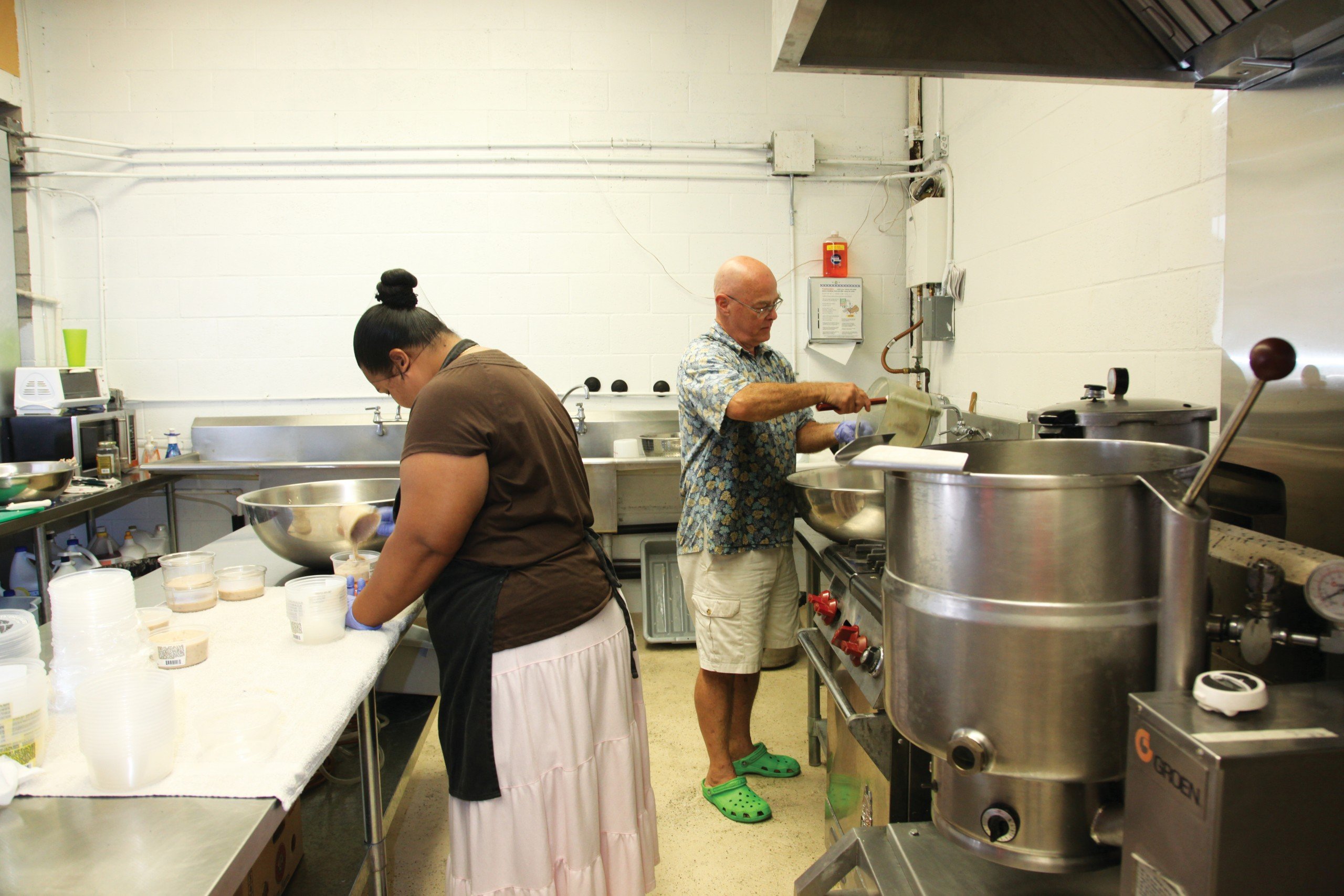 2. Do due diligence
The first thing Dan Belmont, owner of Hawaiian Fudge Sauce, did when he decided to launch a business was get educated.
"I went to the Small Business Development Center and they were a huge help," he says. "They directed me to the Department of Health and connected me withSCORE and the Pacific Gateway Culinary Incubator. The Business Action Center on Nimitz (Highway) is awesome, too. You can pretty much walk in there and start a business. I also took a couple of business seminars that were led by the Small Business Administration and that helped us get a small loan for about $5,000. I did all of my homework and research first and that really helped me out."
Kuahine and Purdy agree that conducting market research, doing cost analyses and creating a long-term strategy are keys to a successful business, "but don't discount the importance of trusting your gut feeling, luck and faith," Kuahine says.
The state requires anyone selling food products to obtain a food establishment permit, which costs $50 to $150 depending on the level of food handling required, and is good for two years. Others who plan to sell less frequently – as a fundraiser or for one weekend at a craft fair – can pay $25 for a temporary food-sale permit, which allows them to sell products 20 times within three months.
It's also important to get general-liability insurance, which can range from $700 to $2,000 a year, says Kuahine. "A lot of the buyers, that's the first thing they'll ask for. If you don't have liability insurance, they won't even talk to you, because they're not going to be responsible for your product if someone gets sick."
3. Find a certified commercial kitchen
The state DOH requires that all commercial food products be prepared in a certified commercial kitchen that has a three-compartment sink for cleaning food products and a separate hand-washing sink in the food preparation area. Purdy and many others got their start at the Pacific Gateway Culinary Business Incubator in Kalihi. The center's executive director, Tin Myaing Thein, says about 90 businesses use the 13,000-square-foot, certified commercial kitchen – one of only a handful in the state that are open to the public – for a fee based on their usage and requirements.
"This project was to help low-income people who couldn't afford to spend their limited amount of capital on building a commercial kitchen," Myaing says. "We take away that economic barrier. We supply the facilities and equipment so business owners can focus on their business."
Purdy first made his taro dips at the Pacific Gateway's commercial kitchen, but he now rents space at a Kalihi facility owned by a friend, who also got her start at Pacific Gateway.
"Pacific Gateway's a great place and it offers a very friendly environment," Purdy says. "The rent is reasonable and you have the opportunity to meet a lot of different small-business owners in the same boat as you. You never know who will have an extra case of chopsticks or takeout containers that they're willing to sell to you." Purdy says it's common for small food manufacturers to piggyback on one another or barter with supplies to reduce costs.
Pacific Gateway has 12 kitchens and will soon add a bottling facility. All users must have a DOH food permit.
"We have all sorts of businesses that use our facilities," Myaing says. "There's one elderly woman who makes cookies on the side just to supplement her income. She doesn't ever plan to open her own store or grow too big. She just wants to bake."
Still, Myaing adds, "It's called an incubator kitchen, because, once the businesses can stand on their own two feet and have created a customer base, they usually move out."
4. Hit the circuit
Word of mouth is the best form of free marketing when you're starting out, but you can't depend solely on the coconut wireless.
"One of the most important things you can do to get your product into customers' hands is set up a booth at one of the many farmers markets around town," Purdy says. "It's a great venue to introduce your product to the public, provide education and sampling, and receive instant feedback from customers. Plus, at least you'll have some cash flow to help grow your business."
Purdy's approach has worked. His dips are still sold at farmers markets inHaleiwa, Windward Mall and Ala Moana Center, but they are also sold in stores such as Whole Foods, Down to Earth and Tamura's.
Most vendors at farmers markets don't have their own stores, so the markets help them build their customer base, says Eleanor Nakama-Mitsunaga, special events and projects consultant for the Hawaii Farm Bureau Federation, which manages four weekly farmers markets on Oahu: at the Neal Blaisdell Center, Kailua Town Center, Kapiolani Community College and Mililani High School. To sell at one of these markets, products must be manufactured in Hawaii and predominantly use local ingredients.
Most vendors pay about $55 for a 10-foot-by-10-foot space at the KCC market, the busiest in the state, with about 7,000 customers every Saturday. Not only customers frequent the markets. Purdy landed his first wholesale account when a buyer from Tamura's in Kaimuki approached him one morning at KCC and offered to carry his taro dips in the store. That's also where he met Claire Sullivan from Whole Foods, who was so interested in his taro dips that she arranged to have the store's executives meet at Purdy's home in Manoa to sample his products. Whole Foods now carries seven different flavors of his taro dip.
While the markets can be launching pads, Nakama-Mitsunaga says, there has to be more to your marketing plan. "I always tell people not to rely on the market to be the success of their business. Instead, they have to use it as a marketing tool to get sales and feedback. It's not wise to base your entire business on sales at the market, where there are many variables, such as rain."
Belmont and Kuahine secured major accounts at the annual Made In Hawaii Festival. "The first year I did it, in 2004, I probably picked up 10 vendors," Belmont says. "The festival is a great place to get people talking about your product and buyers will come around if they like what you've got, so it could be a big opportunity." Booths at the Made in Hawaii Festival typically cost about $800 for the two-day event.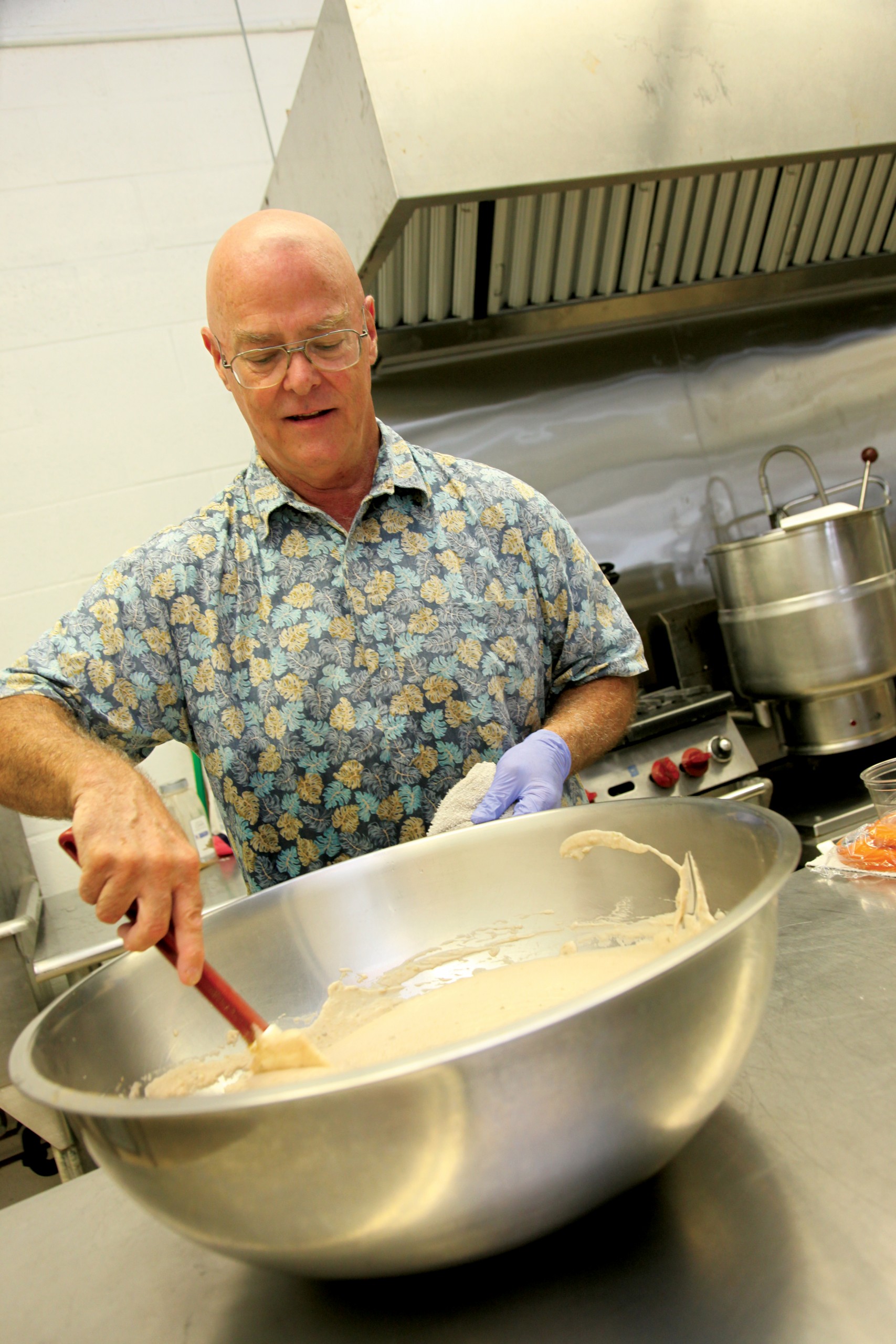 5. Pound the pavement
Nobody knows more about your product than you do, so it's best to get out there and sell it yourself, Purdy says.
"I think every small food manufacturer starts off peddling his own product. When you're so small, you can't afford to do it any other way, so schedule appointments with buyers, give a presentation, tell them why your product is better and unique, and let them sample and ask questions."
Kuahine suggests pitching small mom-and-pop or specialty food stores to get your foot in the door. "Don't even think of the big-box stores yet, like Sam's Club and Costco," he says, "because, chances are, you won't have the capacity to service a major account like that right out of the gates. It's one of those things that sounds good on paper, but is much harder to execute."
As far as buyers for big-box stores are concerned, Kuahine says, it's all about the numbers. "If the sales aren't there, they'll pull your product off the shelf. It's better to start small and grow steadily than to go big and fall completely off the wagon. To me, one of the worst things you can do is over promise and under deliver, so don't bite off more than you can chew."
In the past, Purdy has worked with a distributor but found that, because his dips are unique, they require a lot of product education and pushing to generate sales, "and I just wasn't getting that kind of attention and commitment from distributors," he explains. "They'd also add a big markup and it just wasn't working."
On the other hand, Kuahine swears by his distributor and says it handles about 80 percent of Pelekunu's overall sales.
"We're now in Don Quijote, Marukai, Times, Foodland, Sack N Save andLongs," he says. "My mentality at one point was that we didn't need a distributor. I figured I could get the product out on my own at the lowest price, but then I realized that a retailer like Foodland has 30-plus stores and there's no way I could service all those locations alone."
The trick, Kuahine says, is not just to find a distributor who will sell your product. "You have to find someone who believes in your product and who you trust."
Belmont has used a distributor, but has reverted back to selling and servicing his own accounts with the help of his wife.
"It's tough to sell on your own, but nobody said this job was going to be easy," he says. "That's why it's so important to network and form good relationships with others in the business. I joined trade organizations like the Hawaii Food Manufacturers Association and met a lot of people who referred me to vendors, suppliers and buyers, and I've gotten many good leads that have helped boost my business."
6. Keep it fresh
Even after you've developed a strong following and solid vendor list, it's imperative to keep customers interested.
"When you're a big-name item, then maybe your product will sell itself, but, for everyone else, you have to keep your products fresh and constantly come up with new ideas to expand and improve," Purdy says.
Even a big success like McDonald's rolls out new or seasonal items to engage customers. Purdy says he is constantly experimenting with new flavors and recipes, and his regulars at the farmers markets make it a point to stop by to sample his latest offerings.
"Even though I have no intention of adding these market specials to my regular line, I still like to mix things up so my customers don't get bored," he says. "Sometimes they'll make suggestions for new flavors and in a few weeks, I'll come back with their requests. It's fun for me and it's fun for the consumers."
Purdy and Belmont also advocate in-store demonstrations. "This goes back to the fact that there's nothing else on the market like what I'm selling, so people want to try my taro dips before they buy it," Purdy says. "And, many times, once they do, they buy it." He estimates sales increase by as much as 80 percent on days he performs demonstrations.
Belmont says another revenue stream is from Internet sales. "It's not that difficult to create your own website, but, even if you have to hire professionals to help you, I think the investment is definitely worth it," he says. "People are so reliant on the Internet these days that you have to have something they can look at to find out more information about your product." He estimates about 10 percent of his company's overall sales come from online orders.
Kuahine ships his teriyaki sauces to the mainland and Asia, and is always amazed that customers are willing to pay the high cost of shipping, which sometimes ends up being more than the price of the sauce.
"Food has a way of connecting people and stirring up strong emotions," Kuahine says. "The best compliment I ever received was from a woman who came up to me at one of the product shows and said, 'My husband used to always tell me that I was such a bad cook, but ever since I started using your sauces, he now tells his friends that I make the best chicken he ever tasted.' "
Help for Your Food Startup
• State Department of Health Sanitation Branch: Information about permits at 586-8000 or hawaii.gov/health/environmental/sanitation/index.html.
• Hawaii Small Business Development Center Network: Free, confidential, one-on-one counseling by qualified business professionals on Hawaii, Kauai, Maui and Oahu. Offers workshops, seminars and online training courses.www.hisbdc.org.
• SCORE: Free, confidential business advice and counseling from experienced professionals tailored to meet the needs of your small business. Workshops for startups and experienced entrepreneurs.
www.hawaii.scorechapter.org
• Small Business Administration of Hawaii: Offers information on small-business loans, grants, bonds and other financial assistance. SBA provides seminars and training primarily focused on access to capital, entrepreneurial development, government contracting and advocacy. www.sba.gov.
• Business Action Center: Register a business; obtain a tax license or get a federal employer identification number; receive comprehensive information on licenses, permits, and registration requirements for state, county, and federal governments; attend business-counseling sessions and workshops. The BAC has offices on Oahu, Maui and the Big Island.
www.hawaii.gov/dcca/bac.
• Pacific Gateway Center Culinary Business Incubator: Rent space in a certified commercial kitchen.
www.pacificgatewaycenter.org or 851-7000.