Say "Yes" to Celebrating Small Businesses with First Hawaiian Bank
Long-time customer Kathy Keller credits First Hawaiian with helping her to grow her two boutiques in Kamuela and Honokaʻa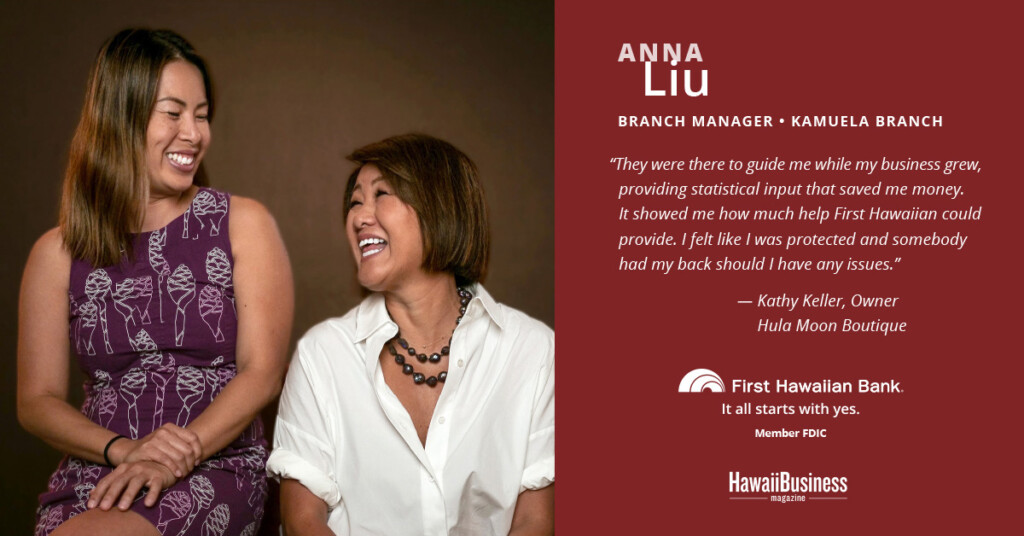 Small businesses and the individuals behind them play important roles in our communities. Hawaii Business magazine and First Hawaiian Bank are celebrating Small Business Month by talking to bankers who are passionate about helping local entrepreneurs thrive with the right tools and team.
Long-time customer Kathy Keller credits First Hawaiian with helping her to grow her two boutiques in Kamuela and Honokaʻa, "In areas I never even thought about before."
Over the years, the bank has provided Keller with financial assistance and valuable advice, like helping her businesses become more visible in the community.
"They were there to guide me while my business grew, providing statistical input that saved me money. It showed me how much help First Hawaiian could provide. I felt like I was protected and somebody had my back should I have any issues."
During the pandemic, Anna Liu, First Hawaiian's Branch Manager in Kamuela, was particularly helpful, Keller says. With the store closed for business, she was scrambling to create a website so customers could order online. The bank's help in acquiring a Small Business Administration Paycheck Protection Program (PPP) loan "really saved my business," Keller says. "During that time, First Hawaiian was extremely helpful in getting me the loans I needed in time."
Liu says First Hawaiian bankers literally worked around the clock to get PPP loan applications processed on time. "It was a difficult time for small business owners, and we tried to make it as easy as possible."
Furthering Keller's appreciation of the bank, in celebration of Asian American and Pacific Islander Heritage Month and Small Business Month, she was recently awarded a $10,000 grant through the First Hawaiian Bank Foundation and Fiserv Back2Business program, which connects minority-owned small businesses with critical resources including monetary grants, networking opportunities, and technology.
"I'm thrilled. It's nice to be recognized as a small business owner," says Keller, who is 100% South Korean.
"Kathy is one of those great customers, and we try our best to work as a team," Liu says. "It's one of my goals as branch manager for any one of us to be there to help whenever we can."