5 Steps to Transform Your Company Digitally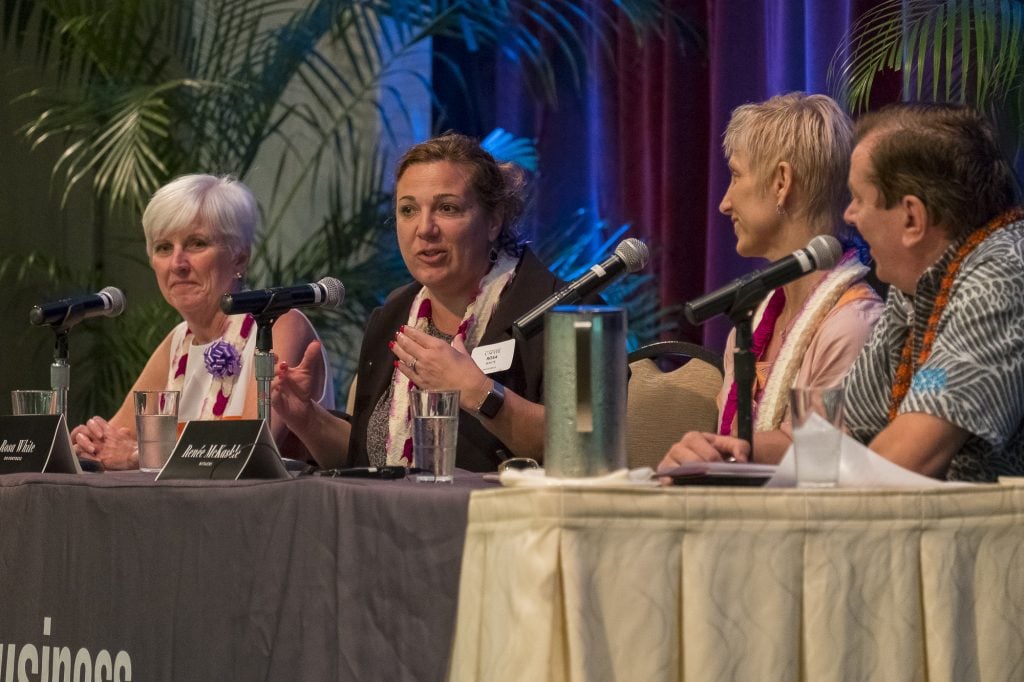 Every industry is undergoing a digital transformation. If your company lags behind, it could get crushed by faster moving competition, or abandoned by customers who want better digital service, says Renee McKaskle, CIO for Hitachi Data Systems.
Healthcare is a good example of digital transformation, or DX, says Donna Scannell, VP and business information officer for Kaiser Permanente's Hawaii region. Before, patients waited to set up a doctor's appointment, and their medical charts consisted of handwritten notes filed in a room. Today, patients can go online to schedule an appointment, refill prescriptions, see lab results and check their medical records. "Things have certainly changed," she says.
McKaskle, Scannell and Rosa White, CFO and co-founder of DRFortress, an IT systems provider, talked Tuesday morning at a Hawaii Business event on how your company can navigate DX. The discussion was part of the publication's C-Suite Speaker Series.
Here are five steps McKaskle recommends for successful digital transformations:
1. Prioritize and invest in DX. McKaskle says DX doesn't come easy, so you need managers and leaders who make it a priority and lead the change. "When you show up and say we're going to change how this is and interact with customers on a mobile device, man, it's just really hard, and you have to just push." Companies also have to invest. Scannell says companies should spend as much as they can afford on their digital transformation, "knowing that it is an investment and it's going to fail a couple of times before you get to where you want to be."
2. Let business outcomes drive digital transformation. McKaskle says companies should ask themselves: "What business problem am I trying to solve and can digital help me?"
3. Become more data driven. "Data is the foundation to accelerate your digital transformation," McKaskle says, though she cautions that the data has to be "quality data." To figure out whether data meets that distinction, a company has to expose the data and let people fix it. White says it's also about common sense. If data doesn't look right, employees have to check it again.
4. Adopt an enterprise-wide approach. You can start your DX with baby steps, but must grow from there. A survey conducted by Hitachi Data Systems and Forbes Insight found that a dedicated team or a company's IT unit are typically the groups that drive an organization's digital transformation strategy. However, companies also need buy in from the rest of their employees. When Kaiser first introduced electronic medical records, employees were trained so they could use it properly and consistently; many of their patients were already ready and eager to digitally interact with the healthcare organization, Scannell says. Other patients were eventually persuaded of the benefits and convenience of digital interaction, she says.
5. Balance people and technology. Technology is the biggest contributor to a successful transformation, but lack of talent is a major challenge. McKaskle says that goes back to keeping students interested in STEM: "If we figure out how to incorporate that in, those companies, those industries, those individuals that figure this out will have an incredible career opportunity as an individual and a company would be able to exploit this and it's a win-win." Another challenge, White adds, is that a company may not have the right people for the right initiative, so it may have to outsource to get the expertise it needs.
---
______________________________
LISTEN TO THE DISCUSSION AUDIO