Food Trucks a Lifeline for Some Hawai'i Chefs During Pandemic
A surge in food trucks began in 2008 during the Great Recession and the current economic crisis seems to have spurred further interest among entrepreneurs and chefs.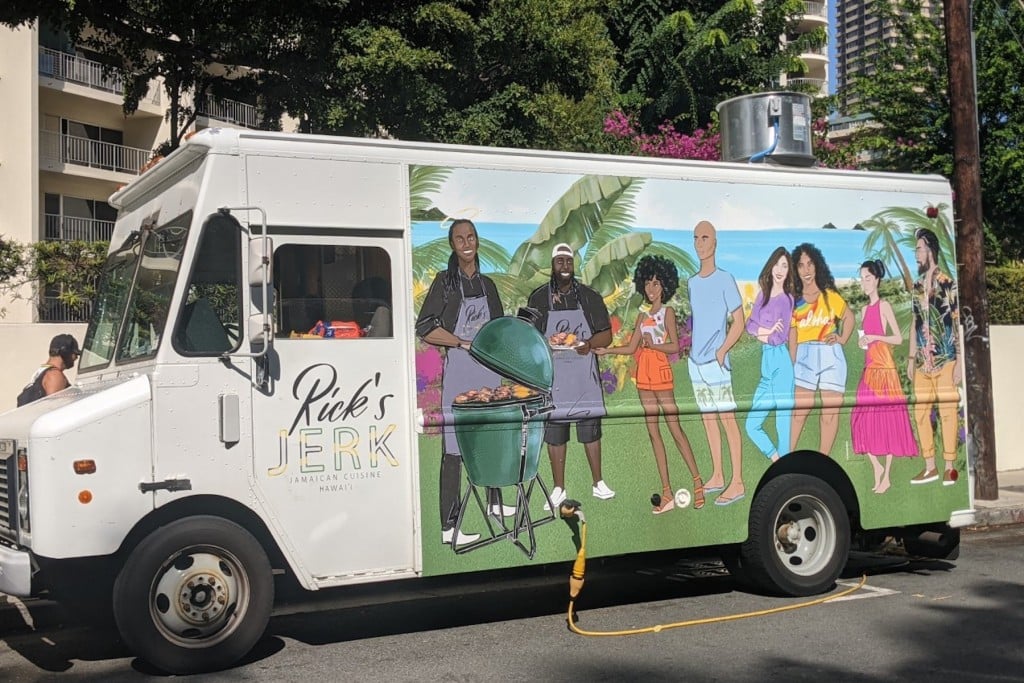 One local entrepreneur who has jumped aboard the culinary bandwagon is Dustin Pokrass, who owned Stormy's and Stonefish Grill in Hale'iwa before the pandemic.
"The pandemic situation put an automatic stop on us. We started doing to-go food but with Hale'iwa being such a tourist area, there were not enough people living in the area to keep business moving, so I and several other people I knew shut down restaurants," Pokrass says.
"I wanted to do something more 'pandemic proof' but still in the field that I am passionate about. I started kicking around the idea of food trucks and then it spurred this whole movement, and I figured, 'Why not? Let's go for it!' "
Pokrass says he is launching three new food trucks: Hi Sliders, High Stakes BBQ and Bistro Basilico. One will be part of a food truck pod in Waikīkī and the other two are contracted to be at Home Depot stores on O'ahu.
"Food trucks make people think outside of the box. And I am happy to be a part of this new food truck resurgence and revolution," he says.
Locally Made Trucks
David Hanley is head of sales and marketing for Hawaii Food Carts, a locally owned and operated warehouse based on Maui that builds custom food trailers, concession trucks and mobile kiosks. "A food truck is definitely an economically affordable alternative to reopening different types of food and beverage venues, and (we) are seeing an influx in calls and inquiries. We think that by the end of the year, it is really going to take off," he says.
Hawaii Food Carts runs two 12-unit food truck pods on Pi'ikea Avenue and Dairy Road on Maui, and is opening another 12-unit pod on Kalākaua Avenue in Waikīkī, where one of Pokrass' trucks will be based.
"I am really excited about the Waikīkī food truck pod opening," says Pokrass. "I know the food truck boom happened years ago, but a massive resurgence is happening again because people are getting forced out of brick-and-mortar – whether they like it or not."
Damon Pitts started his Rick's Jerk food cart, with Jamaican-style cuisine, in Honolulu in December 2019. "Before COVID-19, I was cooking on a little cart and I was able to slide into places for lunches and was working downtown Chinatown at nighttime for the nightclubs. When the pandemic hit, it shut down my business because I couldn't practice social distancing with my cart."
He had already been looking at upscaling his business and purchased a food truck that arrived in June. But finding enough customers is no easy feat amid a pandemic, when few people are out and about at parks, bars, office complexes and other prime spots for food trucks.
"For months I tried everything," says Pitts. "I went everywhere. I drove my truck to the West Side, Mililani Tech Park for lunches, 'Ewa Beach and even to Kaka'ako, and it took me three weeks of going to a different location every day to figure out what will work for us.
"It has been a learning process since this pandemic of where you can and cannot go to make money. The one good thing, though, is that I do have a truck and I have the luxury of trying places. If I had a brick-and-mortar, it would be totally different for me."
He now often parks in the 400 block of Hobron Lane in Waikīkī, and sometimes near the Don Quijote store on Kaheka Street.
"I Turned Crisis Into Opportunity"
As many brick-and-mortar restaurants closed during the pandemic, Rungrueang Kamraithong launched his own food truck, Big Monster Sushi, during June in Kōloa, Kaua'i.
"I worked in the hospitality industry for over 13 years, and when the restaurant I worked at was forced to close due to the COVID-19 pandemic, it enabled me to explore the opportunity to pursue and start my own business," Kamraithong says.
"I felt that with outdoor dining, there was no better time to start a food truck. And as most businesses do, I turned crisis into opportunity."
Todd Yonemura, owner of Ty's BBQ and Grill, a food truck that launched in 2018, has had to change his location and his marketing due to the pandemic.
"Normally we are parked in front Suzy Wong's Hideaway bar in Waikīkī, but because of COVID we moved to Hobron since a lot of the regulars from that bar live in that area," he says.
Yonemura has also changed how he gets the word out. "Because of COVID we had to change up our menu and turn to social media in order to inform people of who we are and what we do. That is the biggest change we have had to face since COVID," he says.
"Technology forces people to be creative, like using Instagram stories to show what kind of dishes they do or what they are doing to change and adapt to COVID (guidelines)."
Following Health Guidelines
Outdoor seating is one way food truck operators adapt their businesses to social distancing guidelines.
Fares Boughanem started Tabaraka as a pop-up tent serving Lebanese food at farmers markets in Hilo, then reopened as a food truck on Waiānuenue Avenue in early June.
"Despite having a food truck, which is normally more of a take-out thing, we do have a covered outdoor seating area where people have felt very comfortable sitting in," says Olivia Grodzka, Tabaraka's operations manager.
Grodzka and Boughanem say they work hard to make sure state Department of Health guidelines are met.
"We have had a limited schedule to make sure that we have the capacity to stay on top of all of the DOH recommendations, guidelines and sanitations, and while we would really love to be open on the weekends and be open later, with the fluctuating demands and clientele, it has been difficult," she says.
The pandemic has dissuaded many potential customers from going out to eat, and despite their innovations and hard work, many food truck operators still struggle.
"We are doing well up to this point," Boughanem says. "But our customer base is affected by the virus. When we have a lot of (virus cases) on the Big Island, people don't want to go out, but if (the infection count) is low then people will come."
But, adds Grodzka, "If we hadn't taken the jump with the food truck, we would probably have no business right now.
"We have had some of our favorite local restaurants close their doors because it is too much of a roller coaster at this point. But I do think that food trucks could be part of our brave new world in a way that they weren't previously."