For-Profit Companies That Are Not Just For Profit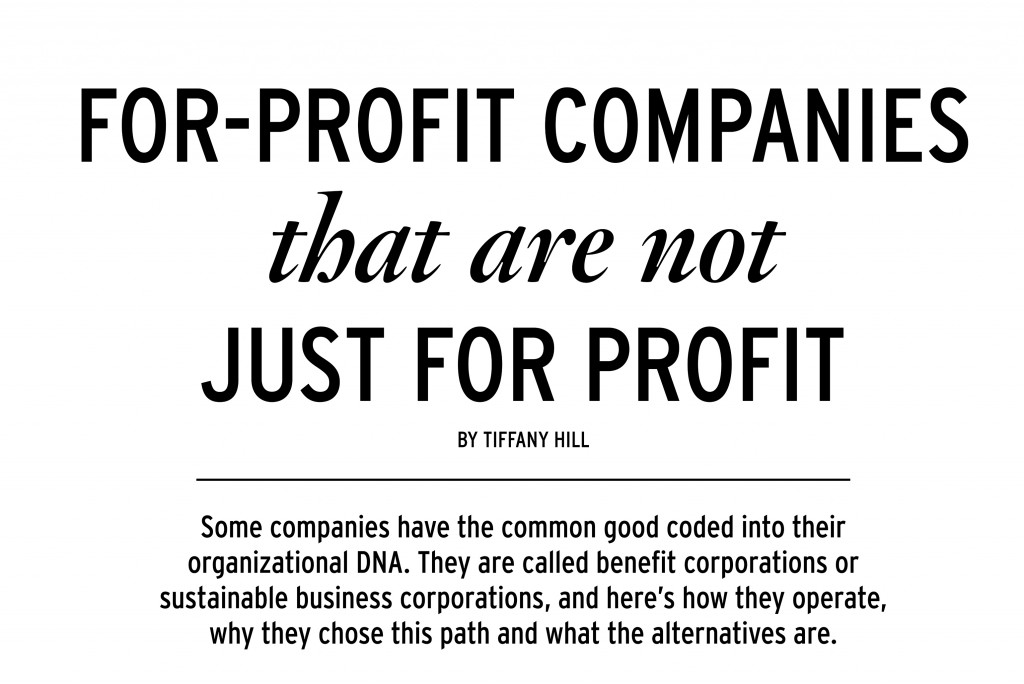 Another arrow in the quiver. One more tool in the toolbox. A vehicle for change. That's how Hawaii lawmakers and business leaders recently described a state law that in 2011 created a new business registration category for company founders and investors interested in more than just turning a profit.
Known locally as a sustainable business corporation, and nationally called a benefit corporation or "b corp," this organizational structure allows for-profit companies to publically dedicate time, money and resources to achieve specific social or environmental goals in addition to their commercial activity.
In the past four years, 27 states have passed laws allowing such companies to form. Ardent proponents say b corps will revolutionize capitalism; after all, shareholders can't sue them when they pursue altruism instead of simply maximizing profits. In July, New York Times columnist David Brooks wrote, "B corporations are a way to transcend the contradictions between the ineffective parts of the social sector and myopic capitalism."
Here in the Islands, folks are more tepid about its potential. "It's up to the business," says state Sen. Brickwood Galuteria, who sponsored the 2011 Senate b corp bill. "It relies on companies making a commitment to invest in a socially conscious perspective. It's not easy to do."
While traditional businesses can ditch charitable practices if times get tough, benefit corporations can't – goodwill is as integral to their success as making money. Three-and-a-half years after the law went into force, only 12 companies in Hawaii are registered as sustainable business corporations. For context, the state Department of Commerce and Consumer Affairs registers 150,000 new businesses annually.
Another eight local companies are certified as benefit corporations by the Philadelphia-based organization B Corporation, through its nonprofit B Lab, but not registered as such with the state. The organization works with companies to certify their business practices based on the benefit corporation legal framework. B Corporation has also been influential in helping states pass b corp legislation, including in Hawaii. To date, B Lab has certified 1,165 companies in 37 countries, including Etsy, Ben & Jerry's and Method eco-homecare products.
This relatively new classification is redefining success in the business world. But it's not the only way. Here's what makes the business law unique and why it's the best fit for two local companies.
The Benefits of Benefit Corporations
In 2003, Ross Yamasaki helped the boutique architecture firm KYA Design Group become a member of the U.S. Green Building Council. Yamasaki, a partner who left the firm in December after 23 years, says the sustainability membership aligns with the company's mission to design for social, environmental and financial prosperity. He also founded the KYA Sustainability Studio, a local think tank specializing in environmentally friendly and culturally sensitive design, development and architecture.
But he didn't stop there. In attending the Green Building Council's annual conference one year, Yamasaki listened to a presentation by B Corporation. While KYA Design Group isn't registered under Hawaii's sustainable business corporation statute, it became a benefit corporation after a B Lab certified it n 2012. B Corporation says it evaluates a company within five categories, including green practices, workplace environment and civic engagement, before certifying it. KYA Design Group pays B Corporation $2,500 annually – using its fee scale based on the firm's annual revenue bracket of $5 million to $10 million – to certify it as a benefit corporation, and is reassessed every two years.
"It was part of our move to continue to be diligent and purposeful in the things we do," says Yamasaki of the certification. "For us, sustainability is tied to green building."
KYA was established in 1972 and Yamasaki says becoming a b corp didn't significantly change its daily operations, but it did increase the visibility and accountability of its sustainability design practices. "Certification wasn't just for self-recognition but an ability to track ourselves," he says. "We want to be leaders."
Patagonia, the global outdoor clothing and gear retailer, with $600 million in revenue in 2013, is familiar with being a leader in sustainable business. Since its founding in 1973, Patagonia has championed environmental manufacturing and fair labor practices. Founder Yvon Chouinard registered his privately held company as one of California's first benefit corporations in 2012 and certified it with B Corporation. "Becoming a b corp solidifies our ability to maintain our mission in perpetuity," says Bremen Schmeltz, Patagonia's managing director of Asia-Pacific business.
As Schmeltz can attest, social enterprise organizations aren't just about serving the outside community; they also incentivize employee work-life balance, and thus cultivate loyalty. In 2012, KYA Design Group was named one of Hawaii Business' Best Places to Work. Patagonia is one of the few companies that offers on-site childcare to employees. Parents also get two-month, paid parental leaves. "Our work is in my DNA," says Schmeltz, who has been at Patagonia for 13 years.
Registering as a benefit corporation is also a savvy move for startups looking to brand themselves and get funding. "I think the biggest reason you would become a sustainable business corporation or start a business as (one) would be if you had investors who wanted to see that designation," says Cades Schutte tax attorney Trever Asam.
That's what Native Hawaiian activist, now entrepreneur, Robbie Cabral did in launching Huena Power in 2011. Cabral first founded Innovations Development Group in 1998, which has successfully developed geothermal resources in New Zealand. She says she wants to similarly increase sustainable geothermal energy on Hawaii Island. Forming a state sustainable business corporation allows Huena Power to develop geothermal as an "indigenous resource … in a sensitive, culturally appropriate way," she says. "Geothermal is a public asset – they should get something out of it."
As a b corp, Huena Power attracted investors not only interested in geothermal, but also in helping Native Hawaiians, or what Cabral terms the "native-to-native model." In 2013, the Office of Hawaiian Affairs invested $1.25 million in the project. Huena Power is one of the companies awaiting a final decision next month from Hawaiian Electric Light Co. on whether it will be able to develop a 25-megawatt geothermal project in Puna. In the meantime, Huena Power says it holds public forums to explain geothermal, while also trying to build community rapport. "We're here for the long haul," says Cabral.
Doing Good Without Being a B Corp
The advent of benefit corporations doesn't mean traditional corporations can't target triple bottom lines.
"There are other ways of accomplishing social goals," says Asam. As an alternative, he suggests limited-liability corporations with goodwill pursuits. "That would give you essentially the same mission as many sustainable business corporations, but without having to activate the same structure."
For many business owners and shareholders, the benefit corporation structure isn't appealing enough for them to jump through the legal hoops. Benefit corporations also don't receive federal tax breaks, as nonprofits do, despite their philanthropic missions. Tung Chan, the securities commissioner with the state Department of Commerce and Consumer Affairs and head of the business registries division, says that, while registering as a sustainable business corporation is easy and costs only $50, the three-year-old state law requires the company to employ a benefit director and create meticulous public benefits reports. "It's a big deal," Chun says.
Without becoming a b corp, adds Chan, traditional corporations can "build sustainability into their branding." She says Whole Foods, which has strong branding as an organic food retailer, is a good example of a successful company with an ongoing social mission that's not a benefit corporation. "A lot of corporations stay corporations, even though they are essentially triple bottom line," Chan says.
It comes down to the individual business. Benefit corporations provide a structure to achieve meaningful common good. For prominent businesses like Patagonia, or startups like Huena Power, benefit corporation laws allow owners, and the employees who work for them, to consider more than just the shareholders. For others, benefit corporations are just part of the sustainable business landscape. "It's certainly a tool that companies can use if they want to pursue triple-bottom-line goals," says Asam, "but it's not the only option."
---
Becoming a B Corp in Hawaii
What's a B Corp?
A benefit corporation is a type of for-profit organization in which the business pledges to help society or the environment in addition to seeking a profit. Twenty-seven states have passed laws that allow such companies.
How does it work in Hawaii?
Your register as a sustainable business corporation with the state Department of Commerce and Consumer Affairs. You will be required to have an independent benefit director to oversee the company's public-benefit mission.
You must also publically publish an annual report detailing public-benefit goals and accomplishments.
What costs are associated with B-Corps?
A $50 registration fee with the state Department of Commerce and Consumer Affairs. Annual certification through the nonprofit called B Corporation ranges from $500 to $25,000.
Unlike nonprofits, benefit corporations don't receive federal tax breaks.